Top 10 Tourist Attractions & Best Things to Do in Takeshita Street, Harajuku, Tokyo
Takeshita street is a small street that goes Takeshita exit of JR Harajuku station to Meiji dori. Dessert like crepes or unique things, and character café are there and always full with young people. Today, we would like to introduce 10 tips in Takeshita street. Enjoy it!
1. SoLaDo

photo by timeislife_realq   /   embedded from Instagram
"SoLaDo" is popular because the building is large and can enjoy shopping and eating. SoLaDo means solar and do, it has lots of big windows inside the building to feel the sunshine.
There are accessories store, food court and sweets buffet. This is the only place in Takeshita street that has food court. Please visit here!
2. Cute Cube

photo by osewayaharajyuku   /   embedded from Instagram
"Cute Cube" is a shopping mall that is three stories and located at close to Meiji dori from center of Takeshita street. When you go inside, you can eat sweets such as cream puff that is sold 9 million a month.
On the 2nd floor, they have store called "spins" and also they have "PomPom pudding café". Pom Pom pudding is a character of sanrio, you can find him everywhere in the café. Don't you want to enjoy with him?
3. Thank you mart

photo by m.tsumtsum   /   embedded from Instagram
When you think of Harajuku, lots of people think fashion. There are lots of stores but also there are lots of second hand stores too. Today we would like to introduce "Thank you mart" that is famous for all 390 yen store.
They sell clothes mainly but also they sell some character goods too. It is fun just to watch!
4. Daiso

photo by ishii_chang   /   embedded from Instagram
100 yen store is worldwide famous store as 100 yen store. There is one in Takeshita street. Daiso has 1 base floor and 3 stories. Their products are cheap but good quality so popular for foreigners as gift.
If you go to Takeshita street, please stop by. They sell alcohol and also printer for photos.
5. Prikura land NOA
How about taking one with friends, couple or family? There is no one who doesn't know prikura, isn't there? Good thing is you can draw messages or stamp after taking it.
There is a Prikura store at Takeshita street named Prikura land NOA. It is a popular spot to take prikura after shopping in Harajuku or concerts. They have make-up room so, you can fix your make-up before taking prikura.
 
You May Also Like:

→The 10 Best Places to Eat in Harajuku, Tokyo, Japan
→Top 11 Tourist Attractions & Best Things to Do in Tokyo, Japan
6. Harajuku Idol Photo Museum
Idol shop is one of the place that you should go in Harajuku. There are lots of idol stores in Harajuku. " Harajuku idol photo museum" is on left side of Takeshita street.
You go down stairs and enter the store, you will see lots of posters on the wall. If you like idol, then you should go!
7. Calbee plus

photo by grandpaisjusaname   /   embedded from Instagram
Lots of people may eat chips when they get a little hungry. Famous chips company Calbee owns this store. You can eat chips that they just make.
It is rare that you can watch they fry chips. They have lots of flavors of Jagariko. Please try them!
8. Fancy Pocket

photo by kahotaso   /   embedded from Instagram
It is fun even just to watch cute little things or funny stuff. And you buy them. There are lots of variety stores in Harajuku. Today, we would like to introduce "Fancy pocket".
There are lots of stuff for cosmetics in the store. You won't get bored if you a girl. Our suggestion is "Munimuni doughnuts strap. If you go to Harajuku, please stop by.
■Information
Name: Fancy Pocket Harajuku
Address: Minowa building 2nd floor, 1-19-2, Jingumae, Shibuya, Tokyo
Phone: +81-3-5414-1288
Time: 10:00~19:00
Close: None
Map: Map to Fancy Pocket Harajuku
9. Kimono TOKYO Harajuku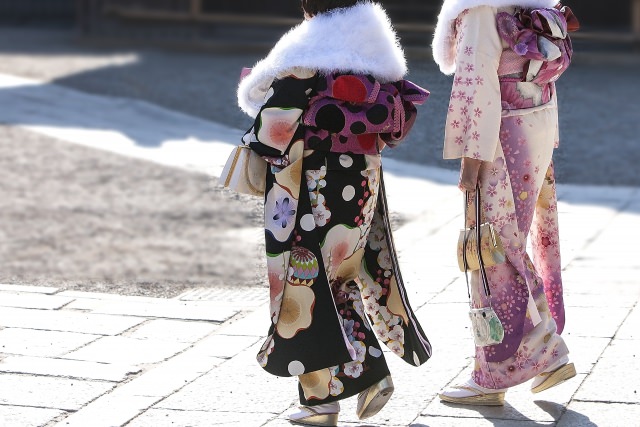 What are you going to wear for shopping today? How about Kimono? Now, Kimono is worldwide famous. "Kimono TOKYO Harajuku" is where you can rent Kimono.
You can choose one and they will put it on you. It is good to go to Meiji shrine or walk to Shibuya or walk around Harajuku. Don't forget to take pictures!
10. MOMI&TOY'S

photo by mgmg_kinoko   /   embedded from Instagram
Do you like sweet crapes? "MOMI&TOY'S" is a shop for crapes. There are lots of menu such as banana and strawberry.
Not only dessert crepes but they also have like teriyaki chicken salad crapes. Tapioca drink is what you want to order with crapes. Please stop by!
Let's walk around Takeshita street!
Once you walk into Takeshita street, there are lots of stores there. All stores are full with people everyday. We introduced only just a little of stores. Please go and find one you like. Be careful when you walk as there are lots of people there!
If you like this article,
Please push the
"Like"
!
Deiliver the SeeingJapan's news to you!
Popular Articles in Same Category
Author