5 sightseeing spots in Shimonoseki, where you can see amazing views!/Shimonoseki-shi, Yamaguchi prefecture
"Sekichu-Kei," the miraculous gorge.
"Sekichu-kei" (stone pillars gorge) is designated as one of the National Scenic Spots and Natural Monuments, and is a gorge with a total length of 2 kilometers.
You can see columnar joints (a column-shaped pillar in stone) everywhere in this gorge.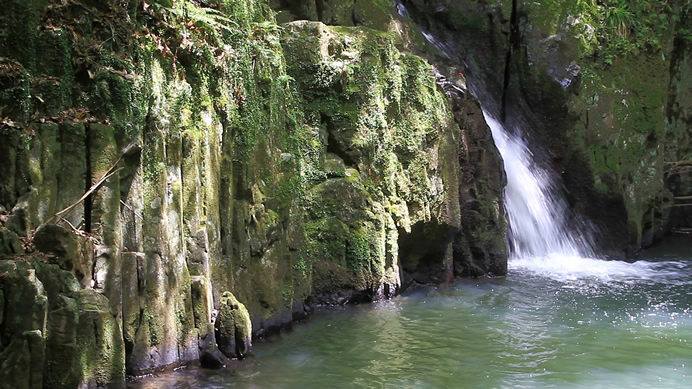 The promenade of the gorge has moderate ups-and-downs, so it is really good to take a walk and experience some refreshing "forest bathing" here.
You will find small waterfalls every dozen or so meters, and the sound of falling water will heal your spirit.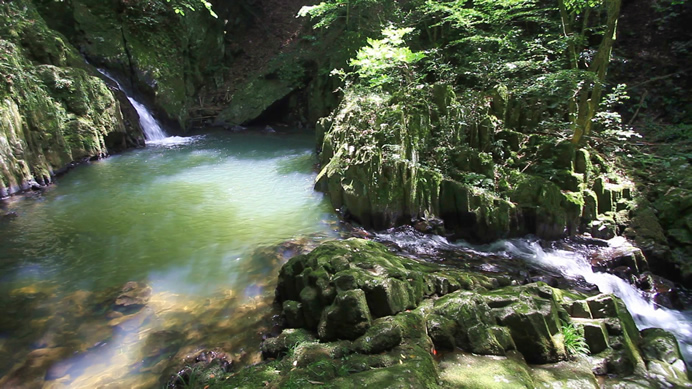 When you look closely, you can see the columnar joints on rock faces and the riverbed.
Enjoy a gorge walk while taking in this mysterious and beautiful landscape.
>An Extraordinary Valley Created 65 Million Years Ago!
"Tsunoshima Ohashi" with its tremendous sea-line
Maybe this spot should be recalled first if you have to pick one of the best views in Yamaguchi prefecture.
Yes, one of the most popular tourist spots representing Yamaguchi is "Tsunoshima Ohashi" a bridge built in 2000.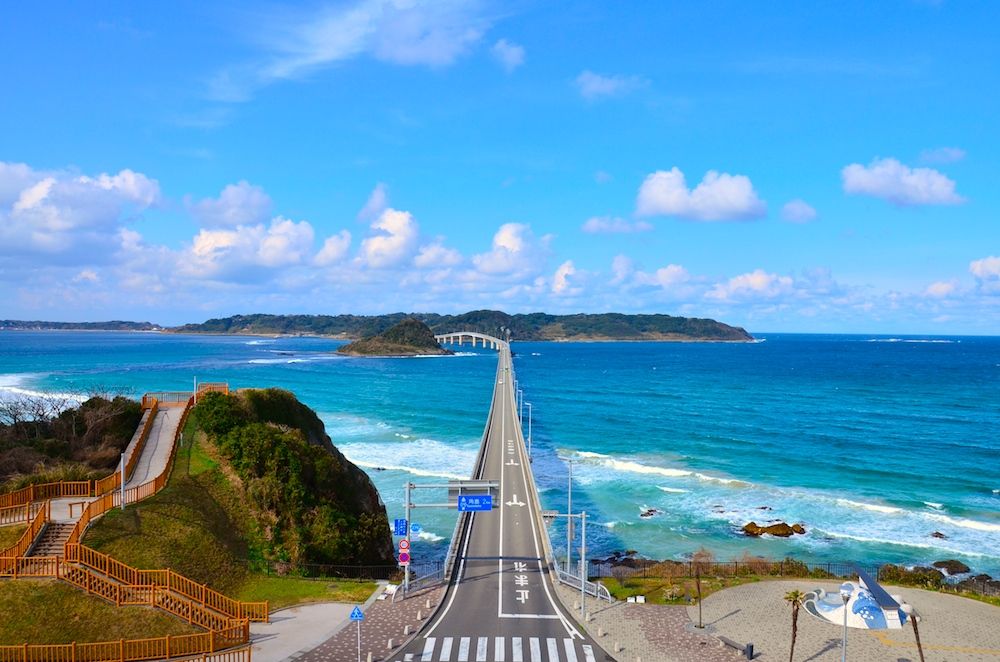 The most attractive point of this view is the bridge running straight to the island surrounded by the sea of emerald green.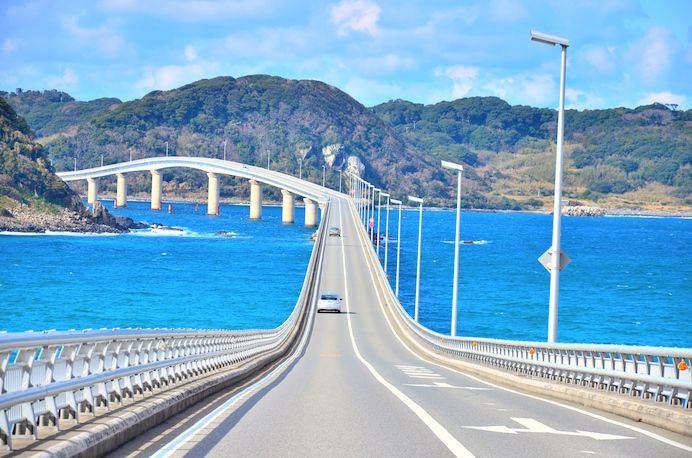 Who doesn't get refreshed and feel so good while on driving this bridge?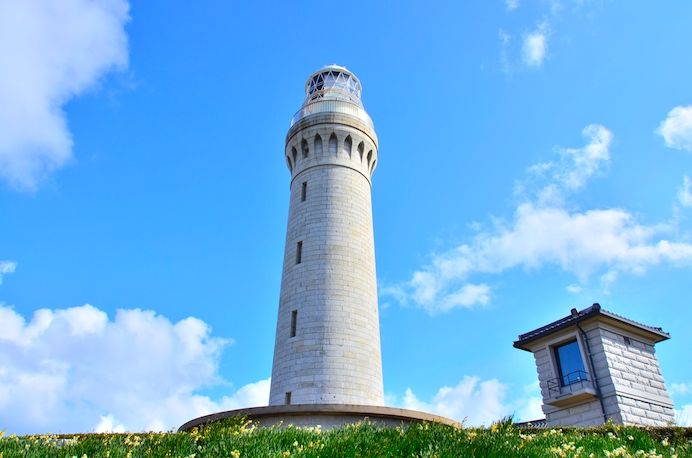 The"Tsunoshima Lighthouse" is a retro western-style lighthouse made of granite on the tip of Tsunoshima Island.
Moreover, there are a lot of places you can enjoy nature in Tsunoshima, such as a bathing beach with beautiful, clear water and a campsitewhere you can watch the sun set.
>A Place You'll Want to See at Least Once in Your Life?! Sea Line with Beautiful Landscapes & Tsunoshima Ohashi Bridge!
"Shimado Beach" where you can swim with a view of Tsunoshima Bridge!
This is a superfine beach where you can swim while getting a great view of Tsunoshima Bridge.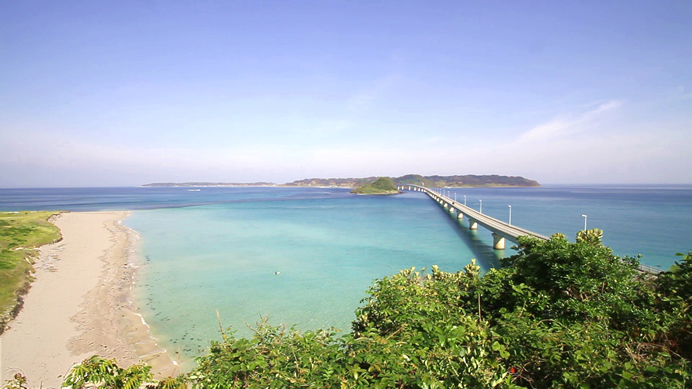 You can see what a beautiful view you can get from the beach on the south-side of Tsunoshima Bridge (on the left side of the bridge in the picture above), right?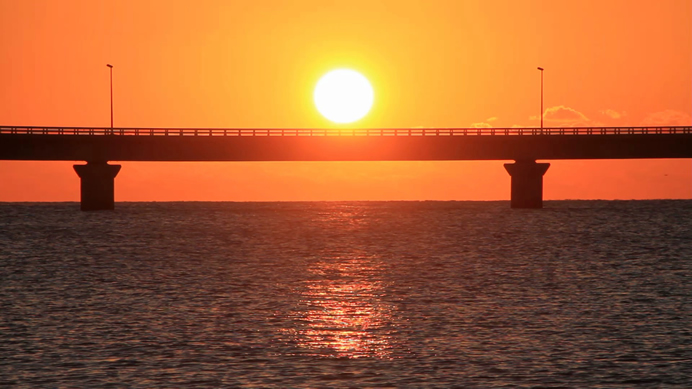 Also, "Shimado Beach" on the north-side of Tsunoshima Bridge, is a great spot not only in summer, but also in autumn and winter.
The reason is, at that time of year you can see the sun setting down over the bridge, andit makes a beautiful silhouette of the bridge during those seasons.
Why don't you take your partner here for a romantic date?
>Tsunoshima Bridge & Shimado Beach: Swim & Admire!
"Fukutoku Inari Shrine" with its breathtaking view
"Fukutoku Inari Shrine" is located close to Toyoura Kawatana Onsen (hot spring), is only a 10 minute drive from the hot spring.
And this shrine is commonly known as "Inunaki-no-Oinarisan" (the Inari-Deity of Howling Dogs) by local people.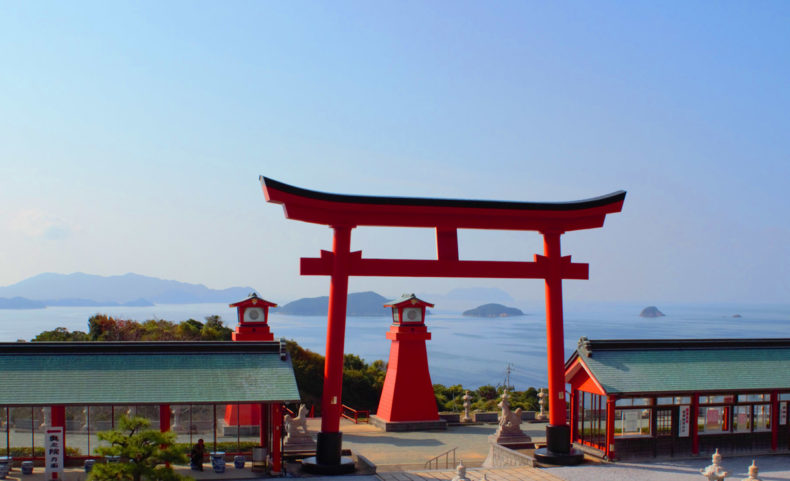 You can see the huge, shiny vermillion Torii gate with the blue sky and sea when you look back while climbing up to the stairs leading you to the main hall.
I believe its beauty will take your breath away.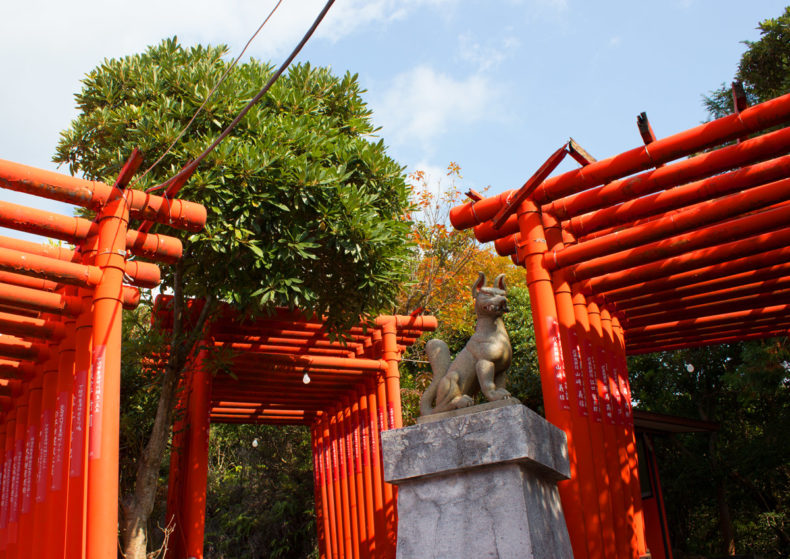 Also, the main attraction of this shrine is its 1000 Torii gates.
The enormous number of Torii gates on the approach leading to the cape were dedicated by parishioners and successful people.
These Torii gates are also said to bring a good luck, so take a walk through them!
>The Breathtaking 1000 Torii Gates Of Shimonoseki : Fukutoku Inari Shrine (Shimonoseki City, Yamaguchi Prefecture)
"Bisha-no-Hana," the westernmost tip of Honshu
This is the place called "Bisha-no-Hana" which matches its definition of "the land at the farthest end" well.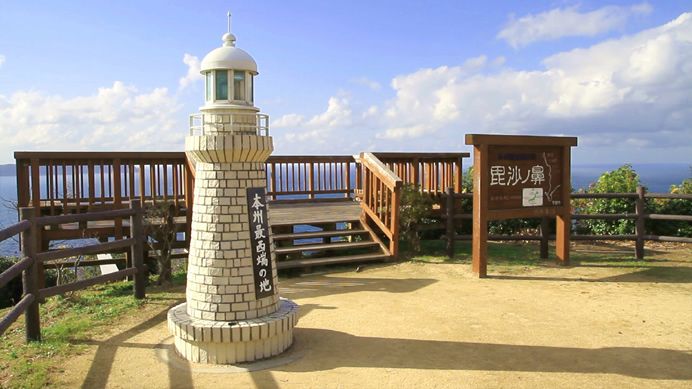 The spot with the lighthouse-shaped monument is the westernmost tip of Honshu.
You can observe the vast expanse of the sea from this point.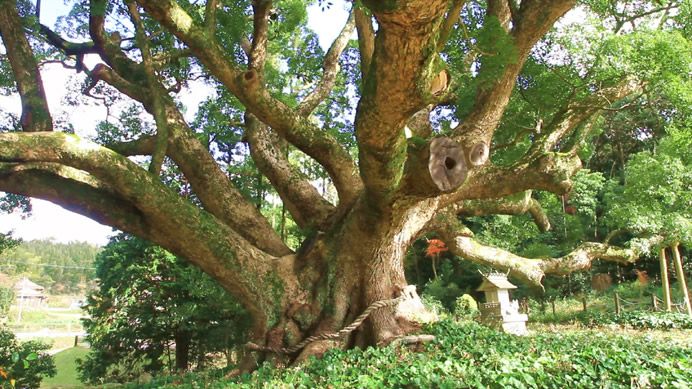 Don't miss the giant tree located close to the cape, which is more than 1000 years old.
This tree is an object of worship for the local residents, and this location is thought to be flowing with mystical energy (we call these kinds of places "power spots").
>Bisha-no-Hana: The Westernmost Tip of Honshu – The Land at the Furthest End! (Shimonoseki City, Yamaguchi Prefecture)
Actually, there are many more beautiful places in Yamaguchi prefecture.
Maybe now you are looking forward to planning your trip here for the next long weekend, aren't you?
Text by Megumi Yamada
If you like this article,
Please push the
"Like"
!
Deiliver the SeeingJapan's news to you!
Popular Articles in Same Category
Author