Good Old Places of Japan! 10 Best Must Visit Attractions of Japanese Heritage Town, Tomonoura!
When thinking about Hiroshima, a west part of this prefecture, that boasts famous attractions such as Atomic Bomb Dome and Miyajima, comes to many people's mind. However, in Fukuyama City, one of Hiroshima's core city at the east, there is this historic town, Tomonoura, aka "a port town with good tides". In 2018, a story that themed the port town culture of this place got designated as the Japan heritage. Having flourished as a port of call for Kitamae-bune (merchant ships in Edo era), five port facilities constructed in Edo era still remain almost as they were. Tomonoura is said to be the only place to see those kind of historical constructions.So this good old port town, Tomoura would be a perfect destination for seasoned travellers. Now, these are the must visit attractions of Tomonoura including historic sites for history lovers.
Local Sake Brewed Only in Tomonoura"Sake Breweries of Houmei-shu"
"Houmei-shu" can be counted as one of Tomonoura's best specialties. It is a Japanese local sake brewed with 16 kinds of herbs, and its characteristics would be a delicious nutritious flavor that makes you feel healthy, melting sweetness, and the mild texture. only four breweries in Tomonoura produce this traditional "Houmeishu" created in Edo era. It would be great as a souvenir from Tomonoura.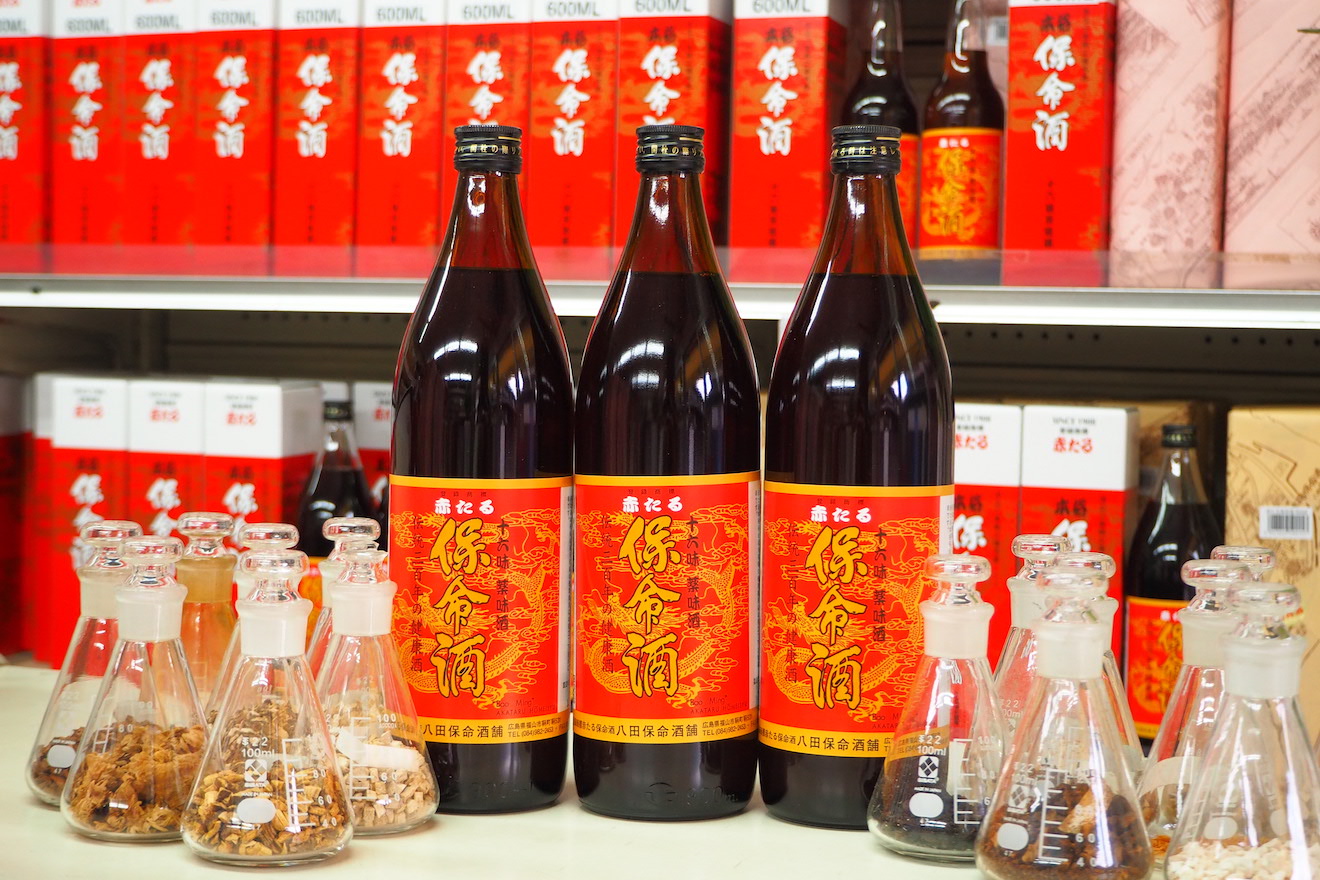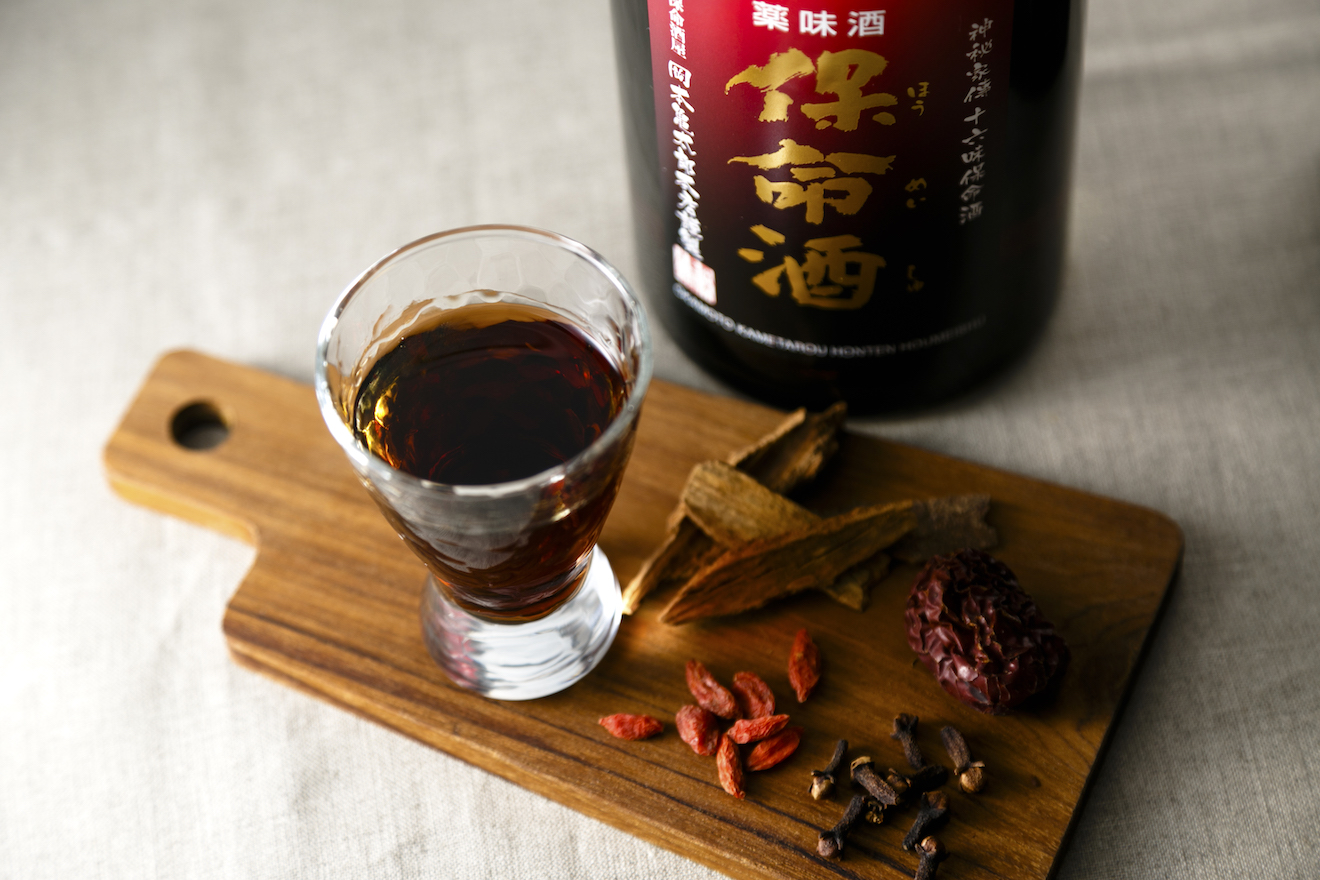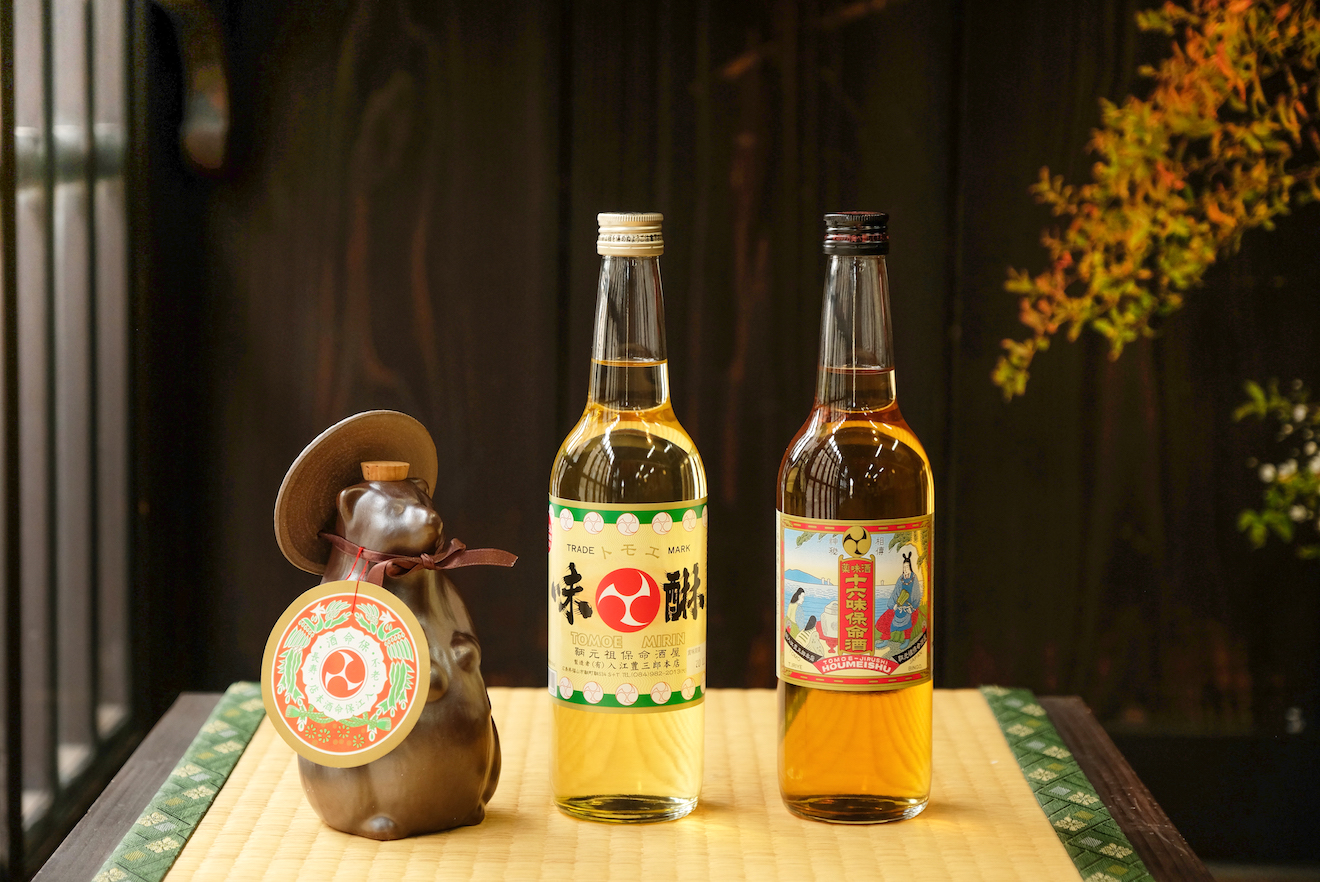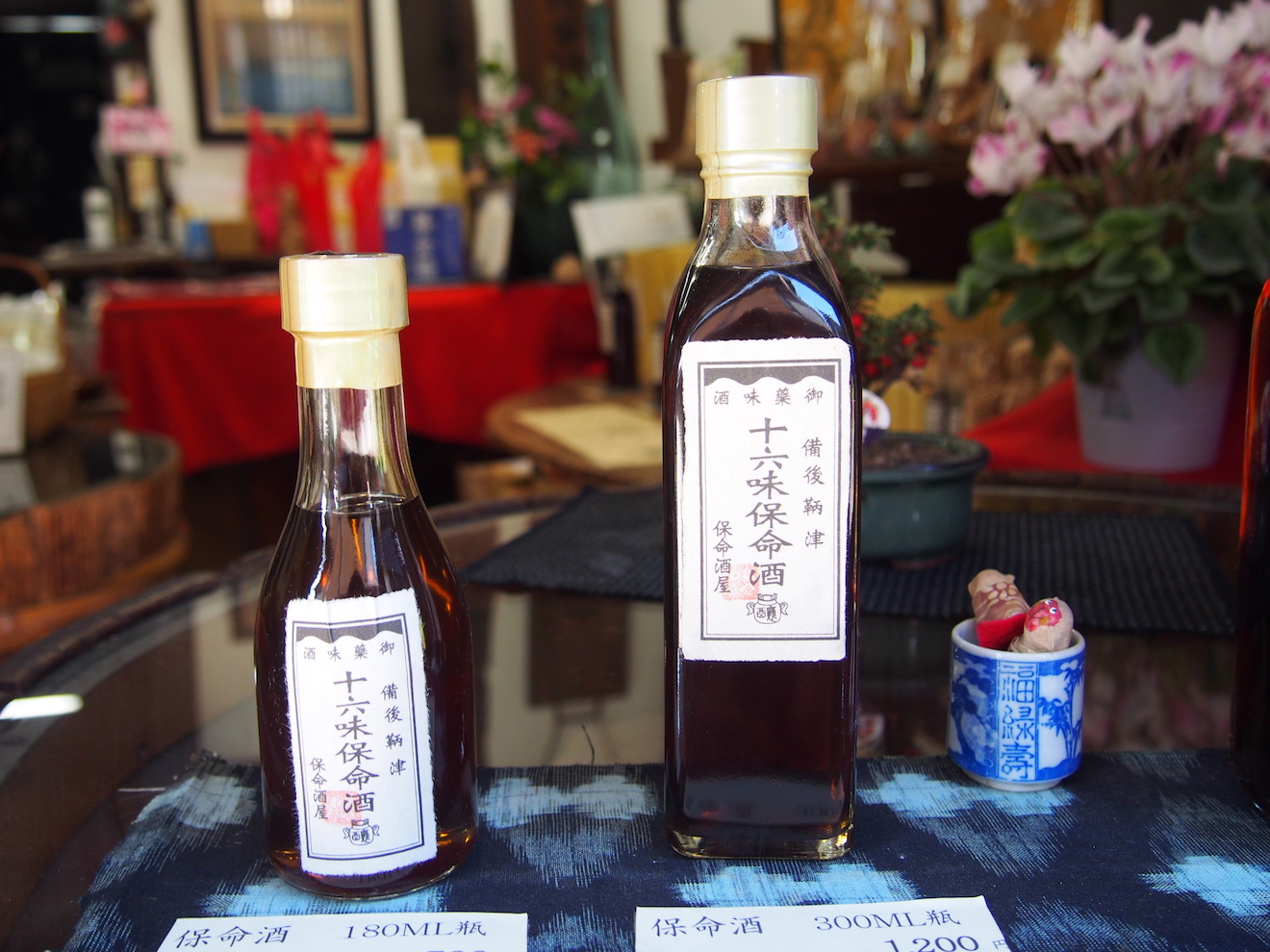 Historic Samuai Was Hidden?"Ryoma's Hidden Room"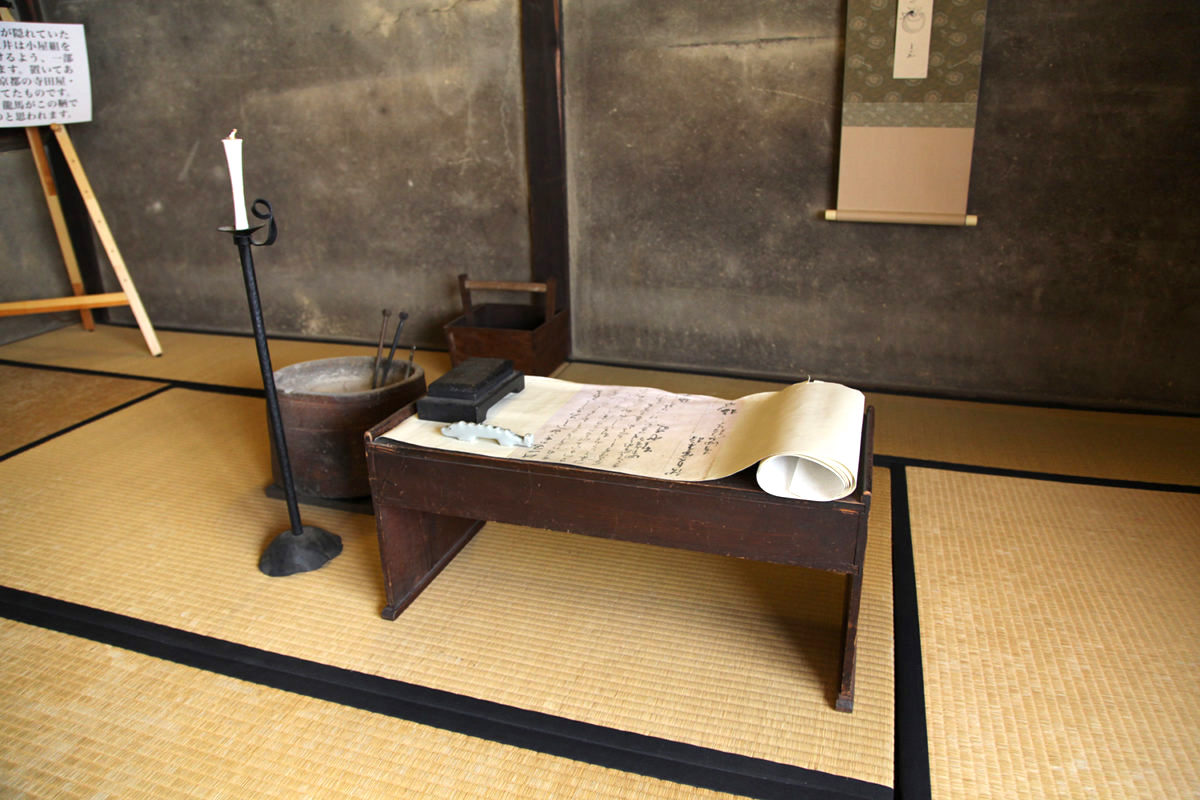 "Masuya" used to be Tomonoua's powerful shipping agent that procured lodging supplies and livingware, and were engaged in buying and selling cargoes when Fukuyama clan did business with other clans in Edo era. In the attic of the residence, there is a room which is said to have been used as a hideout of a famous samurai, Ryoma Sakamoto using a fake name, "Umetaro Saitani". With the quaintness still being there, this place has been opened to the public since 2011. Since it is a key place of a historical incident caused by Ryoma and Kishu Clan in 1867, a large number of history lovers visit this place from all over Japan. It is open on Fridays, Saturdays, Sundays, Fridays, and National holidays.
■Information
Name: Ryoma no Kakure-beya (Ryoma's hideout)/Masuya Seiemon Taku (Masuya Seiemon's Residence)
Address: 422, Tomo, Tomo-cho, Fukuyama City, Hiroshima
Phone: +81-84-982-3788
Time: Fri, Sat, Sun, Mon, National Holidays 9:00am-4:30pm
Entrance Fee:Entrance Fee: 200 JPY for adults, 100 JPY for students of elementary, junior high, high school
Website: https://visittomonoura.com/2020/01/4103/?lang=en

Follow Tracks of Ryoma Sakamoto and Japanese First Modern Corp, Kaientai"Iroha-maru Tenji-kan"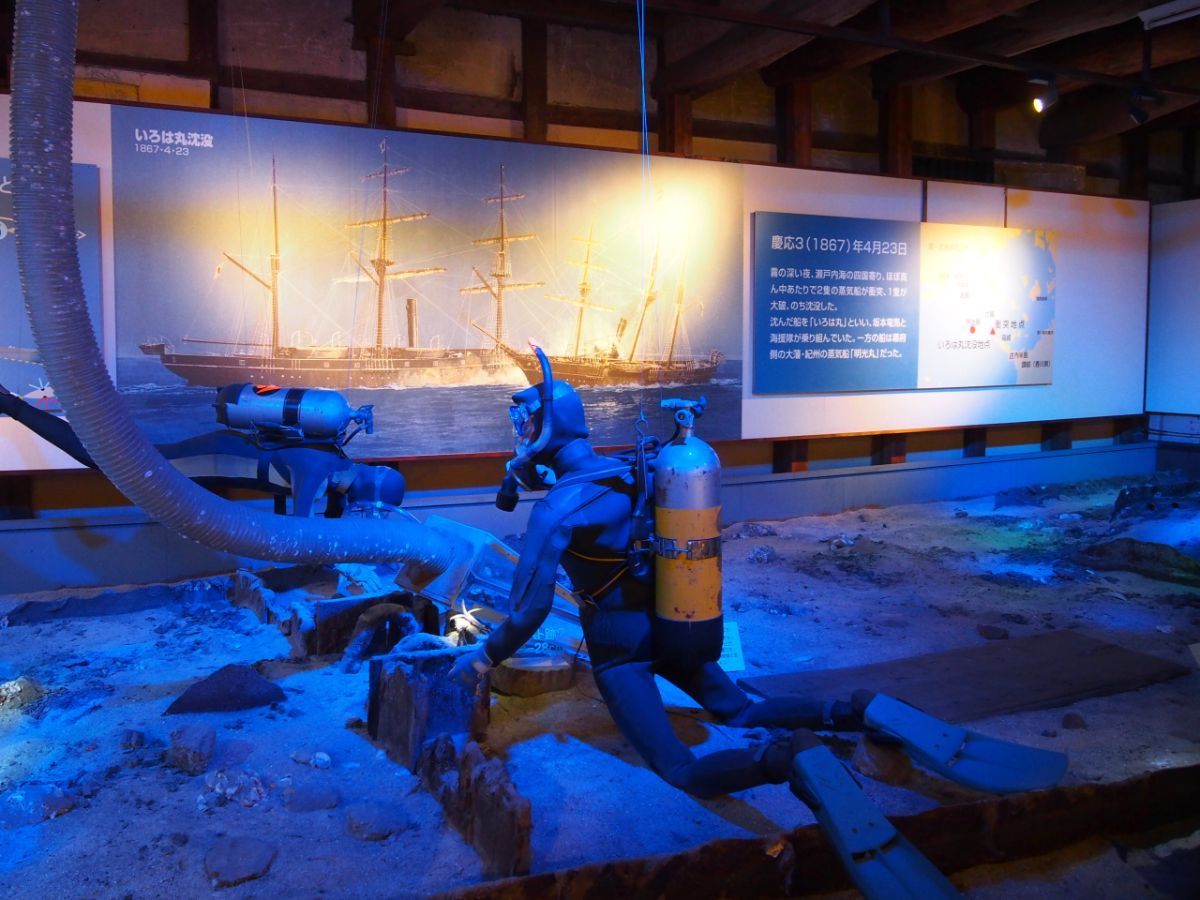 In 1867, there was a maritime incident offshore Tomonoura; "Iroha-maru", a ship owned by Ryoma Sakamoto's modern corp named Kaientai, and "Meiko-maru", a warship of Kishu clan clashed with each other. Ryoma, who had been on board, stayed in Tomonoura for several days and handled a negotiation of damage claims. An exhibition hall, "Iroha-maru Tenji-kan" tells you a story of this "Iroha-maru Jiken (incident)". Inside the building, you will find not only just materials but a life-sized wax figure of Ryoma as well as a booth you can enjoy wearing a costume and being like Ryoma. It's a full package of fun!
■Information
Name: Iroha-maru Tenji-kan (Exhibition Hall)
Address: 843-1, Tomo, Tomo-cho, Fukuyama City, Hiroshima
Phone: +81-84-982-1681
Time: 10:00am-4:30pm
Close: New Year Season
Entrance Fee:200 JPY for elementary school students and older
Website: https://visittomonoura.com/2020/01/1442/
Filled with History of Tomonoura"Rekishi Minzoku Shiryo-kan" (Museum of History and Folklore)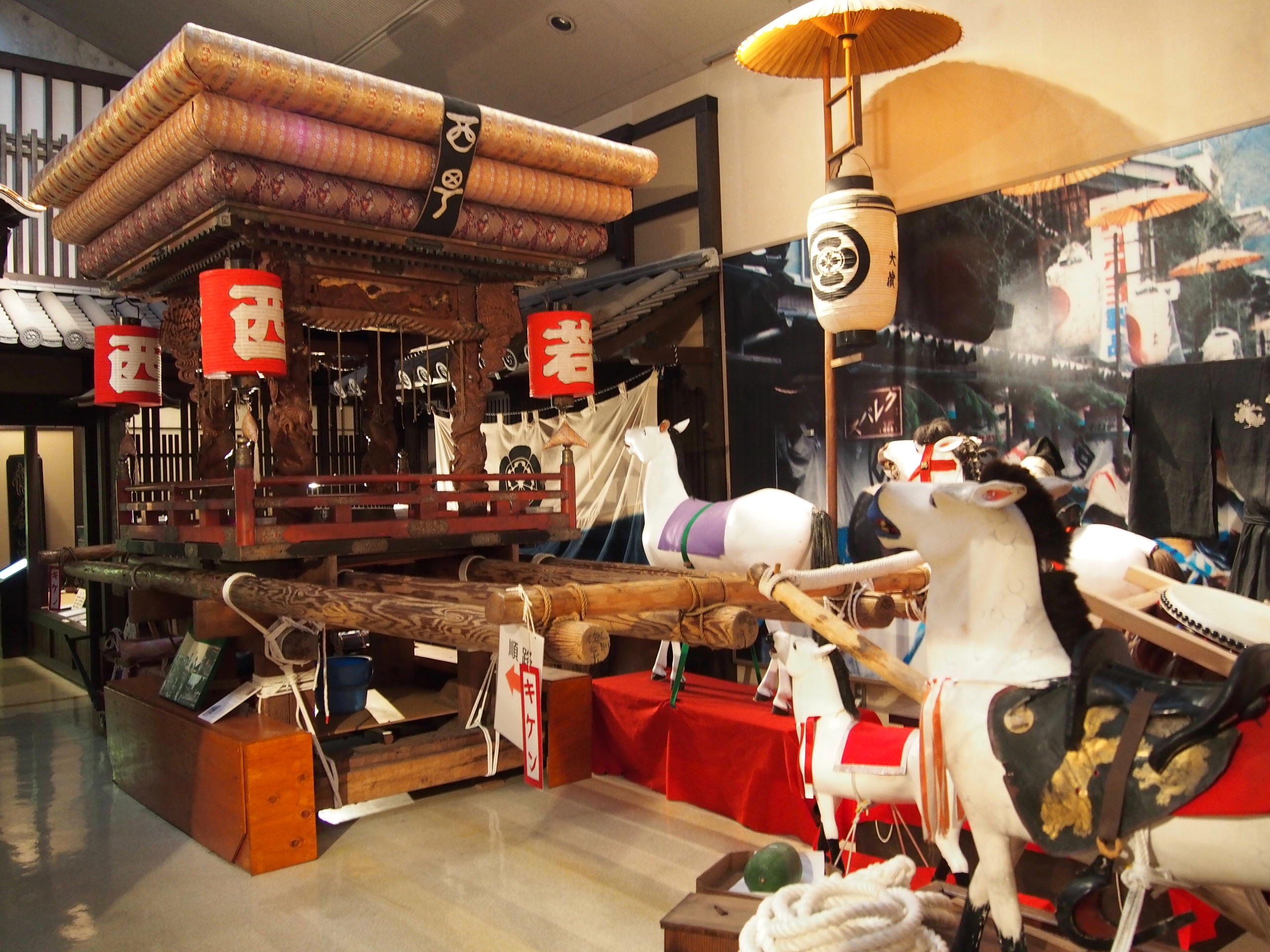 With four themes of "forging", "fishing", "festivals", and "shops", this museum shows a detailed history of Tomonoura. It is filled with ideas that allow visitors to interact with Tomoura's unique history and culture. On its hilly site, there used to be a castle called "Tomo-jo", so the ocean view of Seto Inland Sea from outside of the building is excellent!
■Information
Name: Fukuyama City Tomonoura Minzoku Shiryo-kan (Museum of History and Folklore)
Address: 536-1, Ushiro-ji, Tomo-cho, Fukuyama City, Hiroshima
Phone: +81-84-921-1121
Time: 9:00am-5:00pm (Reception closes at 4:30pm)
Close: Mondays (Tuesday when a national holiday comes on Monday)
Entrance Fee: 150 JPY for university students and older adults
Website: https://visittomonoura.com/2020/01/4092/?lang=en
Gion-san Watches Over Town and Sea of Tomonoura"Nunakuma Jinja" (Shrine)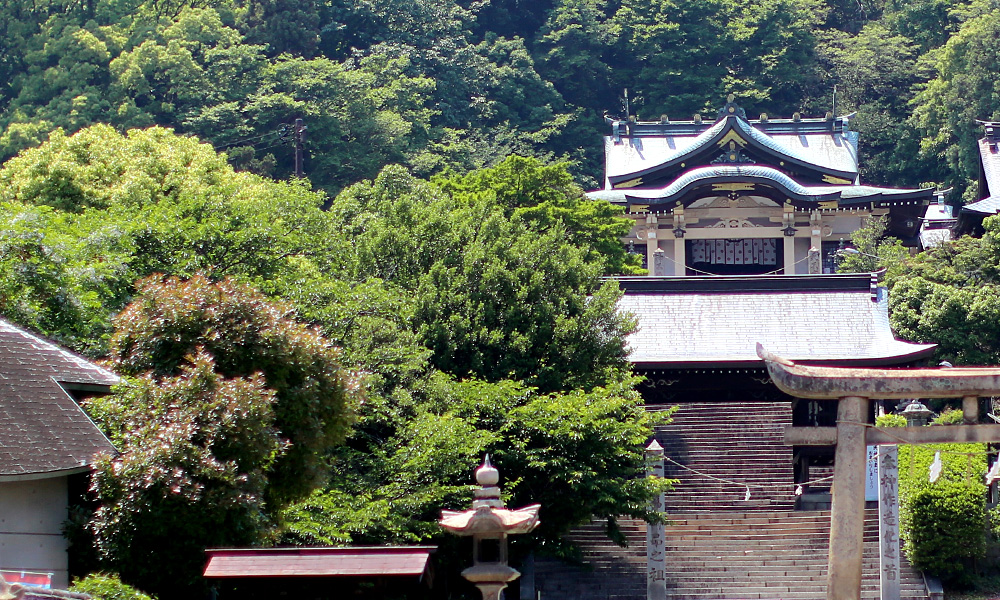 Nunakuma Jinja is one of the iconic shinto shrine of Tomonoura, which was put together with other shrine, "Watasu Jinja" that enshrines a deity of sea, Ōwatatsumi no Mikoto, and a shrine for good health, and "Gion-sha" that enshrines one of the three noble gods of Japan, "Susano no Mikoto". They were integrated in Meiji era, and now this historical shrine is said to give virtue of Maritime Safety, Fishery Prosperity, Safe Home, Recovery from Illness, Academic Achievement, Safe Deliver, etc. Within its site, there is a prefabricated stage for a traditional Japanese dance drama, Noh. This stage is fixed to the ground now and still used for Nohgaku-sai (Noh Festival) being considered as an valuable equipment, but is said to have been originally made for soldiers to appreciate Noh by an order from a well-known samurai, Hideyoshi Toyotomi.
Rewarded by Breathtaking View after Climbing Long Stone Steps!"Io-ji"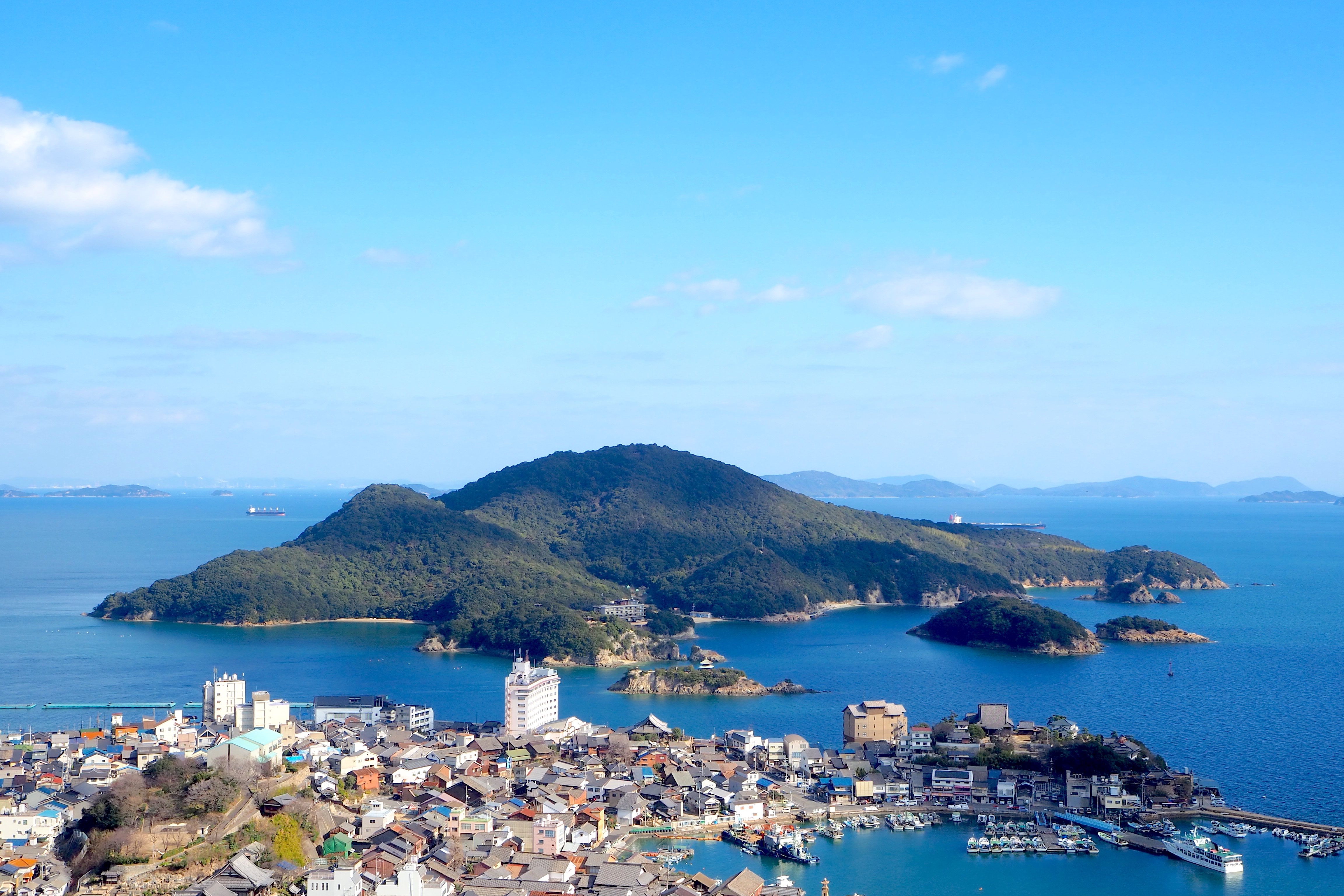 "Io-ji" (temple) is well known for its beautiful scenery of Tomonoura, which stands at the top of long stone steps and narrow paved trails. It is said to have been founded by a famous monk, Kobo Taishi in Heian era. The view from the temple is also beautiful, of course, but the stone steps at the back site of the temple will take you to the top, where the breathtaking scenery will be waiting for people who conquer the steps! It is definitely worth to climb with sweat.
Hair-raising! Temple on Cliff."Abuto Kan-non"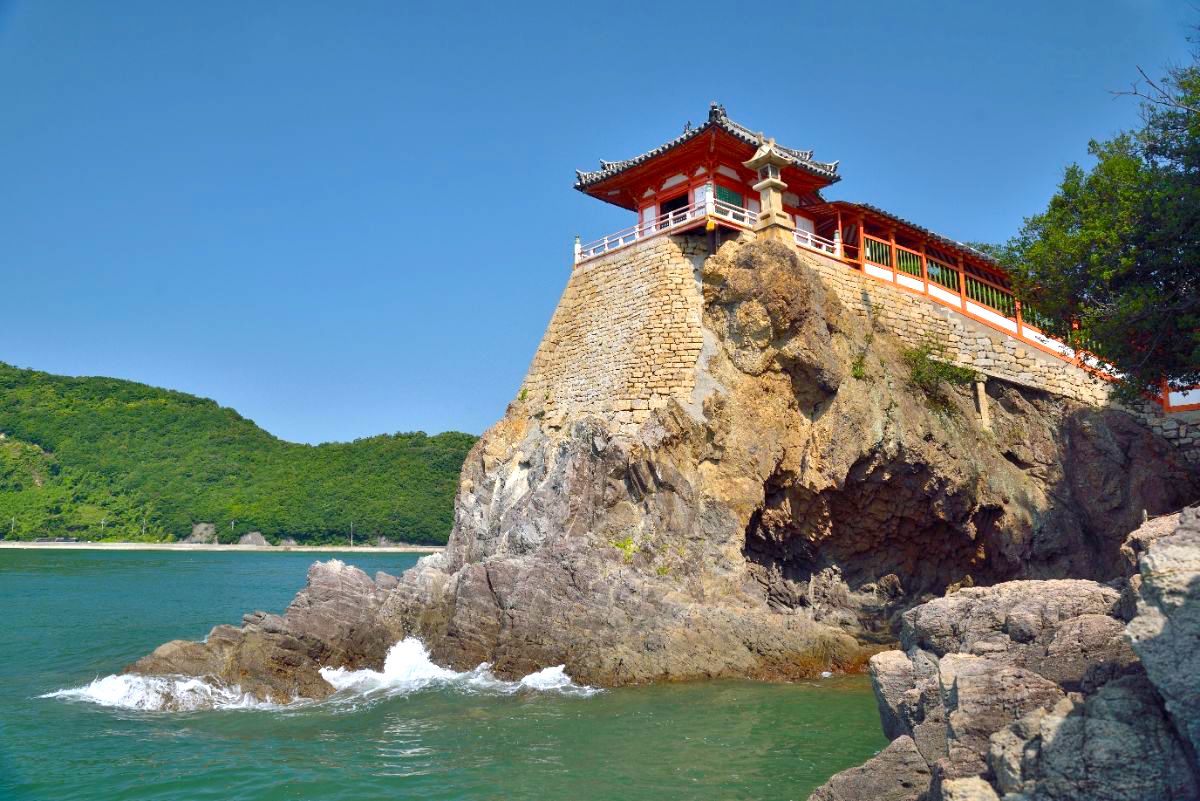 "Bandai-ji Kan-non-do (Abuto Kan-non)" is a beautiful temple which is said to have been constructed from 1570 to 1573, by an order from one of famous warlords, Terumoto Mōri. On the stone foundation, built by piling up stones to make it protruding over the sea, the brilliantly lacquered temple, Kan-non-do, stands. The appearance of the temple looks magnificent like a scene from a traditional picture roll. Inside the hall, lots of wooden wishing plaques called ema are hung on the wall. Especially at this temple, ema is known as "oppai(breast) ema", which is used to wish to be blessed with children and a safe delivery. From Kan-non-do, beautiful blue Seto Inland Sea spreads before you. The beauty of scenery will definitely attract you. However, the handrail of the small balcony is set at a knee height, so it is actually hair-raising!
■Information
Name: Bandai-ji Kan-non-do (Abuto Kan-non)
Address: 1427-1, Notohara Abuto, Nunakuma-cho, Fukuyama City, Hiroshima
Phone: +81-84-987-3862
Time: 8:00am-5:00pm
Close: Open 365 days a year
Admission Fee: 100 JPY for junior high students and older, 50 JPY for elementary schools students
Website: https://visittomonoura.com/2020/01/1065/
Even Hermit Got Intoxicated by SceneryUninhabited Islet "Sensui-jima"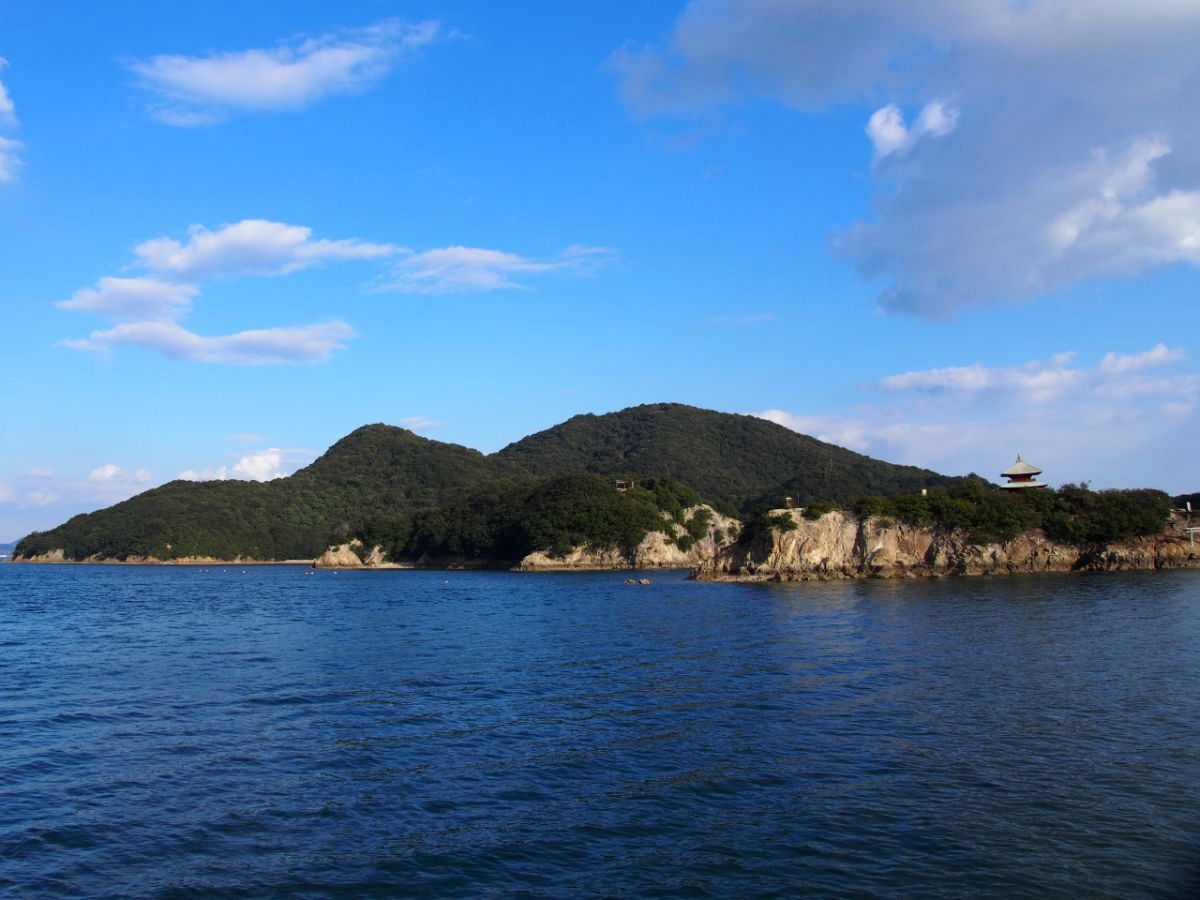 Sensui-jima is an uninhabited islet at offshore of Tomonoura, and it is said to have been named because "even a hermit got intoxicated by the beauty of the islet". In Tomonoura, one of the best scenic attractions of Seto Inland Sea National Park which was designated as a national park for the first time in Japan, there are many islets in various sizes, including Sensui-jima, Benten-jima, Tamatsu-shima, Tsugaru-jima, etc. It takes only five minutes by boat to get to Sensui-jima from Tomo. This beautiful islet is considered to be shaped by volcanic activities occurred tens of millions of years ago. A beautiful promenade runs north-south along the west coast, which allows visitors to enjoy walking while listening to sounds of a calm sea. Plus, there are some observatories in mountains, so visitors can enjoy hiking too.
Highly Praised by Korean EnvoyBreathtaking Scenery from "Fukuzen-ji Taichoro"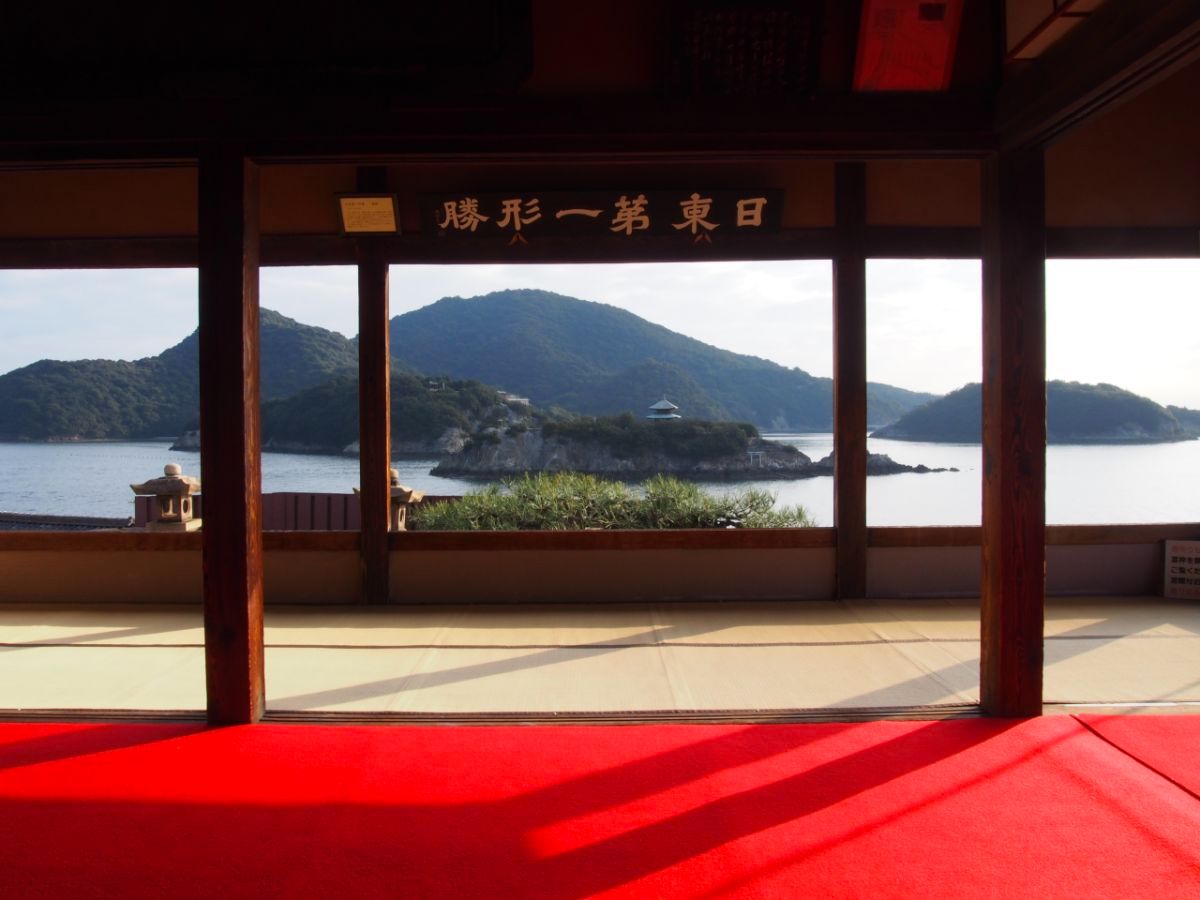 "Fukuzen-ji Taichoro" is one of the most popular points of Tomonoura. In 1711, a Korean envoy named Lee Bang Eun visited this place and highly praised the view from "Fukuzen-ji" which was used as a reception house at that time. He is said to have remarked that the view was "the most beautiful picturesque scenery in Japan". Also, Sutra Copying Calligraphy in front of the beautiful view of Sensui-jima and Benten-jima (1,000 JPY), so this place would be perfect for memory making.
■Information
Name: Fukuzen-ji Taichoro
Address: 2, Tomo, Tomo-cho, Fukuyama City, Hiroshima
Phone: +81-84-982-2705
Time: 8:00am-5:00pm
Close: Open 365 days a year
Admission Fee: 200 JPY for Adults, 150 JPY for Junior High/ High School Students, 100 JPY for Elementary School StudentsSutra Calligraphy Experience: 1,000 JPY
Website: https://visittomonoura.com/2020/01/1155/
For Your Last Destinationf of Trip"Hirai Shoten" (Shop for Daily Neccesities)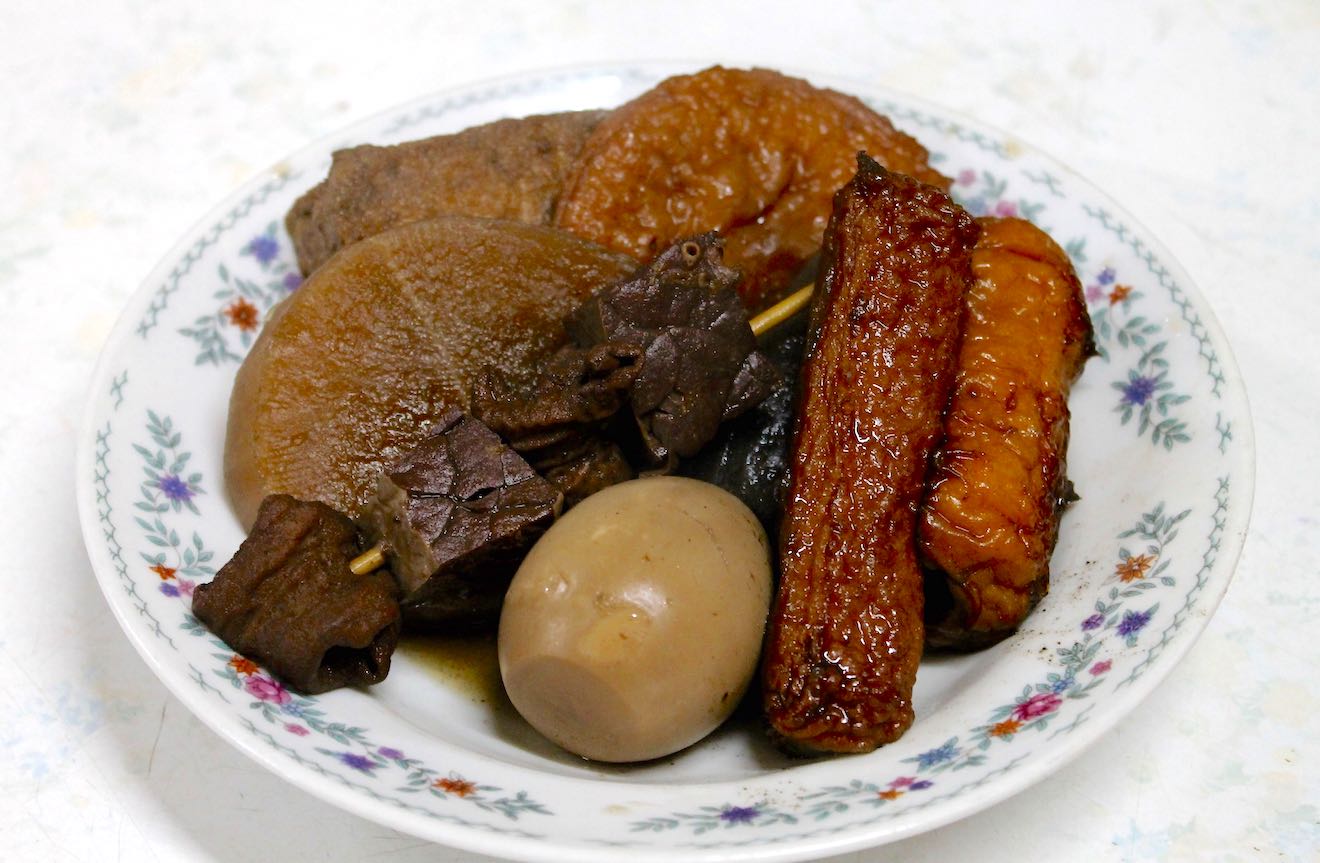 "Hirai Shoten" is a super local shop that sells daily necessities and oden (Japanese hot pot). It is located along the coast of Tomonoura. In a black iron pot on a beautiful vermillion color charcoal stove, locals' favorite specialty, "Kanto-daki" is being simmered. Around this area, when it comes to snacks for kids, "oden" or "okonomiyaki (Japanese savory pancake)" has been the staple for a long time. At this shop, oden is called "Kanto-daki", and it has lots of oden items in the dark color soup, including daikon radish, Atsuage (fried tofu), Gyu-suji (beef tendon), Maruten (fried fish cake), eggs, and konjac. Why is the color of the soup so dark? Because they use brown coarse sugar. It tastes moderately sweet and mild. You can enjoy feeling as if you are one of the locals. This place is a hidden attraction.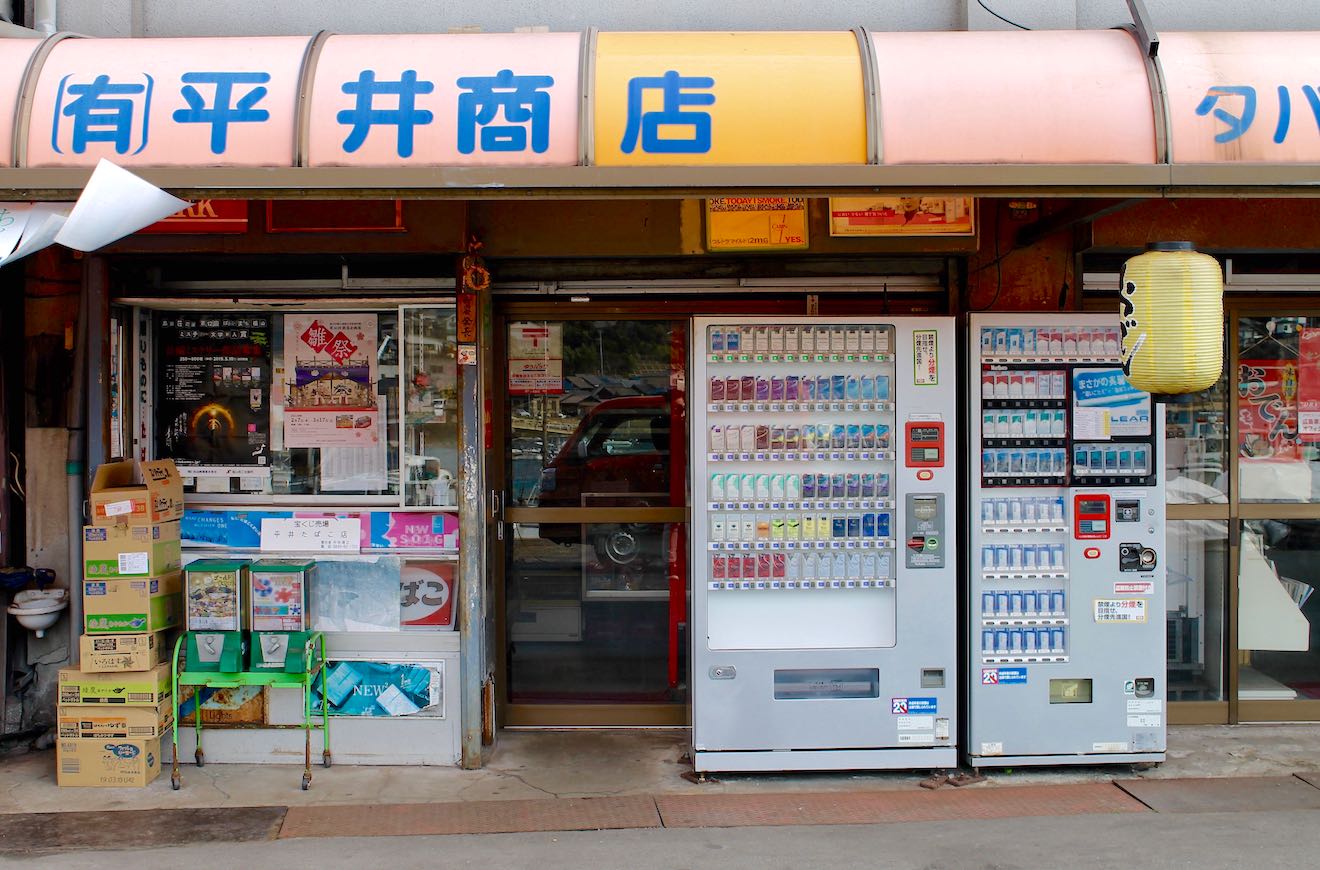 ■Information
Name: Hirai Shoten (Shop for Daily Neccesities)
Address: 781, Tomo, Tomo-cho, Fukuyama City, Hiroshima
Phone: +81-84-982-1755
Time: 7:00am-7:00pm
Close: Open 365 days a year
Website: https://visittomonoura.com/2020/01/3532/?lang=en

Get to Know Thoroughly about Historical Port Town, TomonouraEnjoy Trip with Learning
Tomonoura is a historical port town that has been there since ancient times. In recent years, its unique culture and townscape are attracting many seasoned travellers from inside and outside of Japan. Since it is has not become a complete attraction, the atmosphere of this good old port town with daily lives passed down from generation to generation would be a nice comfort for you who are tired of busy days. Somehow it feels nostalgic in Tomonoura even if it is your first visit. You should start planning to travel to this town.
If you like this article,
Please push the
"Like"
!
Deiliver the SeeingJapan's news to you!
Popular Articles in Same Category
Author