You can't miss here when sightseeing in Onomichi! Top 10 recommended hot sightseeing spots to go!
What do you think of when you hear about Onomichi in Hiroshima Prefecture? Movies? Ramen? Or you may have an image that there are many slopes. Onomichi has so many various attractiveness. There may be many people in Hiroshima who particularly like Onomichi? In this article, we introduce some of the recommended sightseeing spots that you should visit when you go to Onomichi City, Hiroshima Prefecture.
1. Even beginners are welcomed! Enjoy cycling in Onomichi. Shimanami Kaido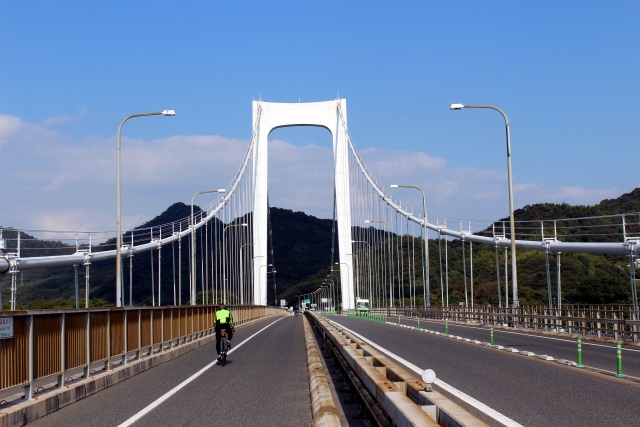 The cycling road in the Setouchi Shimanami Kaido is famous for Japan's first 70km-long bike path that we can cross the strait. "Shimanami Kaido" links Honshu with Shikoku, and Onomichi is the starting point of Honshu side. From Onomichi Port to Mukaijima, we can move by boat.
It seems that it takes about 10 hours for beginners to go on a bicycle between Onomichi and Imabari. Unexpectedly, the course has up and down. If you want to enjoy sightseeing with relaxing, it may be better to stay one night in the middle of the way. When you come to Onomichi, please try it!
2. Activities are attractive! Setoda Sunset Beach (Shimanami Lemon Beach)
In Setoda Sunset Beach in Ikuchi land floating on Seto Inland Sea, you can enjoy a beautiful sunset setting in the Seto Inland Sea. Besides swimming, there are activities such as camping, barbeque and sea kayaking, and a wide range of facilities such as restaurants and shops.
If you visit Onomichi for the sightseeing where you can feel the beautiful nature, how about enjoying the leisure activities during the day time, and looking at the sky that is stained in the red with relaxing in the evening, even though you usually spend your day off at home? It is a recommended tourist spot that you should visit.
3. Enjoy local gourmet when Onomichi sightseeing! Onomichi Ramen
Onomichi Ramen is local ramen that is made around Onomichi City, Hiroshima Prefecture. Its characteristic is that pork fat floats on soy sauce-based soup. As you can see from the appearance, it is ramen with a strong sense of stiffness. Of course, depending on the ramen restaurants, it is not always the same.
If you want to eat Onomichi Ramen, I would like to recommend a restaurant called Shukaen. It is a popular ramen restaurant representing Onomichi, and when it comes to the lunchtime, the long queue is created. Shukaen's Chinese Soba is delicious to eat even if you need to wait in queue for a long time! Please enjoy it!
4. Onomichi Main Shopping Street to enjoy the photogenic cityscape in Onomichi sightseeing
Onomichi Main Shopping Street is a 1.2km-long arcade shopping street from Onomichi Station to the east. This shopping street is a spot where you can see the continuous nostalgic cityscapes and there is no doubt that you want to take photos a lot there. This area is lined with cafes and general stores that have been renovated from old houses.
Also, the narrow alleys that extend from the shopping street have a great sense of nostalgia. When you go to Onomichi for sightseeing, please walk slowly through this Photogenic shopping street that is sometimes used for filming in a Japanese movie, and enjoy the feeling of nostalgia! It is a tourist attraction you should go to.
5. You can make your own Buddha or Nigiri Buddha! Recommended for sightseeing Jikoji Temple
Jokoji Temple, located in Onomichi, Hiroshima, is a temple of Jodo sect temple built in 834. It is said that your life span will be extended if you go through the Enmeimon Gate in the area.
The temple itself is attractive, but the one I would like to recommend here is Nigiri Buddha Making. You can make your own Buddha. It's easy to make Buddha just by using clay, instead of carving a tree. The Buddha made will be baked in a pot by the priest and will be delivered to your home. This is a spot that you really should experience in Onomichi.
6. The view from the observation deck is amazing! Jodoji Temple
It is said that Jodoji Temple was founded by Shotoku Taishi during the Asuka period of Japan. This is a temple of Shingon sect that also has a root to Ashikaga Takauji, who initiated the Muromachi Shogunate. This temple, the main hall and the two-storied pagoda are designated as national treasures.
That alone is enough, but in particular, the view from Okunoin (Mt. Jyodoji Temple Observatory) is recommended! Okunoin is located at the top of Mt. Jodoji Temple, at 178.8 meters above sea level. In addition, since you can fully enjoy the Japanese-style atmosphere in the Jyodoji Temple garden, it is especially recommended for tourists from overseas. As it is a scenic spot that represents Onomichi, this is a place that you should visit.
7. A tourist attraction of Onomichi for cat lovers The Narrow Path of Cats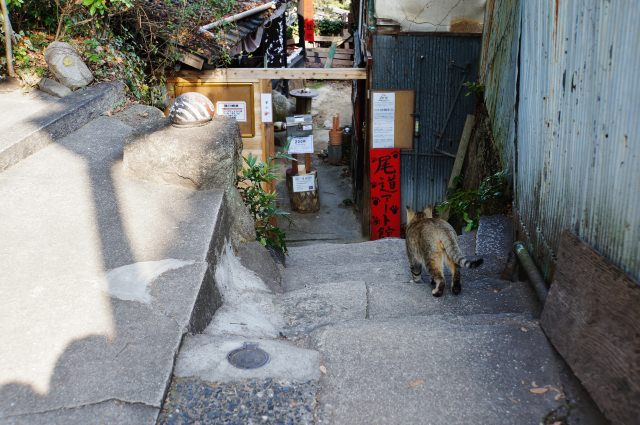 By the way, do you like cats? If you like dogs but also love cats, I would recommend this spot The narrow path of cats.
There are now more than 1,000 Fukuishi Cats all over the alley. Onomichi is an area with many cats from the first of all. There may also be encounters with real cats! Please take a walk there.
8. A tourist spot where you can enjoy the town of Onomichi! Senkoji Mountain Ropeway
If you want to enjoy the scenery of Onomichi City, Hiroshima Prefecture, please visit this tourist spot. This Senkoji Ropeway is a ropeway connecting the city area and the peak of Senkoji Mountain. Here, you can enjoy the Onomichi town view with a guide.
In addition, there is Senkoji Temple when walking from Senkoji Mountain Ropeway Sanroku Station for approximately three minutes. Furthermore, the Senkoji Park famous for cherry blossoms is in a good location to access, so it may be nice to drop by in the middle of sightseeing! Please enjoy the aerial walk with enjoying the scenery in Onomichi!
9. Cruising in the Seto Sea while feeling the sea breeze! Onomichi Water Cruise
If you come to Hiroshima Onomichi, why not feel the sea breeze of the Seto Inland Sea? How about enjoying the city view of Onomichi with the Onomichi Water Cruise, which operates for a limited time, in spring, summer, and autumn? You can take a boat from Onomichi Port Pier and enjoy a beautiful view of Onomichi from the calm Seto Inland Sea.
The journey takes 40 minutes and the ship operates only 4 times a day, only on weekends and holidays. As there are some irregular closing days, please make sure to check on the official website in advance. In addition, there is also the Onomichi Water Cruise -Yunami Konami- which operates in sunset time! Please enjoy it!
10. Looks like Greece!? A tourist destination Hill of Miraishin where white marble is too lovely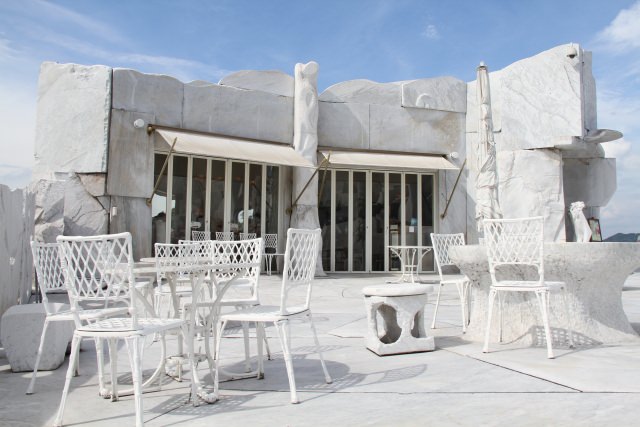 There is a white garden like Santorini, floating in the Aegean Sea. Located on Ikuchi Island in the Seto Inland Sea, Hill of Miraishin is a 5,000-square-meter marbled garden. Especially on sunny days, white marbles shine, creating a wonderful landscape.
And the most surprising thing is that the Hill of Miraishin is in a museum owned by a temple called Kousanji! And here you can touch marble directly. There is also a café in the garden where you can enjoy the view of the Onomichi, so you can relax there. If you are visiting Onomichi for the sightseeing you can't miss here!
Let's enjoy sightseeing of Onomichi with various expressions!
What did you think? In this article, I introduced 10 recommended tourist spots that you should visit when visiting Onomichi in Hiroshima. Onomichi, with its sea and mountains, has many attractions. There are various tourist destinations such as historical spots, natural spots and so on! When you come to Onomichi in Hiroshima for sightseeing, please enjoy this area in the way you like!
If you like this article,
Please push the
"Like"
!
Deiliver the SeeingJapan's news to you!
Popular Articles in Same Category
Author