From the Famous to the Hidden Gems! The 10 Must-go Viewing Spots for Autumn Foliage in Okayama prefecture!
Okayama prefecture has positively been promoting tourism with the catch phrase "the Land of Sunshine" because of the lowest rainfalls in Japan. It is one of the prefectures of the Chugoku region. Okayama has many farms for tourists, where various fruits are harvested including grapes, peaches. It is also well-known as one of the Six Old Kilns of Japan for the production of traditional pottery such as Bizen ware. You can feel the Japanese aesthetic sensibilities called "Wabi-sabi" culture in the various spots in Okayama. Let's walk through the best viewing spots for autumn foliage.
One of the Eight Views of Okutsu. Enjoy Autumn Foliage in the Amazing Scenery of Okayama, Okutsu-kei Valley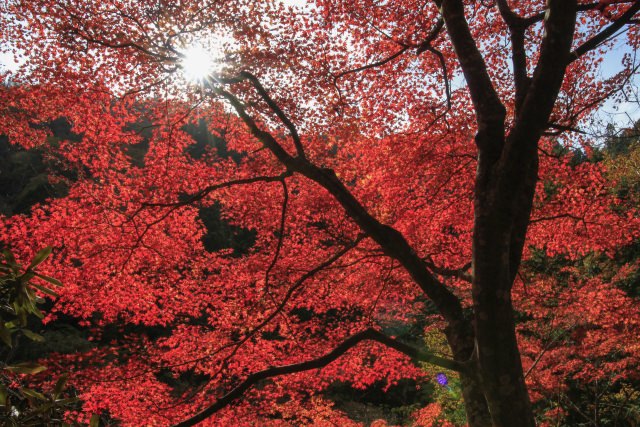 Okutsu-kei Valley is situated in Kagamino-cho known as the town of country culture. You can enjoy the beauty of nature at the valley all year around. There are a variety of attractions here including beautifully-shaped granite eroded by Okutsu River and giant rocks.
There is the hot spring resort just 3km away, where you can have a good rest after appreciating nature. Worth visiting!
Enjoy Great Nature Colored in Pure Red at Yamanori Valley
"Yamanori Valley" is the sightseeing spot located in 20 minutes drive from the nearest highway interchange. It is famous for "Valley Somen Nagashi", which you can enjoy having Somen noodles flowing, in summer. There is Fudo Falls of 20 meter-height nearby. It is very popular to have Somen noodles in such a refreshing location.
Yamanori Valley also shows the beautiful scenery in autumn. In autumn, the whole mountains turn into colors. You will be amazed on viewing colored leaves of beech and maple. The promenade guides you through the beauty of the valley.
Enjoy your Ride through Autumn Foliage at Akawase Valley
This area is blessed with rich water, situated in Kagamino-cho known as "Ideyu-no-sato". Many tourists visit Akawase Valley to appreciate nature including a number of falls here.Near the valley, there is Okutsu Onsen, which makes the area more attractive for tourist to drive around. It is absolutely perfect for a resort place in summer. You can enjoy the amazing combination of natural colors in winter, colored mountains and the river running among the valley.
There is the cafe renovated from an old private house, called "Utatane-no-sato Ippuku-tei", where you can have a rest while your ride and trekking. It offers a variety of dishes including Tempura of local edible wild plants, Dango-jiru (soup with dumplings).Do not miss the seasonal menu in the season of autumn foliage. There are other attractions such as the Forest of Biotope, the park near Ippuku-tei, which amuses you at any ages.
One of Japan's Three Great Gardens. Outstanding View of Autumn Foliage at Okayama Korakuen
"Korakuen" is one of Japan's Three Greatest Gardens, which holds various attraction in the vast land. You can enjoy four seasons from the trees and flowers here. Beginning with the flowers of bush clover, it shows a beautiful scenery of autumn with 250 trees of colored maple and gekgo in the garden.
There are various sightseeing spots around Korakuen, such as Okayama Castle, Okayama Prefectural Museum. It is located in 25 minutes walk from JR Okayama station, which is perfect for walking around the city.
The Sightseeing Spot Filled with the History of Okayama, Shizutani School
Shizutani School was a domain school in the Edo period, established by the Okayama domain. Now, it offers the site for camping and education for younger generations. There are a plenty of attractions here including the lecture hall, which was designated as the national treasure, Shizutani Shrine, the Important Cultural Property, the shrine, Koyotei, which was used as a tea room for students and intellectuals since the establishment in 1810.
Shizutani School was said to be the oldest school for ordinary people in Japan. There has been the movement to promote it as a world heritage. It is located in a beautiful surroundings among trees. Not to mention, it is also perfect for autumn foliage. Highly recommended.
Experience the Beautiful Nature in Okayama at Onbara Kogen
Onbara Kogen is 700 meter high, which is a resort site for camping in summer and for skiing in winter. As for autumn, you can enjoy autumn foliage here. Onbara Lake is perfect to walk around. The highlands around the lake are surrounded by white birches. It is very popular as a resort site.
You can enjoy the exceptional scenery of colored trees in autumn. There are other attractions such as Iwai Falls, Kamisaibara Onsen, which cannot be missed on your visit for colored leaves. Kamisaibara Onsen has some day-visit facilities, which is convenient for tourists. Enjoy the scenery of Kamisaibara, Kagamino-cho, which was selected to the 100 scenic nature spots in Okayama.
Famous Viewing Spot for Autumn Foliage Selected as One of the Japan's Top 100 Waterfalls, Kamba Falls Nature and Parks
Kamba Falls Nature and Parks is the perfect spot to enjoy beautiful colored leaves, where you can see the falls selected as one of the "Japan's Top 100 Waterfalls". There are wild monkeys living around the park, which is one of the attractions for tourists. You often see monkeys in spring, but autumn is also a good season because of fruits of trees.
Near Kamba Falls, there is the interesting spot called "Oni no Ana (the hole of orges)", where it takes 40 minutes on foot by a different route to reach. You cannot miss this spot implying the legend of Momotaro (Peach Boy) based in Okayama prefecture. The unique scenery of autumn will amuse you with maple and katsura trees around the falls.Do not forget checking in the tea houses for souvenirs on your way back from the falls.
Experience Autumn Foliage at National Site of Scenic Beauty. Must-visit Spot in Okayama, Gokei
Gokei is the famous spot of autumn foliage in Okayama, selected as the National Site of Scenic Beauty in 1923. It is located in the south of Okayama prefecture, which has been well-known.
Tenchuzan Mountain and Tenchuzan Shrine nearby cannot be missed on your visit. Tenchuzan Shrine is a small shrine but has a long history. Worth visiting the outstanding view of autumn foliage here.
Enjoy the Authentic English Garden at Miyama Park!
Miyama Park is a huge park with 200 hectares of land, located in Tamano city, Okayama prefecture. At the part of the park, there is the authentic English style garden designed by a British gardener, which is one of the attractions of this park. It holds more than 150 thousand trees and plants.
You can enjoy autumn foliage from September to November in Miyama Park. The garden was designated as one of the 100 scenic sites of nature in Okayama, which amuses you with its beauty. You cannot miss the scenery outside the part. About 40 trees of gekgo on the street around the park, which colors the city in autumn. It is perfect both for walking and cycling inside and outside the park.
Autumn Foliage Spot with a Long History in Okayama, Hofuku-ji Temple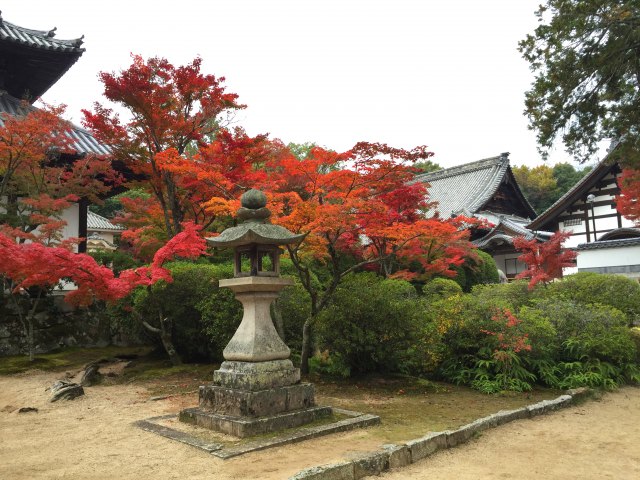 "Hofuku-ji Temple" is the temple with the longest history in Okayama. It is located in 10 minutes drive from JR Soja station. There are many attractions inside the vast temple such as the main gate, the Buddha hall, three-storied pagoda.
On the second Sunday of every month, Zen meditation session is offered, where you can have the opportunity to have sermon with tea and sweets. The place for Zen meditation is surrounded by beautiful nature, where you can enjoy colored leaves in autumn. Worth experiencing Zen meditation on your visit. It holds the exhibition of India-ink drawing every autumn. This is one of the must-visit spots in Okayama.
Enjoy Beautiful Autumn Foliage in Okayama!
Here is the 10 must-visit spots for autumn foliage with vivid colors in Okayama. You now see how rich Okayama is with nature. Colored leaves attract people with its perfect beauty. Why don't you visit Okayama to enjoy the colored scenery? Enjoy Okayama!
If you like this article,
Please push the
"Like"
!
Deiliver the SeeingJapan's news to you!
Popular Articles in Same Category
Author