Top 10 Tourist Attractions & Best Things to Do in Miyazaki, Japan
Miyazaki is not famous prefecture compare to Fukuoka where is the biggest city in Kyushu or Kumamoto and Oita where are famous for hot spring. But there are lots of places like historical shrine or beautiful spots in Miyazaki. Today, we would like to introduce 10 places to visit so if you go to Miyazaki, please visit!
1. Takachiho kyo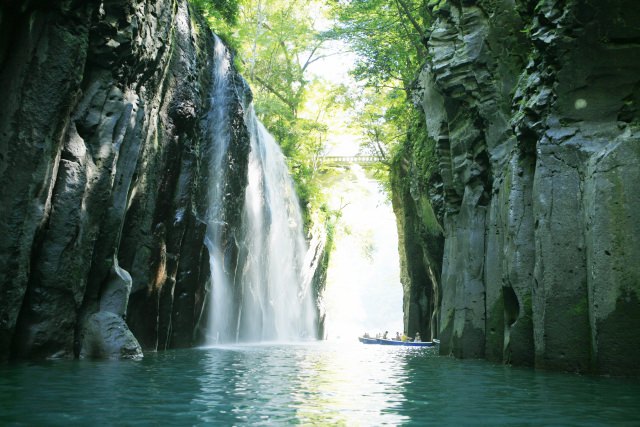 It is a valley that is made by volcanic activity of Mt. Aso and stream of lava got cold suddenly. It took long years to make this valley. It is chosen for natural monument in 1934.
Lots of tourists visit here every year. If you want to enjoy more, we suggest you to borrow boat. You can see Manaino taki that is 17m high and chosen for beautiful waterfall 100 in Japan in front of you.
If you look the waterfall and the valley from boat, you can see the view that you can't see from sidewalk. In summer and autumn, it is crowded but it's worth it.
2. Obi castle
Obi is called small Kyoto in Kyushu. Ito family who last over 800 years owned this city. When the city was gone in 1871, the castle was broken down but in 1978, it was rebuilt by Obi cadar that was over 10 years old.
It is selected national important preservation district of historic buildings, so you can kearn history by walking here. They have museum and garden.
When you walk around, if you buy "Ayumichan map" at parking lot, it will help you to do sightseeing there. It has tickets for 7 places inside. Let's walk around holding the map!
3. Toino misaki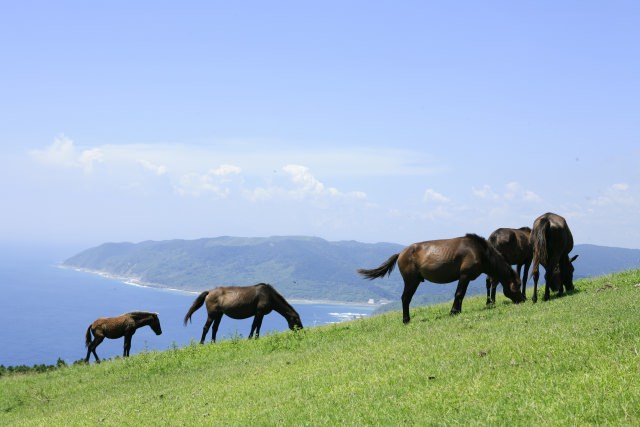 It is cape that is located southernmost of Miyazaki. It is 550ha wide and horses live in nature. You can see wild horses in front of you.
About 80 horses are selected for natural monument and they have birth season in spring. If you want to know more about Toino misaki, visit "Toino Misaki visiter center".
They have information about Toino Misaki and the horse. Horse's sight is 350 degrees, so be careful to get too close to them!
4. Sun messe Hinan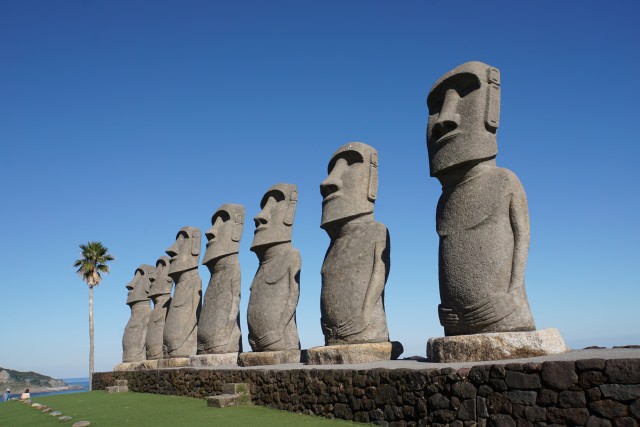 It has been 20 years since this theme park opened. What made this theme park famous is Moai statue. Moai statue is a statue located in Easter island that is one of the 7 mystery in the world.
Why did they build this statue here? Japanese company and national research institute rebuilt moai statue that were destroyed by war and earthquake.
There are 7 Moai statues in front of ocean, each one has luck of work, love and money. Please watch them close. There are lots of hills in the park, so it will be good to rent cart. Please enjoy!
5. Aoshima shrine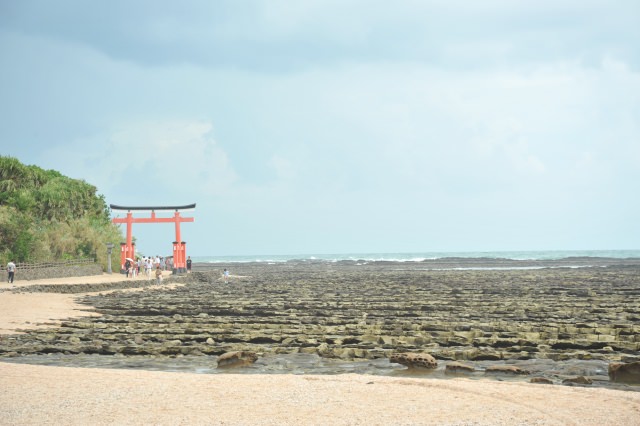 Aoshima is a small island that is 1.5km around. It has been said holy place and only people work at Aoshima shrine were allowed to come. Nowadays, everyone can go.
It's an island but connected by a bridge, so it is easy to go. There are many kinds of fortune that is introduced by TV or magazines. Please visit!
 
You May Also Like:

6. Teruha Otsuri bridge
Town of Aya is where biggest Evergreen forest is. It is 2500ha big, and there is a bridge that is 142m high and 250m long.
There are evergreen forest spreding around the bridge, and there are lots of birds and bugs live there. Please look around the forest crossing the bridge.
When you cross the bridge, there is a 2km long sidewalk, so you can walk around for 40 minutes. In front of the bridge, there is a museum that shows animals in the forest and things to live. Please visit!
7. Ebino kogen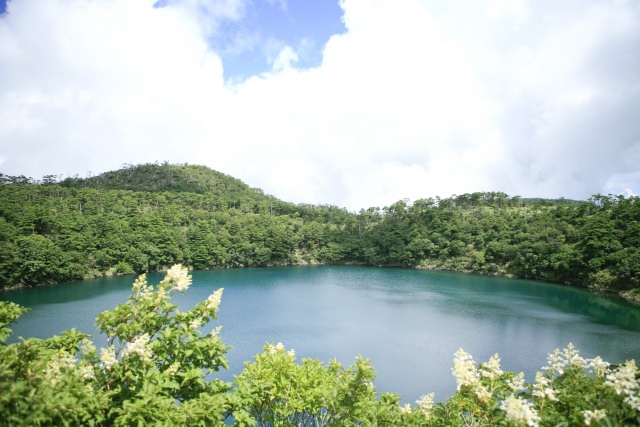 It is a plateau that is located at 1200m high. It was selected for national park for the first time in Japan and you can see beautiful nature in all seasons. There are some lakes in this area so it is fun to go look around those lakes.
How about enjoying taking a walk here? Please visit Ebino eco museum center. You can get information about nature, animals and climbing. Also they show pictures of beautiful view of Ebino kogen. Please visit!
8. Phoenix zoo
Phoenix zoo is 13 million square meters and have 100 kinds of 1200 animals that is located next to Phoenix seagaia. It is divided into "animal zone", "amusement park zone", and "restaurant zone".
At animal zone, they have big animals like elephant, giraffe, zebra and tiger, and small animals like lesser panda and capybara. They have flamingo show that is rare in Japan, or take a picture with elephant or ride a pony, so you can enjoy with your kids.
At amusement park zone, they open pool in summer. They have 200m long flow pool and water slide so adults can enjoy too. This is the place you can enjoy with kids all day!
9. Florante Miyazaki
It is a flower park that you can enjoy seasonal flowers. If you like gardening, you should go. In the park, there are "Machinami mihonen" and "Hanazukuri mihonen" that helps you making theme garden.
Even if you are not interested in gardening, there are things you can enjoy like big park and wooden train In winter, they held "Illumination flower garden, Hikarinohanazono" that has 80 million lights.
They also have another events according to the season, so please check them flowers!
10. Shibushiwan Daikoku Dolphin Land
If you ever think you want to swim with dolphins someday, please visit here! This is the only place you can swim holding dolphin's back. Other than that, you can experience shaking hands, getting a kiss on your cheeks or touching them.
They have dolphin show 4 times a day and also penguin's walk and feeding rabbit and turtle from 14:00 every day. At free zone, they have store and restaurant.
So you can stop by when you drive. Please visit with your family to meet cute dolphins!
Let's go to sightseeing spots in Miyazaki!
If you hear Kyushu, Fukuoka and Kagoshima are places you would think but there are good spots for sightseeing here in Miyazaki too. You can see beautiful beach, mountains and learn history in Miyazaki. How about experience new stuff of Kyushu in Miyazaki? It must me a good memory. Please visit!
If you like this article,
Please push the
"Like"
!
Deiliver the SeeingJapan's news to you!
Popular Articles in Same Category
Author