Top 10 Tourist Attractions & Best Things to Do in Aso, Kumamoto
The area of Aso in Kumamoto prefecture received serious damage by the 2016 Kumamoto Earthquake. However, the restoration has progressed steadily in the affected area, and there are plenty of great places where you can enjoy vast landscape, historic remains, temples and shrines, hot springs, and outdoor activities. There are many tourist spots and things to do in Aso. This article introduces the best attractions you should visit in Aso!
1. Mimami-Aso Railway Trolley Train
The Mimami-Aso railway was founded in 1985 as a semi-public sector when the Takamori line of the former government-owned railway was abolished.
The railway was seriously damaged by the 2016 Kumamoto Earthquake. One of the10 stations, "mimami asosui no umarerusato hakusui kougen eki", became famous as the longest named station in Japan. After the earthquake, the train runs partially between Takamori station and Nakatsu station. These are the stations that suffered fairly less from the earthquake.
The train you should ride is "Yusuge-go" that runs twice a day. In the year 2017, the train runs the following dates; Saturdays, Sundays, and holidays from March 18 ~ November 30, and everyday during spring break, Golden Week, and summer break.
The trolley train has small locomotive trains that are attached to the front and last car. Please enjoy beautiful scenery of Aso while feeling the fresh breeze.
2. Aso Cuddly Dominion
At "Aso Cuddly Dominion", you can interact with various animals and watch some shows as well. As it means that this is "the place where there are many animals that you want to cuddle", you can meet many cute animals here.
The park hosts more than 500 animals and birds of 100 kinds in the vast land of 300,000㎡. After the renovation in spring 2017, the animal observatory, interaction programs and experience-based activities have been renewed.
There are plenty of things to do for the first time visitors as well as repeat visitors. The "capybara pond" has opened in March 2017, and currently seven capybaras were kept there. You won't be able to say enough about how cute they are!
The shows are also popular, and you can't miss "Miyazawa theater" that famous trainers from a television program appear in the play. Other programs include the horseback riding and a race of mini-pigs. You can enjoy a whole day with your family here. Let's go visit with your family!
3. Aso Shrine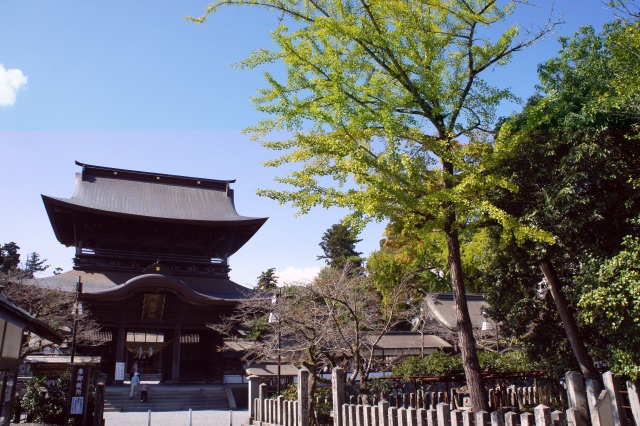 During the 2016 Kumamoto Earthquake, the Aso shrine with more than 2,300years of history were severely damaged, and most of buildings inside the precincts of shrine, including tower gate and the three shrines to worship deities collapsed.
The two-story tower gate that is assigned as an important cultural property was built at the end of the Edo period and its height was 18 meters high. The buildings that are assigned as an important cultural property has been restored under the support from the government found.
However, the shrine needs to bear expenses for other buildings that are not assigned as cultural assets. Therefore, the shrine looks for supports from around the world for the restoration project. It is estimated to take at least 7 to 10 years to complete the restoration and to cost about 2 billion yen.
You can still visit the areas that were not damaged too much by the earthquake and the places where there is no undergoing construction. They will give you a free tour between 10am and 3pm. Let's support the shrine to the day that everything will be restored to the magnificent shrine like before.
4. Hana Asobi
If you love roses, you must come here. This is a wonderful place where you can be surrounded by rich scent of roses during spring and fall rose seasons.
There are two rose gardens. In the "Rose Garden", English roses are planted mainly. The "Rose Dome" is the largest rose garden in the western Japan and you can find rare kinds of roses here. 450 kinds of roses and 4,000 roses are planted here, and the rose festival is held as well.
At the souvenir shop, you can find a variety of products using roses, local specialties and unique novelty items from Hana Asobi. The restaurant is also very popular here. Aso is known for delicious natural water, and vegetables and rice grown with Aso water are delicious.
The menus include Aso's famous "Aka beef", and you can enjoy steak and roast beef over the rice. The Salisbury steak with curry is also a popular menu. How about making a stop here while going for a drive? It'll be fun!
5. Isshingyo no Ozakura
This is one of famous cherry blossom spots in Kumamoto, and 200,000 people visit here every year. Some of houses near the tree were completely destroyed by the 2016 Kumamoto Earthquake, but this cherry blossom tree did not receive damages.
This wild cherry tree is more than 400 years old, the height is 14 meters, and the trunk circumference is 7 meters. The tree was planted to mourn for Minehoki no kami korefuyu and his vassals who were defeated by the war against the Shimazu clan in 1580.
Planting a cherry blossom tree is a religious custom to propitiate a departed soul in this area. The tree was named isshingyo which means that conducting practices intently.
The flower blooms the most in early April every year. The contrast between light pale pink floors and yellow canola flowers are impressive. There is a path around the tree to enjoy the view from a various angle.
The festival is held in the Isshingyo Park during cherry blossoms season. Enjoy the beautiful Illuminated cherry blossoms at night when they are in full bloom.
 
You May Also Like:

→Top 10 Tourist Attractions & Best Things to Do in Kyushu, Japan
6. Kusasenrigahama
Kusasenrigahama is one of the most famous scenery in Aso and located at the foot of Mt. Eboshi crater, one of Aso's five peaks. Its prairie is as big as 785,000㎡.
Cattles and horses graze around the pond, and it is a peaceful place. The horse riding is available from April to November. You can relax in the magnificent landscape of Aso.
The best time to visit is summer when you can enjoy fresh green scenery and winter when everything is covered in white. 'New Kusasenri' is recommended to enjoy the beautiful scenery of Kusasenrigahama. At the restaurant overlooking Aso's landscape, enjoy local dishes such as steak using famous "aka beef', basashi, and dango soup.
At a café, popular foods are milk, ice cream, and freshly baked breads. Let's make a stop here when you go for a drive.
7. Aso Nature Land
Would you like to feel the great outdoor of Aso? It's nice to relax and enjoy the stunning scenery of Aso, but it's also fun to challenge something different in the nature.
At Aso Nature Land, you can try a variety of activities, such as a paraglider, a hot-air balloon ride, yoga, star gazing, etc. The most popular one is a tethered hot-air balloon ride in the early morning. It ascends 40 meters during the 5-minute ride.
A paraglider is also fun. There are two courses available. One is the half-day experience course that you first practice on the grand before going for a solo flight.
The other is the tandem with instructor course that you have a tandem experience with a staff instructor. Small children can also participate the experience, so it's a good place to visit with your family.
If you want to try more intense activities, they also provide canyoneering and night trekking. All the activities require reservations, and it may be cancelled depends on the weather or the number of participants. Make sure to check with them when you make a reservation.
8. Fruit Country Couples
This is where you can pick fruits throughout the year! From early December to early May is time for "strawberry picking". The strawberries are cultivated at high position, so you can pick them standing up. The three different kinds of strawberries are grown.
Apples are from the end of August to the end of November. There are 300 trees of 4 different kinds of apples, and they come in harvest one after another.
Kyoho grapes are in season from early September to mid October. Aso's climate is good for the grape cultivation because of the temperature gap between day and night.
At the café, "Couples", on the property, they serve sweets and drinks using garden-fresh fruits and Italian dishes using fresh vegetables. The most popular dish is their apple pie.
Everything including dough is homemade, and they have been baking the pie with the same recipe for more than 10 years. Other dishes include strawberry ice cream and freshly squeezed apple juice. It's a good place to visit with your family.
On the other side of Fruit Country Couples, there is "Aso kanko sakuranbo-en (cherry garden)". This is the only cherry-picking place in Kyushu. If you want to enjoy picking fruits, this is the place to go!
9. Aso Farm Land
This is a facility that you can have various experiences, such as healing, sports, overnight stay and cuisine. Over 4,000,000 people visit this theme park with the concept of fun and health.
The huge property has the size equal to more than 20 Tokyo domes. At "fureai animal kingdom", you can interact with small animals. There are many playground equipments at "Genki no mori".
At "Aso kenko kazan hot spring", you can enjoy hot springs in a variety of bathtubs, such as a large bathtub, a bathtub made of rocks, a laying spring, sauna, etc. You can also stay in the dome shaped hotel.
The hotel did not receive damages during the 2016 Kumamoto Earthquake, so rooms were offered to local people who lost their homes. There are an 80 meters long slide which is the longest in Japan and a huge maze in "genki no mori". You can feed capybara and rabbits in "fureai animal kingdom". It's a fun place for families with children.
Each of dome shaped hotels has a different exterior and interior of dinosaurs, kumamon, monstrous beasts, strawberry, etc., and it will please children for sure. It's recommended to those families who want to be active during their stay.
10. Day-use Hot Springs
There are many good hot springs in Kumamoto. The widely known Kurokawa hot spring, and there are other famous hot springs around Aso. Out of these spots, we would like to recommend "Waita onsengo".
"Waita onsengo" is the name of the area that is composed of 6 hot springs located at the bottom of Mt. Waita. The 6 hot springs are "hage no yu", "take no yu", "yamakawa", "asozuru", "jikoku tani", and "suzugatani".
Steam is rising from each hot spring, and many of hotels and hot spring facilities use hot steam for a steaming kettle. "Hage no yu onsen kugiyu" is one of the places you should make a stop while sightseeing.
This facility uses the coin-timer automatic machine to fill up the bathtub, so you can always take a fresh hot spring bath. There are 6 inside baths and 10 outdoor baths. The bathtubs are made from different materials, such as hinoki cypress and rocks. Here is how to use the coin-timer automatic machine.
1. Put the plug on the bathtub
2. Fill up the bathtub
3. Once water is filled up, soak in the bath and enjoy
4. Pull out the plug
It's very simple and easy. Fresh hot springs come out, and the bath is ready in 5 minutes. Enjoy the relaxing time surrounded by the beautiful landscape of Aso.
There is a steaming kettle available to visitors for 2 hours for free of charge. They sell eggs and sweet potatoes, and you can bring your own foods as well. Why don't you bring some potatoes or corns and enjoy them after the bath?
Let's Enjoy Sightseeing in Aso, Kumamoto!
This area received serious damages by the 2016 Kumamoto Earthquake, but the recovery is progressing. We hope that not only those who knew Aso before the earthquake but also people who have never been to Aso will come and visit as many places in Aso as possible. Let's show your support by visiting the area. Enjoy your visit, and we look forward to welcoming you!
If you like this article,
Please push the
"Like"
!
Deiliver the SeeingJapan's news to you!
Popular Articles in Same Category
Author