Top 10 Tourist Attractions & Best Things to Do in Hakone, Japan
It is about a 90-minute-ride on a train from Tokyo. Hakone is tremendously popular as the hot-spring resort which you can simply visit. The location facing Mt. Fuji is its strong selling point. You can enjoy either spending your time relaxed, soaking yourself in a hot-spring or you can walk around and visit the special places. We are introducing the 10 carefully selected enjoyable spots which you shouldn't miss. We hope you can enjoy Hakone to the full, visiting all the popular sightseeing spots.
1. Hakone Mountain Train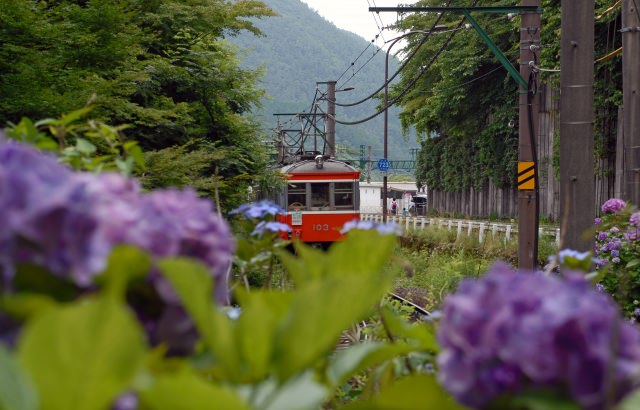 The "Hakone Mountain Train" is a synonym for Hakone. It is a mountain railway on which you can enjoy the various significant sceneries, depending on the season.
When the hydrangeas and changing colors are at their best, Hakone is bustling with sightseers. The Mountain Train goes up the narrow, steep slope in a zigzag fashion and the scenery along the rail attracts many photographers.
You can be comforted by just viewing the scenery on the train even if it is just the mere means of transferring elsewhere. It crosses the iron bridge and goes through the tunnel in a leisurely manner. Why don't you go to the hot-spring town, using this good olden times railway, enjoying the scenery through the train window?
■Information
Name: Hakone Mountain Train
Access: Get ride on the train from Odawara station to Gora station
2. Hakone Shrine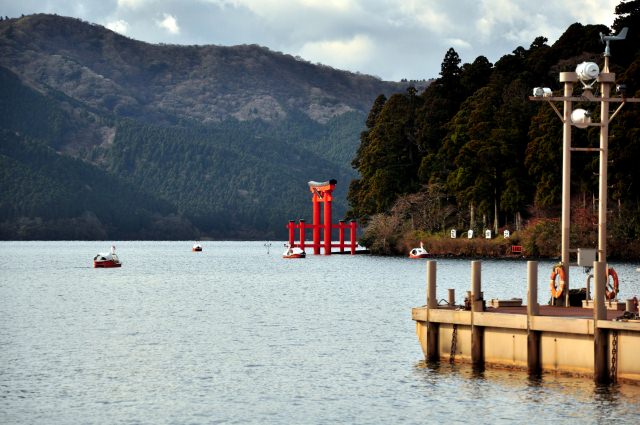 The large red Torii (the front gate to a Shinto shrine) standing in the lake is a symbolic setting for the historical Hakone Shrine.
This red Torii rising up to the sky looks as if it is floating in the lake. Its beauty is the highlight of the place and attracts many people.The Hakone Shrine is very popular as a spot for good luck and fulfilment of love among young generations.
In the Shrine garden, the tall cedar trees are standing stately and you can enjoy the nature to feel refreshment of mind and body.It definitely comforts your tired spirit. When you go to Hakone to enjoy a hot-spring with your partner, this is one of the sightseeing places which you can't overlook.
■Information
Name: Hakone Shrine
Address: 80-1, Moto Hakone, Hakone-machi, Ashigara-shimo-gun, Kanagawa prefecture
Access: a 10-minute-walk from the "Moto Hakone" bus stop of the Izu Hakone Bus
3. Mt. Kintoki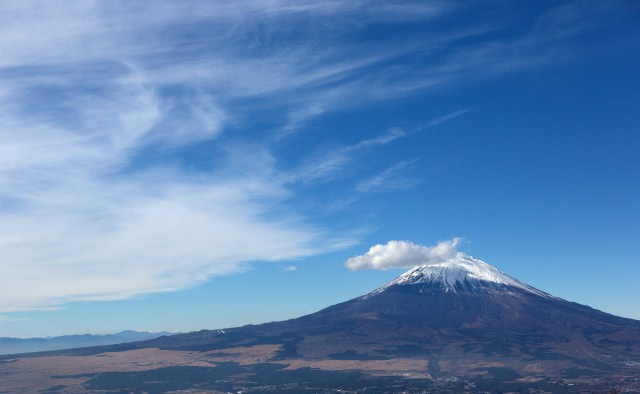 Mt. Kintoki is very popular as a hiking route, as it is easy to climb up even for beginners of mountain climbing. After a 2-hour-walk, the beautiful Mr. Fuji emerges in front of you. In winter with the clear air, you can view the splendour of Mt. Fuji.
On the way up, you may come across monkeys or wild-pigs and your walk won't be boring. It is a good idea to sample the delicious foods in Hakone to satisfy your hungry stomach, after a long walk. Why don't you add this to your list as a new regular sightseeing route?
■Information
Name: Mt. Kintoki
Access: the Odakyu Hakone highway Express Bus from Shinjuku station
4. The Lake Ashi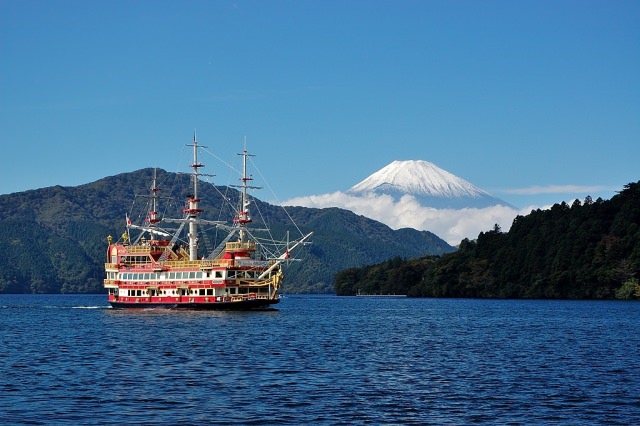 The large Lake Ashi is the symbol of Hakone. A lot of sightseers visit Hakone to see the fabulous Lake throughout the year. You can enjoy cruising on a pleasure boat or you can take a break viewing the Lake from a hotel or a restaurant on the lakeside. There are various ways to enjoy the Lake, depending on what people like.
If you drive, it is recommended to visit around the Hakone Check Point and the museums dotted around the Lake Ashi. You can spend all day long enjoyably. It is the best area for people who want to spend a day sightseeing in Hakone.
■Information
Name: Lake Ashi
Address: Hakone-machi, Ashigara-shimo-gun, Kanagawa prefecture
Access: Take a local bus from the Hakone Yumoto station
5. Hakone Rope Way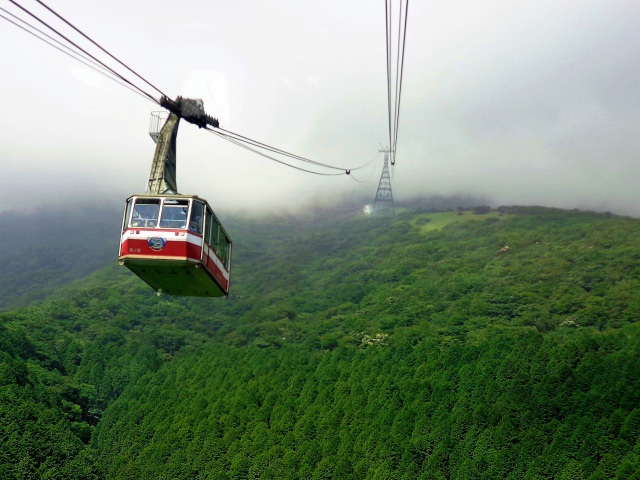 The Hakone Rope Way is popular for enjoying the magnificent panoramic view from up above. There is a glassed Gondola which travels across the valleys at a different height. It is awesome! If the weather permits, you can see not only Mt. Fuji but also the Tokyo Sky Tree.
The fare is reasonable, ¥1,000 for a single journey. It is recommended for a date as well as a family with their children. Why don't you see right across the wonderful scenery of Hakone from the sky?
■Information
Name: Hakone Rope Way
Access: Get ride on the Rope Way from Gora station to Sounzan station
 
You May Also Like:
→Top 10 Tourist Attractions & Best Things to Do in Kamakura, Japan
→The 10 Best Places to Eat in Hakone, Japan
6. Hakone Yumoto

photo by sssensss   /   embedded from Instagram
It is one of the enjoyments of the Hakone sightseeing to stroll in "Hakone Yumoto" which is a charming hot-spring town. There are shops with fresh sea products from the Suruga Bay or cafes featuring Japanese-styled sweets.
You will be satisfied physically and mentally.There are many hot-springs which you can visit on a day trip. You can just pop in at these hot-springs.
Are you interested in strolling on the shopping street in your Yukata(a summer Kimono), after enjoying a visit to a hot-spring? It sounds very elegant, doesn't it? On the shopping street, there are many souvenir shops which exhibit a Hakone atmosphere. It is the best place to look for your souvenirs.
■Information
Name: Hakone Yumoto
Address: Hakone-machi, Ashigara-shimo-gun, Kanagawa prefecture
Access: Hakone Yumoto station
7. Hakone Museum

photo by coshipii   /   embedded from Instagram
Among many museums in Hakone, the garden of the "Hakone Museum" gives you the very Japanese atmosphere. In this well maintained Japanese garden, you can enjoy the moss, the changing colors and the wild plants up to your hearts content.
No matter when you visit this garden, the seasonal different view will enchant you. Viewing the garden, having a maccha tea (powdered green tea for a tea-ceremony) invites you to the gracious Japanese "Wa" (a sense of harmony) spirit. When you do visit Hakone, don't forget to enjoy the elegant, relaxing time in this garden to the full.
■Infromation
Name: Hakone Museum
Adress: 1300, Gora, Hakone-machi, Ashigara-shimo-gun, Kanagawa prefecture
Access: a 13-minute-walk from the Gora station
8. The curry and rice of Hotel Fujiya

photo by kent.ss   /   embedded from Instagram
The beef curry and rice at the Hotel Fujiya are strongly recommended to people who are hungry after strolling in the Hakone area. The historic building has been retained since the Meiji-era and it is recognized as the first full-scale resort hotel.
Their beef and curry has been loved by many people for years. It is not a reasonable price, but surprisingly quite a few people come to this Hotel from a long way away just to taste their beef curry and rice!
I do hope you will enjoy the building itself as well as the historical atmosphere inside the hotel together with their famous beef curry and rice.
■Information
Name: Hotel Fujiya
Address: 359, Miyanoshita, Hakone-machi, Ashigara-shimo-gun, Kanagawa-prefecture
Access: a 10-minute-walk from the Miyanoshita station
9. Sengokubara Japanese Pampas Grass Field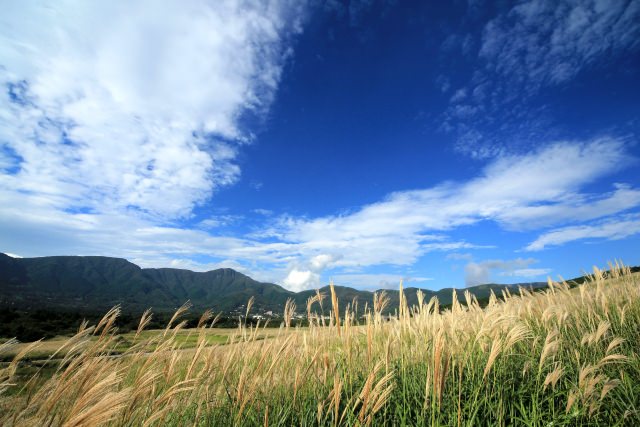 In the fall, the Japanese Pampas Grasses cover all over the Sengokuhara Field. They change their colors to gold around September and when at their best, many, many people visit there. The golden pampas grasses are overwhelming and it is one of the most magnificent photo opportunities for photographers. You can see the good olden Japanese scenery there.
In March, they burn all those pampas grasses and it is called Yamayaki (burning the mountain) . If they aren't burnt, trees can invade the field and it will turn into a copse. It is very rare experience to watch Yamayaki, so if your schedule allows, enjoy the extraordinary atmosphere in Sengokubara.
■Information
Name: Sengokubara Pampas Grass Field
Address: Sengokubara, Hakone-machi, Ashigara-shimo-gun, Kanagawa-prefecture
Access: special service buses from the Gora station
10. Hakone-en Park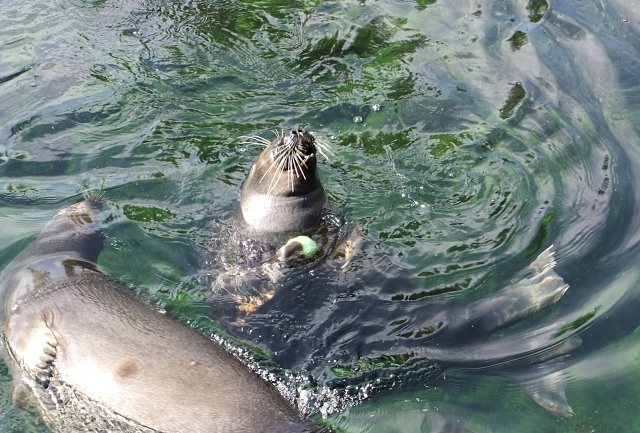 The Hakone-en Park is popular among families with their children. It is a complex resort facility which has been run by the Prince Hotel. In the huge site, it has various types of facilities, such as the aquarium, the zoo and the botanical garden.
You can come into contact with cute creatures such as seals and penguins or you can go on board a motor-boat. There are lots of attractions which you can enjoy with your family.
In the Park, there is a venue where you can have a tasty curry and rice or some sweet buns and the corner where you can buy famous Hakone products. It is such an attractive place for enjoying yourself all day long.
■Infromation
Name: Hakone-en
Address: 144, Moto-hakone, Hakone-machi, Ashigara-shimo-gun, Kanagawa-prefecture
Access: close to the Komagatake Rope Way station
When you come to Japan, you must visit Hakone!
What was your impression about Hakone, after reading this article? Hakone is not only a simple hot-spring town, but you can enjoy it in so many different ways, due to the naturally blessed environment. It is wonderful that you can see Mt. Fuji from various angles, isn't it? After soaking yourself in a gorgeous hot-spring and when you can't decide what to do or where to go for the rest of your time, I do hope this will be helpful.
If you like this article,
Please push the
"Like"
!
Deiliver the SeeingJapan's news to you!
Popular Articles in Same Category
Author