Popular Spots To Hidden Gems! The Best 10 Spots For Viewing Autumn Leaves In Japan!
Japan has a different view in each season from cherry blossoms in spring, fresh green in summer, to autumn leaves in autumn and snow in winter. Actually, not many countries allow you to feel 4 seasons like this. One of the best views in Japan is obviously the autumn leaves. Today, I will introduce the best 10 spots for the autumn leaves in Japan!
Mt.Daisetsu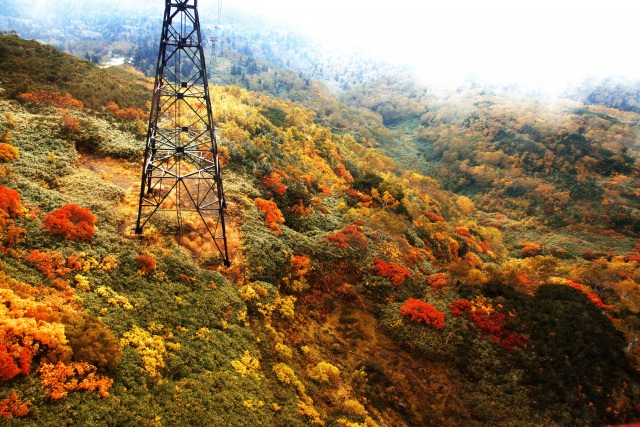 Leaves start changing colours in the early September in Mt.Daisetsu, and this is one of the spots to let you view the autumn leaves in the earliest time of the year. The best time to visit here is between the mid and the late September.
Many of you might think of maple trees when it comes to the autumn leaves, but here, you can view the other plants such as Gleichenia Japonica, Weigela Coraeensis, and Sorbus Matsumurana. Also there are a lot of coniferous trees too, so the mountain rather has a beautiful gradation of colours.
Oirase Keiryu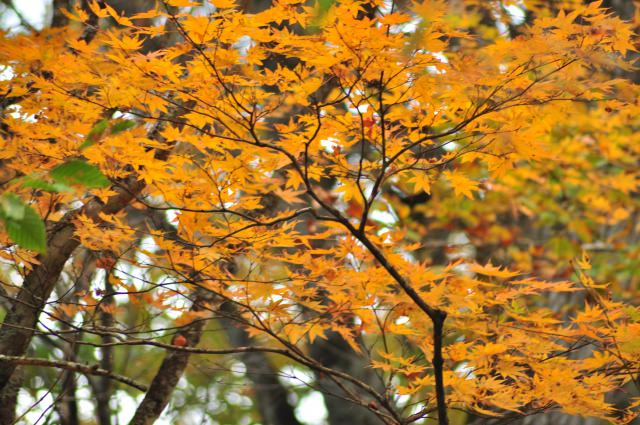 Running about 14km from Lake Towada to Yakeyama, there is this valley – "Oirase Keiryu". Here, there are many trees and that makes this place a beautiful spot for having a walk. Summer comes with fresh green in May-June, and it turns to autumn when all the trees start changing colours in October.
The best time for the autumn leaves is between the mid to the late October. There is a promenade connecting Yakeyama to Lake Towada, so enjoy your walk while being surrounded by rich nature! It would take about 4 hours if you are planning to complete the mountain, so this place is basically for someone who want to enjoy nature at their own pace!
■Information
Name: Oirase Keiryu
Address: Okuse, Towada City, Aomori
Phone: +81-
Time:
Close:
Access: Drive 1 hour from Misawa Station by car
Website:
Map: map to Oirase Keiryu
Naruko Kyo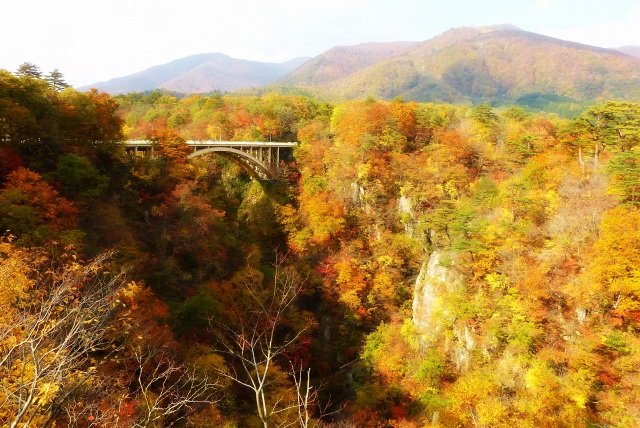 "Naruko Kyo", designated as a place of scenic beauty in Miyagi, is a bridge across the valley of 100 metres of depth with Otani River. People say the autumn leaves here are just beautiful. Although you need to drive for quite a while in most cases when you try to visit those places to view the autumn leaves, it takes only 7 minutes to reach here from the station as there is a village of hot springs nearby.
In addition to a promenade for 2.2km, there is a observation deck of Naruko Kyo Resthouse and this is the best point of viewing all those trees whenever you come. It is literally worth visiting!
First River Tadami Kyouryou View Point
You will find a railway bridge of JR Tadami Line – "First River Tadami Kyouryou Viewpoint". Here, you will witness a beautiful view of the train runs slowly on the bridge surrounded by the autumn leaves. This looks just as the post card!
To the viewing spot, take a bus from Aizu Miyashita Station to Onomichi Station Oze Kaido Mishima Yado. From there, just take a quick walk over the bridge and you will get to the entrance. It will take just 5 minutes from there to the viewing spot, or there is a deck if you walk farther for another 15 minutes. Both decks give you the beautiful sceneries!
Lake Kawaguchi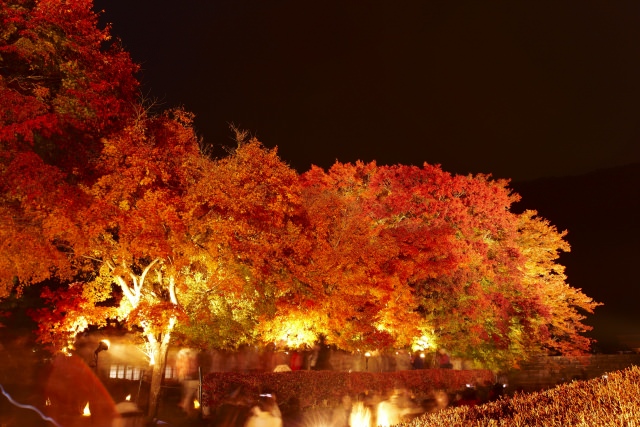 At the side of "Lake Kawaguchi", where you can also view the highest mountain in Japan – Mt.Fuji, there are some places such as "Momiji Kairou" and "Momiji Kaidou". At the autumn festival held in autumn every year, Momiji Kairou is illuminated at night and Mt.Fuji stands behind the beautiful trees. No matter when you visit this place, you can meet the beautiful scenery of Mt.Fuji.
The best time to see the autumn leaves is between the mid and late November. It starts changing colours in the early November. Not only autumn, but other seasons; spring and summer, are great to visit for cherry blossoms and lavenders. This is an amazing place all year round. Enjoy the scenery with our highest mountain!
Nabana no Sato
One of the most popular destinations in Mie is "Nabana no Sato" where all the autumn leaves are illuminated at night in autumn. Of all, more than 800 maple trees are planted and the mirror pond reflects this beautiful view. Especially at night, the illumination makes a romantic and magical atmosphere for you!
Nabana no Sato – where you can see fireflies in summer, is one of the best spots that you might want to visit with your friends and family.
Metasequoia Namiki
"Metasequoia Namiki", once chosen for "the top 100 roadside trees" by Yomiuri Shimbun, is a row of roadside trees for 2.4km from Makino Bigland in Shiga to Makino Plateau. It was started as a planting project with a little farm for kids "Makino village of learning from soil", and has been growing gradually.
All 500 metasequoia trees start changing colours in the mid-November, and the best time comes in the late November to the early December. You can enjoy the views of not only the autumn leaves, but also fresh/deep green, and the trees covered with snow for other seasons. Visit and enjoy!
Iroha Zaka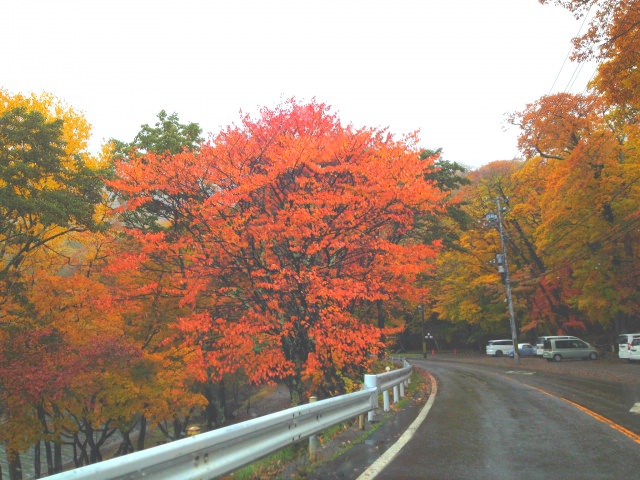 There are 48 curves with a single Hiragana like "I", "Ro", and "Ha" for each curve on this slope, "Iroha Zaka". This slope is a well-known sightseeing spot, and is renowned for its beautiful autumn leaves too.
The first Iroha Zaka is for those wanting to go down, and the second Iroha Zaka is for going up. Connecting the city of Nikko and Lake Chuzenji/Okunikko, there is an observatory deck on the way up so that you can overlook Kanto Plain. Simply you can enjoy the views at the best location of Iroha Zaka!
Eikando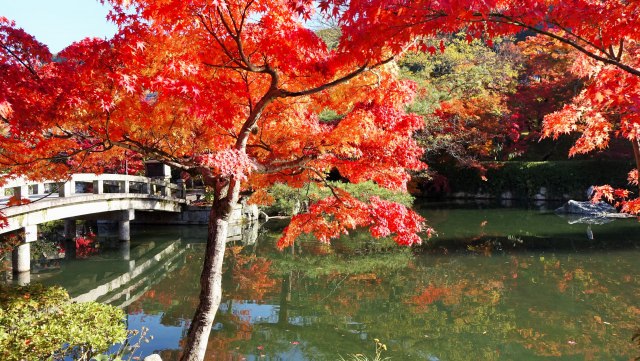 Also known as "Momiji no Eikando", there is a head temple of Nishiyama Zenrinji of Jodo sect – "Zenrinji". As its name (Momiji, meaning "maple trees"), "Eikando" is surrounded by approximately 3,000 maple trees and now is one of the best spots for viewing the autumn leaves.
It charges an entry fee, but there is no reason that you avoid this place in autumn! Especially views of the autumn leaves from Houjouike are so beautiful! The best time comes in the mid to late November, so why not visit this place then?
■Information
Name: Eikando Zenrinji
Address: 48, Eikando Town, Sakyo Ku, Kyoto City, Kyoto
Phone: +81-75-761-0007
Time: 9:00-17:00
Close: None
Access: Walk 14 mins from Keage Station
Website: http://www.eikando.or.jp/
Map: map to Eikando Zenrinji
Miyajima Momijidani Park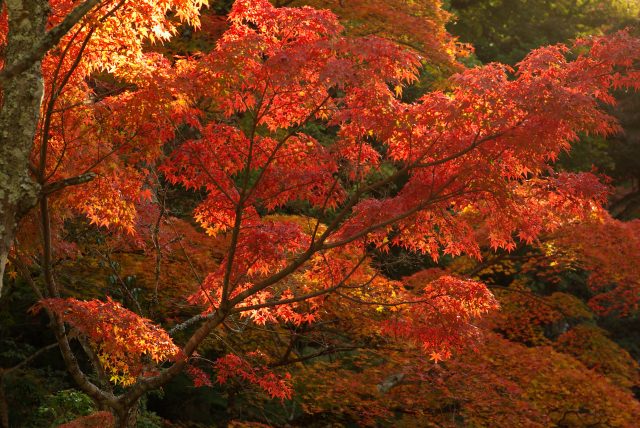 Miyajima is one of the most popular sightseeing spots for a huge Torii of Itsukushima Shrine throughout the year, and more visitors come see the autumn leaves in autumn. "Momijidani Park" has more than 500 Iroha Momiji and 100 Omomiji and has been loved by the tourists for its autumn leaves.
Of all, "Momiji Bridge" is where you can enjoy the most beautiful views of autumn leaves and you can even meet a deer if you are lucky enough! There are other tourist spots including Daishoin and Omoto Park, so it would be great to take a walk around here!
Let's Explore The Spots For The Autumn Leaves!
How did you find the article? I have introduced the best 10 sightseeing spots for the autumn leaves here. I guess many of you have already been attracted to Japan, where there is a different view in each season. If you have a chance to visit Japan, those places are strongly recommended!
If you like this article,
Please push the
"Like"
!
Deiliver the SeeingJapan's news to you!
Popular Articles in Same Category
Author