Top 10 Tourist Attractions & Best Things to Do in Noboribetsu Onsen, Hokkaido
Noboribetsu onsen is the one of most famous hot spring place in Hokkaido. You may want to enjoy not only hot spring but sightseeing too. Noboribetsu is one of most famous sightseeing place in Japan but you may have hard time to choose where to go. So today we would like to introduce places to go top 10. Please enjoy!
1. Noboribetsu Jigokudani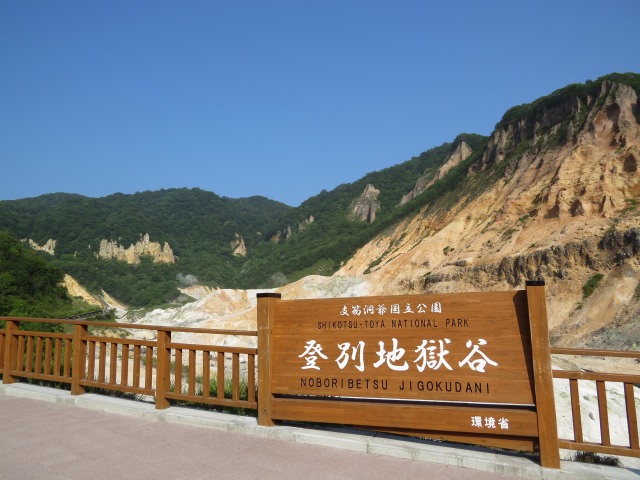 Noboribetsu jigokudani is where makes hot water for hot spring in Noboribetsu. They make 10 thousand tons a day. It is located about 3km away from hot spring town. You can see crater that is made by volcanic activity, also you can see sulfur erupting everywhere. It looks like hell demon lives.
There is a 600m walking road that you can walk for about 10 minutes. It is not rough road so even you are not confident with walking, it won't be a problem. From May to November, they have a festival and they light up the road. How about going to see flower in spring, green in summer, leaves turning red in autumn and snow in winter?
2. Noboribetsu bear park

photo by chinkun1016   /   embedded from Instagram
Noboribetsu bear park is located at 550m high that takes 4 minutes by ropeway from Noboribetsu hot spring town. First park, there are male bears, second park there are female bears.
You can see bears feeding or lovely bears in front of you. There is a cage that you can go into to see bears. There is a museum of brown bear only that is only brown bear museum in the world. If you like animals, please visit!
3. Lake Kuttara

photo by janewyz33   /   embedded from Instagram
Lake Kuttara is located in Shikotsu Toya national park that is 8km circumference and a diameter of about 3km. You can see on map but it is interesting that the lake is shape of circle. There is no river that goes into the lake so the water is one of the clearest in Japan.
You might be surprised with that water. You may can see through until 20m deep with your eyes. You can enjoy the view each season. In winter, it is frozen and the lake is covered with ice. How about visiting beautiful lake?
4. Oyunuma River Tennen Ashiyu

photo by robin.tw.jp   /   embedded from Instagram
Oyunuma makes about 130 degrees sulfur from the bottom. Oyunuma river is river of hot spring water that is from Oyunuma. If you go walk through the trail, you will see taisyo jigoku.
This is a spot that is made by volcanic activity in Taisho period and the water color changes to grey or green depends on seasons or some conditions. And if you walk through more, you will find natural ashiyu. It is perfect temperature.
That trail has stairs and slope so you can relax your feet in that ashiyu. It is natural hot spring, so the temperature changes depends on the weather or temperature of the river so be careful. It will be good if you bring towel to wipe. Please enjoy!
5. Noboribetsu Marine Park Nixe

photo by yuyakaibazawa   /   embedded from Instagram
If you cross the bridge and go into Nixe castle, you see an aquarium! It is designed like a castle that is in Denmark and now it is a symbol for the theme park. You see 8m high water tank soon after you enter. It is called crystal tower.
They also have amusement park called Nixeland that has ferris wheel and merry go round so little kids can enjoy too.
They have dolphin and sea lion show so don't forget to check the time on their website. There are more than 400 kinds of 20000 creatures here, so please take your time and enjoy!
 
You May Also Like:

→The 10 Best Luxury Hotels and Ryokans in Noboribetsu, Hokkaido
6. Noboribetsu Enma Yakisoba

photo by kumacho23   /   embedded from Instagram
If you go somewhere for the first time, you might want to eat local food. Noboribetsu Enma yakisoba is popular food that hasn't been too long since it was born.
Noboribetsu food started in April 2005 with 22 stores in the city. Our suggestion for Noboribetsu Enma yakisoba restaurant is Onsenichiba that is located at Gokurakudori street. Please enjoy good Hokkaido food!
7. Yumemoto Sagiriyu

photo by maaai_17   /   embedded from Instagram
Noboribetsu onsen is one of the most famous hot spring in Japan. They have lots of kinds of hot spring. They make one thousand tons of water a day. There are 14 hotels in Noboribetsu onsen and they each have original public bath or outside bath.
There are lots of places you can use their bath even you don't stay. Today we would like to suggest you "Yumemoto Sagiriyu" that is only bath for day trip. It is 100% natural hot spring. You can enjoy fresh hot spring any time here so please visit!
8. Noboribetsu Date Jidai Village

photo by andriaia   /   embedded from Instagram
This is a theme park that you can experience lots of stuff and show about Edo period. In this theme park, you can see 3 stages inside and 1 stage outside. They have about 20 minutes show. Our suggestion is outside show called Ninjya toride. If you walk inside the village, you will feel you are in Edo period.
If you want to feel you are in Edo period more, how about going to Utsuroiyakata and take a photo wearing costume of Samurai, Ninjya or Maiko?
At trial place, you can try Shuriken and at Ninjya museum, they have lots of information about Ninjya. From 7m high deck, you can see the central of village. Don't forget to take a picture from there. If you want to know Japanese culture, please visit!
9. Kizo Meguri / Enmado

photo byyukikoyyy119   /   embedded from Instagram
There are statues of demon in Noboribetsu. They have 11 statues total. They make demon as city symbol. Enmasama is a leader of those statue that is in Enmado at Noboribetsu main street.
They make change on its face 6 times a day. They have a festival called Noboribetsu jigoku matsuri every August. How about going to watch it?
10. Noboribetsu Park Service Center

photo kobayashi96   /   embedded from Instagram
How about stopping here before going to Jigokudani? It looks like a wooden house and they have information center inside. They introduce Noboribetsu through video. They have information for each season.
Also they have computer too. They show photos of birds and plants so please check them out. They also have gift shop, vending machine and toilet so you can take a break when you go to Jigokudani for sightseeing.
In winter, they let you borrow rain boots. If you plan to go to Jigokudani, please stop by!
Let's enjoy sightseeing in Noboribetsu, Hokkaido!
Lots of people may go to Noboribetsu just for hot spring but it is wasting! Today, we introduced where make you feel you want to do more than hot spring. If you come to Noboribetsu, how about relaxing for a bit?
If you like this article,
Please push the
"Like"
!
Deiliver the SeeingJapan's news to you!
Popular Articles in Same Category
Author