The 10 Recommended Outlying Scenic Spots in Kochi Prefecture
Kochi Prefecture located in the Shikoku region. There are many tourist attractions in this prefecture, which is famous for its place name Tosa. For instance, It is a historic building, a spots that feels the nature of Kochi, and so on. This time, we will introduce 10 recommended tourist places when you do sightseeing in Kochi Prefecture full of such attractions! Why not to visit Kochi Prefecture?
Murotomisaki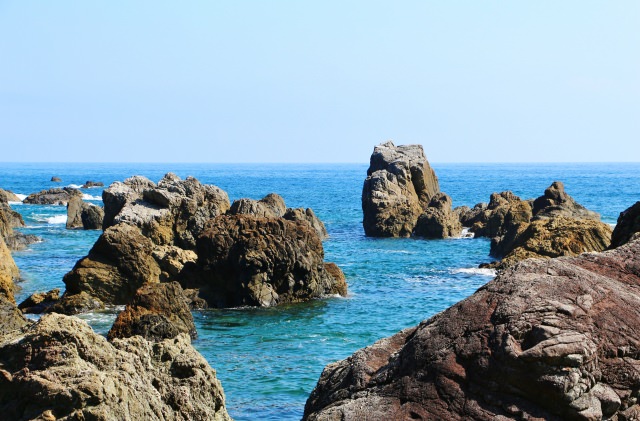 A sightseeing spot " Murotomisaki" is located in the south of Kochi Prefecture. Here you can experience the waves that can be struck by the striking rock formations. Magnificent scenery and history spread out including the many legends left by the historical great man "Kukai".
It is famous as a difficult place in the sea since ancient times, and many rocks are set up along the coast, and its grandeur is overwhelming. It is a popular tourist spot as a power spot, with special plants such as subtropical plants and coastal plants growing. It was designated as the Muroto Anan Coast National Monument in 1964, and subsequently certified as the World Geopark in 2011. It is a tourist attraction in Kochi that is worth a look.
■Information
Name: Murotomisaki Address: Muroto-shi, Muroto
Access: About 1 hour by car from Koura Station
Map: map to Murotomisaki
Cape Ashizuri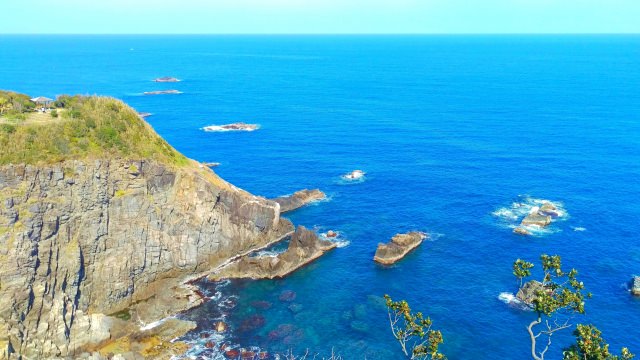 A popular tourist attraction as much as the "Murotomisaki" is this "Cape Ashizuri". This tourist attraction is highly popular among tourists visiting Japan, as it is highly rated by Michelin's good guidebook "Michelin Green Guide Japon".
The " Cape Ashizuri " is also famous for the place where Japan's only Kuroshio Honryu runs. From the observation deck, you can see the view that you can realize that the earth is a sphere. On the way to such a viewing platform, there are also statues of historical great people who have made a leap to reflect in Kochi Prefecture. Be fascinated by the beauty here.
■Information
Name: Cape Ashizuri
Address: Kochi Prefecture Tosashimizu
Access: About 1 hour by car from Toguchi Station
Map: map to Cape Ashizuri
Shimanto River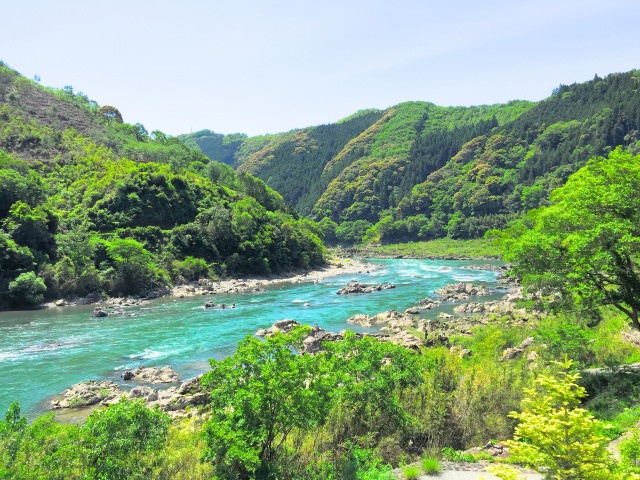 The famous river in Japan, Shimantogawa. It is 196km long and the longest river in Shikoku. Shimanto River was originally named Togawa, but it was changed to Shimanto River from deligated requests of the local people, triggered by the river was broadcasted on the television.
Among the Shimanto River, a bridge called the sink bridge is famous and a popular tourist attraction, and you can enjoy the magnificent green and sky, and luxurious scenery such as the Shimanto River. Also, traditional fishing is still practiced in Shimanto River, and if you are lucky you will be able to worship it. Check it with your eyes the Okawa, which has been loved by the people of Kochi Prefecture.
■Information
Name: Shimanto River
Address: 383 15 Aoyama, Shimanto(Shimanto City Tourism Association)
Phone: +81-880-35-4171 (Shimanto City Tourism Association)
Access: 5 minutes walk from Nakamura Station
Map: map to Shimanto River
Kōchi Castle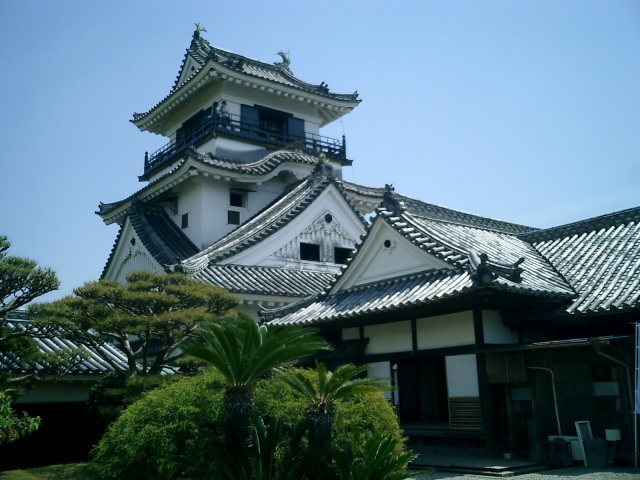 "Kochi Castle", it is called the Lucky Castle. The history goes back, and it is built by " Yamauchi Kazutoyo" who honored Kochi prefecture "Tosa country" at that time from the Edo shogunate general "Tokugawa Ieyasu" by the achievement of the battle of the end of the Warring States that occurred in 1600.
Kochi Castle has been rebuilt several times over fires, natural disasters, and the ruins of the Meiji Restoration and the Pacific War, and although it has been rebuilt several times, its age extends to 250 years. The elegant appearance of Kochi Castle is a popular tourist attraction for tourists who are admired as "the best castle on the south highway".
■Information
Name: Kōchi Castle
Address: 1-2-1, Marunouchi, Kochi
Phone: +81-88-824-5701 (Kochi Castle Administration Office)
Time: 9:00 to 17:00
Close: December 26-January 1 next year
Access: 25 minutes walk from Kochi Station
Map: map to Kōchi Castle
Katsurahama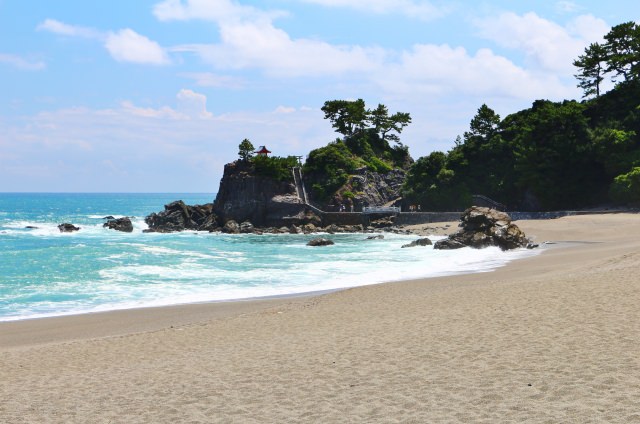 "Katsurahama" is one of the scenic spots that represent Kochi Prefecture. It is famous as a moon spot that can be sung by the folk song "Yosakoi Bushi" which has been transmitted in Kochi Prefecture since ancient times. The seaside area is Katsurahama Park, which has a beautiful sandy beach, and it has excellent contrast with the deep green that is covered in the depths of the sandy beach.
There are many tourist spots that you can enjoy all day long if you go to Katsurahama, such as the famous samurai at the end of the samurai period, the bronze statue of Ryoma Sakamoto, the Ryoma Sakamoto Memorial Museum, and the Katsurahama Aquarium. When you visit Kochi Prefecture for sightseeing, visit "Katsurahama".
■Information
Name: Katsurahama
Address: Urato 9, Kochi
Phone: +81-88-823-9457
Access: 30 minutes by car from Kochi Station
Map: map to Katsurahama
Niyodogawa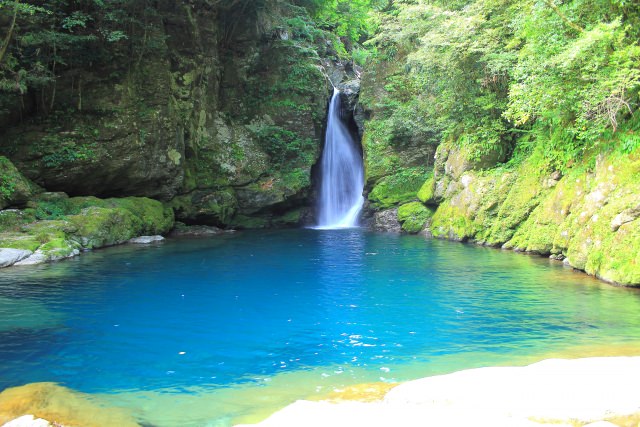 It is not far from Shimanto River in terms of national recognition, but it is no exaggeration to say that its beauty is superior. Since the introduction of the "Ninjutsugawa" as a mystery of blue in NHK, it has gradually gained popularity among many photographers, artists and tourists, and a quiet boom has taken place.
The mysterious beauty that the river emits is such that the mind is taken at a glance. The clear blue indigo river created by the nature of Kochi. As this color is called nintoki blue. It will be a worthwhile tourist spot. If you come to Kochi for travel or sightseeing, it is a tourist attraction that you definitely want to go.
■Information
Name: Niyodogawa
Address: 2060-2 Sagawa-cho, Takaoka-gun(General Incorporated Association Niijima Blue Tourism Council)
Phone: +81-889-20-9511 (general incorporated association Nin blue blue sightseeing meeting)
Access: Soon from Nishisagawa Station (Nichitsu Blue Tourism Council)
Map: map to Niyodogawa
Sunday Market Kochi
A Sunday market that lasts more than 300 years in Kochi Prefecture. It is a popular spot among domestic and foreign tourists, as well as many special products representing Kochi Prefecture. The Sunday market is, as the name suggests, a street market held every Sunday.
Here you can purchase a number of famous products representing Kochi Prefecture. You can find a rich variety of products, including Shihou bamboo, ginger, fruit tomato, and fresh high-grade vegetables, whitebait, chirimen jako, dried fish and other seafood, rural sushi using local ingredients, Udon noodle, and so on are attractive. If you want to enjoy the foods of Kochi Prefecture, please stop.
■Information
Name: Sunday Market Kochi
Address: Koshi-shi Oji
Phone: +81-88-823-9456
Time: (April-September Sunday): 5: 00-18: 00(Sunday from October to March): 5:30 to 17:00
Map: map to Sunday Market Kochi
Kochi Prefectural Makino Botanical Garden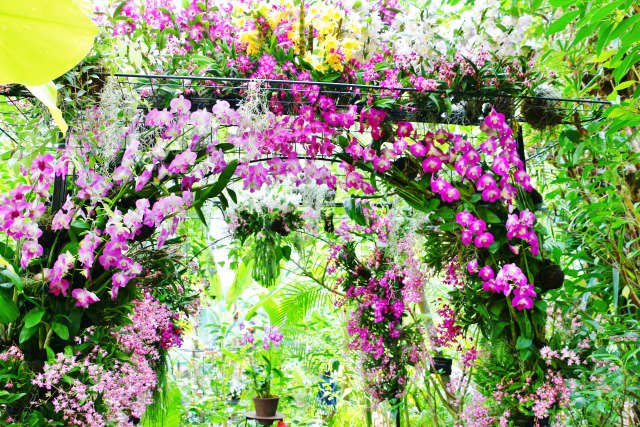 The Makino Botanical Garden is a popular tourist spot in Kochi which you can spend a leisurely break from the daily boat. Here, you can enjoy various plants every season on the large site. You can feel the four seasons of Japan: Spring, Summer, Fall, and Winter.
In particular, we recommend the "greenhouse area" which you can see tropical and jungle plants. Pure water flows, and the atmosphere is excellent. There are also restaurants and cafés, so those who like plants and those who are relaxed can enjoy it all day long. Is it also good to spend a different day than usual, surrounded by nature?
Kitagawa village "Monet's Garden" Marmottan
The "garden of Monet" is modeled after the French garden loved by Claude Monet, famous as a world-class painter. Here, the beautiful space created by them on the theme of water, flowers and light spreads in rich nature. Above all, in the place called water garden, the water lily which is a representative work of Monet shows various expressions depending on the weather and time.
Such a beautiful garden is a world which you can think of it as if you got lost in a different world as you step into it. As it is a famous tourist spot in Kochi Prefecture, please visit when you come!
■Information
Name: Kitagawa village "Monet's Garden" Marmottan
Address: No. 1, 1100 Murano Yuko, Aki Group
Phone: +81-887-32-1233
Time: 10:00 to 17:00 ※ July to August: 9:00 to 16:00
Close: Every Tuesday (Open for holidays) / New Year (February 26-January 1) / Winter maintenance closed (mid-January-end of February)
Access: From Nahanri Station, it takes about 10 minutes by bus from Kitagawa Village.
Website: https://www.kjmonet.jp/
Map: map to Kitagawa village "Monet's Garden" Marmottan
Ryuga Cave
If you are in Kochi Prefecture, you can not missthis sights here! The famous tourist destination "Ryuga Cave" in Kochi Prefecture designated as a historical monument. It is one of the most famous caves in Japan, and you can experience the mysterious world unique to the caves with the five senses.
A trace of Yayoi period cave life is left near the exit of the cave, and it is a popular tourist attraction that you can simultaneously enjoy the mysterious space and history of the cave and Yayoi period. In addition, you can experience the adventure course by making a reservation, and you can have a completely different thrill from the usual. Among the many tourist attractions in Kochi Prefecture, this is a place that you definitely want to visit.
■Information
Name: Ryuga Cave
Address: 1424 Toshi Yamadacho Sakikawa, Kami
Phone: +81-887-53-2144
Time: (March-November): 8:30-17:00(December to February): 8:30 to 16:30
Access: 8 minutes by car from Noichi Station
Website: http://www.ryugadou.or.jp/
Map: map to Ryuga Cave
Let's Go Sightseeing Spots that Feel Nature in Kochi Prefecture!
Did you like our recommendations? This time, we introduced 10 tourist destinations to go in Kochi Prefecture. Do they attract you? Kochi Prefecture has many other sightseeing places, including the spots introduced this time. I hope you visit to travel to Kochi and enjoy the beautiful nature of Kochi. Of course please do not forget the foods in Kochi as well.
If you like this article,
Please push the
"Like"
!
Deiliver the SeeingJapan's news to you!
Popular Articles in Same Category
Author