Best 10 Sightseeing Spots You Should Visit Once You are in Shiga!
Shiga, located in the Kansai region, is renowned for the biggest lake in Japan – "Lake Biwa". In Shiga, there are a lot of sightseeing spots other than Lake Biwa. Today, I will introduce 10 best sightseeing spots you must visit in Shiga. That will be an unforgettable memory!
Hikone Castle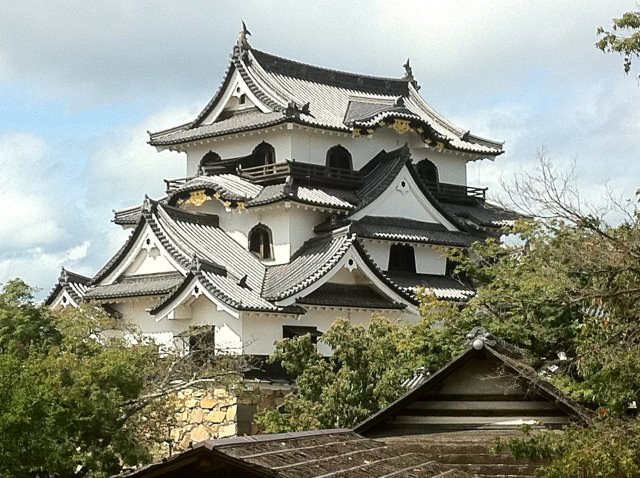 Having a castle tower that is designated as an important property and each Yagura, Hikone Castle is designated as a National Treasure as well as Himeji Castle, Matsumoto Castle, Inuyama Castle, and Matsue Castle. It was built in Edo era. Its condition is quite good with the garden, an inner moat, and an outer moat still remaining. Strolling around such a place that retains the former appearance while feeling a long history of the castle is just so great.
There are many seasonal attractions as they have the unique plans which enable you to experience a houseboat trip around the moat and look around the castle by Jinrikisha – a man powered vehicle. A muscot character "Hikonyan" performs 3 times a day in the area. This place is where everyone goes when they visit Shiga!
Hachiman Bori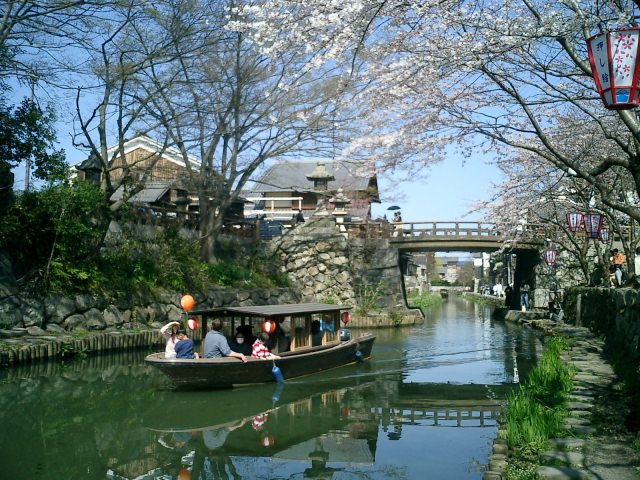 Hachiman Bori played an important role as well as Otsu in late Edo period as the merchants had been developed. Although there has been some crisis over the reclamation and pollution, now it has become one of the most popular sightseeing spots by locals. If you look at the scenery of all those properties with the white walls built along the moat, you will be able to imagine how popular it was at that time as well!
The dock was restored already, and thus the scenery of the huge Torii of Himure Hachiman Gu and Shirokumo Bridge is so beautiful that it makes you forget the time. Besides, there's a excursion with a small Japanese boat and so much entertainment all year round such as chery blossoms in spring, willows in summer, autumn leaves in autumn, and a snow scene in winter. This is a must-do for tourists!
Hiei Zan Enryaku Temple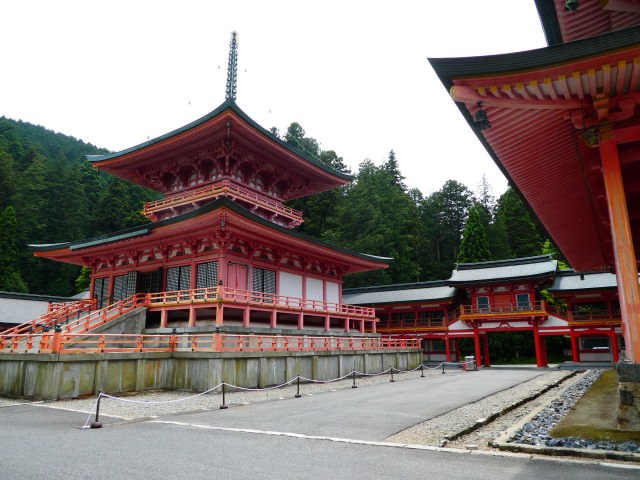 Hieizan Enryaku Temple is a temple opened 1,200 years ago by Saicho. There are 3 areas; East Wing, West Wing, and Yokokawa – In a land of 500 hectares, there are about 150 towers. It has a lot of National Treasures and important cultural properties and was designated as the world heritage site.
East Wing is said to be where Enryaku Temple was started, and has an easy access with a lot of places to look around. Many visitors are therefore recorded everyday and a wooden statue of "Yakushi Nyorai", enshrined a National Treasure "Nemoto Hondo" with a hip-and gable roof, is believed to created by Saicho.
One of the features is "Fumetsu no Houtou (Immortal dharma lights)". The light was temporarily extinguished when Oda Nobunaga burned down Enryaku Temple, but they were lighted again with the fire from Risshaku Temple. This has been lit for 1,200 years.
Metasekoiya Namiki
"Metasekoia Namiki" is a raw of trees which was chosen as "New 100 Street Trees" by Yomiuri Shimbun. Along the street for 2.4km, there are about 500 Metasequoia trees and it has 4 faces all year round depending on the seasons – tender green in spring, forest green in summer, autumn leaves in autumn, snowflakes in winter. It has been so popular because it is said that this looks just like the scenes from the Korean drama "Winter Sonata (Fuyu no Sonata)".
If you especially are interested in experinencing the autumn leaves and wintry scene, Shiga is the best.Enjoy its rich nature once you are in Shiga!
Lake Biwa Valley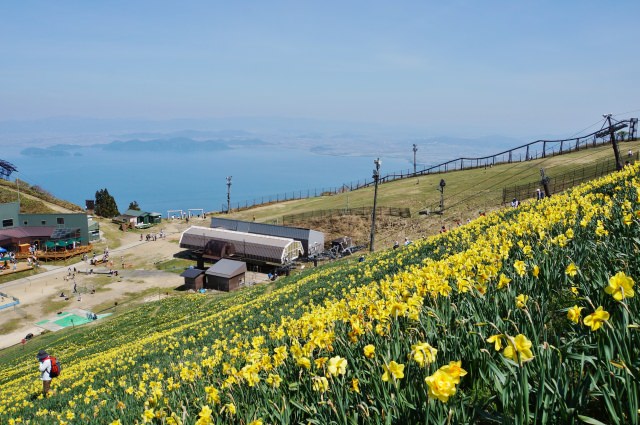 "Lake Biwa (Biwa Ko)" is the biggest lake in Japan, and "Biwa Ko Valley" is a huge complex with the activities, restaurants, and cafes. With the beautiful views of Lake Biwa under the facility, an athletic "Sky Walker" that you can have an thrilling experience at the height of 1,100m, and "Zip Line" that you can fly out towards the superb view of Lake Biwa are the great leisure activities here!
If you are interested in having a dining experience, "Biwa Ko Terrace" is one of the greatest options. It is a spacious terrace with a cafe that has a fireplace and a water basin, and offers the unique dishes cooked with the local ingredients and Biwa salmon. This view of Lake Biwa is just for yourself and it's so refreshing. You can enjoy the beautiful scenery of each season!
Kurokabe Square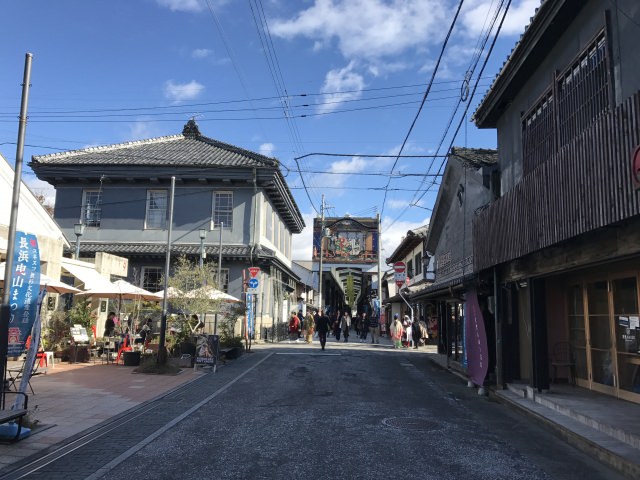 The beautiful cityscape still remains in Nagahama – "Kurokabe Square". A lot of shops, cafes, restaurants, and galleries including "Kurokabe Glass Museum", renovated from an old bank, stand along the street.
At "Kurokabe Taiken Kyoushitsu", you can experience to make blow glass, stained glass, glass bead, and gel candle etc. This is also great for making a beautiful memory for yourself! Just being away from your daily life, why not experience a retro and nostalgic scenes? This is one of the best sightseeing spots in Shiga.
Kouga no Sato Ninja Village
"Kouga no Sato Ninjutsu Mura" in the area of the birthplace of Kouga Ninja is a theme park that specialises in Ninjutsu (the art of Ninja). It is located at the bottom of Mt.Suzuka and the atmosphere of Ninja's hidden gem fills the air. You will definitely be feeling as if you are a Ninja yourself when you experience Shuriken, walking a tightrope, and walking on water.
"Karakuri Ninja Yashiki" actually used to be a house of the Fujibayashi Family who was the decendant of Kouga Ninja. "Kouga Ninjutsu Museum" displays the typical Ninja tools such as one of 3 secret books, "Mansen Shukai", Shuriken of each school, Suiki, and Kaki, and is proud of being the best for the variety of documents. How about getting into Ninja?
Tougei no Mori
One of 6 ancient kilns "Shigaraki Yaki" – popular for the figurine of the raccoon dog. As Sado, tea ceremony, had developed after the Muromachi/Momoyama era, Shigaraki Yaki, expressing "Wabi Sabi", has been loved by all intellectual people.
"Tougei no Mori" is a pottery themed park as a town of Shigaraki Yaki with a museum of pottery, a gallery and shops of Shigaraki Yaki, and a creative training centre for local and overseas artists to stay. There's a workshop for pottery that you can join and experience the attractions and art in rich nature of Shigaraki. Meeting all those Shigaraki Yaki is a very unique experience here in "Tougei no Mori" where many artists stay.
Ogoto Hot Springs
"Ogoto Onsen (Ogoto Hot Springs)" is believed to be opened by a Father of the Tendai sect – Saicho. It is said that the ground water constantly springs out from Pond Nenbutsu at Houkou Temple near the hot springs, and if you drink this water, any disease would immediately be cured and the mud has a power to cure a skin disease and an eczema if you rub it onto your skin. It's been curing so many people as a village of Onsen for medical purposes.
It is the safe hot springs for a sensitive skin and a pregnant woman as a spring quality has less stimulation. The government registered international tourism Ryokan "Yumoto Kan" offers a plan that you can try a luxury dining experience of Kaiseki with Oumi Beef, and 7 hot springs that you can enjoy spa hopping.
Ota Shuzou
Sake "Doukan", one of the most popular sake brands, has a root with Doukan Ohta who was involved in building Edo castle. The Ohta Family had been a barrier keeper for generations since the time of 3rd Shogun, Iemitsu Tokugawa, in Kusatsu that was flourished as an important point of amphibious transportation.
Ohta Shuzou is a historical sake brewing company that the Ohta family launched about 130 years ago. "Doukan Gura" with the quaint white walls lets you taste a wide variety of sake (booking required) and looking at the goods of Doukan Ohta at the gallery and a sake brewer. Experiencing the traditional sake including this little sweet sake "Sawatari" is a must-do!
Let's explore the sightseeing spots in Shiga!
How was it? I have introduced the best 10 sightseeing spots that you must try in Shiga. Shiga is somewhere you don't get many chances to visit in the Kansai region compared to other major cities such as Kyoto, Osaka, and Hyogo. However, this city has a lot of sightseeing areas/spots as well as the local gourmets! Now, why not go explore?
If you like this article,
Please push the
"Like"
!
Deiliver the SeeingJapan's news to you!
Popular Articles in Same Category
Author