10 Must-see Sightseeing Spots in Kagawa!
Kagawa prefecture of Shikoku region, facing the Inland Sea, has been recently well known as "Udon prefecture". Various art-related facilities also attract people from everywhere. The inland Sea holds a number of islands belonging to Kagawa prefecture. Each island, such as Naoshima and Onigashima, has unique characteristics and many view points. Please read it through to grasp charms of Kagawa prefecture, where can be enjoyed by a variety of trips to follow the footage of the Momotaro legend handed down from the ancient time, or to experience traditional art crafts like a Japanese fan!
The first sightseeing to visit in Kagawa, "Kotohira-gu Shrine"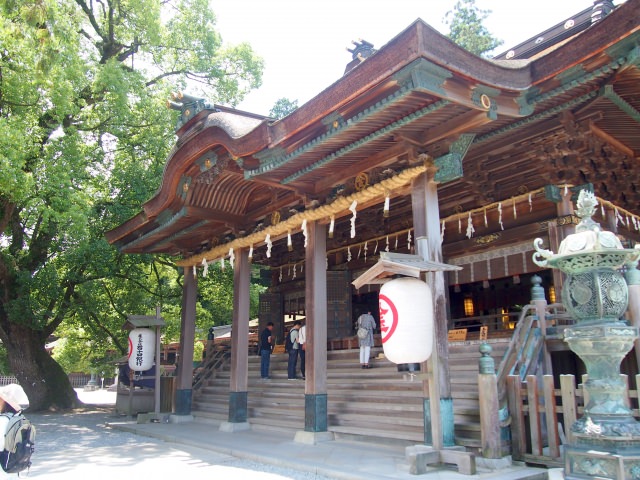 Kotohira-gu Shrine is located in Zozusan mountain, which is one of the most famous sightseeing spots in Kagawa prefecture. It has been also familiar with many people as "Konpira-san of Sanuki". You can walk from JR Kotohira station to climb up to the shrine. Lanterns, guardian dogs, torii gate welcome you with the atmosphere of a historical approach to the shrine. Esipecially, the long staircase on the approach is well known, cosisting of 1368 steps to the inner shrine! You cannot miss the exceptional feeling which you have on the top.
Stalls on the approach to the shrine are great to visit on your "Konpira Mairi (visit to Kotohira-gu Shrine). The approach has a variety of stalls on the both sides, selling food and souveniors, and is always crowded with many tourists. Moreover, there is "Kotohira-gu Homotsu-kan (treasure museum), where you can see rare treasures of Kotohira-gu Shrine. You will also be fascinated by its stylish building with blends of Japanse and Western cultures, built in 1905.
■Information
Name: Kotohira-gu Shrine
Address: 892-1 Kotohira-cho, Nakatado-gun, Kagawa
Phone: +81-877-75-2121
Time: 8:30 – 17:00 (Last entry 16:30)
Access: 20 minutes walk from Kotohira station
Website: http://www.konpira.or.jp/
Map: map to Kotohira-gu Shrine
Adventure to the unexplored Kagawa, "Onigashima-daidokutsu"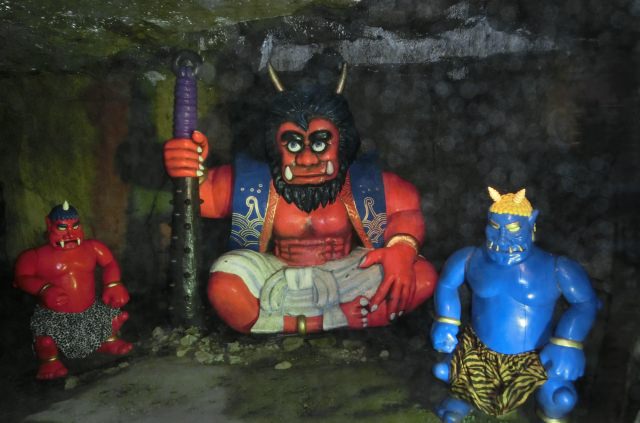 Megijima Island is situated in the Inland Sea, called also as "Onigashima". The legend of "Momotaro (Peach Boy)", one of Japanese folklores, has been familiar with local people in this area called "Sanuki". In Takamatsu city, there are shrines deeply related to the legend of Momoraro, where you can actually experience it. Likewise, the big cave (daidokutsu) in Onigashima has been regarded as a place related to Momotaro.
Moreover, there are more viewpoints inside, like rooms designated for treasures, a general as such. The unique atmosphere of cool cave-ness and interesting displays make it highly recommended sightseeing spot in Kagawa, where both kids and adults can enjoy.
Underwolrd in Naoshima. Must-go spot in Kagawa! "Chichu Art Museum"
At Chichu Art Museum in Naoshima, you can enjoy "the Water Lilies" by Claude Monet, the art space with a gigantic sphere 2.2 meters in diameter, the artworks presenting light itself by James Turrel, and so on. The sense of unity among the bulding of the museum and artworks on display makes the museum unique.
The museus has "Chichu Cafe", where you can enjoy the great view of the Seto Inland Sea, and "Chichu Store", where you can buy books about the architecture and artworks and original goods. You can spend good time to see around the whole museum. Do not miss it for your sightseeing in Kagawa!
■Information
Name: Chichu Art Museum
Address: 3449-1 Naoshima-cho, Kagawa-gun, Kagawa
Phone: +81-87-892-3755
Time: (March-September) 10:00-18:00 (Last admittance 17:00)(October-February) 10:00-17:00 (Last admittance 16:00)
Close: Mondays *Open on Mondays for national holidays but closed on the next day
Website: http://benesse-artsite.jp/
Map: map to Chichu Art Museum
Strange museum in Kagawa. "Naoshima Bath "I♥湯""
Naoshima Bath "I♥湯 (literally meaning "I love bath")" is a museum and also a public bath you can actually take. This facility was created by a world-famous artist, Shiro Otake, and has a quite unique appearance! The collage-art-like exterior may confuse you where you are. The interior is also well-made and the big elephant statue set at the center of the bath produces the space more special. There are other viewpoints such as wall paintings with tiles, a toilet with the design stimulating your curiosity.
As a public bath, this facility offers you various services such as baggage lockers and a milk bar. You can bath for 500 yen. Naoshima regidents' admission is only 300 yen, which shows how close this facility works as a public bath. Enjoy bathing with the fantastic views of artworks in Kagawa!
Japan's hightest stone walls! Historical landmark in Kagawa, "Marugame Castle"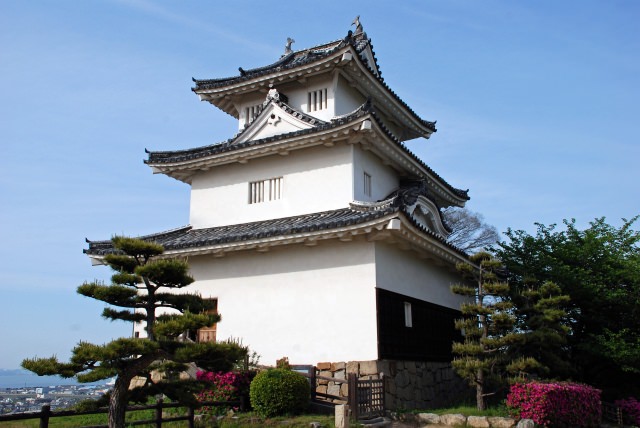 Marugame Castle in Kagawa is well known especially for its stone walls, which is the hightest in Japan. Marugame Castle has been also called as Kammeyama Castle and Horai Castle. Since it has firm stone walls, the castle is also known as "Ishi no Shiro (meaning stone castle)". Stone walls have high defense capacity and at the same time splendid appearance. In addition, Japan's smallest "Tensyu (keep)" is one of the characteristics of this castle. You can go inside the castle. The view from Tensyu is very exceptional! You cannot miss the perfect view of Great Seto Bridge.
Marugame Castle is also famous for cherry blossoms. There are more that 1000 cherry blossom trees such as Yoshino cherry, Oshima cherry, mountain cherry, surrounding the castle. Many people visit to enjoy cherry blossoms in spring. At night, a number of lanterns light cherry blossoms beautifully. Night time in the season of cherry blossoms cannot be missed too.
Cute manatees! "New Yashima Aquarium", the amusement spot in Kagawa
New Yashima Aquarium is situated at the top of the mountain with 300m-hight. Above all, the location itself is quite surprising! Fishes, amphibians, aquatic mammals are on display in 80 tanks in total. Especially, an American manatee is one of the most popular in the aquarium. You must love its chubby and stocky appearance. It is understandable a manatee to be mistaken for a mermaid. The way it swims eases you!
This aquarium holds various events. You can enjoy shows of dolphins, sea lions, and seals. Each show is produced with interesting elements like theatre, which amuses you for sure. Also, there are unique attractions giving presence, such as a transparent boat ride to interact with dolphins. Direct shuttle bus service from the nearest station gives you good access to the aquarium. Definitely recommended for sightseeing in Kagawa!
Gracious day at a beautiful garden, "Ritsurin Garden" in Kagawa with the 400-year history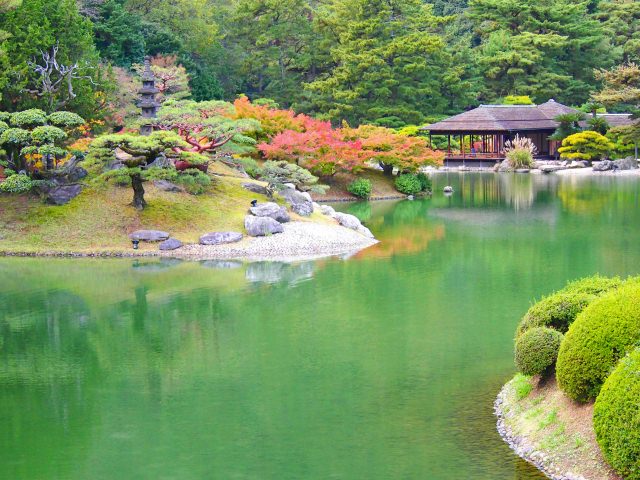 Ritsurin Garden has been listed on the Michelin Guide with 3 stars. It was created as a feudal lord's garden and has the 400-year history. The garden has been regarded as one of the Special Places of Scenic Beauty in Japan. You can enjoy various sceneries depending on different seasons, weathers, and time. Everything in the garden like a pond, artificial hills, was beautifully and finely designed. You can also enjoy feeding carps in a pond.
More than 1400 of pine trees have been wonderfully grown in the garden, which has been maintained by professional gardeners. The garden is also well known for cherry blossoms. The best season for cherry blossoms starts around the end of March every year, when you can enjoy more than 300 trees of cherry blossoms such as Yoshino cherry. The views from a boat on a pond is highly recommended too. Fantastic cherry blossoms lit up at night amuse you with totally different views from those of daytime. Why don't you admire the beauty of nature in Kagawa?
■Information
Name: Ritsurin Garden
Address: 1-20-16 Ritsurin-cho, Takamatsu city, Kagawa
Phone: +81-87-833-7411
Time: Sunrise to sunset
Close: None
Access: 5 minutes walk from Ritsurin-koen-Kitaguchi station
Website: http://www.my-kagawa.jp/
Map: map to Ritsurin Garden
Gigantic artwork on a sandy place. Must-see spot "Zenigata Sunae".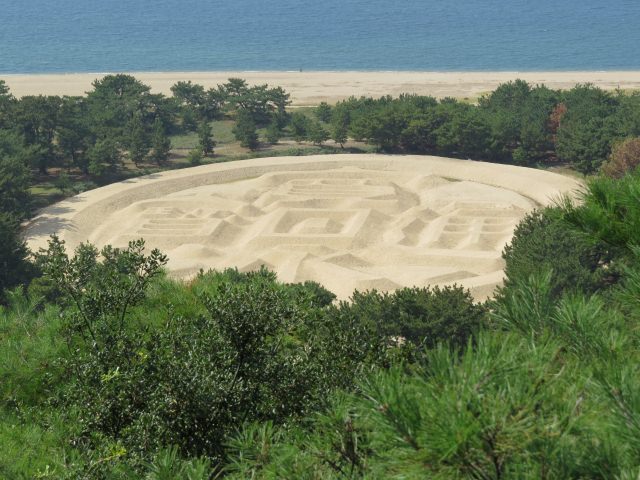 Zenigata Sunae is a enormous sand art on a sandy place in the Kotohiki Park. It designed on the old Japanese coin circulated in the Edo period, called "Kanei Tsuho", and measured 122m from east to west and 90m from south to north. It was not drawn as a complete circle because it was desinged under the view from the top of Kotohiki Mountain. From the observatory on the mountain, you can see the sand picture with a beautiful circle.
This sand art was said to be made in 1633. Even today, it has been well maintained by local communities, regidents and students of Kannonji city. It is surprising that you can actually enjoy this well-devised artwork for free anytime. In the evening, after sunset, this huge sand art is lit up and gives you another fantastic view. Don't miss the sightseeing spot with fantasy in Kagawa!
Experience traditional artworks in Kagawa, "Uchiwanominato Museum"
Marugame city in Kagawa has been well known as a producing area of Japanese fan (Uchiwa) in Japan. Uchiwanominato Museum is a cultural facility with the theme of Uchiwa (Japanese fan) as its name shows. There was the origin in the Edo period, when Marugame Uchiwa was produced as a souvenior of "Konpira Mairi (meaning visit to Kotohira Shrine)". This museum provides you with the history and background of Marugame city and Uchiwa (Japanese fan) producede in this area. Today, there are many valuable documents and books on display.
In-museum shop offers a variety of fans with different patterns like flat, round as such at reasonable prices. It is important to know, experience and use traditional artcrafts to preserve the culture for the future. Please experience the history of Kagawa here.
■Information
Name: Uchiwanominato Museum
Address: 307-15 Minato-machi, Marugame city, Kagawa
Phone: +81-877-24-7055
Time: 9:30-17:00
Close: Mondays *Open on Mondays for national holidays but closed on the next day
Access: 11 minutes walk from Marugame station
Website: http://marugameuchiwa.jp/
Map: map to Uchiwanominato Museum
Enjoy Japanese traditional atomosphere and scenery at "Shikoku Mura" in Kagawa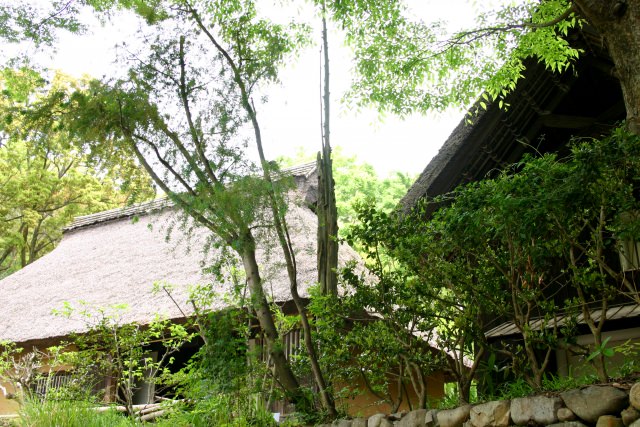 Shikoku Mura (literally meaning Shikoku Village) is an outdoor museum displaying Japanese private houses of the time of the Edo to the Meiji period. It is highly recommended for people who are interested in old architecture and Japanese history. The site is enormous with a number of old private houses in the Shikoku region. Some of the houses are designated as country's important cultural properties or important tangible folk-cultural properties. It is surrounded by seasonal plants and flowers, which makes it the best for walking.
Shikoku Mura Gallery has been built recently, which added attraction to it. In the gallery, the artworks by Renoir, Picasso and Bonnard, bronzeware and bronze mirror, excavated articles in the world, are on display. Moreover, you must visit udon noodle restaurant called "Udon no Waraya" run at one of the old private house. You can have hand-made Sanuki udon noodles. Enjoy a meal with Japanese traditional scenery.
■Information
Name: Shikoku Mura
Address: 91 Yashima Nakamachi, Takamatsu city, Kagawa
Phone: +81-87-843-3111
Time: (April-October) 8:30-18:00 (November-March) 8:30-17:30
Close: None
Access: 20 minutes ride from Takamatsu station
Website: http://www.shikokumura.or.jp/
Map: map to Shikoku Mura
Explore best sightseeing spots in Kagawa!
Kagawa has an attractive place with Japanese history and tradition. There are a castle, old private houses and historical architecture with local food and locally-related culture. At the same time, state-of-the-art architecture and artworks create a unique culture of Kagawa. Kagawa, Shikoku holds perfect combination of the old and the new with abandant nature. Your next destination is there!
If you like this article,
Please push the
"Like"
!
Deiliver the SeeingJapan's news to you!
Popular Articles in Same Category
Author