Top 7 Tourist Attractions & Best Things to Do in Asakusa, Tokyo
Tokyo attracts many tourists, and foreign tourists are visiting Tokyo more than ever. Tokyo, the capital of Japan, is where the new and old coexists in harmony. For example, you can find the latest fashion, modern buildings, and trendiest gourmets in Tokyo, yet you also find traditional craft works and cuisine at the same time. There are so many things to do in Tokyo, so this article focuses on Asakusa, one of the most popular tourist spots in Tokyo.
1. Kaminarimon at Senso-ji Temple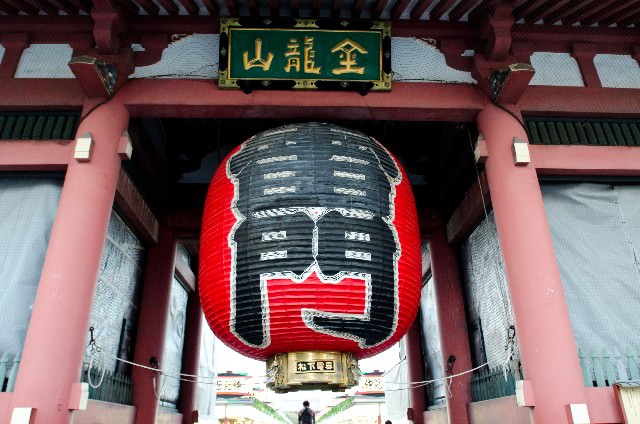 Kaminarimon is one of the most famous tourist spots in Asakusa. Kaminarimon is the entrance gate leading you to Sensoji temple. There are the statue of Fujin, wind god, on the right side of the gate, and the statue of Raijin, thunder god, on the left, placed inside the gate.
Kaminarimon also has the famous lantern in the middle. It is a symbol of Asakusa, and you may have seen the picture in one of travel guidebooks. Its massive size and harmonious unity to the gate are very impressive. This is a perfect place to start the sightseeing in Asakusa.
■Information
Name: Kaminarimon
Address: 1-3-1, Asakusa, Taito-ku, Tokyo
Access: very close to the Asakusa station
2. Nakamise Shopping Street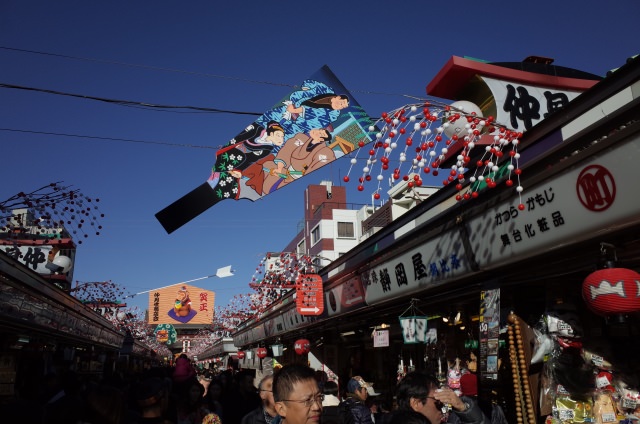 Nakamise shopping street is a pedestrian shopping street between Kaminarimon and Sensoji temple. The both sides of street are filled with many shops selling traditional Japanese crafts and famous local specialties.
You can enjoy the atmosphere just walking around Namakise shopping street. You can try and discover some of Japanese tasty snacks, such as age-manju, deep-fried steamed bun, or Kinako-dango, Japanese dumplings covered with sweet soybean flour. If you are looking for souvenirs or local specialties, make sure to visit Nakamise shopping street.
→The Best 8 Must-Buy Souvenirs in Asakusa, Tokyo
■Information
Name: Nakamise Shopping Street
Address: Asakusa, Taito-ku, Tokyo
Access: 2-minute-walk from the Asakusa station
3. Denbouin-dori

photo by waka0417   /   embedded from Instagram
Denbouin-dori is the street crossing Nakamise shopping street from east to west. The street leads to a traditional temple, Denbouin whose history dates back to the mid Edo period.
The 200 meters long street is filled with many shops that sell kimono, Japanese accessories, traditional crafts and objects. You can find perfect souvenirs or gifts from Japan at Denbouin-dori.
Some of the things you cannot miss at Denbouin-dori are the Edo-like sights and its unique atmosphere. For example, you will find pictures of famous people from Edo drawn on the shutter or a statue of Nezumi-kozo, who was a famous thief in Edo, on the roof, while walking on the street of Denbouin-doi.
Denbouin-dori is a fun place to visit in Asakusa not only for shopping but also for experiencing the atmosphere and culture of Edo.
 
You May Also Like:
→Top 11 Tourist Attractions & Best Things to Do in Tokyo, Japan
→The 10 Best Unagi Restaurants You Must Eat in Asakusa, Tokyo
4. Kappabashi Dougu Street

photo by happystarr   /   embedded from Instagram
Kappabashi Dougu Street is the street that over 170 stores gather and sell everything you need to operate restaurants. This area is becoming a popular spot for Japanese as well as foreign tourists for its uniqueness. The stores offering wax food samples, which are often seen at restaurant's show windows, are the favorites of many tourists.
On Kappabashi Dougu Street, you will find some stores selling wax food samples, such as spaghetti, desserts, sushi, and so on. Some of them are reasonably priced and are popular souvenirs. Kappabashi Dougu Street is a fun and unique place to visit when you are in Asakusa area.
■Information
Name Kappabashi Dougu Street
Address: 3-18-2, Matsugaya, Taito-ku, Tokyo
Access: 5 minutes by walk from Tawaramachi station
Website:http://www.kappabashi.or.jp/
5. Rickshaw (Jinrikisha)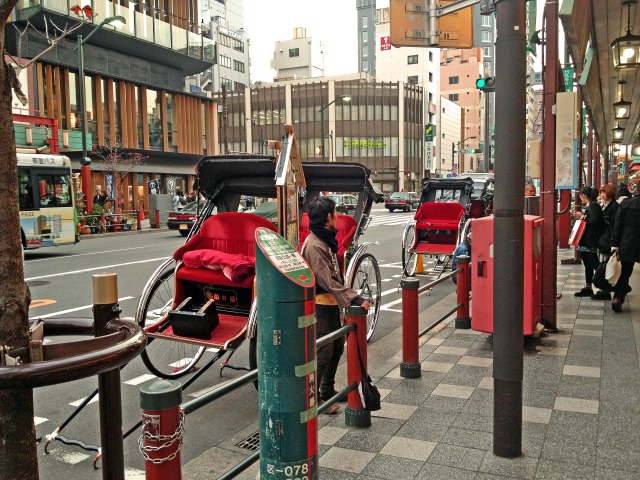 A rickshaw ride through the historic neighborhood of Asakusa is an alternative way to explore Asakusa. You can ride a two-wheeled passenger cart and enjoy a personal guided tour by a rickshaw runner.
The rickshaw runners are very knowledgeable about the history and culture of Asakusa, and you can get lots of information that is normally not known to tourists.
The price of rickshaw ride depends on the plan. For a 10 minutes ride, it is approximately 3,000yen or more per person, or 4,000yen or more for two. You can easily find rickshaw runners waiting for their passengers near the Kaminarimon. Enjoy a rickshaw ride and explore Asakusa with your personal guide.
■Information
Name: Rickshaw (Jinrikisha)
Fees: From 3,000yen / person
6. Taishu Engeki (theatre for the masses)

photo by ruikozuka   /   embedded from Instagram
Asakusa was once a town with Kabuki theatres and used to produce many theatre actors. You can still find small theatres in Asakusa. Taishu Engeki is a theatre entertainment that is popular among regular people, and a variety of theatre play can be found in Asakusa area.
Taishu Engeki performances include a short story which often takes place in Edo featuring historical themes, songs, and dances.
Taishu Engeki performances involve beautiful kimonos and stunning swordfights. There is performances everyday in the afternoon and evening, so you can still go see a play after sightseeing. Enjoy Taishu Engeki performances in Asakusa, and learn more about the history and culture of Japan.
■Information
Name: Taishu Engeki (theatre for masses)
Address: 2-7-5, Asakusa, Taito-ku, Tokyo
Admission Fees: Adults 1,600yen, Children 900yen
Website:http://www15.atpages.jp/
7. Azuma Bridge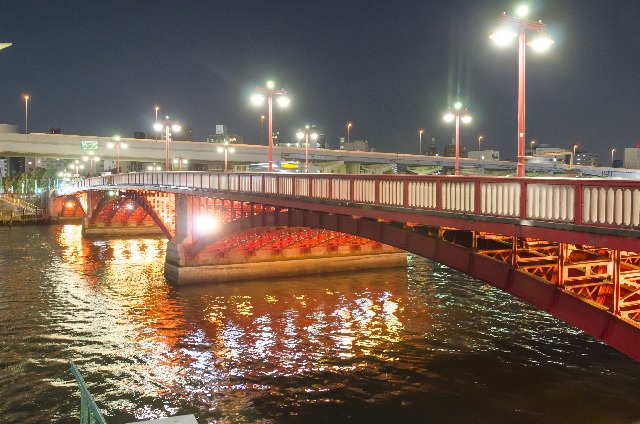 Azuma Bridge may be a good place to complete your sightseeing after spending a productive day in Asakusa. Azuma Bridge is already a beautiful bridge during a day, but at night, it offers a different scenery under the light. The bridge is also a famous photo spot for a wonderful view.
Tokyo Skytree looks very close from Azuma Bridge. You will have a magnificent view of Tokyo Skytree in a close distance. The bridge is also a famous cherry blossom spot and attracts many people in spring.
■Information
Name: Azuma Bridge
Address: 1chome, Azumabashi, Sumida-ku, Tokyo
Let's explore Asakusa!
I hope that this article gave you some useful information about Asakusa. Asakusa attracts many tourists, and there are countless things to do here. Let's explore the area and find your favorite in Asakusa.
If you like this article,
Please push the
"Like"
!
Deiliver the SeeingJapan's news to you!
Popular Articles in Same Category
Author