Top 10 Tourist Attractions & Best Things to Do in Akihabara, Tokyo
Akihabara, the home of Japan's famous sub-cultures. What image do you have of this vibrant part of Tokyo? Of course you may have heard about the cell phones or computer and electronic stores, but there is also the image of Japanese Idol groups or Japanese animation too. Here we will show you the top 10 places you should check out when you visit this unique place. Happy viewing!
1. @Home Cafe

photo by nmaro_   /   embedded from Instagram
When sightseeing in this part of town, visiting a maid cafe is a must. One of the first cafe's to this area is the famous @Home Cafe. Here they are trying to spread the culture around the world – You can easily find information on their website in Korean, Chinese and English too.
You'll have no doubt seen this place in the media, and there's a great shop where you can pick up your souvenirs as well.
A special feature at this shop, why not pick up their new 2nd Idol CD for only 10 bucks. They've also collaborated with other local shops and groups so you can also find key chains of famous characters such as Gudetama or pick up the @Home Cafe's original key chain as well.
You simply have to check this place out when you're travelling in Tokyo.
2. Yanagimori Shrine

photo by danielskurnick   /   embedded from Instagram
If you've never been to a Japanese shrine, you can experience the tradition of praying in the Japanese style and making a wish to the gods for good luck and fortune and Yanagimori Shrine.
Dating back to the Muromachi era, this site grew from the beautiful willow trees planted here by Ota Dokan who planted the trees to ward away demons from the Edo Castle.
You can see the seven shrines representing each of the seven gods who are said to live here together. The most famous spirit of the seven is the Tanuki god and you can really feel the history of the Edo culture at this place.
This site is famous for it's very own Cinderella story. A long time ago, there was a lady, known as Keisyoin who's real name was Otama who met and fell in love with a prince charming and the word Tama nokoshi, from her name, is said to mean luck in Japanese. Come here and maybe you will be as lucky as she was!
■Information
Name: Yanagimori Shrine
Address: 2-25 Kanda Suida-cho, Chiyoda-ku, Tokyo
Access: 5 minutes on foot from Akihabara station
Map: Map to Yanagimori Shrine
3. Kanda Shrine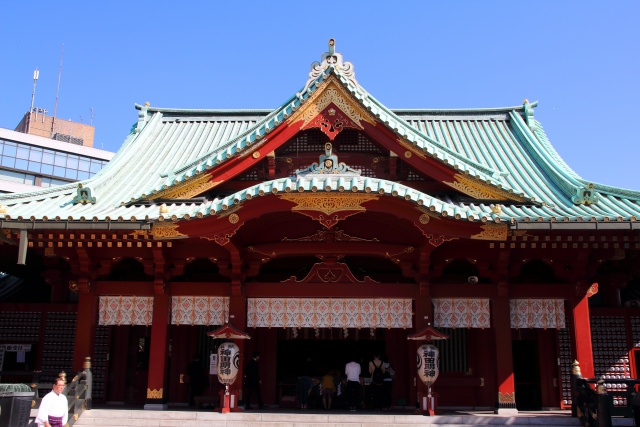 Kanda Shrine, also known as Kanda Myoujin is an easy 10 minute walk from Akihabara station. It is one of the oldest shrines in the whole of Tokyo.
There are three gods at this temple, Daikoku – the god of marriage, Ebisu – the god of business and Masakado – the god of protection.
This is a great sightseeing spot for business people or young couples looking for marriage. If you visit here you can also pick up many different good luck charms to protect you on your travels.
There is also the chance to see the Kanda festival which happens each May every two years. Check it out if you can!
4. Maach-Ecute Kanda Mansei Bridge

photo by a_shinonome   /   embedded from Instagram
Why not visit the Maach-Ecute Kanda Mansei Bridge to enjoy a relaxing time shopping in this once-upon-a-time-station area. There are many shops and cafes you can enjoy in the red brick surrounding that makes this place feel really trendy and historic.
For a romantic spot, come here in the evening and enjoy a drink by the riverfront. It's so beautiful you'll want to share it with all your friends and family back home.
Whether you're looking for a romantic date spot, a night out with your friends, or shopping in the daytime, this place is for you!
5. Akiba Cart

photo by chanpion_   /   embedded from Instagram
Looking for something unique? Take to the streets and try the exciting Akiba Cart experience. This rental shop will hire you a street legal go-cart so you can have a real life Mario experience on the streets of Akihabara.
You might have tried go-carts at the amusement park, but now you can have a go on the real roads. This super fun activity can be booked for you to try by going along to the Akiba Cart store.
If you put on the costumes of your favorite Mario Cart characters then you'll feel just like you're in the real game with your friends. Sometimes, we just need to let ourselves go and act like a child once in awhile, you'll have a great time!
 
You May Also Like:
→Top 13 Tourist Attractions & Best Things to Do in Ueno, Tokyo
6. Little TGV

photo by mucco   /   embedded from Instagram
Little TGV is a 7 minute walk from Akihabara station. When you step inside you will be entering a different world that is a must for lovers of anything rail themed.
Even the seats are taken from real carriages and the whole places in decorated with real railway memorabilia.
Each menu item has been specifically designed to resemble trains on the plate. Bullet train rice balls or steam train omelettes. It might sound unusual, but they add a level of detail to each plate that somehow makes each one uniquely impressive.
If you're looking for something that's not your normal style of dining, then this place is perfect for the whole family – They have the cutest kid's meals you'll ever see!
→The Best 10 Izakaya You Must Visit in Tokyo
7. The AKB Theater

photo by jo_jo_ker   /   embedded from Instagram
There is probably not a person in Japan who has not at least heard of this group – The AKB Theater is the home of the famous AKB 48 idol group, if you head here, you might even be able to meet some of the members.
Even now, after great fame, they perform here every day except on the days they are closed. So, when you are in Japan there's a great chance you might be able to see this band performing on your trip.
Since the start of the group, there have been many other spin-off groups such as SKE or NMB, but this original theater has been going since December, 2005.
When you go through the entrance you'll enter a world that looks like the old Western movies, it is a sparkling place and one of the most famous subcultures in Japan. The idols are waiting here for you!
8. Akihabara Radio Hall

photo by mayke_wang   /   embedded from Instagram
Akihabara is not just a place for entertainment, you want to pick up some cool souvenirs while you're here too right? To really feel a part of this place you've got to check out the Akihabara Radio Hall, also know as "Rajikan".
This place is filled with a variety of goods, with over 30 shops ranging from comic books, idol goods, electronic goods. There are over 12 floors you can explore so be sure to take a look.
It's a place that anyone can enjoy, from adults to children, tourists, and men and women as well. If you're looking to buy souvenirs from Akihabara, please come and visit the "Akihabara Radio Hall"! You can be sure to find something to satisfy everyone.
■Information
Name: Akihabara Radio Hall
Address: 1-15-16, Sotokanda, Chiyoda-ku, Tokyo
TEL: +81-3-5807-7787
Opening hours: 10:00-20:00
Map: Map to Akihabara Radio Hall
9. Gachapon Hall

photo by shkkingk   /   embedded from Instagram
You may not have heard about the gacha-gacha machines in Japan before but they are everywhere here. You put your money in the machine, turn the handle and you'll receive a little toy at random.
Kids in Japan love to put a 100 yen coin into these machines everywhere, at the supermarket, the convenience store or all around the town. The excitement of not knowing what's going to come out is all part of the fun and you'll always be pleased when you open the capsule to find what's inside.
Even adults have fun playing these machines and at the Akihabara Gachapon Hall they have over 400 machines for you to choose from.
There are always new things to get and for people into animation or quirky gifts you'll want to try these again and again!
10. Yodobashi Akiba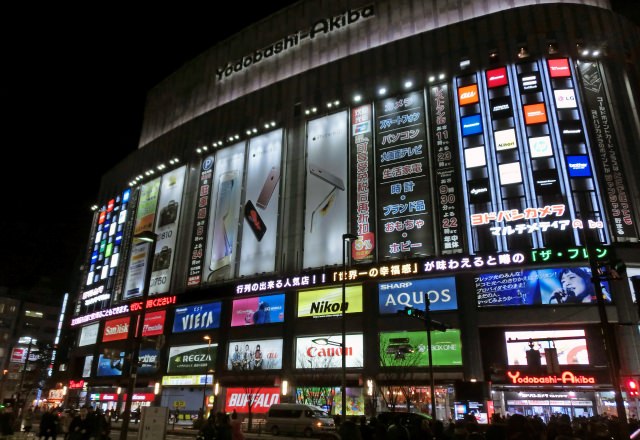 Akihabara is world know for being a leader in the latest electronic goods. When you come here it is impossible to miss the hundreds of electronics store all around the streets. Yodobashi Akiba is an electronics superstore that anyone in the industry who's anybody knows all about.
It is also the final place on our Akihabara sightseeing list. Although it is famous for it's camera's and electronic goods, there are also many restaurant, large shops and books stores that any tourist would enjoy browsing through for a whole day or more.
Moreover, you can find golf course practice ranges and batting cages in here too! For people who are interested in other tourist attractions as well this spot is perfectly located just one minute away from Akihabara station – it could be the perfect place to go into just before you take the train back to your next destination.
Let's enjoy Sightseeing in Akihabara!
What do you think? This place is the heart of Japan's sub-cultures and there are a huge variety of shops to choose from. Just walking around the area you will see maids from the cafe or people dressed up in cosplay walking on the streets! Please come and join us in Akihabara where there is an endless world of excitement – If you're into manga comics or animation, this place is a dream come true – We hope you enjoy it!
If you like this article,
Please push the
"Like"
!
Deiliver the SeeingJapan's news to you!
Popular Articles in Same Category
Author