Top 10 Tourist Attractions & Best Things to Do in Nagasaki, Japan
In Nagasaki, night view and good food of course, it is fun to look around islands and church too. Today, we would like to introduce where to go in Nagasaki. We picked where you can enjoy beautiful view this time. How about visiting there taking your camera?
1. Kujukushima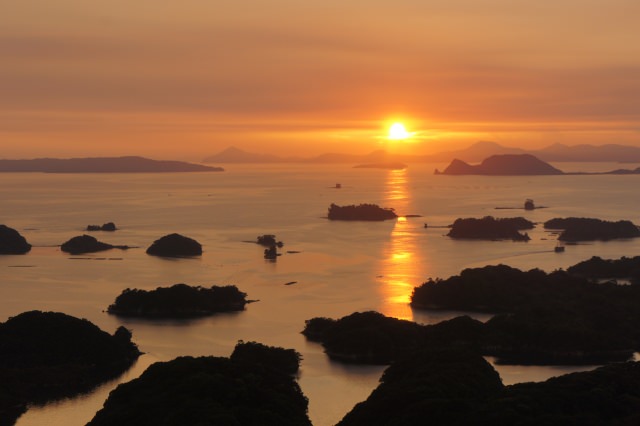 It is the best or second view in Nagasaki. There are 208 islands and people live only in 4 islands, the others are uninhabited islands. In 1955, it was selected for West sea national park. The beautiful view of the islands fascinates people.
There are two ways to enjoy this island. One is to watch from the view spot. Day time of course, but at sunset, the view looks like a picture. The other way is to watch from the boat. They have two boats at Kujukushima pearl sea resort.
Also they have aquarium called "Umikirara", seafood market called "Kaisenichiba" where you can buy seafood from Nagasaki, and restaurant you can eat Japanese and Italian. How about going to watch beautiful view?
2. Shirokigamine kogen
Cosmos and rape blooms bloom all over. You can see Ariake sea and Unzenfugendake. Shirokigamine kogen is located middle of Gokaharadake. Rape blossoms bloom from the end of March to beginning of April, Cosmos bloom from the end of September to the end of October, so lots of tourists visit there.
It is so beautiful to see the ground is covered by rape bloom and cosmos. 100,000 rape bloom make yellow carpet, and pink, red and white cosmos cover all over the ground. Isahaya city is the junction to go to Unzendake from Nagasaki airport and Nagasaki city so it may be hard to find.
But there are lots of restaurants you can eat eel in Isahawa city. So how about stopping by?
3. Nozaki island, Kyunokubi kyokai
There are 971 islands in Nagasaki, which the number is the most in Japan. Most of them are uninhabited islands but there are some that people live. But these days many people leave the islands and only empty hoses exist.
Ojika island is where people are interested in these days. They have hotels that they reuse empty houses. There are about 2500 people in the island, and about 20000 people visit there in a year.
If you have a chance to go to Ojika island, please visit Nozaki island too. Nozaki island is an island only manager of "Nozaki island Shizen gakusyujuku" live. There is a church called Kyunokubi kyokai near there.
Christian who weren't opened about their religion used to live in this area and they built this church. Even no one lives in this island but the church is still under control. You can see the view that you can see only here.
You have to use boat from Ojika island and need to make a reservation so it is not easy to go there but it worth it. Please visit!
4. Port Hoorn Nagasaki
It opened in 2016 using where Nagasaki Dutch village were that closed in 2001. It is designed after port village called Hoorn in Holland. It faces Omura bay and the building is made with red brick and surrounded by seasonal flowers.
The entrance fee is free. Just walking around is fun but there are glass museum, restaurant, café and gift shop too. They have play land so it is good for kids too. You can also experience sea kayak, boat, and fishing at Omura bay.
It is still new. There are some spots that are good for pictures. They have free bus from Nagasaki bio park, so please visit!
5. Shimabara castle, Koi-no-oyogu-machi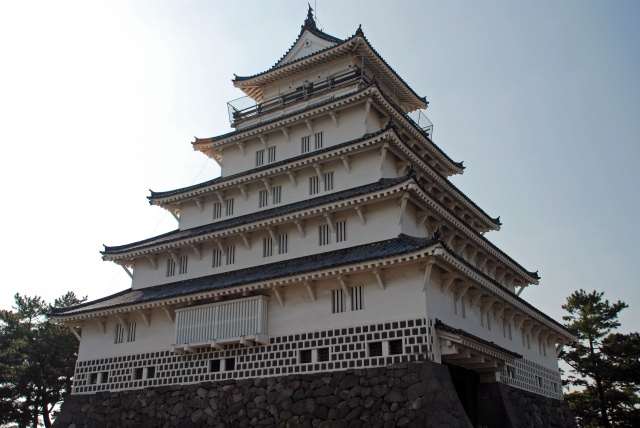 Shimabara castle is a symbol for the city of Shimabara. It was built in 1618 after taking 7 years but it was destroyed in 1874.
The castle you see now is rebuilt parts by parts in 1960, 1964, 1973 and in 1980. They have museum inside the castle. In the city, there are lots of pictures or view of carps.
The water was chosen for good water 100 in 1985, there are more than 50 places in the city that you can see the water. "Shimabara wakimizukan" and "Wakimizuteien SHimeisou" are where you can stop by, so how about enjoying them too?
 
You May Also Like:

6. Saikyo-ji temple
Do you know there is a temple called Saikyo-ji that is said west Koyasan in Hirado? It used to be a different temple before it was built in 1607, and it is said it was the first place that Kobotaishi (Kukai) was when he came back from Tou.
This temple's main hall was built in 1609, and you can still see what it looked nowadays. There is a red three stories tower called Sanjudaitou.
It was built in 1988 as a memory of 1150th year of Kobotaishi's dead. It is 33.5m high. You can go inside the tower too. From the third floor, you can see the city and Hirado castle.
7. Glover garden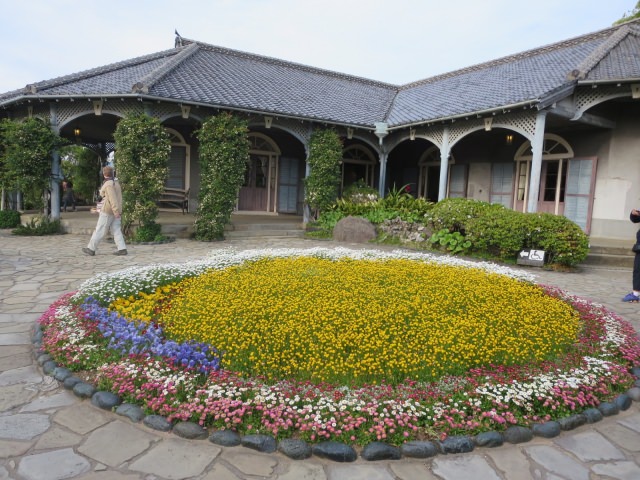 Lots of tourists stop at Glover garden when they come sightseeing in Nagasaki city. It is chosen for national important monument.
It is the best area for residence for foreigners and since it is on the small hill, the view of Nagasaki port is great. It is fun just to walk in the flowers and green. Do you know this became a spot for relationships?
There are two heart stones in the garden, and it is said if you touch the stones touching each other's hand, they will be happy. Or if you touch it wishing a dream, it will make come true. They also have wall relief at garden shop near the exit, so please find it!
8. Doya tanada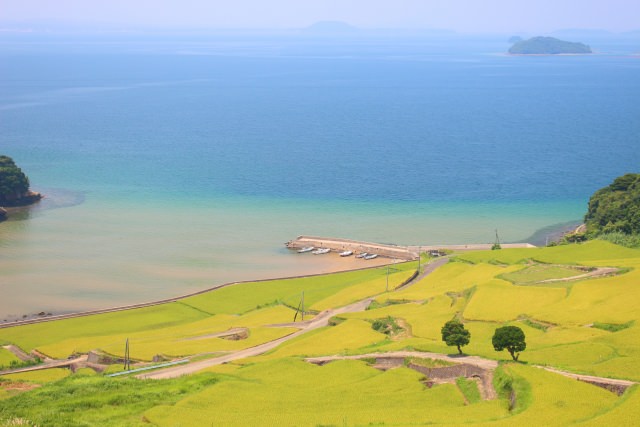 There is a great view at the island that is connected by Fukushima ohashi from Imari, Saga. The island is small island that is in Fukushima, Matsuura. It is one of the greatest 100 rice terrace and there are about 40 rice field facing Genkai-nada.
It is beautiful under the blue sky but our suggestion is the evening. The evening of early summer. The water of the field shines by sunset and makes beautiful view. Lots of photographer comes to take a picture of this view from all over Japan.
Every September, they have a festival, they put about 2000 lights on the trail of rice terrace and makes wonderful view. Your eyes to see the world may change after seeing this view.
9. Takahama beach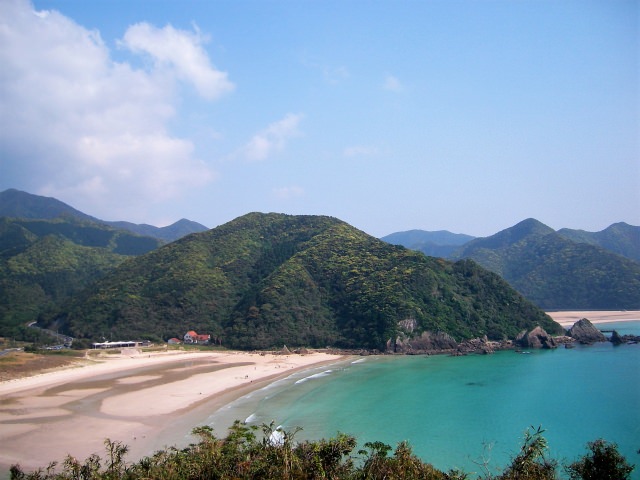 Fukue island is the biggest island and has most population in beach in Japan. Takahama beach is famous for white sand and blue water. Lots of people visit in summer. It looks like resort in overseas.
There are few buildings there O it is good to see the view from viewpoint. You can see how clear the water is, it looks like a post card. R384 runs near, it is chosen for beautiful road top 100, good road for driving.
If you want to enjoy island trip in Nagasaki or people with kids, this is a good place to go.
10. Mt. Inasa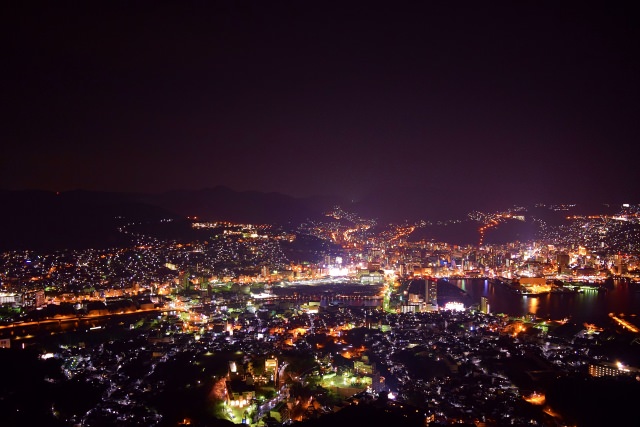 It is the best night view spot in Nagasaki. It used to be "Three most beautiful night view in Japan", at night view summit in 2012, it was chosen for "World new three most beautiful night view", it got lots of titles for night view.
You can get to the top of the mountain that is 333 meter high by rope way, it takes about 5 minutes. You can enjoy 360 degrees view from there. If it is sunny, you can see Unzen, Amakusa and Goto island.
At the restaurant called " Hikari no restaurant" that is on the 2nd floor, you can eat watching beautiful night view. Please visit when you come with someone important.
Let's go to see good view in Nagasaki!
The reason we go to Nagasaki is because there are view we want to see. But let's enjoy the view before taking photos. How about making a trip to Nagasaki to see beautiful view next time? Also please enjoy good food in Nagasaki. Enjoy your trip.
If you like this article,
Please push the
"Like"
!
Deiliver the SeeingJapan's news to you!
Popular Articles in Same Category
Author