Top 10 night attractions you must visit in Nagoya!
Being under redevelopment, a linear central bullet train project of Nagoya is on-going. Its line will be opened 2027. Now, the number of commercial facilities have increased significantly for the past 10 years, which means there are more shopping places in Nagoya. Foodies spots are also increasing in Nagoya. People in Nagoya would be happy with it because those kind of restaurants were only in Tokyo. Nagoya is recently being focused on as a tourist city more than ever. Despite that people often say there are not a lot of fun places at night, Nagoya actually has many night spots. Here are the Top 10 Night Attractions You Must Visit in Nagoya. Read this and make a plan for sightseeing at night in Nagoya!
"Nagoya TV Tower"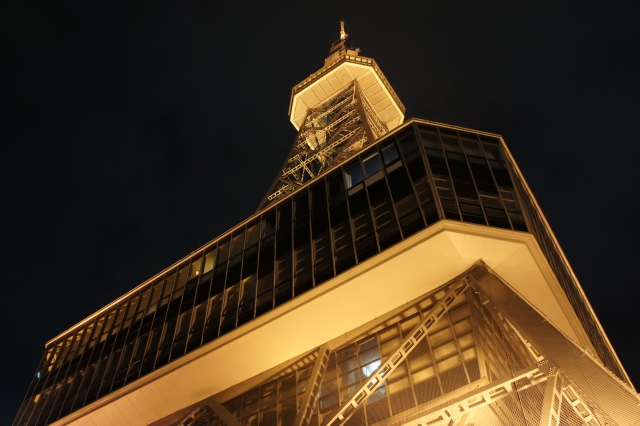 It is not too much to say that the icon of Sakae Nagoya is "Nagoya TV Tower". This TV tower is very popular among the locals as a landmark of Sakae, especially at night.It has an outside observatory at 100 meters above ground, called "Sky Balcony". Great attraction in the season when a nice wind is blowing at night. Selected as one of Japan's "Mecca of Lovers" for the first time in Naogya in 2008. Its monument is set at the observation. Even in cold winter, there is another observatory inside the tower at 90 meters above ground, "Sky Deck". So, you don't have to worry about weather or season to visit.
This tower is also designated as Japan's Night View Heritage. Well known as a dating spot. Perfect for dating and traveling with a lover. Recently they play projection mapping during a certain period. Check the event information in advance when you visit. Enjoy this locally beloved spot, Nagoya TV Tower on sightseeing in Nagoya!
"Midland Square"
"Midland Square" is Nagoya's famous attraction which offers a stylish night, located close to Nagoya Station. It is consisted of office floors and commercial facility floors with about 60 shops. Very popular as a shopping spot in a day time.
Their Sky Beer Garden is open from May to September at Sky Promenade. Drinking beer while enjoying the city lights view must taste more delicious! Head this place and indulge yourself in the breathtaking view of Nagoya night.
"Nagoya Port Sea Train Land"
"Nagoya Port Sea Train Land" is a leisure facility where people can enjoy at night. Located 5-minute walk from Nagoya Station. Also well known as a dating spot. The highlight of this place is a huge ferris wheel, which is 85 meters high. Very popular because from the biggest ferris wheel of Chubu area, an ocean view of the entire bay area can be seen. The night view from up there is fascinating. It has two glass walled and bottomed gondolas. It must be thrilling but fun. You should give it a try.
They don't charge entrance fee. You just pay for each attraction, so it is easy to stop in just to enjoy the city lights view from the ferris wheel. They offer free passes and coupon tickets. It would be better to check what they have at their website in advance for your travel plan. Being lit up, the ferris wheel and this facility looks very romantic at night. Ideal place for dating. Of course, there are a variety of attractions that kids would love as well. Why not visiting Nagoya Port Sea Train Land? Enjoy the attractions and beautiful lit up view.
"Oasis 21"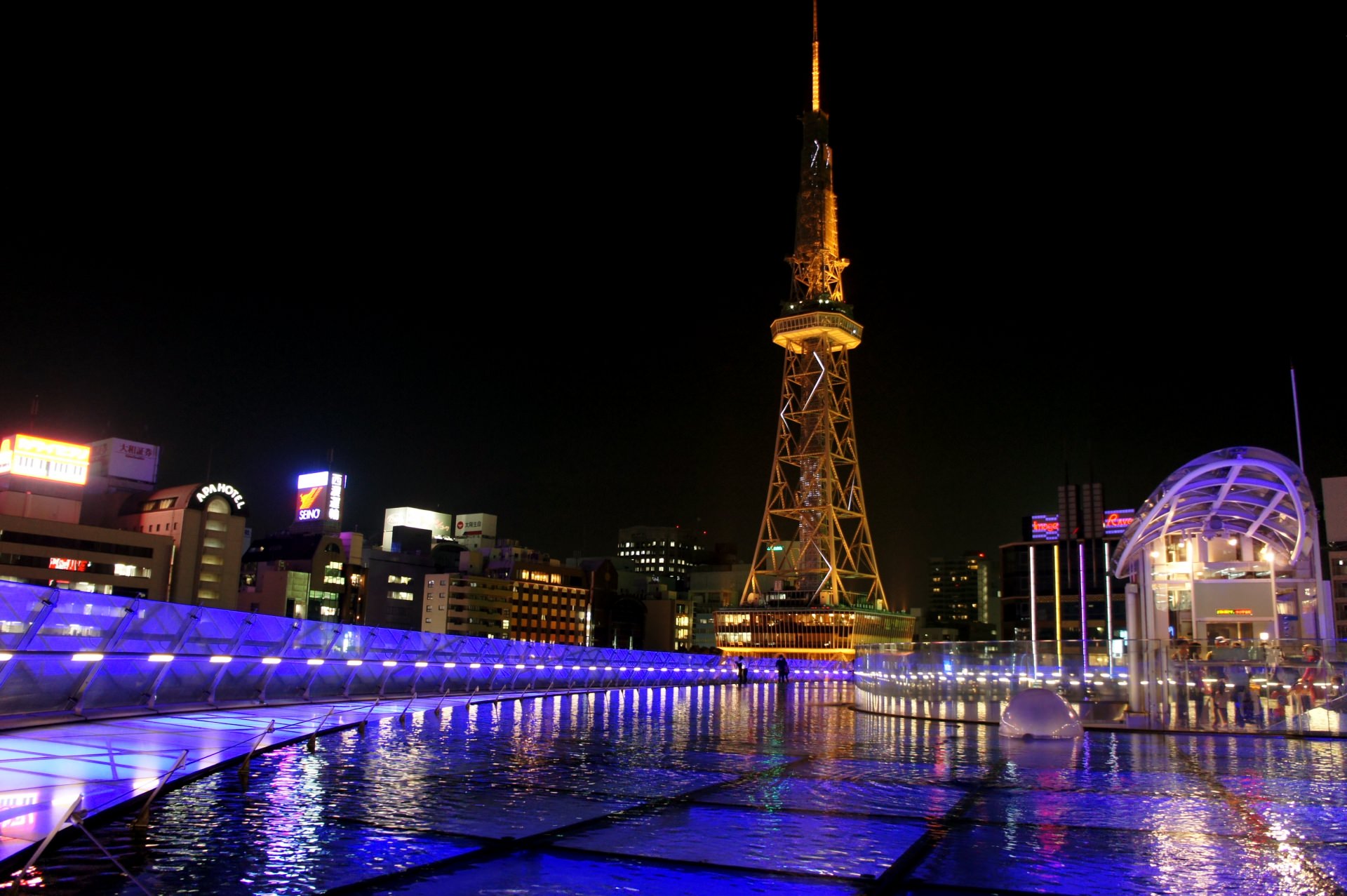 "Oasis 21" is a commercial facility that connects with Sakae Station in Nagoya. Staple attraction of Aichi. While being located at an easy access point, it has a lawn square and resting area. There are many restaurants too.
The highlight of this place is a glass walled observatory, "Spaceship Aqua", located on the 2nd floor. There is a walkway around it where people can enjoy walking in the sky. Its height is 14 meters. At night, they light up this place with a huge LED lighting equipment which is one of the biggest in Japan. By being lit up, it looks so fantastic. Highly admired by many people. Enjoy the narutal environment in the city area, Sakae, and their nice lit up view at night. Be there when you are in Sakae, Nagoya.
"Sunshine Sakae"
"Sunshine Sakae" is a commercial facility with a striking ferris wheel. Located in Nagoya's staple and famous shopping area, Sakae. At their ferris wheel, "Sky-Boat", people can enjoy it until late at night since its final ride is 10:45pm. A beautiful city lights view of Sakae can be seen from up there at night. It would be nice to ride and enjoy the view after shopping all day.
This facility also has SKE48 Theater which is packed with their fans every day. If there is someone you like, stop in this place and cheer up the Japanese idle group trying their best at Sakae Nagoya. Restaurants and cafeterias are available, too. You can just pop in when you are tired. Enjoy both day and night at Sunshine Sakae located at an easy access point!
"Higashiyama Sky Tower"
"Higashiyama Sky Tower" is attached to one of the biggest facility of Aichi, Higashiyama Zoo and Botanical Gardens. Recognized as a popular dating spot of Nagoya. This tower has an observatory room located at 96 meters above ground. Not only couples but also families with kids love the view from up there. This place is also designated as the Mecca of Lovers, and one of the Japan's 100 Night Views.
On the top floor of tower, there is a place called "Sky Resaturant NAGOYA HIGASHIYAMA", whose height is 110 meters. They serve a variety of food from casual Italian dishes kids love to authentic French cuisine for a dinner date. It would be a romantic dinner while seeing a beautiful city lights view.Higashiyama Sky Tower is a wonderful attraction to visit after enjoying the Zoo and Botanical Gardens. You can just visit to see the view, of course. Take someone you care about. Worth to visit.
"Nagoya Port Night Cruising"
You might be thinking you want extraordinary experiences while on travel. If so, "Nagoya Port Night Cruising" would be the one for you. Views from high places are fine for sure, but there are not a lot of chances to enjoy watching city lights from a cruise ship offshore. So, maybe now is the time. You can try a new thing with this night cruising when you travel to Nagoya.
Also, "Nagoya Port/Horikawa Mini Dinner Night Cruising" is really popular. This plan is available from two people and more. Guests can enjoy the view sitting on a bench outside of the ship. Very romantic for couples, but fun for girls meeting, too. The other plan, "Nagoya Horikawa Party Chartered Crusing" is also recommended for party with friends. Foods are served, of course.Nagoya Port Night Cruising has various plans and tours. Find one you like and enjoy the brilliant view from a ship!
"Kinsan"
Shops and restaurants in Nagoya close relatively earlier compared to the ones in Tokyo, but there is a fun area people can enjoy until at late night. Nishiki 3-chome, AKA "Kinsan" is the famous one. Being lit up after sunset, the area gets busy with people after work and foreign tourists. It is Nagoya's night amusement area like Kabuki-cho Shinjuku.
There are bars, snack bars, and night clubs as well as izakaya restaurants. You may not usually hang around until late at night, but you would feel like letting your hair down a bit while on travel. If so, this area, Nishiki 3-chome, Sakae is the one for you. You don't have to worry about the security. It is safe enough that girls group can enjoy without any harm. This area is packed with places to eat and drink, which include local cuisine izakaya restaurants such as "Nagoya Cochin Torishige" that serves local brand chicken, Nagoya Cochin. So get there with your stomach empty and enjoy Nagoya's food!
"Laguna Ten Bosch"
"Laguna Ten Bosch" is a popular leisure spot of Gamagori City located about an hour from Nagoya. Guests can enjoy staying all day. Their various attractions include a ferris wheel, an attraction with the latest VR device, and a pool facility. Great place both during the day and night.
In summer, they open the pool at night. Laguna Ten Bosch is the only place in Aichi that people can enjoy swimming in a pool at night except for gyms. This place has many highlights: ferris wheel, projection mapping, illumination, and night pool. It is easy to access from Nagoya. Fun place to visit when you travel to Nagoya!
"Takinomizu Koen"
"Takinomizu Koen" is a famous dating spot at night among the locals. Located in a high-end residential area of Nagoya, Midori-ku. A breathtaking panoramic view can be seen from this park.
Being located in the high-end area, the security of this park is ensured. Nice place for couples and families with kids. The famous bridge," Meiko Toriton", Nagoya port, and Higashiyama Sky Tower mentioned above can be seen. Perfect to watch fireworks shot from Nagoya port in summer.Also there are many people visit this place to watch new year sunrise from this park. How about getting there around the sunset time, taking a walk, and staying to enjoy the night view? It would be nice to spend a slow time while seeing the wonderful view after getting tired from exploring around. Have a great night in Nagoya!!
Enjoy night tours in Nagoya!
This article was about the Top 10 Night Attractions You Must Visit in Nagoya. How did you like it? Nagoya is famous as a foodie's city but there are many places people can enjoy at night, too. It would be fun to visit a night view attraction, a place being lit up, or enjoy food and drink with the locals at a local staple izakaya restaurant. There are various ways to enjoy Nagoya night. Find one you like! You wouldn't regret visiting Nagoya!
If you like this article,
Please push the
"Like"
!
Deiliver the SeeingJapan's news to you!
Popular Articles in Same Category
Author