Sightseeing In Umeda! The Best 10 Sightseeing Spots Which Are Accessible In Umeda
A town of "Kuidaore" – Osaka. Starting from Takoyaki and Okonomiyaki, Osaka has a lot of local gourmets. Osaka is where the markets have been developed, and is one of the most popular destinations for sightseeing. In this article, I will introduce the best 10 sightseeing spots located in Umeda.
Roten Shrine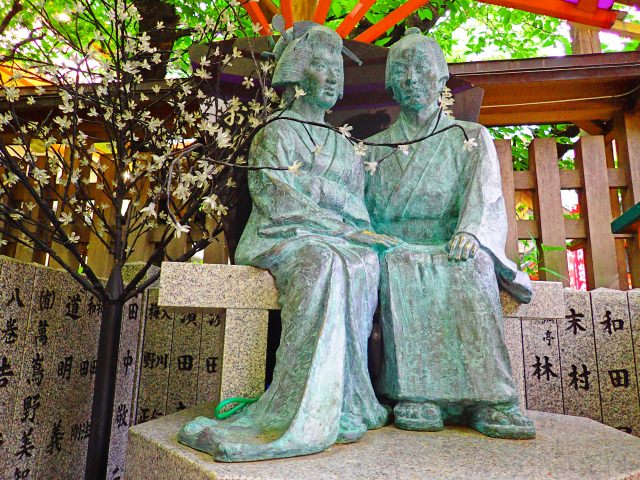 "Roten Shrine", which has a long history of 1,300 years, has been loved by the locals for long. Although this place is known as a sacred place for couples, there was a love suicide in a precinct. That story was depicted in "Sonezaki Shinju" written in 1703 by Chikamatsu Monzaemon.
One of the characters in Sonezaki Shinju is "Ohatsu" and some people call this shrine Ohatsu after her name. But as for a proper name "Roten Shrine", it is said to be named after a poetry read by Sugawara Michizane although there are theories too.
Umeda Sky Building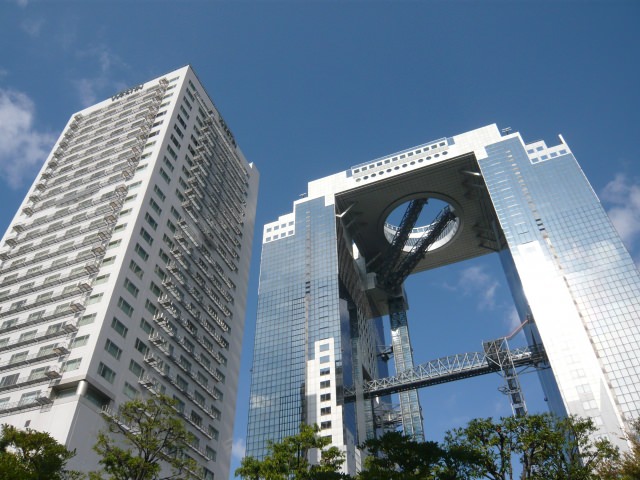 "Umeda Sky Building", located in Shin Umeda City with a huge area of 4.2 hectares, is a shopping centre with restaurants, gift shops, and clothing shops. Inside the facility has a museum shop that sells the original postcards, so it can be a great souvenir.
If you want to go up to the observatory deck, use an elevator and go up to level 35, then to level 39. You can enjoy a cup of tea or coffee while overlooking the city of Osaka.
Nakashizen no Mori, Shin Satoyama
In Shin Umeda City, there is a space called "Nakashizen no Mori, Shin Satoyama". Located in city between a hotel and a building, the forest has a huge area of 8,000 square metres with 2,100 plants and 50 species. If you go for walking, you will find a lot of unique statues. Especially in summer, you can get relaxed to meet the river and falls in the forest.
Around the river, there is an event to meet with the fireflies in June every year. It is an amazing event not only for family, but also for couples. The forest has the paved trails to take a walk, and other sightseeing spots too – try this place in the afternoon or the evening! Enjoy your trip to Umeda.
Tsunashikiten Shrine
"Tsunashikiten Shrine" was established in 822 when a tentative main hall was built. It enshrines Sugawara Michizane, a God of study, and changed its name to a current one in 901. It was named after Sugawara Michizane who was sent to Kyushu from Kyoto and saw a Japanese apricot tree in full bloom in Umeda on stern hawsers.
Today, it is said that a little stone called "Nade Ishi" brings you a good luck for your tooth if you touch it. As the shrine is located right in the shopping street, why not drop by when you go shopping?
Retro Restaurant Street Takimikoji
If you are familiar with the Showa era it feels nostalgic, and if you don't know it still feels new – "Retro Restaurant Street Takimikoji" is located on B1 floor in Umeda Skycity Building. Once you go into the area, it feels as if you are experiencing a time travel to the Showa era!
Takimikoji is a food themed park with about 20 different restaurants. All those items, like a toy made of a tin plate, that you will see here make you feel nostalgic. There are other objectives such as a stone pavement and a well, and statues. It actually is quite fun just to wander around to think – "Oh, what should I get?"
Houseiji
"Houseiji" is a temple of Nichiren sect of Buddhism where the grave of Yujo in Sonezaki, "Kashiku". Kashiku means a heavy drunker in a present word.
In 1749 Kashiku got so drunk that she killed her older brother, who tried to stop her from being drinking, by accident. Although it was an accident, she was sentenced to death and thus she wanted to become a God of anti-alcoholism. Rakugo is performed on the day she lost her life. It is believed that this temple has a power to keep you away from alcoholism. If you are ever told that you are alcoholic or a heavy drinker, give it a go!
Kids Plaza Osaka
Where you might want visit with your kids – "Kids Plaza Osaka". This facility is totally for children, and through the games or plays they experience here, they will learn a lot of things. As this is an indoor activity in the museum, the weather doesn't matter.
It is quite different from just sitting to study. There are many programmes such as News Studio Experience and Playing Instruments etc. Even parents would love to see and experience those!
HEP Five Osaka
Located 3 minutes away from Umeda Station, there is "HEP Five Osaka". It was formerly called "Hankyu Five", and now renamed as "HEP Five" just before a class of 2000. This is an interesting shopping centre with an unique object at the entrance and all the shops.
One of the symbols here is definitely a huge red ferris wheel. This is what everyone knows as a landmark of Umeda, and it s a 4 seating wheel that takes 15 minutes. Surprisingly, the wheel is air-conditioned and you can overlook the city of Osaka throughout the year in a great environment. It is best for couples at night as the area around the wheel is illuminated and that makes a different view of Osaka.
Hankyu Higashidori Shopping Street
Underground of Umeda Station looks like a maze and you will easily get lost! It is actually fun to get lost sometimes, but when it comes to a trip, you don't want to waste time either. Then, try visit "Hankyu Higashi Dori Shopping Street"! It is said that this shopping street was launched just after the war ended.
The shopping street is divided into 6 areas; 1st, 2nd, 3rd, Higashi Nakadori, Higashi Chuo, and Park Avenue Doyama. Each area has different cafes and restaurants, so it is fun just to wander around the arcade.
Let's Explore The City Of Umeda!
How was it? I have introduced the best sightseeing spots in Umeda. How you found the places you might want to visit so far? Starting from Umeda, Osaka has a wide variety of sightseeing spots such as Shinsaibashi and Doutonbori, so plan you trip now – and enjoy!
If you like this article,
Please push the
"Like"
!
Deiliver the SeeingJapan's news to you!
Popular Articles in Same Category
Author