The Best 8 Temples and Shrines in Kyoto
World famous Kyoto. The place you have to visit when you're in Japan. There are hundreds of places to go within the city full of ancient treasures and you don't know which one to choose. Here are the spots you mustn't miss. The following have their own unique feature and history; they help you learn Japanese culture in depth. No matter when you visit them, you will be welcomed by their beautiful gardens and the scent of incense. Don't forget to get a lucky charm to make your wish come true! The night viewing is highly recommended if you are in Kyoto in Spring or Autumn to enjoy the gardens as they are lit up.
1. Kiyomizu-dera(KiyomizuTemple) – A temple with splendid view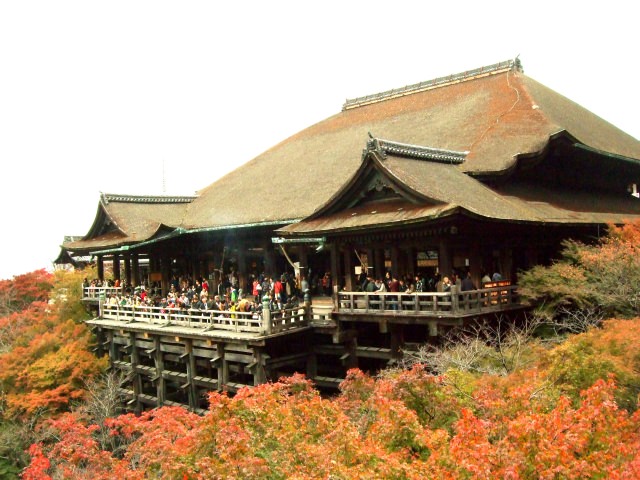 Not far from Gion, where you still see the Geisha wondering around day and night, Kiyomizu-dera Temple is situated on top of the long slope with a lot of vendors selling food and suveniors on both sides. This temple, registered as a world heritage, is well known for the view from the balcony supported by 13m high wooden columns (called "Butai") right next to the main hall, which is also registered as a Japanese national treasure.
You can enjoy the view of Kyoto from five different angles on this balcony. The Kannon Bodhisattva, the goddess of mercy, is mainly famous for its extremely unique posture. Not only is it obvious architectural beauty but also the temple has an amazing waterfall made up of water that is believed to improve your health and help to live long when you drink it.
■Information
Name: Kiyomizu Temple
Address: 1-294, Kiyomizu, Higashiyama-ku, Kyoto City, Kyoto
Access①: 25 minute walk from Kiyomizu-Gojo Station
Access②: 10 minute walk from the Gojozaka bus stop
2. Byodo-in Temple – The ancient wealth on a coin

photo by woowu119   /   embedded from Instagram
Byodo-in Temple is located in the suburb of Kyoto. The city is called Uji and is very well known for its Green tea leaves. This temple, registered as world heritage, was built by the lavish aristocrats in the 11th century as a symbol of their wealth, and later this was converted into a temple. The Houou-do (Phoenix Hall) was built in 1053 and is the only original building to date.
You can see the statue of Amida, the principal of Buddha in this building. There is a golden Phoenix on top of its roof. The view of the temple over the pond is so beautiful that it is replicated on the back of 10 yen coins and the Phoenix is displayed on 10,000 yen notes. All national treasures can be seen in the museum within the temple.
■Information
Name: Byodo-in Temple
Address: 116, Ujirenge, Uji City, Kyoto
Access: 10 minute walk from Uji Station
3. Kinkaku-Ji Temple – The trademark of Japan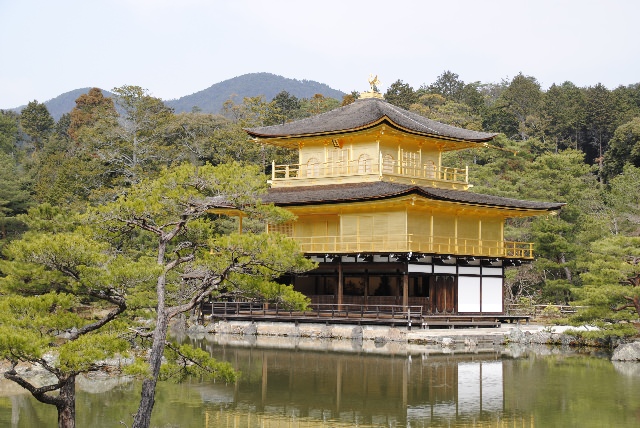 Widely known as "The Golden Pavilion", Kinkaku-Ji Temple is the most famous temple in the world. It is located in the North West of the city. Walking through a path with stunning bamboo trees on both sides to the gate, the pavilion is standing in a pond surrounded by the breathtaking gardens. This gold plated temple was made as a retirement villa for one of the most powerful shogun during the 14th century then converted into a "Zen" temple after his death.
He was not only more powerful than the Imperial Family but also wealthier. He needed to show his wealth to the nation so decided to make it gold plated. If you are lucky, you will see the outstanding mirror image of the temple in the pond. The teahouse in the incredibly beautiful garden hosts traditional tea ceremonies where you can indulge yourself into the "Zen" world.
■Information
Name: Kinkaku-Ji Temple (The Golden Pavilion)
Address: 1, Kinkakuji-cho, Kita-ku, Kyoto City, Kyoto
Access: 3 minute walk from the Kinkakuji-do bus stop
4. Ginkaku-Ji Temple – Wabi-sabi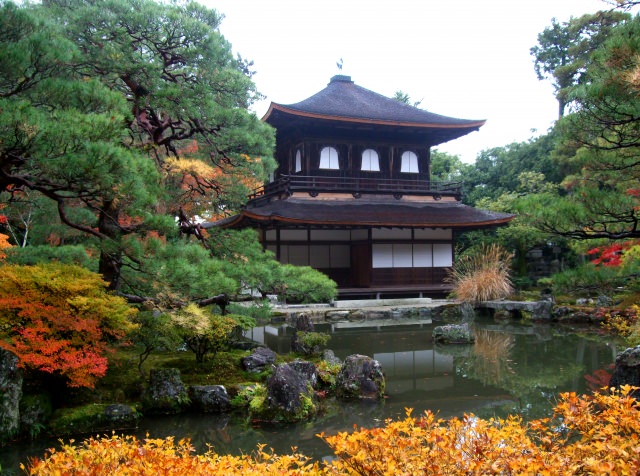 Gikaku-Ji Temple, registered as a world treasure, was built as a retirement villa for a Shogun in 1482 and then converted into a temple. Although this is well known as "The Silver Pavilion", unlike the Golden Pavilion, this is not silver plated and the walls are rather bear brown. The structure of its tearoom, which is a small space with low windows, influenced the architecture in later time.
The temple is often used to represent Japanese aesthetics of imperfect, impermanent and incomplete which is called "Wabi-sabi". It is located in East Kyoto, on the foot of the "Daimonji" mountain where a letter "Dai 大" is lit with 6 other letters on the surrounding mountains on the 16th of August every year. There is a canal nearby where you can enjoy a walk amongst the seasonal scenery.
■Information
Name: Ginkaku-Ji Temple (The Silver Pavilion)
Address: 2, Ginkakuji-cho, Sakyo-ku, Kyoto City, Kyoto
Access: 10 minute walk from the Ginkakuji-do bus stop
5. Ryoan-Ji Temple – with a mysterious Japanese Rock Garden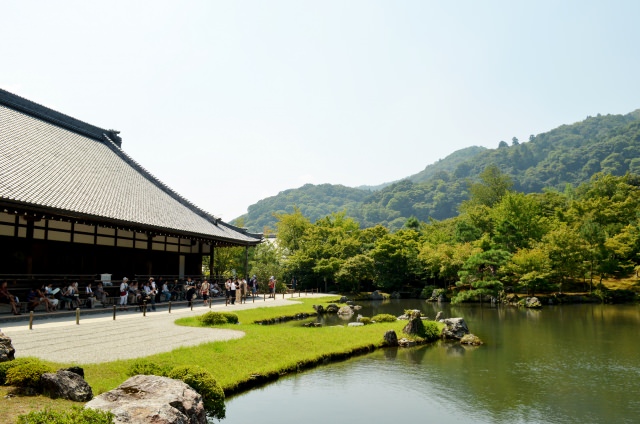 Ryoan-Ji is a simple "Zen" temple built in 1459. Although it has been burned down twice due to Samurai wars, it was registered as a world treasure in 1994. What is significant about this temple is its remarkable "Karesansui (Dry landscape)" garden. 15 stones of different sizes are spread out over raked white gravel to recreate a water flow in the mountain.
It is a myth who the creator of this cleverly made space is. The walls surrounding it are made of oily soil to avoid being ruined by the dust from the gravel and the garden itself is elevated to make sure rain water doesn't spoil it. No matter which angle you look at it, from the deck, you will see all 15 stones in the white flow. This is the place to be if you would like to enjoy a true "Zen" spirit.
■Information
Name: Ryoan-Ji Temple
Address: 13, Goryonoshita-cho, Ryoan-ji, Ukyo-ku, Kyoto City, Kyoto
Access: 7 minute walk from the the front of Ritsumeikan University bus stop
6. Ninna-Ji Temple – Cherry blossom loved by the Imperial family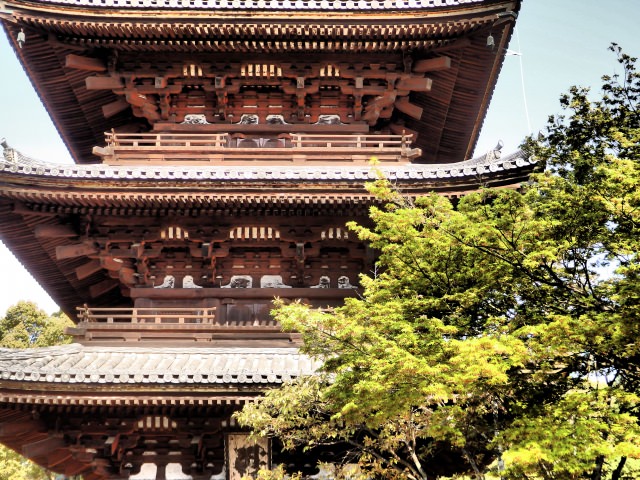 Ninna-Ji Temple construction was completed by the Emperor Uda in 1888. As he moved into the temple later in his life as a priest, he started the tradition for the Imperial family to act as head of the priests, it is known as "Omuro (Emperor's Villa)". It has an exclusive collection of Buddha statues and paintings and is registered as a world treasure.
However it is most known for its Sakura (Cherry trees) blossom season. The late blooming Trees draw people in from all over the world in April and entertain us with their fabulous view. The temple host a Sakura Festival every Spring and it is the most recommended place to go if you are in Japan during the season.
■Information
Name: Ninna-Ji Temple
Address: 33, Omuroouchi, Ukyo-ku, Kyoto City, Kyoto
Access①: 10 minute by bus from Enmachi Station
Access②: 2 minute walk from Omuro Ninna-ji Station
7. Daigo-Ji Temple – full of national treasures and important cultural properties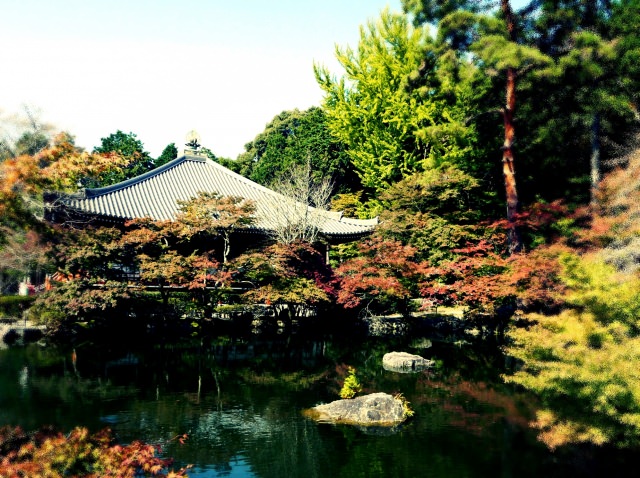 Located in the East end of Kyoto, Daigo-Ji is well known as a temple with many national treasures and important cultural properties. It is located over Mount Daigo and is registered as a world heritage. There is a collection of over 100,000 items and approximately 70,000 of them are registered as either a national treasure or an important cultural property.
The temple has the oldest wooden five-story Pagoda in Kyoto, its construction finished in 1951 after 15 years, making it the only building that survived through atrocious Samurai wars in the 15th century. It offers an in-depth opportunity to learn about Japanese culture as well as displaying the fabulous Cherry blossoms in the Spring and the marvellous colour of its maple trees in Autumn.
■Information
Name: Daigo-Ji Temple
Address: 22, Daigo Higashioji-Cho, Fushimi-ku, Kyoto City, Kyoto
Access: 30 minute by bus from Kyoto Station
8. Suzumuzi-Dera Temple (Kegon-Ji Temple) – profound sound of Bell Crickets

photo by yuka_5826   /   embedded from Instagram
After going up steps of stone located in west Kyoto is a modest temple called Kegon-Ji. It is also known as Suzumusi-Dera, a temple with bell crickets. They keep more than 5000 bell crickets indoor and outdoor and you can hear their sound throughout the year. The sound has a very calming effect and entertains the visitors. It also has a statue of a Buddhist monk wearing sandals. He can make one wish of yours come true and when it does, he will travel to see you. That's why he is wearing the sandals.
It is not a registered world heritage but certainly attracts people from all over the world for those reasons. It also has a unique garden with different kinds of Bamboo trees. You will feel the beauty of nature when you hear the sound of crickets as you walk through the bamboo garden.
■Information
Name: Suzumuzi-Dera Temple (Kegon-Ji Temple)
Address: 31, Matsumurojike-Cho, Nishikyo-ku, Kyoto City, Kyoto
Access: 15 minute walk from the MatsuoTaisya bus stop
Check out the world renowned temples in Kyoto, the ultimate city we love!
So what do you think? Now you know that Kyoto is the city packed with the remains of Japanese history. There are of course some modern and interesting attractions as well, but you cannot miss those brilliant reminders of the history and culture which have been with the city for hundreds of years. Kyoto will show you how Japanese culture has been developed and you will find Japan you never knew before.
If you like this article,
Please push the
"Like"
!
Deiliver the SeeingJapan's news to you!
Popular Articles in Same Category
Author