Top 10 Tourist Attractions & Best Things to Do in Higashiyama, Kyoto, Japan
There are many sight-seeing spots in Higashiyama including Kiyomizudera and all of them are well known from guide books etc. Many of these places are used for TV shootings and so many people many not have visited these places but have seen them on TV. If you get the chance to visit, we are sure you will have a different impression of them. We would like to introduce 10 sight-seeing spots in Higashiyama in this article.
1. Kiyomizudera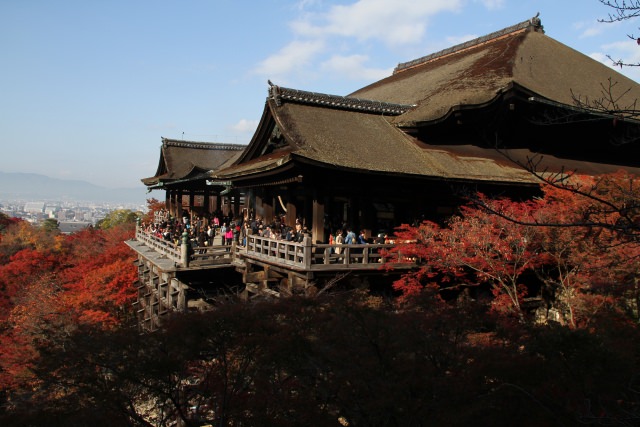 Kiyomizudera is famous for Kiyomizu no butai" (stage of Kiyomizu) which was built without using any nails. You will find Kiyomizudera in Mt. Otowayama and it is a Hosso temple and is listed on the UNESCO World Heritage List.
From the 13 meter high stage of Kiyomizu, you will have a wonderful view of Kyoto city and there is also the Otowa no Taki which is said to be the secret of perennial youth and long life.
As the water from Otowa no Taki was called 'kiyome no mizu' (water of purification), Kiyomizudera was named Kiyomizudera.
You can visit from 6 am to 6 pm and there are special seasons where you can visit during the night, too so please check their website before visiting.
■Information
Name: Kiyomizudera
Address: 1chome Shimizu, Higashiyamaku, Kyotoshi, Kyoto
Tel: +81-75-551-1234
Hours: 6:00~ (The time the gates close differ)
Holidays: None
Access: 11 minute walk from Kiyomizumichi Bus Stop
Website: http://www.kiyomizudera.or.jp/
Map: Map to Kiyomizudera
2. Yasaka Jinja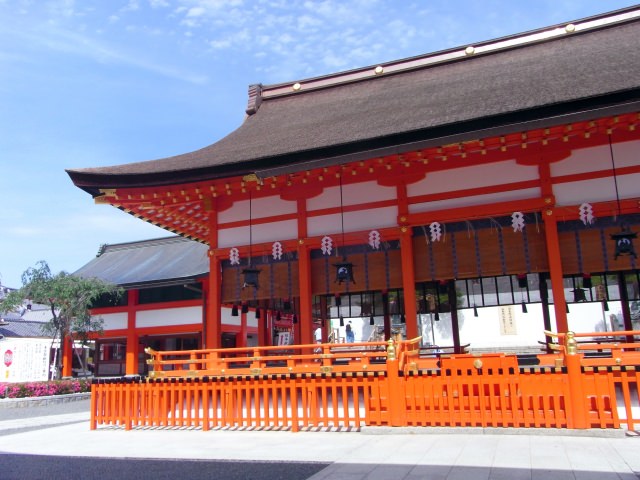 Yasaka Jinja is famous for the 'Gionsai' which is as famous as the Tenjinmatsuri, Osaka and Kanadamatsuri, Tokyo. Yasakajinja is the head shrine of 2300 shrines in Japan.
The shrine was originally called the Gionsha or Kanshinin but the name was changed to Yasaka Jinja when the shrines and temples separated during the Meiji Restoration but it is called 'Gionsan'.
The Gionsai is held with the Yamahoko area and is held for a month from July 1st and has a history of more than 1100 years. If you are visiting Kyoto, you will definitely like to see the festival.
■Information
Name: Yasaka Jinja
Address: 625 Kitagawa, Gioncho, Higashiyamaku, Kyotoshi, Kyoto
Tel: +81-75-561-6155
Holidays: None
Fee: Free
Access: 5 minute walk from GionShijo Station
Website: http://www.yasaka-jinja.or.jp/
Map: Map to Yasaka Jinja
3. "Sanneizaka"and"Nineizaka"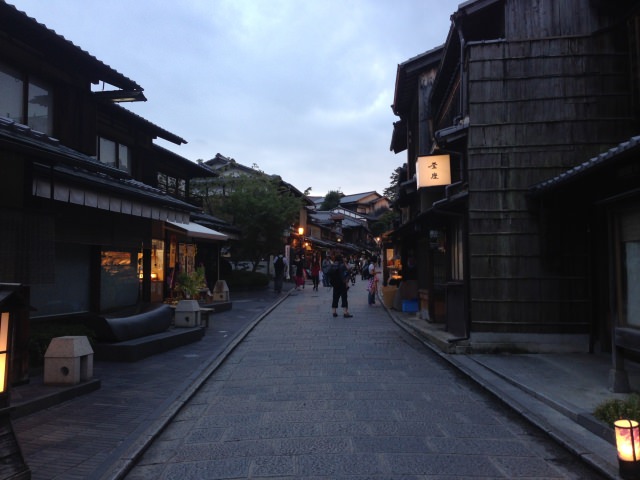 Sanneizaka and Nineizaka were made as entrance paths for the safe delivery of a child. Sanneizaka originally came from Kiyomizudera as there is a tower there which was meant to pray for the safe delivery of a child.
The beautiful path is a part of an important preservation district of historic buildings. It is connected to Kiyomizudera and Yasaka Jinja so there are many restaurants and gift shops along the path.
It is also popular for shopping. If you get a chance to visit Higashiyama, Kyoto, we would like you to visit at least once.
4. Maruyama Koen (Park)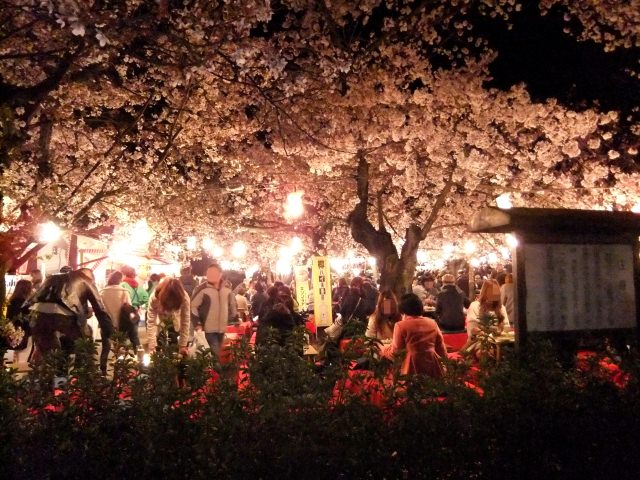 There are more than 700 cherry blossom trees and Maruyama Koen is famous for them. There is a Japanese garden where there is the "Gion no Yozakura" cherry blossom tree and its official name is 'Hitoeshirohiganshidarezakura'.
In the spring when it is in full bloom, it is lighted up and is even prettier than usual. There is also a Japanese style Ryotei and music hall and you can enjoy the view which eating or listening to music.
How about enjoying the Kyoto taste?
■Information
Name: Maruyama Koen
Address: Maruyamacho, Higashiyamaku, Kyotoshi,Kyoto
Map: Map to Maruyama Koen
5. Shorenin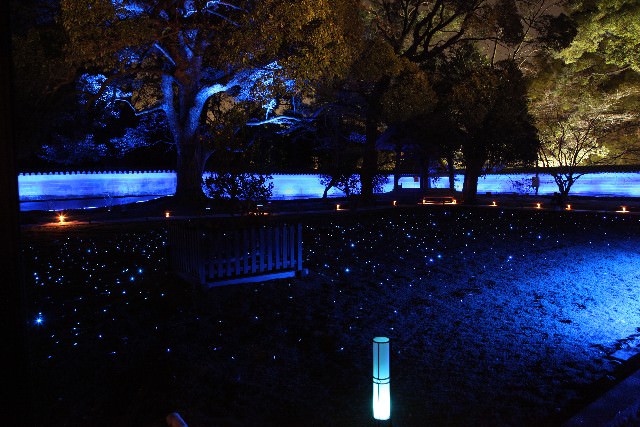 Shorenin is famous for its beautiful view in all seasons and it is one of the three places where the Aofudo is placed.
The official name is the Aofudomyoohnidoshizo and it is usually not shown to the public, However, there are special occasions when you might get to see it.
Shorenin is said to have started from the Shorenbo in Mt. Hiei. They have a special connection with the royal family and so how about visiting this special spot?
■Information
Name: Shorenin
Address: Sanjyobocho, Awataguchi, Higashiyamaku, Kyotoshi, Kyoto
Tel: +81-75-561-2345
Hours:9:00~17:00
Access:4 minute walk from Jingumichi Bus Stop
Website: http://www.shorenin.com/
Map: Map to Shorenin
 
You May Also Like:

→The Best 12 Shopping Malls You Must Visit in Kyoto, Japan
6. Chionin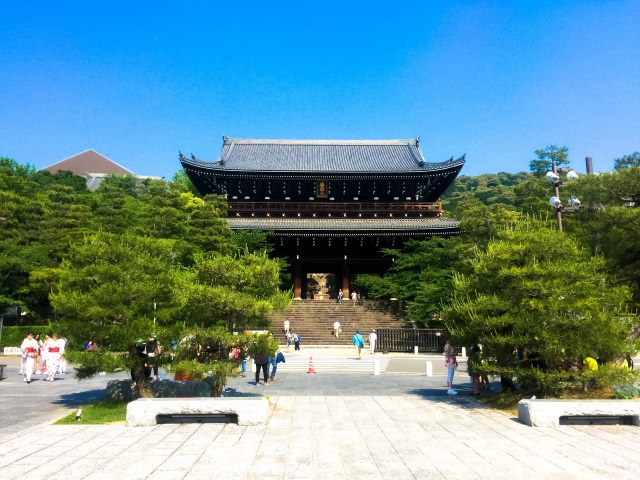 "Chionin" – there is the biggest temple gate "Sanmon" (national treasure) about 3kms away from Maruyama park and is the grand temple of the Jodoshu.
There is also the Uguisubari no Roka (the corridor of nightingales) where you can hear sounds just like nightingales singing when you walk or the painting Nukesuzume which are both cultural assets.
There is no entrance fee but if you would like to visit the gardens you will need to pay an entrance fee. If you get a chance to visit Higashiyama, Kyoto, please consider a visit.
■Information
Name: Chionin
Address: 400 Hayashishitamachi, Higashiyamaku, Kyotoshi, Kyoto
Tel: +81-75-531-2111
Hours:9:00~16:30
Access:7 minute walk from Higashiyama Station
Website: http://www.chion-in.or.jp/
Map: Map to Chionin
7. Kenninji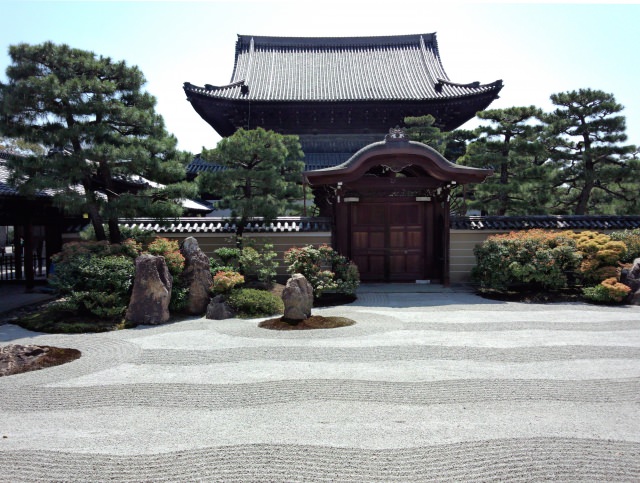 Kenninji is known for its cultural assets such as The Wind and Thunder Gods and is located in the west of Yasui Konpiragu which is famous for being the god of marriage.
The Wind and Thunder Gods is astonishing and was painted in by the Ipparinpa which was gathered in the Momoyama Era. The one at Kenninji is not real, but is always open to the public.
There are also other gardens so we definitely like to recommend a visit when you are in Giyon. Please enjoy the national assets.
■Information
Name: Kenninji
Address: Komatsucho, Yamatooojidori, Shijyosagaru, Higashiyamaku, Kyotoshi, Kyoto
Tel: +81-75-561-6363
Access: 7 minute walk from Gion Shijo Station
Website: http://www.kenninji.jp/
Map: Map to Kenninji
8. Sanjusangendo

photo by kuchifune   /   embedded from Instagram
The Sanjusangendo won 3 stars on the Michelin Green Guide and is made from cypress trees and is 120 meters long. The name came from the number of columns which was 33.
There is the Senju Kannon which is around 3 meters big and also the SentaiSenjukannon ( 10 rows of 1001 budda statues).
There are said to be 33 columns as the Kannon Bosatsu changed its appearance in 33 ways to help others. Please visit the worldly recognized spot.
■Information
Name: Sanjusangendo
Address: Sanjusangendomawaricho, Higashiyamaku, Kyoto
Tel: +81-75-561-0467
Access: Very close to the Sanjusangendo Hakubutsukan but stop
Website: http://sanjusangendo.jp/
Map: Map to Sanjusangendo
9. Ryozen Museum of History

photo by maringo0512   /   embedded from Instagram
The Ryozen Museum of History was opened in 1970 and they preserve more than 5000 items related to the Bakumatsu Ishin. It is the only museum in Japan which focuses on the Bakumatsu Ishin and it close to the Kyoto Reizangokokujinja where Ryoma Sakamoto and other people from the Bakumatsu Ishin were enshrined. They have an exhibition of 100 items out of the 5000 items they preserve and also a corner which uses 3D to show the Bakumatsu Ishin style. They close the museum at a different time based on the season etc. so please check the website before you visit.。
10. Kyoto National Museum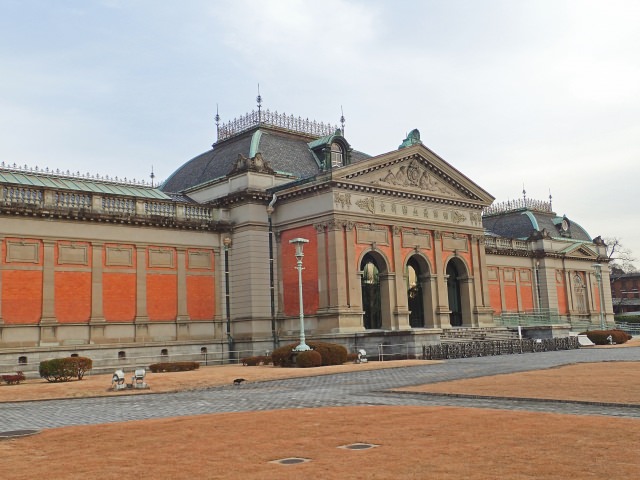 The Kyoto National Museum was opened in 1897 and in total they own 12000 items including 109 items of national treasures and 787 items of important cultural assets.
The Baroque style red brick building called the Kyuteikokuhakubutsukanhonkan is one of the important cultural properties of the country. From 2014, the Heiseichisinkan opened and you can see many national assets.
In 2017, they will have a 120th year opening anniversary so how about visiting?
■Information
Name: Kyoto National Museum
Address: Chayamachi 527, Higashiyamaku, Kyotoshi
Tel: ;81-75-525-2473
Holidays:not decided
Fee:Adults 520 yen / University students 260 yen
Access: Very close to the Museum/Sanjusangendo Bus Stop
Website: http://www.kyohaku.go.jp/jp/
Map: Map to Kyoto National Museum
Enjoy the sight-seeing spots in Higashiyama!
We introduced 10 places we would definitely like you to visit in Kyoto Higashiyama. There are many national assets in Kyoto and you will 'feel' the history. Are you interested in any of the places introduced? If you get a chance to travel to Kyoto, how about a visit to Higashiyama? Please find a place which will introduce you!
If you like this article,
Please push the
"Like"
!
Deiliver the SeeingJapan's news to you!
Popular Articles in Same Category
Author