The Best 12 Shopping Malls You Must Visit in Kyoto, Japan
Kyoto – a city with the most authentic history in Japan and full of visitors. So many temples, shrines and gardens to see. However, you will always have time for shopping. Let me introduce you to some key areas you have to go to. Souvenirs, the latest fashion, gifts, accessories…there is nothing you can't find in Kyoto!
Shopping area around Kyoto Station
The area around JR Kyoto station has been developed so much in the last 15 years. The station building's large main hall has an exposed steel beamed roof where you can overlook the city of Kyoto. The large staircase will take you to the theatre which exhibits concerts and musicals throughout the year. Don't miss out on the shops and restaurants under ground, especially you bargain hunters!
JR Kyoto Isetan

photo by party_ticket_neo   /   embedded from Instagram
Attached to Kyoto Station building, JR Kyoto Isetan is a department store which has it all. The world famous designer shops such as Gucci and Prada are located on lower floors and some traditional kitchen and home ware on the upper floor.
Top floors are filled with awesome restaurants and the basement floors are full of all kinds of food. The food department contains the art of traditional food, not only from Kyoto but from all over the country.
Aeon Mall Kyoto

photo by marumo0605   /   embedded from Instagram
Aeon Mall Kyoto is located in a 5 min walk from the south entrance of JR Kyoto Station. It is a very family friendly place with a lot of events and exhibitions especially on weekends.
You are probably familiar with many of the shops like Zara and Gap; but maybe also Japanese originated MUJI and Uniqlo. The top floor is a cinema with 12 screens. There are fantastic selections of restaurants but the food court is more suited for families with small children and budget travellers.
Kyoto Yodobashi

photo by yobeluga   /   embedded from Instagram
Yodobashi is one of the oldest chains of household electric appliances stores in Japan and has branches all over Japan. It is so popular for tourists that there are a lot of signs and notes in English, Chinese and Korean alongside Japanese.
The staffs also speak multiple languages and are very helpful. Upper floors present reasonably priced fashion items and gifts. You can use wifi in the building for free. I always call the place "mini-Akihabara".
 
You May Also Like:

→The Best 10 Shopping Malls You Must Visit in Osaka, Japan
Shopping area around Shijo-Karasuma
There used to be only offices and hotels around this area but it has been developed to be THE place to go shopping especially for someone who seeks elegance and sophistication.
COCON KARASUMA

photo by km.ishr   /   embedded from Instagram
Cocon Karasuma is surrounded by banks and finance related companies. Between their busy office work, people come here to rest, relax and refresh. There aren't many shops and restaurants but they are all very individual and unique.
Along with British , Italian, Chinese and some authentic Japanese restaurants as well as French cafes, Cocon Karasuma offers Kyoto's traditional "Karakami" paper craft and a variety of fragrances from Holland. How international!
→Top 10 Tourist Attractions & Best Things to Do in Arashiyama, Kyoto
Laque Karasuma

photo by minitech_official   /   embedded from Instagram
Just looking at the building you can tell that they are the shops for stylish people who are looking for top end quality fashion and accessories. You might hesitate to step in at first but once you are in you will not regret it.
There are some fabulous shops for gifts and everyday items. Yes a bit pricy but the quality is second to nothing. If you are a wine lover, you must go to Vinos Yamazaki. You may encounter your dream wine!
Daimaru Kyoto

photo by ito.daisuke.0820   /   embedded from Instagram
Daimaru is one of the oldest department stores in Kyoto. It has been refurbished many times in order to lead the retail business in Kyoto at all times. The building has been extended so much that you might get lost if you don't know where to go.
What is attractive for visitors is that there are not only well known fashion brands but also a fantastic selection of traditional quality selections of Japanese pottery and art on upper floors. Two floors in the basement are dedicated to food from all over the world.
A tip for parents with little children – There is a space for children to run around on the 8th floor. There are benches and a facility for babies. It is difficult to find a space like this in the middle of the town and it's very handy to know a place like this. There are some organized events for children during the holidays so it's worth checking out.
Tokyu Hands Kyoto

photo by chikyusukui   /   embedded from Instagram
There is a word in Japanese "Zakka" and it's very difficult to translate. Basically it means everything miscellaneous. So you will see so many random items in Tokyu Hands. It has stationary, outdoor equipment, shampoo, lipsticks…you name it.
It is actually a great place to buy unique souvenirs because they promote local artist production with traditional materials. You will see a lot of items you don't see in any other shops. All items look very stylish and fashionable.
Nishiki Market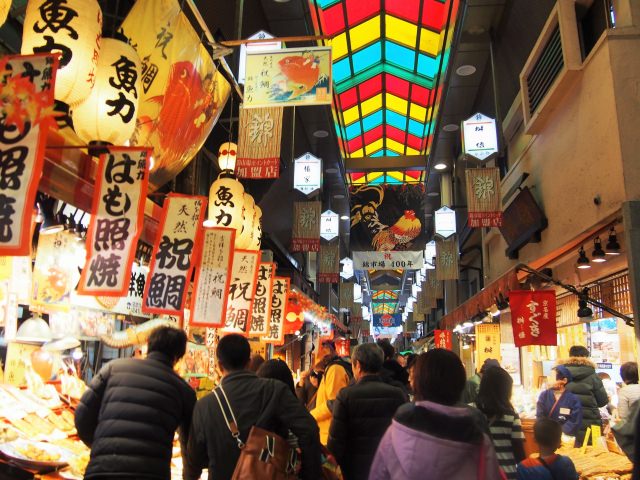 A Street with 13 feet width and length 400 yards, Nishiki has always been called the kitchen of Kyoto. The smell of food is unbelievable. The stream underneath the street used to be used to keep food fresh before the fridge and freezer were invented. Everything is fresh and most are grown locally.
The power of the market is a phenomenon. It has a roof overhead so you can enjoy a visit in any weather. As it is a food market, it opens early in the morning and closes early so make sure you get there early enough to walk the whole 400 yards through 130 shops!
→The Best 10 Places to Eat in Kyoto
Shopping Area around Kawaramachi
It is literally the centre of the city, the downtown of Kyoto. It is Very convenient to access by train and bus. Most shops are open from 11:00 am to 20:00 7 days a week. The Shopping is for both the young and old. There is something for everybody. The night life is amazing, some bars and clubs are open until early in the morning and some coffee shops are open for 24 hours. No time to sleep!
Shinkyogoku Street , Teramachi Street

photo by hukuzo   /   embedded from Instagram
The two paralleled streets are changing all the time. They used to be full of souvenir shops but now half of them are for young people who are fashion crazy. It is a good place for shopping if you're on a budget. Some 100 yen shops can give you plenty to make you feel happy.
Both streets have an over roof for 600m so enjoy shopping whatever the weather. If you look carefully there are a few shrines between shops. When you pop in you will forget the noise of shoppers and be taken to the authenticity of Kyoto.
Kyoto Takashimaya

photo by kyoto_takashimaya   /   embedded from Instagram
Takashimaya is another department store supporting the retail business of Kyoto for years. Located where the post popular two streets of Kyoto meet, Takashimaya has been a face of Downtown for a long time. It has everything such as food, clothes, home ware, bedding, art…everything.
The toyshop on the 5th floor is a dreamland for children. It also has a pet shop with lots of toys and food for your pets on the roof floor. You can see the small animals which are on the way to their new home if you are lucky.
Fujii Daimaru

photo by tmizuno519   /   embedded from Instagram
If you are a teenager, you mustn't miss this place. The whole building is dedicated to the latest fashion for young people and there are a lot of shops you won't see in any other department stores.
On top of that they have, there are some "pop up shops" which are located in the building for a limited period of time. The plaza in the basement is a Treasure Island for young people. You can get make-up, clothes, foreign food, cards, anything cute and pretty!
Kyoto Marui

photo by _bonbonniere_   /   embedded from Instagram
Although Marui has been the largest retail department store, it is relatively new to Kyoto. It has brought in a breath of air to the area. As it is the busiest junction and a lot of people use its entrance as a meeting point, the ground floor is full of items you find it hardest to resist.
People pop in with just some time to kill and all the "sale" signs draw you into their shops. On top of its stylish selection of clothes shops, it offers the ultimate relaxation spot in the salons. You can get manicures, pedicures, a massage and hair removal… any women's needs!
You have to enjoy shopping as well when you are in Kyoto.
So what do you think? Are you excited about shopping in Kyoto? Most of the places are either indoors or under a roof so you can enjoy a day out without worrying about the weather. I Hope you will find your favorite shop in this marvelous historical city.
If you like this article,
Please push the
"Like"
!
Deiliver the SeeingJapan's news to you!
Popular Articles in Same Category
Author