The 10 Best Restaurants You Must Visit in Nishiki Market, Kyoto
Kyoto is a tourist spot that has gained popularity all over the world. "Nishiki Market" is known as Kyoto's kitchen that has a wide selection of fresh ingredients and delicious gourmet. It's a narrow street, but it's brimming with tourists every day. Here, rare gourmets that be eaten in Nishiki Market will be introduced! Please enjoy these dishes that can only be tasted in Kyoto.
What is Nishiki Market?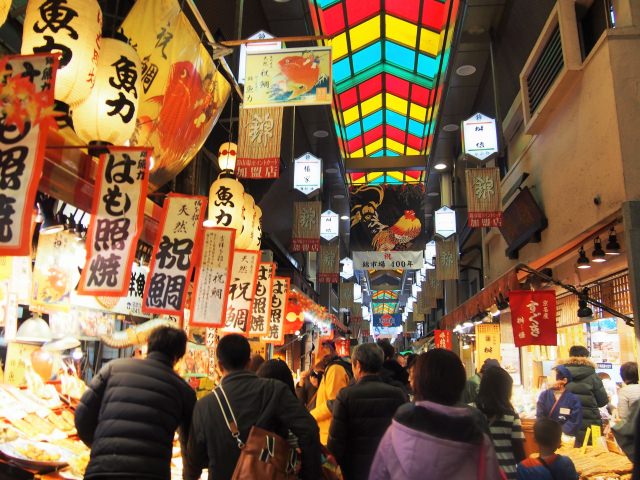 "Nishiki Market" is one of the popular tourist sites in Kyoto. The narrow street, of 390 meters long and 3.2 to 5 meters wide, is packed with many shops. Known as Kyoto's kitchen, most of the ingredients can be gathered right in this street.
It's crowded every day with Kyoto's long-established shops selling pickled and Kyoto-specific vegetables, light meals, and the famous Aritsugu selling kitchen knives. Also being the birthplace of a prodigious artist from the Edo period, this market has continued on from the 1600s.
Let's have a walk-and-eat tour in Nishiki Market!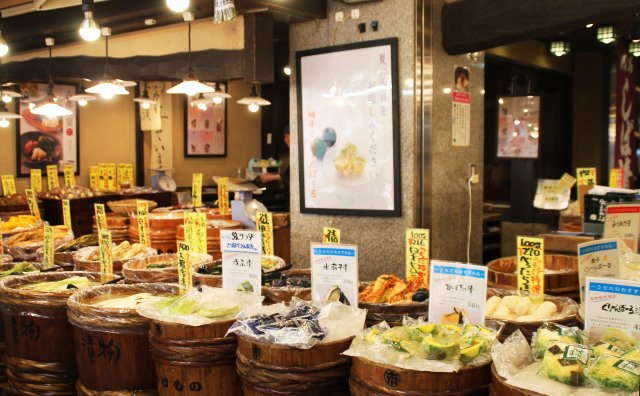 Originally, this market was where the locals and restaurant staffs bought their ingredients. However recently, many tourists have visited and goods especially for the tourists have increased. It's popular with the increase of shops selling light meals that can be eaten while walking.
When in Nishiki Market, having a walk-and-eat tour while strolling the shops has become the most common tourist method. So this time, shops in Nishiki Market that can be recommended for the tour will be introduced in one go! Please use this as a reference when in Nishiki Market.
1. Nishiki Takakuraya

photo by renehyy   /   embedded from Instagram
"Nishiki Takakuraya" is a popular shop selling pickled vegetables in Nishiki Market. As expected of a pickled vegetables shops, it sells freshly pickled vegetables, like cucumbers and eggplants, on a stick.
But, what attracts the eye is the "super fresh grapefruit juice" made by a special machine. It uses a whole grapefruit as a container, so of course it's delicious, but it also has a huge impact. It's safe to say the price is very reasonable, with just 400 yen.
There are mojito menus that have alcohol in it, so it's also popular among adults. The shop is just down from Teramachi, so it's suited when you start off from the Teramachi side.
2. Adumaya

photo by julian_8709   /   embedded from Instagram
Do you know of a famous teahouse, "Koyamaen," that everyone in Kyoto is familiar with? In "Adumaya" in Nishiki Market, Koyamaen's Hojicha ice cream is sold. When thinking of Kyoto or Japan, you may imagine only Matcha, but Hojicha is also popular.
It's a tea the Kyoto locals drink in their everyday lives and it's actually more familiar than Matcha. By including the pleasant bitterness of Hojicha, the ice cream is not too sweet, so it's also popular among adults. The hand-grilled bean rice crackers are also recommended for their bean's quality.
3. Yamamoto Banba Shoten

photo by shan_shaaan   /   embedded from Instagram
Many people who visit Japan are probably all looking forward to a splendid eel, right? What you can try here in "Yamamoto Banba Shouten," that specializes in river fish, is "Umaki." It's what they call a rolled omelet with eel around it.
They offer it on a stick. This "eel wrap" is sold at a very reasonable price of just 130 yen per stick! Also in some seasons, Japan's expensive fish like freshwater trouts, and rare fish in Lake Biwa, like willow gudgeons, are sold. So please visit and try something new!
4. Tsunoki Shuho

photo by kob.nob   /   embedded from Instagram
"Tsunoki Shuho" is right next door to Yamamoto Banba Shouten. This a sake shop where a variety of Japanese sake. It's also known to have several types of single malt scotch too. It's perfect for anybody who wants to buy some alcohol for a gift.
And of course, you can drink alcohol and beer inside the shop. The combination of the Daiginjo's sake and pickled vegetables from next door is excellent!
Walking around Nishiki Market with a tasty meal in one hand and a delicious sake in the other, will surely hype up the mood. So please try this happiness only adults can enjoy!
5. Miki Keiran

photo by iron65patch   /   embedded from Instagram
Among all the rolled omelets shops in Kyoto, this "Miki Keiran" is the most famous. It's speciality is a rolled omelette with Kyoto-like elegant taste. When you buy a rolled omelette, ask for a pair of chopsticks so it'll be easier to eat.
The confectionery that came out recently and became widely popular is the "Anpan!" The Anpan with ample egg yolk filling and Melonpan have the rich flavor specific to a rolled omelette shop.
The price is just 170 yen, so you can buy it light-heartedly. It's a tasty treat to eat while you're visiting Nishiki Market.
6. Karikari Hakase

photo by 320r3   /   embedded from Instagram
There are many people who think, "Osaka has an image of Takoyaki." But Kyoto locals also love Takoyaki too! So there are lots of Takoyaki shops in Kyoto. Among them is "Karikari Hakase," a Kyoto-style Takoyaki shop, that always has people gathered around.
You buy this Takoyaki by purchasing a meal voucher at a ticket vending machine. This Takoyaki is just 190 yen for 6 pieces, and prides in its amazing cost performance!
There are many topping options like cheese and Kyoto's famous green onions, so it's a tricky choice. Please have a taste of this soft and fluffy Takoyaki.
→The Best 10 Places to Eat in Osaka
7. Uoriki

photo by f8ming   /   embedded from Instagram
Hamo is a special type of fish that is eaten during the Gion Festival, and is served as a speciality in restaurants. This "Uoriki" is a shop that specializes in preparing Hamo. This shop is selling Hamo all year around, so you can try it whenever.
And not just as an ingredient, but they prepare it as a Hamo cutlet or tempura, to match the tourists' taste. The price is also very affordable with various types of Hamo for just 400 yen.
Hamo is considered an elegant fish, and is a special fish to the Kyoto locals. So please try a local speciality while in Nishiki Market.
8. Nishiki Mochitsukiya

photo by chenyent   /   embedded from Instagram
"Nishiki Mochitsukiya" is known for making the rice cakes from scratch right inside the shop. The various rice cakes and sweets are highly recommended. Among them, the baked rice cakes that are prepared just before serving and the Mitarashi dumplings have high popularity.
And of course they're crunchy on the outside and chewy on the inside. The aroma of baking a freshly made rice cake on charcoals is irresistible.
When you're walking the street, you'll surely be led to the front by its delicious aroma. Is there anyone who could ignore such an aroma? If you spontaneously find yourself in front of the shop, make sure to try some!
9. Iketsuru Kajitsu

photo by yui.jm   /   embedded from Instagram
One of the most popular shops in Nishiki Market is "Iketsuru Kajitsu," a shop specializing in fruits, built in 1947. IT has fruits from all seasons, and fruit juices that are made with the fresh fruits are very popular.
Since the fruits vary with the season, the menus also change, but the fresh watermelon juices and Kyoto's Ohara perilla juices are strongly recommended.
It's a rich perilla juice mixed with soda with a refreshing taste. It's something you can't have anywhere else, so if you feel thirsty in Nishiki Market, have a drink!
10. Konamonja

photo by minchoponyo   /   embedded from Instagram
Because of its rich groundwater veins, Kyoto is known to be a place of tasty tofu. "Konamonja" in Nishiki Market is managed by a famous Kyotofu store, Fujino.
On the counter, there are popular sweets that make the best of tofu, like Tofu doughnuts and Soy milk ice cream. The characteristics of both these doughnuts and ice creams are that they have a moderate and refreshing sweetness.
Other than these, there are Okara cookies for dogs, so just looking at the counter may be fun!
Information: Nishiki Market
Name:
Nishiki Market
Address:
Teramachi West, Nishiki-koji-dori, Nakagyo-ku, Kyoto ~ Takakura
Business hours:
Corresponds to each store
Access:
3 minute walk from each (Kyoto subway Shijo station, Hankyu Karasuma station, Kyoto City Bus Shijo Karasuma station)
2 minute walk from Shijo Takakura (Kyoto City Bus)
4 minute walk from Hankyu Kawaramachi station
Website:
http://www.kyoto-nishiki.or.jp/
Let's Enjoy Nishiki Market!
How was the list? The walk-and-eat tour shops were introduced mainly, but Nishiki Market has over 130 shops, and is impossible to introduce them all. There are hundreds of shops, like Kyoto-style pickled vegetables, Chirimen-jako, Yuba, long-established shops, sweets shops, restaurants, Kyoto-specific vegetable and seafood shops, and ones that are fun to watch. Please enjoy your walk through Nishiki Market!
If you like this article,
Please push the
"Like"
!
Deiliver the SeeingJapan's news to you!
Popular Articles in Same Category
Author