11 Sightseeing Spots for a Short Time in Kyoto!
Kyoto is one of the most popular tourist destinations in Japan. Speaking of Kyoto sightseeing, we will take a walk around Kyoto city, eat delicious Kyoto cuisine at well-established ryokans and resort hotels that we had reserved, and spend time away from our daily lives in a hot spring. Such a relaxed travel and tour plan may be most common. In addition, Fushimi-Inari and Kiyomizu-dera, which are popular spots for sightseeing in Kyoto, and can not be enjoyed in a short time. However, there is a moment that you may have a couple of hours so you want to enjoy sightseeing in Kyoto in a short time. Therefore we will introduce recommended spots that you can enjoy Kyoto in a short time!
JR Kyoto Isetan
AT JR Kyoto Isetan, a popular spot next to JR Kyoto Station, you can enjoy shopping, delicious local gourmets and souvenirs from Kyoto, as well as lunch boxes that you want to eat on the way back from Kyoto. Thus you can have fun Kyoto in a short time.
If you want to enjoy a meal slowly, please visit the restaurant floor. There are great shops, for example the famous tofu shops such as the Kyoto Soto Fujino, the long-established Kaiseki cuisine, the Wakuden, and the popular green tea sweets. You will definately be satisfied in a short time in Kyoto. If you can only see around Kyoto Station due to lack of time, please go there.
Genji-no-Yu
Some peple might think that "I have about three hours in Kyoto, but I am tired, so I don't feel like spending a lot of time exploring sightseeing spots. I want to relax at a healing spot where I can get rib of my tiredness." Certainly, as sightseeing in Kyoto increases in number of walks, you might be exhausted.
At that time, a popular spot where you can heal your body in a short time is "Genji-no-yu". This is one of the only natural hot springs in Uji, Kyoto Prefecture. You can enjoy the source of the spring from 1111m underground. It is also famous as a hot spring that doesn't get cold, so it may not be that you got sick even though you enjoyed the hot spring on your way back. When you only have a short time in Kyoto, it may be a good idea to go to a hot spring instead of sightseeing.
Rickshaws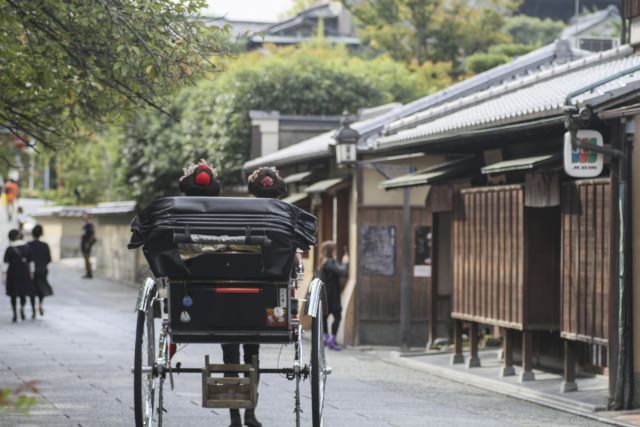 It seems that there are many people who want to enjoy Kyoto-like sightseeing even for a short time because they came to Kyoto. Enjoying sightseeing in Kyoto varies, but it is recommended to use a rickshaws in Kyoto. It is especially recommended to see around Arashiyama with a rickshaws.
If you want to experience a rickshaws in Arashiyama, the "Ebisu-ya" is popular. If you tell them that you want to enjoy Arashiyama sightseeing for a short time to the driver, you will be able to see many of the attractions of Kyoto Arashiyama in a short time. In addition, if you try to go around a sightseeing spot in a short time, you may walk quickly and get tired, but if it is a rickshaw, it's also nice not to get tired.
Yojiya Cafe Sagano Arashiyama
Kyoto cosmetics manufacturer "Yojia" is famous for oil blotting paper. There are many people who are using it in various places in Japan, but have you come across that "Yo-ji-ya" operates a cafe? "Yojiya Cafe Sagano Arashiyama" is a popular tourist destination because you can enjoy shopping and tea.
In particular, we would like you to try a delicious drink with a character of Yojiya. It's Kyoto, so please ask for green tea drinks. You can also order desserts and snacks such as cakes other than drinks, so it is also recommended when you are a little hungry. Please come here when you want to enjoy a slow time even for a short time.
Unagiya Yodogawa
Speaking of Kyoto, it is also a town with many gourmets. Kyoto is also famous for having many unagi shops. In such a case, you should visit the well-established "Unagiya Yodogawa," which has always received good reputations from tourist information sites in Japan.
This leading Kyoto store offers dishes that will leave you to taste the various parts of eel. The price is absolutely high, but once you tast, it is an unforgettable. On holidays, it would be crowded, so it's the best to visit early on a weekday. If you enjoy the eel in Kyoto and go home, you will definitely be able to work from the next day.
Kyoto National Museum
Speaking of tourist attractions that can be enjoyed even for a short time, some people may think of the museum. If you visite Kyoto, you should stop by the "Kyoto National Museum". This is a traditional museum that exhibition began in 1930, and you can see the cultural assets of Kyoto from the Heian period to the Edo period.
In addition, it is recommended point that museum shop and cafe are available. You can buy souvenirs before leaving Kyoto or take a break at a cafe, so you can spend time according to your situation. You can fully enjoy the standard sightseeing spots in Kyoto in a short time, so why don't you come and see?
Shinfukunakan Main Store
Speaking of local gourmets that can be eaten deliciously even for a short time, it is a local ramen. If you want to taste ramen in Kyoto, we would recommend the Shinfukunakan Main Store. It is also said that it is the birthplace of Kyoto Ramen, and the harmony between soy sauce-flavored soup and medium-thick straight noodle, which are the stndard of ramen today, is a must-eat.
The popular menu is Chinese noodles, of course, but if you can afford, please order "Yakimeshi" which is also a popular menu. The affinity with ramen is good, and we are sure you can be satisfied. As a nice point is that a shop is located in 5 minutes' walk from Kyoto Station, so it's easy to visit even if you don't have time.
Uji Shrine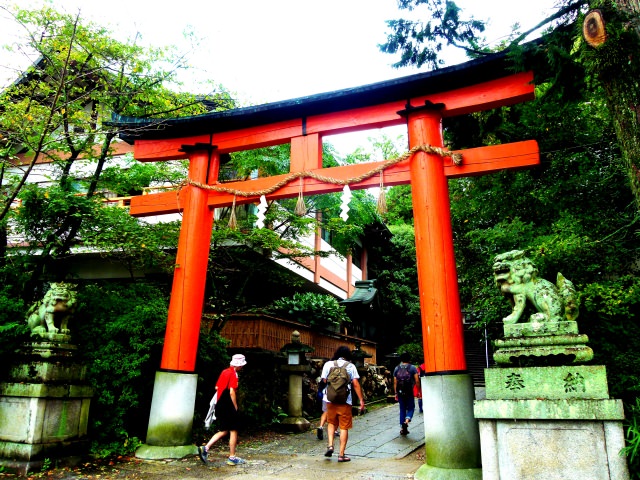 Some people are busy working, and no time to go sightseeing satisfactorily, and thay can only stay in Kyoto for a short time. There are tourist attractions for those businessmen and career women who works hard. That is Uji Shrine, which is said to be the oldest shrine in Japan.
Within a 5-minute walk from Keihan Uji Station, there is a large stone called "Tenkoseki" within the precinct of this shrine. There is a legend that if you put the pebble on the big stone, the pebble will not fall from the big stone, your wish comes true. It is a popular power spot in Kyoto. As you are busy working, please try to wish to make your gream come true.
Kyoto Station Ozora Plaza
"I'm around Kyoto Station at night, but I only have less than one hour until the departure time of the bus. I want to enjoy sightseeing in Kyoto in a short time". "Kyoto Station Ozora Plaza" is recommended for those people. This is a night scene spot that is unbearable for railway lovers.
The Ozora Square is on the top floor of the JR Kyoto Station Building. Here you can enjoy Kyoto Station platfome and the night view of Kyoto city. By the way, you can go to the square from the central exit of Kyoto Station using the escalator, so it is easy to  reach there even less time. The admission fee is also free, so if you want to go sightseeing in Kyoto in a short time at night, it is a recommended spot.
Kyoto Tower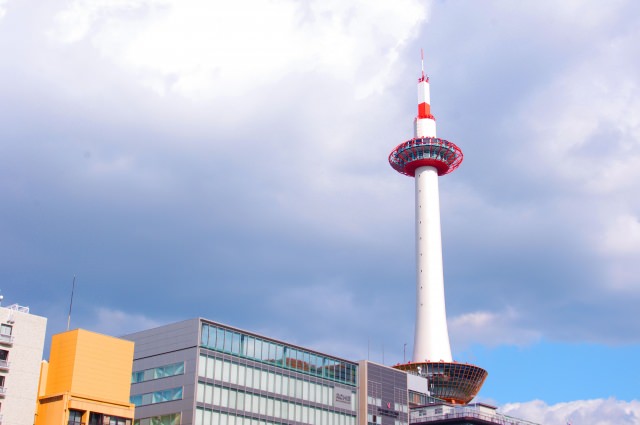 "Kyoto Tower" is a common spot and a landmark in Kyoto so we would like you to visit. If you get off JR Kyoto Station and get out of Karasuma Exit, you will soon see Kyoto Tower. The excellent access is also a good point when doing sightseeing in a short time.
Kyoto Tower can be enjoyed in various ways depending on the time of day and situations. You can have lunch at the restaurant when you feel hungry, or you can watch the night view of Kyoto from the observation deck if it is night time. By the way, there is also a souvenir shop, so it's good to buy Kyoto souvenirs before leaving Kyoto. It is a recommended tourist attraction to start or finish Kyoto trip.
Kyōto Teiki Kanko Bus
The last thing we would like to introduce is a bus tour familiar with sightseeing in Kyoto. "Kyōto Teiki Kanko Bus" offers a wide variety of courses from standard courses to excursions around Kyoto. There is also a course that ends in one hour or one-day trip, so you can choose the course according to your situation, even when you want to go sightseeing in a short time.
In addition, bus tour is available on the day. It is difficult when the reservation is full, but basically you can ride if there is space. At the bus stop counter at JR Kyoto Station, there is a light bulletin board that you can check the availability at a glance, so if you have a tour of your choice, it might be good to sign up and enjoy the tourist bus.
Kyoto Sightseeing to Enjoy in a Short Time!
Speaking of Kyoto sightseeing, we tend to think we need a plenty of time to enjoy, but surprisingly there are many tourist spots that can be enjoyed in a short time. There are times when you visit Kyoto on business trips, but you want to go sightseeing even you only have a short time. At such times, please refer our recommendations and enjoy sightseeing in Kyoto.
If you like this article,
Please push the
"Like"
!
Deiliver the SeeingJapan's news to you!
Popular Articles in Same Category
Author