The Best 10 Popular Tourist Spots in the morning in Osaka!
Osaka is a city that is as popular as Tokyo, the capital of Japan. The city of Osaka is also popular for tourists, and it is also a city visited by many travelers. Late-night buses seem to be growing in popularity recently as a means of transportation to Osaka. It is cheap, so the cost can be reduced, but it is likely that you will have time to spare as it arrives early in the morning. However, don't worry, Osaka has tourist spots even from morning. This time, we will introduce 10 popular tourist spots in Osaka that you can enjoy from morning time.
Kuromon Market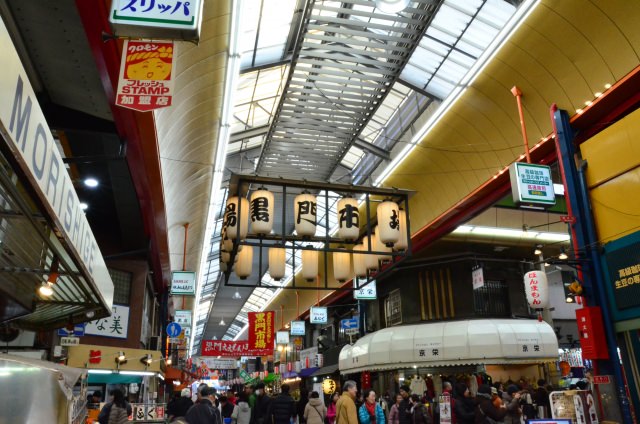 Speaking of Osaka Naniwa kitchen is "Kuromon Market". This is a recommended spot to visit from morning. Osaka is a city that its own gourmet culture flourishes, and you can see the seasonal ingredients distributed in the Kuromon market that support the taste of many famous restaurants.
The recommended way to enjoy Kuromon Market is to eat and walk! There are shops dealing with fresh seafood, so walk around and look at various shops. Takoyaki is the perfect snack for eating binge. In addition, there are many shops selling desserts in Kuromon Market, so women who have a sweet tooth, can fully enjoy. How about visiting once?
CABANA
Although you arrive in Osaka early in the morning, and you might feel tired and want to relax, don't you? It is a casual spa "CABANA" that is open 24 hours that we would like to recommend to you who would be tired. By the way, this spa is for only men.
It's open 24 hours a day and is popular among men in Osaka for its capsule hotel, gym and spa facilities. A nap space is also available, and it is a perfect environment for people who travel late at night and are tired. It may be good to go out for sightseeing after relaxing here in the morning in Osaka.
Tennoji Zoo
Healed while watching the animals from the morning. Sometimes such a sightseeing course is good too. If you want to go to a zoo in Osaka, we would like you to visit Tennoji Zoo. The park is divided into 4 areas, and you can stay longer and enjoy the zoo.
The opening time is half past 9 am. If you arrive earlier than this time, there are tourist spots that you can enjoy natural scenery such as "Keitakuen" and "Chausuyama" in the vicinity. So it is good to take a walk there as well. It is a natural healing spot for animals, so it is a recommended tourist spot even when you are a little tired.
Osaka Castle Park
Due to the recent boom in running, there may be some people who run daily from early in the morning. If you want to run or jog in the morning in Osaka, the recommended spot is Osaka Castle Park.
As "Osaka Castle Park is said to be a running course in Osaka", it is a popular spot where many runners gather, regardless of weekdays and holidays. There are a total of 4 running courses in Osaka Castle Park, so it is good to try your favorite course and refresh while feeling Osaka morning.
Osaka Castle
Speaking of the standard of sightseeing in Japan, is a tour of the castle. It is also gracious to look for various differences between the famous castles in various places and to feel the history of the area. Here in Osaka, there is Osaka Castle, one of the most famous castles in Japan.
It is recommended as you will feel calmness in you when you look at Osaka Castle slowly while feeling the refreshing wind in the morning at Osaka Castle Park. It is a popular spot that is crowded with many tourists during the day, but you can spend a quiet time early in the morning because there are few people. This tipical tourist place in Osaka, is perfect for a walk in the morning.
Minoh Falls
Speaking of sightseeing in Osaka, many of you might think about downtowns like Umeda and Dotonbori. Sometimes you might feel like to see one side of Osaka that is different from the general image. At that time, we recommend "Minoh Falls" that you can reach there in 30 minutes by train from Umeda .
It takes about 40 minutes to walk from the Minoh station to the waterfall, but if you walk along the pleasant path that you can do forest bath from morning, you can relax away from the bustle of the city. Especially around Minoh Falls, there are plenty of minus ions, so it's the best way to be healed. There are also souvenirs shops on the way to the waterfall, so it is good to stop by on the way back.
Tsutenkaku
Tsutenkaku is a landmark in Osaka, and has long been established as a tourist attraction for many years. As it is open from 9 am in the morning, it is also recommended that you visit "Biriken Statue", which is the lucky god, before many tourists will come.
There is also a deep-fried skewers shop open 24 hours around Tsutenkaku. You come to Osaka, which is a gourmet city, so sometimes it's good for you to have a drink from morning and go sightseeing. If you eat delicious deep-fried skewers and drink sake from the morning, you can have a blissful time. However, please be careful not to drink too much. You will not be able to fully enjoy the sightseeing after that!
American Village
An American village that is particularly popular among young people in Osaka. It is usually crowded with many people, but in the morning, you can enjoy the American village with a quiet atmosphere different from usual. It is also fun to try imitating Osaka citizens who are taking a walk while eating Takoyaki in the morning.
If you are tired of eating Takoyaki in Osaka already, there are many shops in the American village where you can eat delicious breakfast, so please try Morning breakfast. How about going for morning energy charge in the American village for sightseeing in Osaka during the daytime?
Namba Yasaka Shrine
If you do sightseeing in Osaka from morning, why don't you visit a shrine that you usually do not go too often? There are few people know that there are very unique shrines in Osaka. It is "Namba Yasaka Shrine" which is located about 6 minutes on foot from Namba Station.
It looks like a normal shrine, but when you enter the precinct, a huge shrine with a height of 12 meters is enshrined. It is preeminent impact and full of force when you see it closer. There are many visitors from all over the country as the lion head shrine is known to bring you good luck, and it is said that "the victory is called with a big mouth, drinking the evil spirit and leading to luck." If you have visited Namba Yasaka Shrine, please come and visit here.
Abeno Harukas
The last thing to introduce is Abeno Harukas, a new tourist attraction in Osaka. Visiting in the morning and seeing this skyscraper is also becoming a well-known tourist attraction in Osaka. It has become a popular sightseeing spot which you cannot miss in Osaka.
What we would like to recommend in the morning at Abeno Harukas is the breakfast at the 19th floor restaurant "COOKA". It is open from 6:30 in the morning, so it is recommended that you can take an elegant morning in a location with a good view from early in the morning. Make sure you have a enough space for your stomach and enjoy the breakfast.
Enjoy Sightseeing from Morning in Osaka!
How did you like our recommendations? Osaka's tourist spots are rather an image with many places to enjoy at night, but you can fully enjoy it from morning. The spot introduced this time is places that can be enjoyed day or night. However, it is also true that if you visit early in the morning, you can enjoy a different side than usual. Wake up early in the morning and enjoy sightseeing in Osaka. You can enjoy the new side of Osaka that you did not know before!
If you like this article,
Please push the
"Like"
!
Deiliver the SeeingJapan's news to you!
Popular Articles in Same Category
Author