10 Most Famous Places to See Autumn Leaves in Wakayama!
Wakayama prefecture has many fascinating places such as World Heritage Sites, marine resorts, and onsen facilities. Located nearly an hour by train from Osaka, which makes it a popular tourist attraction that people can visit easily. With its beautiful natural environment, there are many places to see autumn leaves. So, here is the list of the 10 Most Famous Places to See Autumn Leaves in Wakayama! They are highly recommended.
Kōyasan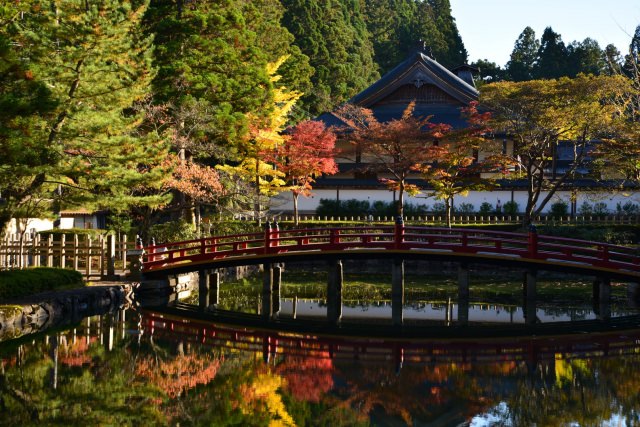 Kōyasan is a buddhist ascetic place opened by Kōbō Taishi in Heian era. Now, it has became one of Japan's greatest Buddhist cities with 117 sub-temples. Kōyasan is located about 800m (about 2,600ft) above sea level being surrounded by mountains whose altitude is about 1000m (about 3000ft). So, its average temperature is lower in Wakayama with a warm climate and leaves start to change their colors earlier.
Since it's designated as World Heritage Site in 2004, the whole place is beautifully maintained. There are many highlights to see, such as gardens and penetralias of sub-temples scattered in the mountain. In autumn season, Jabara-michi [snake belly road] that connects Kongobuji to Danjōgaran is especially beautiful. Looks like a tunnel of autumn leaves, and it's lit up at night.Nankai Railway is convenient to go to Kōyasan, but it would be fun to enjoy those autumn leaves through a train window by taking a train with an observatory coach, Kōya Hana Tetsudō, "Tenku [firmament]". You can take the train from Hashimoto Station. It is possible to go there and come back in one day from Osaka. Enjoy a special sacred experience.
Kōya Ryūjin Skyline
Kōyasan Ryūjin Skyline is a 42.7km (about 26 miles) driveway that connects Ryūjin Mura, Tanabe City and Okunoin Crossing, Kōyasan. This area is close to the highest altitude in Wakayama. As well as Kōyasan, leaves start to change their colors earlier with Wakayama's warm climate. On the south surface of Gomadanzan, native forests of beech and Mongolian oak spread, which makes the whole mountain look like a colorful patchwork.
This driveway is also known as a great place to see sea of clouds. A combination view of autumn leaves and sea of clouds can be seen time if you are lucky. It is accessible only by car or motorcycle. Pilgrimage bus tours are on offer. It's one of the options.
Kizetsu-kyo
This is one of the must-visit places to see autumn leaves in Wakayama. "Kizetsu-kyo" is a gorge that is famous for its "Fudo no Taki (Falls)" where Fudo Myoo is worshipped, and "Magai Sanzon Dai-sekibutsu (stone buddhism sculpture)" carved in a monolith. Sculptors including Sōen Uchida made it under supervision of Inshō Dōmoto who had created the original picture. In fall, the whole gorge changes its color, and looks so scenic along with bridges and falls.
The unique huge stones create a dynamic impression. It really is a scenic place with a parking space nearby. There are not a lot of places like this. You should visit when you travel to Wakayama.
Huge Ginkgo Tree at Fukusada Kumano Kodō
From ancient times to medieval period, worship for Kumano Sanzan (three big shrines located in current Wakayama) increased, and many people include: noblities, members of Imperial families, and even common folks visited the three shrines. The worship practice, Kumano Mairi was continued for a long time. Today, people do not follow it any more, but since Kumano Kodo was designated as the World Heritage Site in 2004, it has become really popular as a great mountain path for many people to enjoy trekking in the nature environment.
Along this old mountain path, Kumano Kodo, there is a very famous huge ginkgo tree in the site of Hōsen-ji (temple) of Fukusada, Nakahechi. Estimated 400 years old, and 22m (about 72ft) tall with 5.3m (about 17ft) diameter. In fall, its abundant leaves turn bright yellow, which can be seen from even far away. It is also called Senbon Icho [a thousand ginkgo trees] because it has so many branches that grow radially. You would feel the strength of the tree. Stop by on your way to the shrine.
Negoro-ji
Negoro-ji (temple) in Iwade City used to be very powerful with their monk troop comparable to that of a feudal lord in the Age of Provincial Wars. Also, the area around the temple used to flourished as a Buddhist City. Now it has totally changed; it has become a very tranquil temple with a national treasure, Great Stupa, and beautiful gardens.
One of the highlights of this place, is "Momiji Dani [maple valley]" at Otani River that runs through the site of the temple. Around this area was developed and is maintained as a park, "Momiji Dani Kōen [park]". Leaves, mainly maple, start to change their colors in November. Really close to the south Osaka, so it's perfect for one day trip to see autumn leaves. You will not want to miss the beautiful autumn view.
Oishi Kōge
It is not only leaves of trees that change their colors in fall. In "Oishi Kōgen [plateaus]", there is a panoramic view of golden pampas grasses. From the plateaus with gentle slopes, even Awaji Island and Shikoku can be seen on sunny days.
Accessible by car, but there are hiking paths, so it would be great to challenge hiking or climbing (less than 3 hours). Enjoy the brilliant autumn view located at 870m (about 2800ft) above from sea level!
Wakayama-jo Momiji-dani Teien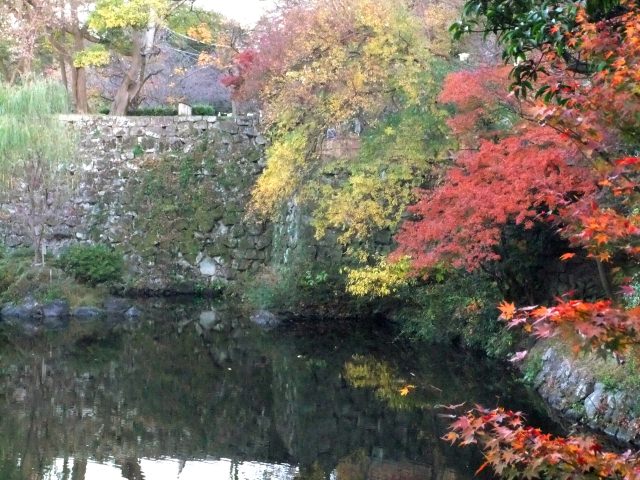 When you walk into Wakayama City, you will find the magnificent Wakayama Castle standing in the heart of the city. In Edo era, Wakayama area used to be called Kishu, which was ruled by one of the three branch families of the Tokugawa, and was very prosperous. The current castle was rebuilt in Showa era, but its glorious appearance gives us a clue how it was like in those days.
Wakayama Castle is famous for its beautiful autumn leaves in fall as well as cherry blossoms in spring. "Momiji Dani Teien [Maple Valley Garden]" is a 8217㎡ (about 2 acres) garden that was built in the early Edo era and owned by a feudal lord. In fall, all the maple leaves turn bright red, and the image of those leaves reflected on water is also beautiful and elegant.On top of that, green maple leaves look amazing in the season of new green leaves. Great place to visit each season. You should stop in this garden when you travel to Wakayama.
Dorokyō
"Dorokyō" is a gorge situated between in three prefectures: Wakayama, Mie, and Nara. Due to its inaccessible location, primeval forests still exist in their natural environment that has not changed since ancient times. You can enjoy a scenic view in the deep mountains. The gorge was created by river erosion, and has many huge stones here and there. Looks really powerful. It has different names depending on the location of the river: Okutoro at the upper river, Kamitoro at the middle, and Shimotoro at the downstream. Shimotoro is highly recommended for its dynamic view.
In fall, leaves of the primeval forests start to change their colors, and make a great concerto with images of autumn leaves reflected on the clear water. The best way to enjoy the gorge view is taking a boat. Various gorge tours (less than 2 hours for a round trip) are on offer at their water jet terminal located around the downstream. Pick one that suits your schedule.
Sukuma Dani Kannon
"Sukuma Dani Kannon" is an old temple opened by an ascetic monk, En no Gyōja about 1300 years ago. Known as the place for warding off evil spirits, located at the southernmost point of Wakayama, Nanki Shirahama. There are many leisure attractions and onsen facilities around it. The site of this temple is as big as a mountain: 21 times as large as Tokyo Dome. The temple standing at the foot of a large monolith looks superb.
In fall, leaves of cherry blossom and maple trees along the 1km path from the mountain gate to the main temple change their colors. They look very nice and elegant. This place is also famous for its beautiful cherry blossoms and hydrangeas, so worth to visit in other seasons.
Nachi no Taki
Nachi no Taki is said to be the highest fall with the biggest amount of water. This fall has been a pilgrimage destination as an ascetic place since ancient times, and was designated as the World Heritage Site. The way water falls from the 133m (about 436ft) cliff looks so dynamic, and definitely worth to see. There is a three-storied pagoda of Seiganto-ji (temple), and it strongly reminds us that it is a sacred pilgrimage place.
When fall comes, leaves of primeval forests around the fall and maples at the foot of it change their colors, and they look so brilliant. In November, Momiji Matsuri [maple festival] of Kumano Nachi Taisha (shrine) is held. It derives from an old Japanese poem about the beauty of autumn leaves made by Kazan Houou [emperor] who achieved one thousand circumambulation near this fall. There will be a scene like an old time story of Heian era on the festival. Looks really elegant and graceful. You should see it.
Enjoy Brilliant Autumn Leaves in Wakayama!
This article was about the 10 Most Famous Places to See Autumn Leaves in Wakayama. I hope you enjoyed to know about Wakayama that has a wonderful natural environment. Wakayama is a warm place, but there are differences in elevation, so you can enjoy autumn views at various places in fall. With its beautiful autumn views, delicious local food, and onsen facilities, Wakayama is a great place to enjoy fall. You should visit once.
If you like this article,
Please push the
"Like"
!
Deiliver the SeeingJapan's news to you!
Popular Articles in Same Category
Author