10 Most Popular Tourist Attractions You Must Visit in Matsuyama, Japan!
Matsuyama is a city situated in Ehime prefecture, and has the largest population in Shikoku area, Japan. By possessing Japan's oldest onsen spot, Dōgo Onsen, it has long been well known as an authentic onsen city. Also, Matsuyama has thrown up Japan's great authors and poets. Its deep-rooted culture is uniquely distinct since it has been developed as a castle town. Therefore, of course, many fascinating attractions exist in this city. Below you will find a list of Matsuyama's recommended tourist attractions.
Gogo-shima
Touring around historical sites, watching natural sceneries…, tourists tend to be very busy to complete their must-visit/do list when they are on travel. Sometimes, taking a break and doing nothing can be a luxurious pleasure of traveling. At "Gogo-shima", people can have that kind of relaxing time.
"Gogo-shima" is an island situated in the Seto Inland Sea. It takes about 20-minute by ferryboat from Takahama port located 20-minute by train from Matsuyama City. Perfect place for sea bathing. Since it is not so large, tourists can rent a bicycle and tour around the island, watching beautiful views of tangerine fields and the Seto Inland Sea. Enjoy a precious time doing nothing.
Hōjō Kashima
Japan has some famous places with deers such as Nara and Miyajima, but actually, there is a place like that in Matsuyama, too. It is an island called "Hōjō Kashima". "Kashima" means "deer island" in Japanese. As its name implies, wild Kyushu deer live in the island. Though people cannot get really close to them because those deer are very cautious unlike the ones in Nara and Miyajima. Some of them are kept in a fence, so it would be possible to take a closer look.
Summer would be fantastic to visit since there is a beach and camping site. It is an ideal place for families with small kids because the island has an outdoor playground and indoor playroom. From the observatory, a beautiful panoramic view of the Seto Inland Sea and Hōjō area can be seen. This island is best recommended for those who want to enjoy outdoor activities.
Matsuyama Jo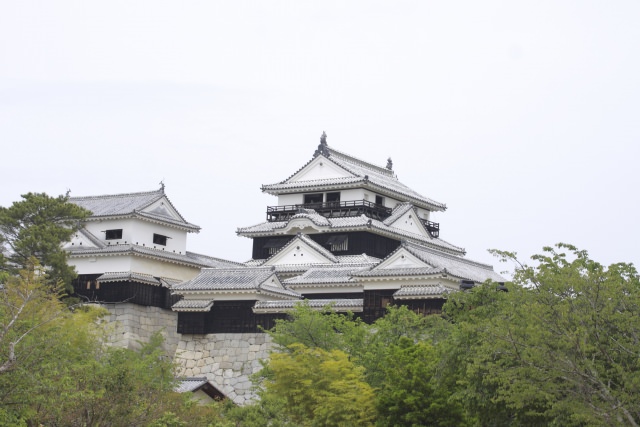 As a historical architecture, castles are always popular all over the world. Matsuyama castle is also one of them, and designated as an important cultural property. It is not too much to say that it is one of the biggest highlights of Matsuyama sightseeing. In Japan, there are said to be only 12 castles whose castle tower built before Edo era still remains, and Matsuyama castle is one of the castles that has the iconic castle architecture.
Being situated on a hill, a view that can be seen from its observatory is breathtaking. Visitors can enjoy the panoramic view of Matsuyama Plain. There is a cable car and lift, so no worry for those who are not confident if they can climb on foot. On weekends and consecutive holidays, it would be better to take enough time because crowds are expected at this popular castle attraction. Enjoy and get thrilled with the beautiful and impregnable appearance of the castle.
■Information
Name: Matsuyama Jo (Castle)
Address: 1, Marunouchi, Matsuyama City, Ehime
Time: Feb-Jul, Sep-Nov 9:00am-5:00pmAug 9:00am-5:30pmDec-Jan 9:00am-4:30pm
Access: 9-minute drive from JR Matsuyama Station
Website: http://www.matsuyamajo.jp/
Map: map to Matsuyama Jo (Castle)
Dōgo Onsen Honkan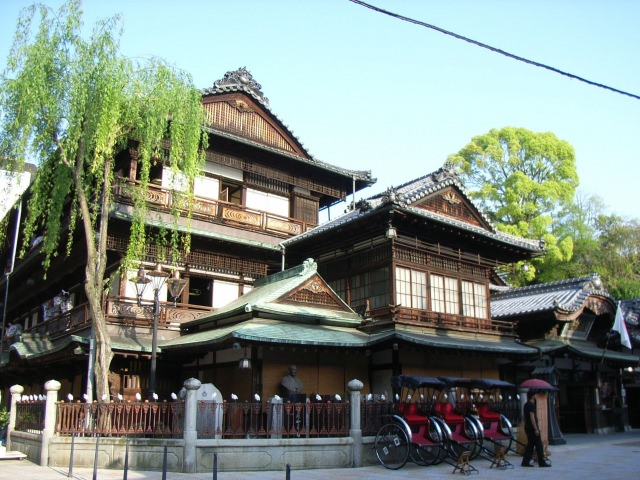 You will not want to miss Dōgo Onsen when you travel around Matsuyama. Surprisingly, it is said that this onsen place has 3,000 years history. Though there are some onsen places quoted in Japanese classic literature, "Dōgo Onsen Honkan" is the most famous one among them. It is well known not only for its hot spring, but also for its building, which is now an iconic architecture of the town. The building was built before the WWII, and designated as an important cultural property.
Open from 6am to 11pm. There are always lines before opening on weekends and national holidays. 4 bath courses are on offer, and the one you can relax at a lounge with some tea and tea snacks after taking a bath is highly recommended. Even if you don't have enough time for bath, just by seeing the building, you will see its greatness! This is definitely one of the places you must visit in Matsuyama.
■Information
Name: Dōgo Onsen Honkan
Address: Yunomachi, Dōgo, Matsuyama City, Ehime

Dōgo Haikara Dōri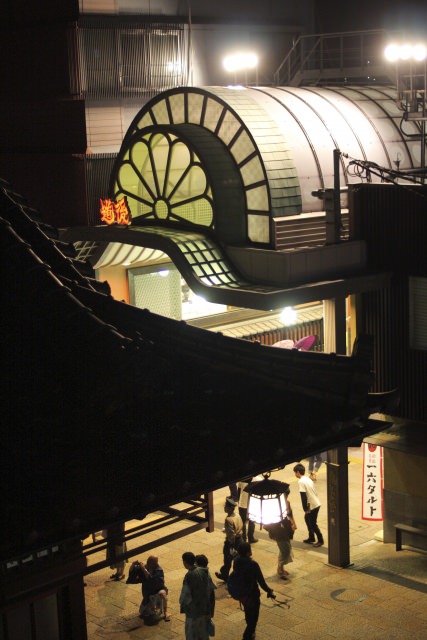 Taking a bath is not the only thing to do at an onsen town, but there are also many other fun things. Dōgo Haikara Dōri is a shopping street that offers various delicious food shops and souvenir shops. From staple products to rare items, it would be fun to look around a wide variety of things. Stop by on the way to or back from the onsen facility.
One of the highlights of this shopping street is "Botchan Karakuri Dokei [marionette clock]". From 8am to 10pm, dolls of characters from Japanese novel, "Botchan", which was written by a famous author, "Natsume Sōseki", show up and dance every hour. They look so cute and adorable. There is a public footbath nearby, so visitors can relax while taking a footbath.There is no need to worry about rain at this shopping arcade. You might want to find something nice for souvenirs.
■Information
Name: Dōgo Haikara Dōri (Shopping Street)
Address: 15-23, Yunomachi, Dōgo Matsuyama City, Ehime (Dōgo Shopping Street Promotion Association)
Phone: +81-89-931-5856 (Dōgo Shopping Street Promotion Association)
Access: Short walk from Dōgo Onsen Station
Website: https://dogo-shoutengai.jp/
Map: map to Dōgo Haikara Dōri (Shopping Street)
Dōgo Kōen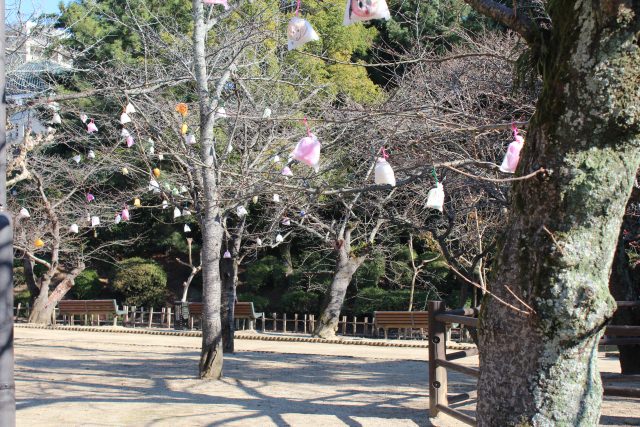 "Dōgo Kōen" is a beautiful park built on a site of Yuzuki Castle that had been there for a long time. Now, on the hill where the castle used to be, there is an observatory and panoramic view of the area can be seen. It is just ruins with earthworks and walls, but by looking at materials and displays at a museum of the park, many thoughts and feelings come up, imagining what the samurai residences were like, or how things went on in those days.
A wide variety of plants such as Japanese plum trees, azaleas, and camellia trees entertain visitors each season. Especially, spring of cherry blossoms is highly recommended. Whether before or after visiting Dōgo Onsen, take a walk in this park, and you might feel its magnificent atmosphere of the old time samurai residences.
Isaniwa Jinja
Many tourists say one of their purposes of traveling in Japan is touring around temples and shrines. If you are one of them, "Isaniwa Jinja" is the one for you. Also, this shrine is an ideal destination for architecture lovers and those who want to feel an authentic atmosphere of Japan. After climbing up hell-like 135 stone steps, the beautiful scarlet shrine will show up.
From the top of the steps, an elegant view of Dōgo town can be seen. It will be a lot better to wear proper shoes as those steps can be slippery. The shrine building is built in a rare style called "Hachiman-zukuri" and is designated as a nationally important cultural property. There are said to be only three architectures built in this style in Japan. Being located close to Dōgo Onsen, taking a bath to get rid of the fatigue after climbing up and down the steps would be a nice idea.
■Information
Name: Isaniwa Jinja (Shrine)
Address: 173, Sakuradani-cho, Matsuyama City, Ehime
Phone: +81-89-947-7447
Access: 5-minute walk from Dōgo Onsen Station
Map: map to Isaniwa Jinja (Shrine)
Tobe Dōbutsu-en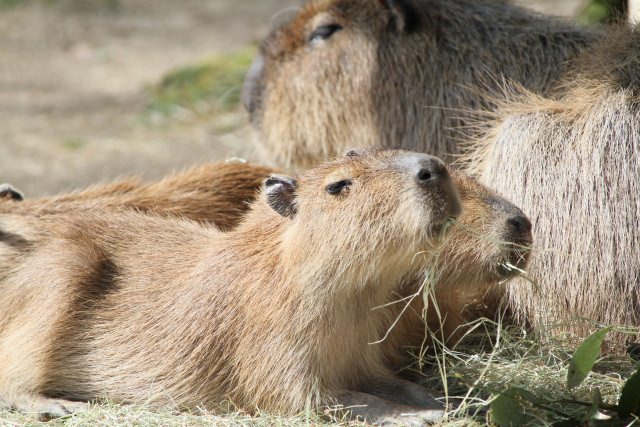 In Japan, there are many zoos, each of which is trying to be distinct with unique features. At Ehime's "Tobe Dōbutsu-en [zoo]", "Ecology Display" method is adopted and animals are kept as wild as possible. Thanks to the effort, visitors can see animals freely moving around.
Among many animals, a polar bear, Peace, is really popular as an iconic animal of Tobe Dōbutsu-en. She was born and raised in the zoo and people love her adorable behavior and appearance even after she grew up.Also, there is a really popular family of 4 African elephants though there are not as many African elephants as there used to be in Japan.This is a perfect place not only for families with kids, but also for adults. You would feel your heart warmed by seeing the animals living freely. Visit this zoo to see adorable animals!
■Information
Name: Aichi Tobe Dōbutsu-en (Zoo)
Address: 240, Kamihara-machi, Tobe-cho, Iyo Gun, Ehime
Phone: +81-89-962-6000
Time: 9:00am-5:00pm (Entrance closes at 4:30pm)
Close: Mondays ※Open when a national holiday comes on Monday
Access: 15-minute drive from Kita Iyo Station
Website: http://www.tobezoo.com/
Map: map to Aichi Tobe Dōbutsu-en (Zoo)
Bansui-sou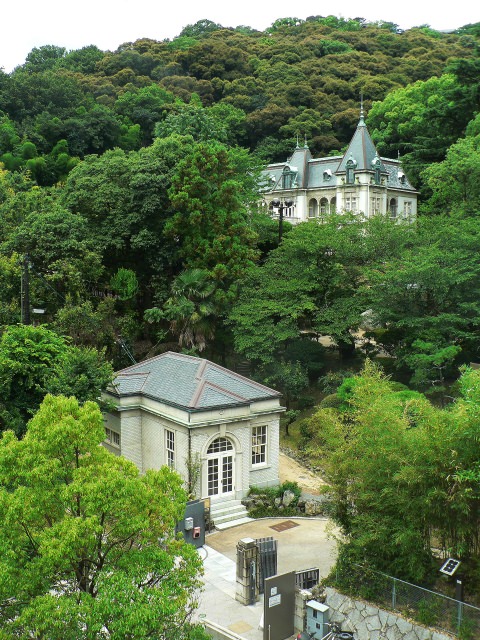 "Bansui-sou" is an old European style building built in Taisho era (1922). This French renaissance architechture was constructed by the order of the former Matsuyama clan lord. As a reinforced concrete structure, Bansui-sou is the oldest in Japan, and it looks really nice and elegant.
It has been used for many purposes such as a social hall, office of chamber of commerce, and a courthouse. Its furnishings and equipments including stained glass windows and chandeliers are very valuable and worth to look. It would make you feel like you were a member of the upper class in those days. Enjoy the brilliant ambience.
■Information
Name: Bansui-sou
Address: 3-3-7, Ichiban-cho, Matsuyama City, Ehime
Phone: +81-89-921-3711
Time: 9:00am-6:00pm
Close: Occasionally on Mondays
Access: 3-minute walk from Ōkaidō Station
Website: http://www.bansuisou.org/
Map: map to Bansui-sou
Botchan Ressha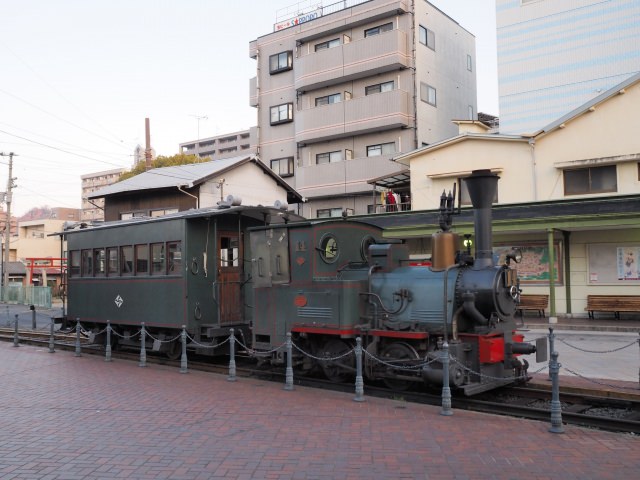 Among many novels, such as "Wagahai wa Neko de aru [I am a cat]" and "Sanshirō", written by a Japanese famous arthor, Natsume Sōseki, there is a novel set in Matsuyama, "Botchan". In Meiji era (1868-1912), a steam locomotive called "Botchan Ressha" used to run. Its name derived from the novel, of course.
There is also a Botchan Ressha Museum with no entrance fee, and visitors can look and learn deeper about Botchan Ressha. It would be fun to ride on this Botchan train when you tour around Matsuyama City, indulging yourself in the novel's world.
■Information
Name: Bothan Ressha (Diesel powered replica steam train)
Address: Matsuyama City, Ehime
Phone: +81-89-948-3323
Train Fare / 1 Ride: 800JPY for Adults, 400JPY for Children
Website: http://www.iyotetsu.co.jp/

Tour Around Matsuyama's Recommended Attractions!
This article was about the best recommended tourist attractions of Matsuyama City, Ehime. Many people have noticed that Matsuyama has several architectures designated as important cultural properties. This city is not as famous as Tokyo or Kyoto, but there are many hidden gems. It would be perfect for those who want to tour around savvy places in Japan. Visit and Enjoy this fantastic city, Matsuyama.
If you like this article,
Please push the
"Like"
!
Deiliver the SeeingJapan's news to you!
Popular Articles in Same Category
Author