10 Best Places You Must Visit in Ehime!
The highlight of Ehime, Shikoku, is its beautiful nature environment under influence of the Seto Inland Sea. Along with that, this prefecture also offers a historical atmosphere from their traditional places. There are many must-visit attractions and the varieties are wide, including a historical castle, cultural facilities, traditional crafts studio, onsen town, train station with a beautiful ocean view of the Seto Inland Sea, etc. All of them will amaze you. So, here are the best 10 places of nature and culture only in Ehime!
Towel Museum
Imabari Towel is nationally well known as Ehime's specialty product. This "towel museum" exhibits things related to towels and shows the process of making towels. Its building is big like a castle, and inside the museum, there are pretty towel-made stuffed animals. Their big giraffe stuffed animal is so cute that many people take photos with it.
Their shop that sells high grade towels and other local products would be nice to get souvenirs. Also, there are cafeterias and a restaurant so that people can take rest. Another highlight of this museum is the permanent exhibition of famous cartoon, The Moomins. It is a fun exhibition that shows their daily life all with towels. The house, dolls, every little things including its background are made of towels. Have fun!
Ehime Kodomo no Shiro
"Ehime Kodomo no Shiro [kid's castle]" is a leisure complex facility with 35ha (about 86 acres) of land. There are 5 zones including: "Bouken no Oka [Adventure Hill]", "Event Hiroba [event square]", "Kodomo no Machi [kid's town]", "Fureai no Mori [woods to get to close nature]", and "Souzou no Oka [hill of creation]". Great place for all generations to participate in various events, ride a mini steam train, or just take a walk in a natural environment.
"Tentou-mushi Monorail [ladybug monorail]" is one of the popular ride attractions. It is located in "Bouken no Oka", and the entire park can be seen from there. Many kids love a big long slide called "Bobsleigh" that gives a great excitement of the speed sliding down feeling the wind. Also, there is a convenient orange cute "Road Train" that takes people to each zone. This is one of the must visit places of Ehime.
Dōgo Onsen Honkan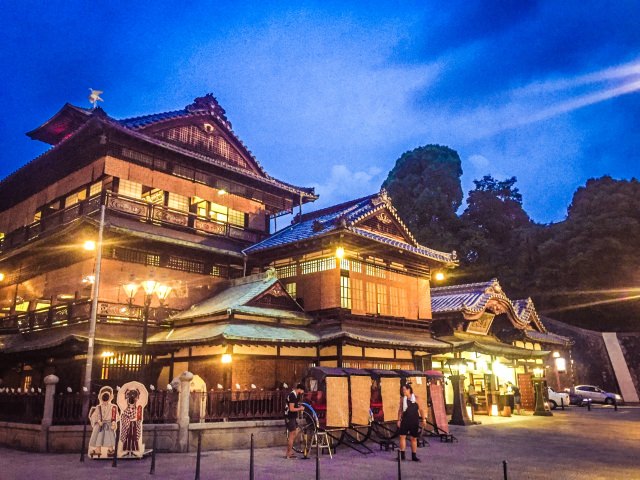 Dōgo Onsen is one of the most famous onsen town in Japan, and Dōgo Onsen Honkan is an iconic place of this area. It is well known as the oldest onsen place, and has been loved for a long time. This public onsen facility is not fancy at all but casual and everybody can stop in. Perfect for one day trip. Many visitors who stay at ryokan inns and hotels around this place come and take a bath. Its traditional Japanese style building built in Meiji era is nice and elegant.
Inside the building, there is a stone-built bathroom called "Kami no Yu [god's bath]" with a nice tile picture of cranes. The hot spring that comes from a column-shaped boiler warms up your whole body. For "Tama no Yu [spirit's bath]", on the other hand, high class granite is used, and the walls are made of luxurious marble. They offer special courses that allow you to use an elegant Japanese room to get relaxed after bath. Ideal place to take a rest.
Ehime Prefecture Historical Cultural Museum
At this "Ehime Prefecture Historical Cultural Museum", people can fully enjoy learning Ehime's rich history and culture. However, it is not a serious place but a fun place with theme park style activities. Especially, "Kodomo Rekishi Kan [kids history museum]" has a great content such as a booth that offers an interesting experience of a traditional local lifestyle, and a chance to try on traditional costumes.
On the 1st and 2nd floor, they exhibit the things related to Ehime's traditional folk arts, including: portable shrines and floats used for festivals, old nostalgic kids toys, etc. Also, there is a reconstruction zone of the old town, that gives you a real sense of what the old days were like. The reconstructed train car of Iyo Tetsudo has a nice atmosphere and people can get inside. Visit this museum when traveling to Ehime.
Saka no Ue no Kumo Museum
The name of this museum, "Saka no Ue no Kumo [clouds over the slope]", derives from the novel of a Japanese famous author, Shiba Ryotaro. It is a long story, like there are 8-volumes in paperback edition. As its name implies, this museum shows the exhibition related to the novel. Its content is deep enough to satisfy enthusiastic fans and people can also learn about history and culture of Matsuyama City.
The building is also nice with a unique angular shape, which was designed by a world famous architect. It would be fun to focus on observing its exterior and interior, too. There is a cafeteria inside the building so that visitors can get relaxed after touring around the museum. Great place for adults!
Matsuyama Jō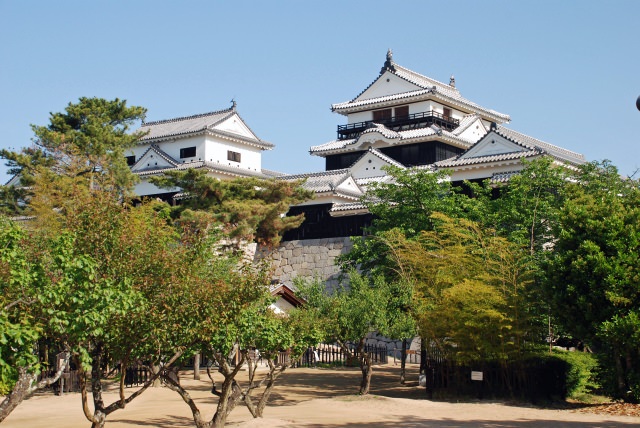 Matsuyama Castle is located on a mountain whose altitude is 132 meters (about 433 feet). It is said that this castle is built by an order of a great warrior, "Katō Yoshiakira" who made a fame at Japan's great battle, Sekigahara no Tatakai. Today it became an iconic attraction of Matsyama City. There is a castle park called Shiroyama Kōen designated as a National Historic Site, which has lots of cherry blossoms of Somei Yoshino and Prunus Kanzakura. It looks great with the contrast of beautiful flowers and the magnificent castle in spring. From middleMarch to early April would be the best season.
The park is so large and would be a perfect place to take a walk enjoying the view on a sunny day. Climbing up the mountain on foot for the castle tower is fun, but it is easier with a cable car taking only 3 minutes. There are many shops for souvenirs around the cable car terminal at the foot of the mountain, so people can enjoy shopping and eating too.
Shiki Memorial Museum
The exhibition of this museum is mainly focused on Japan's one of the best writers of Meiji era, Shiki Masaoka who was from Matsuyama, Ehime. Visitors can learn about him and a relation between him and Matsuyama City, and the historical background from many aspects. There is also an exhibition of another famous writer, Sōseki Natsume who was a friend of Shiki. So, this place is worth to visit for the fans of Sōseki too.
Many valuable materials about Shiki are displayed such as a room of his boarding house, desk, various belongings, letters between Shiki and Sōseki, etc. Also, lessons of Haiku (Japanese three phrases poetry) and Tanka (Japanese five phrases poetry) are on offer. A museum guide will show you around with explanations in details if needed. Visitors can enjoy in various ways at this museum. Visit and learn about a great Japanese author.
JR Shimonada Station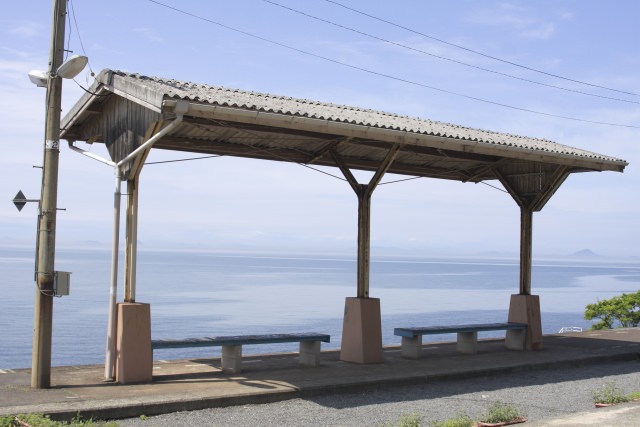 At JR Shimonada Station, a beautiful ocean view of the Iyo Nada in the Seto Inland Sea can be seen from its platform. This place is very famous for its breathtaking view, and has been used as a location for many Japanese movies and TV series. The station is really small and there are few shops or restaurants around it, but many people get off at this station to see the view. Take JR Yosan Line from Matsuyama Station to get this place. It takes about an hour, and you don't have to transfer from Matsuyama.
Its scenic ocean view looks wonderful in the daytime on a sunny day, but the sunset view is also superb. The red orange sun going down to the sea is incredibly beautiful! A special event called "Yūyake Platform Concert [sunset platform concert]" takes place every September. Of course, the location is at a platform of Shimonada Station. It would be a great opportunity to enjoy a music event while seeing the beautiful view.
Uchiko-za
Uchiko-za is a long standing playhouse built in Taisho 5 (1916). It is a two floor wooden house with a thatched roof. Once owned by the local chamber of commerce as its office, and they made a decision to demolish this place. However, many people were against it and a great repair was made. After that, it has been used as a playhouse again until today.
The window glasses and light equipments are the ones made in Taisho era. They also offer a house tour and show visitors their backstage such as "naraku (trap room)" that cannot be normally seen. This playhouse is packed with highlights. Great place to enjoy Japanese traditional performance art.
Kurushima Kaikyō Ōhashi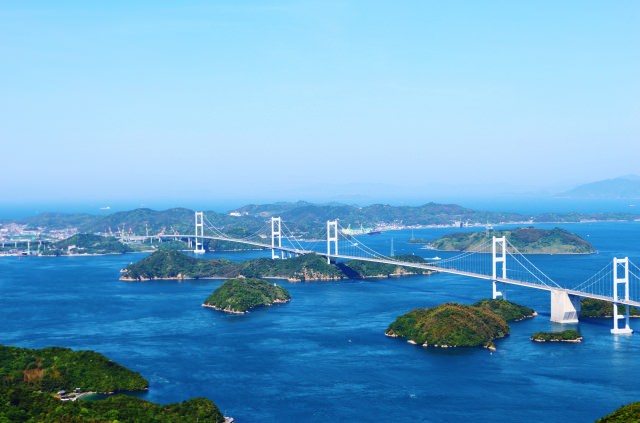 Kurushima Kaikyō Ōhashi is a bridge that connects Shikoku and Oshima, and its length is 4.1km (about 2.5 miles). This is the biggest bridge among the ones of Shimanami Kaidō, and also the world's first triple suspension bridge. Its simple design is nice and fits in the beautiful view of the Seto Inland Sea. There is a highway, path for motorcycles, and walking path on this bridge. The ocean view from there is excellent!
There is a perfect place to watch this bridge. From the Itoyama Observatory of Itoyama Park, the great view of Kurushima Kaikyō Ōhashi with the Seto Inland Sea can be seen. The observatory is a two-floor building and sometimes lit up after the sunset. People can see various views according to the weather, time and season. You would feel like watching the fantastic view forever. You should definitely see it when you travel to Ehime.
Tour around the attractions of Ehime!
If you travel to Ehime, there are many places to visit and make great memories. Getting relaxed in Dōgo Onsen would be nice, and learning history and culture of Matsuyama would be also nice. You can eat fresh delicious seafood in Ehime, too. Taking a walk while watching the great sunset view of the Seto Inland Sea would be fantastic. Ehime offers various ways to enjoy. This prefecture is surrounded by a beautiful natural environment of sea and mountains. Great place for families, couples, friends to travel. Have a great time in Ehime!
If you like this article,
Please push the
"Like"
!
Deiliver the SeeingJapan's news to you!
Popular Articles in Same Category
Author