Top 10 Tourist Attractions & Best Things to Do in Asahikawa, Hokkaido
Asahikawa is the second largest city in Hokkaido after Sapporo. The city has expanded in recent years, but the beautiful nature surrounding the city has been left untouched, and is a city gaining popularity as a travel destination. It is also a convenient hub for accessing Biei, Furano, and the Daisetsu mountains. We've put together a list of must see places in Asahikawa.
1.Asahiyama Zoo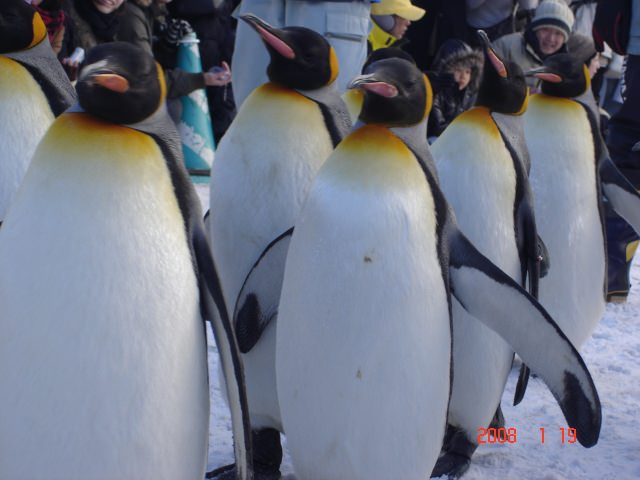 Asahikawa Zoo is popular for its exhibition style called "action exhibition" where animals roam around in open areas, allowing visitors to see the more natural status of the animals. A variety of animals live here including both sea and land animals such as, giraffes, lions, polar bears, and penguins.
This is a fun-packed place. Visitors can observe the animals from various angles in their unique enclosure. Penguins and seals swim freely through underwater tunnels; polar bears splash into the water; lesser pandas walk on a suspension bridge 3.5m above ground; and orangutans climb up a 17m tower.
Visitors can see animals being fed throughout the day. Don't forget to check the feeding time beforehand! This is a must see when visiting Asahikawa.
■Information
Name: Asahiyama Zoo
Address: Kuranuma, Higashi Aahikawa-cho, Asahikawa, Hokkaido
Phone: +81-166-36-1104
Opening hours: 9:30 am – 5:15 pm
Please check the website for summer and winter opening time and special events.
Website: http://www.city.asahikawa.hokkaido.jp/
Map: Map to Asahiyama Zoo
2.Snow Museum

photo by dragonjiang_   /   embedded from Instagram
The snowy landscape in Hokkaido is truly spectacular. This museum allows visitors to get a true experience of the beautiful Hokkaido winter throughout the year. The museum takes you 18m underground down a hexagonal spiral staircase resembling snowflakes.
The first highlight is the "ice corridor". Across the glass on both sides of the 60 meter aisle is the world at -15℃, with an ice pillar on display. The main section of the museum is the Snow Crystal Room – a display of 200 photos of snowflakes creates stained glass like windows surrounding the room.
You can dress up as princess and have your photo taken as if you are Anna and Elsa from Frozen! Look for snow crystal motifs throughout the museum while you walk around.
3.Ueno Farm

photo by maedango_3   /   embedded from Instagram
In 1989, Ueno farm started a small business selling rice. The owner started planting flowers like lupine and chamomile on the side of the paddy field.
The landscape has further developed to become what is known as 'Mother's garden'. You will find flowers and plants that can only be found in Hokkaido due to its climate and landscape.
More than 900 species have been planted here. This large garden is a beautiful place to take a walk. After that, enjoy drinks and snacks at the cafe in the remodeled barn that dates back more than 65 years. The cafe serves produce local to Hokkaido!
4.Takasago Shuzo Sake Distillery

photo by mmtu888   /   embedded from Instagram
Takasago Shuzo was established in 1899 and is one of the leading sake distilleries in Hokkaido. The sake made here has a legion of fans from across Japan.
The building housing the distillery was built in 1909, and is open for public tours. True to Hokkaido form, some of the sake is made in an igloo – the only one in Japan, and can be toured during the winter months.
In the igloo, bags of mashed rice are hung from the sealing and they are allowed to filtrate drop by drop. This filtration is a slow process, but it is certainly worth the wait! Ichiyashizuku, one of their sakes is made this way. Limited edition bottles, only available at the distillery can be purchased.
■Information
Name: Takasago Shuzo
Address: 17 Miyashita Dori, Asahikawa, Hokkaido
Phone: +81-166-23-2251
Opening hours: 9:00 am – 5:30 pm
Tour: 10:00 am – 3:00 pm
Closed on Saturdays, Sundays, Public Holidays
Website: http://www.takasagoshuzo.com/
Map: Map to Takasago Shuzo
5.Clark Horse Garden

photo by shusakuonozuka   /   embedded from Instagram
You can ride on horses at Clark Horse Garden just like the American Wild West. Kids and adults of all experiences are welcome. Horse riding is open throughout the year, including the snowy winter. Riding on a horse in beautiful fresh powder snow is a unique experience!
The cafe offers a lunch menu such as Japanese style curry, hamburg, and pizza, and you can be enjoyed with country music playing in the background. Horse riding is available at the annual Asahikawa Snow Festival, held February 2-13 in downtown Asahikawa.
6.Asahidake Ropeway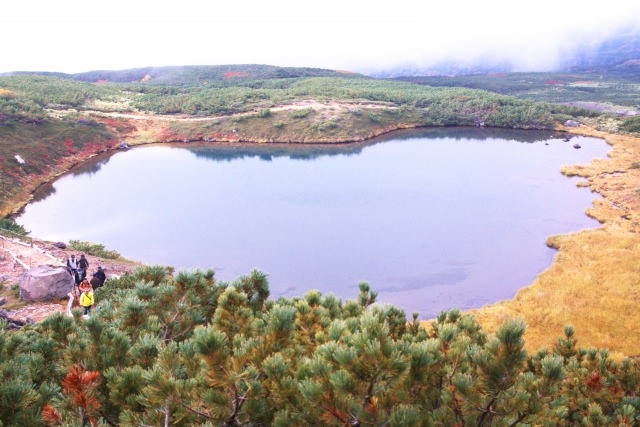 Asahidake is the highest mountain within the Daisetsuzan National Park and peaks at 2291m (7516ft). The 10 minute cable car ride starts at 1100m (3600ft) and transports you to Sugatami Station at a lofty 1600m (5250ft) elevation.
There is an astonishing diversity of alpine flora at the peak of the mountain in the summer, with over 360 species of flowers blooming. These flowers begin to bloom mid-June despite snow still remaining at the top of the mountain.
A wide range of wild animals and birds call this home including, brown bears, Kita foxes, Ezoshima squirrels, black woodpeckers, owls, and white-tailed eagles. October is the best time to visit for spectacular foliage.
If you are there a little earlier, you can still catch the foliage at the top of the mountain. At the beginning of September, leaves start to turn red in the area around Sugatami Station, lasting until middle of the month. Highly recommended!
■Information
Name: Asahidake Ropeway
Address: Wakasa Resort, Asahidake, Higashikawa, Kamikawa District, Hokkaido
Phone: +81-166-68-9111
Opening hours: Season dependent
Opens 365 days
Website: http://wakasaresort.com/
Map: Map to Asahidake Ropeway
7.Asahikawa Kitasaito Garden

photo by happy_mimi   /   embedded from Instagram
This large garden is directly connected to JR Asahikawa Station. The garden spans across 12 hectares, right in the middle of the city. 80000 plants from over 300 native species have been planted in the garden.
Alongside the riverbed promenade of Chubetsu River, there is a section called "River Border Flower Bed" where lies the 6500 plants of grassland made of 50 different species. Kawaranadeshiko and Ezomisohagi are especially magnificent.
It's designed based on the local dye craft called Yuukara Ori. This can be viewed in the period from May to September.
There are many other places of interest such as "Suigen Meadow" in which the hagi is in full bloom in May. Katakita's path is the walking path with eleven kinds of mukugets which can be enjoyed from late summer to autumn.
This is all accessible free of charge! If you have spare time at JR Asahikawa, this is definitely a spot you want to check out.
8.Sounkyogyu Onsen Ice Water Festival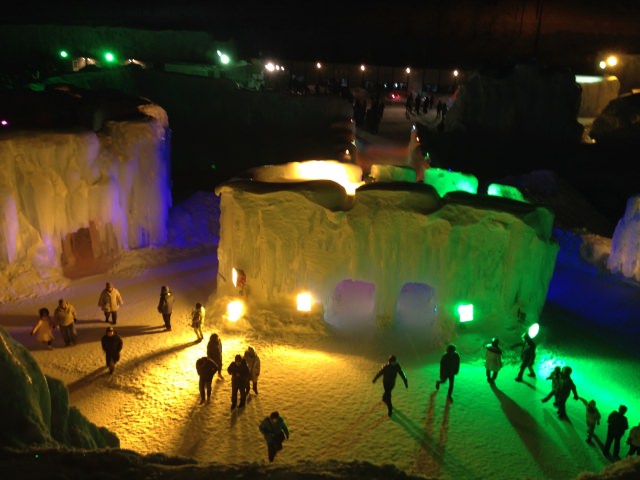 Sounkyo Onsen is a popular hot spring spot with its convenient location close to the major tourist bases around Asahikawa. The Ice Water Festival is held between January 25th to March 20th.
About 30 large and small ice statues line up in the field of the riverbed at the Ishikari River that spans 10,000 m2. The shrine, the observation deck, and the slide made of ice are lit up with seven colors of light at night. Daily fireworks displays are held until March 5th.
At the festival, local drinks like sake from Takasago Distillery (mentioned above) are available at the ice bar. Icefall shrine fortune tellers and ice slides are also available.
If you are staying at Sounkyogyu Onsen, there are shuttle buses available from Asahikawa Airport and Sapporo Station. Bundle up and head out, day or night, for fun at the festival!
9.Asahikawa Ramen Village

photo by magical_crystal   /   embedded from Instagram
Even though ramen is trending all over the world now, little is known about Hokkaido style ramen. In Hokkaido, there are three styles from different regions: Sapporo miso style, Hakodate salty style, and Asahikawa soy sauce style.
Asahikawa style is made by blending pork based stock and fish based stock, finished by soy sauce to give flavor.
They usually have a thick layer of oil floating over the stock in the bowl; this keeps the broth from cooling down in the cold Hokkaido winter. You can sample a variety of ramen styles from different shops in Asahikawa at this village.
10.Hokkaido Ice Pavilion

photo by rikakope0000   /   embedded from Instagram
At Hokkaido Ice Pavilion, you can experience -41℃ temperatures throughout the year. The main attraction is the Ice Hall. This hall consists of 600m2 of ice blocks and 1000 ton ice pillars at -20℃.
This place took 25 years to construct! At these temperatures even bananas freeze and and it can even hammer a nail.
If you forget to bring a winter jacket with you, don't worry, spare ones can be borrowed at no charge. You'll pass through an ice tunnel on your way to the -41℃ room.
Asahikawa is famous for having had the coldest recorded temperature observed in Japan in 1902. That's -41℃. How long would you be able to stand this brutal temperature?
Enjoy the Tourist Attractions in Asahikawa!
Asahikawa is a city with a unique blend of urban metropolitan and green nature, and has been steadily growing in popularity amongst tourists. And just like most Japanese cities, the food is fantastic. Although it's one of the lesser known cities in Hokkaido, Asahikawa, is definitely a worthwhile detour on a visit to the region.
If you like this article,
Please push the
"Like"
!
Deiliver the SeeingJapan's news to you!
Popular Articles in Same Category
Author