Top 10 Tourist Attractions & Best Things to Do in Abashiri, Hokkaido
Wonderful Nature! 10 recommended touristic spots in Abashiri! Where would you travel in Hokkaido? Sapporo, Hakodate or the world heritage area Shiretoko? Maybe you should consider "Abashiri" which is a rather minor touristic destination. Here are ten recommended spots to visit in Abashiri.
1. Abashiri Prison Museum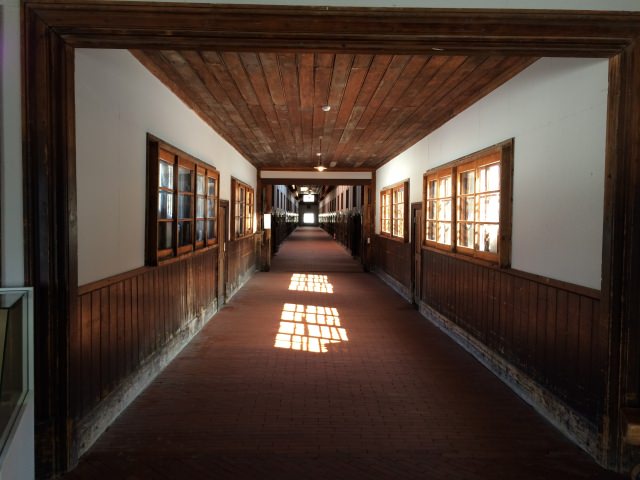 This is the only prison museum in Japan. The building which was used as a prison since Meiji period was moved here and made accessible to public. 8 buildings were registered as Important Cultural Properties in 2016.
The museum area is 3.5 times larger than Tokyo Dome and you can visit Important Cultural Properties such as the office building, the prison, brick cells and the back gate.
There are interesting facilities too. You can experience a life of a convict at "Prison History Museum" and wax figures replicate how convicts had a bath at "Bathroom".
You can also try the dish which is served at the current Abashiri prison. You would not be able to try these things anywhere else. Free guided tours are run between 21 April and 20 October. Try this tour, if you visit around this time.
2. Okhotsk Ryuhyokan

photo by makotoraman   /   embedded from Instagram
"Okhotsk Ryuhyokan" tells you about drift ice and creatures at the Sea of Okhotsk. The projection mapping which is at the biggest scale in Hokkaido shows living creatures in this very cold climate. Cute looking creatures such as clione and lumpsucker are displayed as well.
"Experience Drift Ice" corner is also popular. You can see how quickly a wet towel gets frozen and touch a real drift ice in the room where the temperature is set to minus 15 degree.
if the weather is good, get to the observation terrace where you can see Lake Abashiri, Lake Notoro, Lake Toufutsu, Lake Mokoto and even Shiretoko Mountain Range.
If you are hungry, there is a restaurant which serves dishes made with local ingredients. Salty caramel flavor using Okhotsk salt is a popular soft ice at the café. You should try this one!
3. Lake Notoro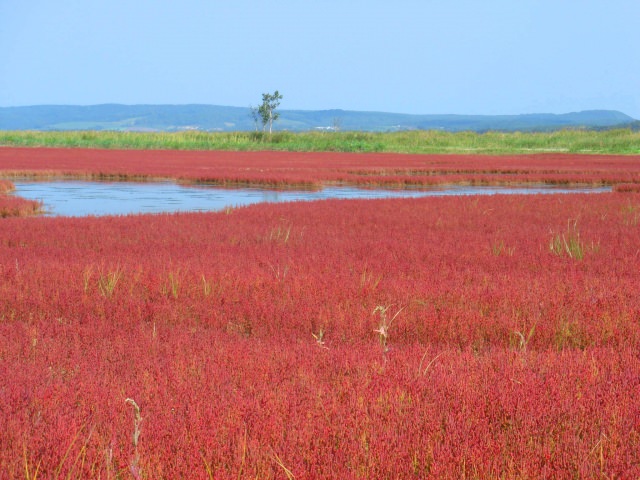 You should visit Lake Notoro for this stunning view of a red carpet in September. Glasswort grows along the lake and change the color to red in September.
Lake Notoro is a salt water lake connected to the Sea of Okhotsk and has approximately 33km circumference. You can try clam digging between April and October.
Glasswort grows along the southern bank of Lake Notoro and Ubaranai area. It's a rare plant turning to red without leaves. Once it was at a danger of declining number of colonies but it was announced to be recovered in 2015.
In an average year, you can enjoy a field of great color from the middle of September to the end of the month. It is said that around 200 thousand tourists visit during this time. There is a walking path along the lake so it's not a hard walking track. You would definitely enjoy this breathtaking view of glasswort!
■Infomation
Name: Lake Noroto
Address: Ubaranai, Abashiri-shi, Hokkaido
Tel: +81-152-47-2301
Map: Map to Lake Noroto
4. Flower Garden Hana Tento

photo by balibali_umechan   /   embedded from Instagram
"Flower Garden Hana Tento" is located on the top of Mt. Tento in Abashiri Quasi National Park. In winter time, it turns to Abashiri Lake View Ski Station. During short summer time, it's decorated by colorful flowers of which locals in Abashiri take care.
The public garden started in 2002 and now the 3.5ha hill is covered by 80 thousand plants such as salvia, marigold and cosmos.
Beautiful flowers arranged like a rainbow will recharge your mind. It is planned to be open in the end of June in 2017 but usually flowers bloom from mid-August to the beginning of October.
The first snow may come in October in Hokkaido. Why don't you enjoy short summer in Abashiri one day in this park? The lodge located at the summit has a view over the mountain range of Shiretoko and Lake Abashiri. This view is also stunning.
5. Abashiri Drift Ice Sightseeing Boat Aurora

photo by tkc0915   /   embedded from Instagram
You can't miss drift ice during winter in Abashiri! Abashiri is located at latitude 44 degree and the most south end of the Sea of Okhotsk where water freezes. The Amur River located at further north in the continent freezes and produces drift ice.
Drift ice grows larger and larger containing nutrients while floating down to south. Cliones also known as sea angels arrive to the Sea of Okhotsk together with drift ice. Seals and Sea eagles also come along drift ice and you may have a sight of them if you are lucky.
If you want to watch drift ice closely, get on the ship "Aurora". It takes you to one hour sightseeing trip in the Sea of Okhotsk. You hear the sound of drift ice cracking.
Note that the ship schedule changes every year depending on the climate. Also cruising may be cancelled depending on the conditions of ice and weather. If you are lucky with the weather, enjoy the cruise!
 
You May Also Like:

→Top 10 Tourist Attractions & Best Things to Do in Hokkaido, Japan
6. Hokkaido Museum of Northern Peoples

photo by shimamonmon   /   embedded from Instagram
"Hokkaido Museum of Northern Peoples" are the museum where you can learn about the lifestyle of peoples living in the northern region such as Ainu or Inuit. You can see the difference of clothes, food and residences of different groups of people.
You can also ask more details to the museum officers. It displays the traditional Okhotsk culture such as tools to walk on the snow, sleighs, tools for hunting or eating and clothing for cold climate. It's a great opportunity to learn things you may not come across usually.
It's interesting to see the differences in tools and designs by different ethnic groups. Sometimes you can attend a craft workshop. There are special exhibitions and concerts time to time. Check out the event schedules before going.
7. Moyoro Kaizuka Museum

photo by hatugenchu   /   embedded from Instagram
"Okhotsk People" came from the continent to Hokkaido around 1300 years ago and disappeared or dissolved at a certain point for some reason. Recently the culture of this Okhotsk People started to be revealed by archaeological study of Moyoro Kaizuka ruin which was found near the mouth of the Abashiri River.
At "Moyoro Kaizuka Museum" you can learn about the Okhotsk culture. The museum shows this unique Okhotsk Culture from the perspectives of "residence" "graves" and "Kaizuka (midden)".
You would enjoy the replica of a midden and also the grave exhibition room. You can learn about life of Okhotsk People by a video and also displays of tools at the Kaitzuka exhibition rooms. It's recommended for people who have interest in histories.
8. Higashimokoto Shibazakura Park

photo by budsun1996   /   embedded from Instagram
The view of the 100 thousand m2 slope covered by pink flowers is absolutely breath-taking. "Higashimokoto Shibazakura Park" is located at the bottom of Mt. Mokoto and known for Shibazakura (mountain phlox).
It started when a young farmer who loved flowers planted one Shibazakura at this location right after the World War II. It is said that he planted 70% of the hill. Now it's one of the renowned spring views in Hokkaido.
If you look closely, it's actually not all pink. There are pink, light purple and white mixed. If you look over the slope from a distance, you will see a beautiful gradation of colors.
"Higashimokoto Shibazakura Festival" is held at the peak season. There are also a go-cart facility, a day-spa, and a foot spa. Both adults and kids can enjoy.
9. Gyoko no Oka Abashiri Phlox Park

photo by sueasarikim   /   embedded from Instagram
"Gyoko no Oka Abashiri Phlox Park" started in 2002 when volunteers (the average age was 67 at that time) groomed the forest. It started with 1000 phlox and now has 150 thousand phlox covering 10 ha.
Phlox grows in a sunny place and has tolerance to cold winter. In the cold climate in Abashiri, phlox starts to bloom around the end of July.
The peak of flowers is around the middle of August and you probably can still enjoy flowers until the beginning of September. The view of red, pink and purple phlox over the hill is like a painting. There are also view spots for Lake Abashiri or Memanbetsu. It's a photogenic spot.
10. Koshimizu Gensei Kaen

photo by 74.in.nagano   /   embedded from Instagram
About 200 different flowers can be seen at "Koshimizu Gensei Kaen" all year around. The peak of flowers is June and July. Approximately 40 different plants bloom at this time.
The 8km long and 275 ha narrow dune between the Sea of Okhotsk and Lake Tofutsu are covered by flowers and is registered as a Hokkaido Important Property. During short summer time, lilies and beach roses decorate the dune and many tourists visit.
You can visit this place between May and October by train. JR Trains stop at Gensei Kaen Station only during this time of the year. You can have a view over Shiretoko Mountain Range, Sharidake and Cape Notoro from the top of the dune.
At the information center Hana, you can learn about plants growing here and also rent bicycles for free. It's only at the limited time of the year to see flowers!
■Information
Name: Koshimizu Gensei Kaen
Address: Hamakoshimizu, Koshimizu, Shari District, Hokkaido
Tel: +81-152-62-3217
Map: Map to Koshimizu Gensei Kaen
Visit beautiful touristic spots in Abashiri!
Most people may think of only Sapporo and Hakodate areas for tourism in Hokkaido. You never think of visiting Abashiri before? We hope this article changed your mind! You may discover totally new landscapes in Abashiri! Please visit Abashiri!
If you like this article,
Please push the
"Like"
!
Deiliver the SeeingJapan's news to you!
Popular Articles in Same Category
Author