Top 10 Tourist Attractions & Best Things to Do in Shizuoka, Japan
Shizuoka can be considered as one of the most famous tourist spots in Japan, and many people visit this area to enjoy the tremendous view of Mt. Fuji from up close. The area is also famous for its high quality green tea, amazing Suruga Bay, and strong local soccer team. Shizuoka can be reached easily from Tokyo, and today we've listed up 10 different sightseeing spots that are worth to visit!
1. Ryotanji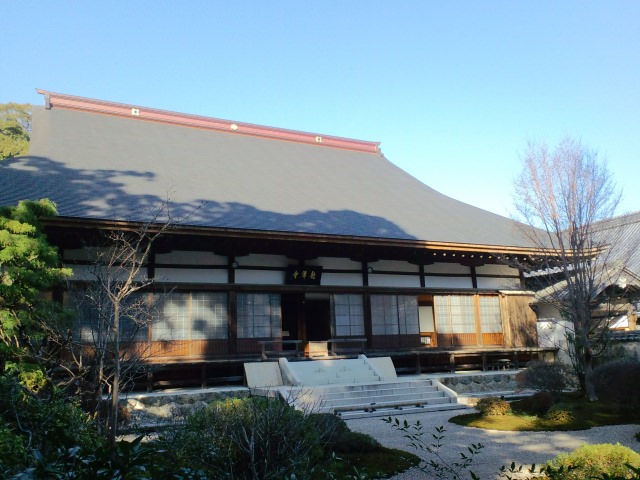 Founded in 733, Ryotanji is one of the oldest temples in Japan. At Ryotanji, you can find many kinds of assets such as the Ryotanji Garden and a tremendous dragon carvings.
Built more than 1000 years ago, Ryotanji Temple has one of the most beautiful gardens in Japan, which was designed by Kobori Eshu. Ryotanji is also famous as a national treasure for its scenic beauty.
You can find a great dragon carvings at the hallway, which was carved by Hidari Jingoro. At the main hall, you can find the Akasagarbha Bodhisattva, a sacred Buddhist image that imparts wisdom!
2. Kunozan Toshogu Shrine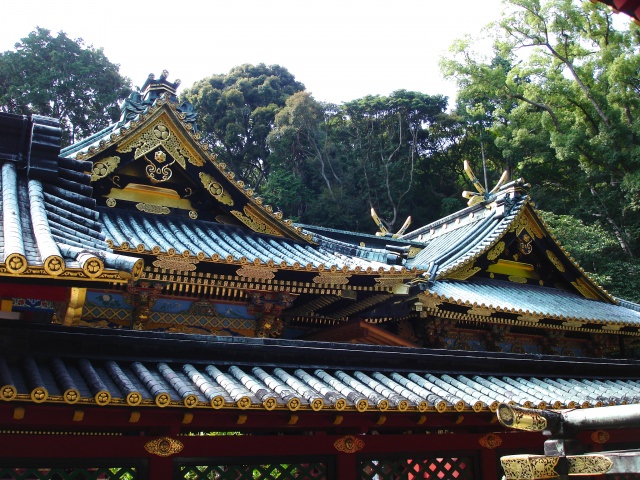 Kunozan Toshogu is a shrine dedicated to the famous leader Tokugawa Ieyasu, who passed away on April 17, 1616. Tokugawa Ieyasu is one of the most important leaders of Japan, as he brought the civil wars to an end and united Japan.
There are a lot of Toshogu Shrines dedicated to Tokugawa Ieyasu, but the most important Toshogu Shrines are Nikko Toshogu Shrine in Tochigi, and Kunoza Toshogu Shrine in Shizuoka.
Kunozan Toshogu Shrine has a very complicated architecture details; consisting large numbers of red buildings with gold accents and colorful carvings and paintings. You should explore Romon Gate, Haiden, and Honden halls when visiting this shrine, and don't forget to stop by Tokugawa Ieyasu's tomb as well.
At the Museum of Kunozan Toshogu (located right beside the shrine), you can find many Tokugawa Ieyasu's personal belongings, such as swords, armors, clothing, and hanging scrolls!
Try to visit this wonderful shrine by using the rope way!
3. Nirayama Reverberatory Furnace
Registered as the World Heritage Treasures in 2015, Nirayama Reverberatory Furnace is a well preserved iron smelting facility in Japan, located on the Izu Peninsula. It is also one of the most important sites of Japan's Meiji Industrial Revolution.
Constructed with local stones and bricks, the furnace represented the most advanced technology of that time. The furnaced produced the irons for cannons, and you can find few cannons displayed around the furnace as well!
4. Mishima Taisha Shrine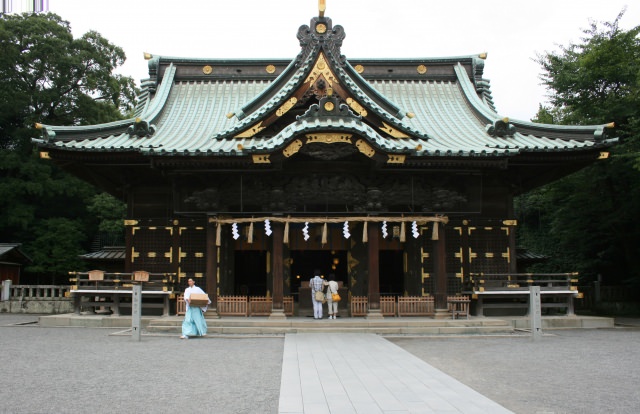 Mishima Taisha is a Shinto shrine located in Mishima City. The shrine worships the god of mountain and the goddess of happiness and fortune. Mishima Taisha is one of the most important shrines in Japan and has a long established history.
The main hall of Mishima Taisha is registered as Important Cultural Property of Japan, and you can find many precious and wonderful architecture details on the grounds of the shrine. You can also find a 1200-year old olive tree in the area of the shrine as well. In Spring, the view of cherry blossom trees at Mishima Taisha is extremely gorgeous!
5. Shiraito Falls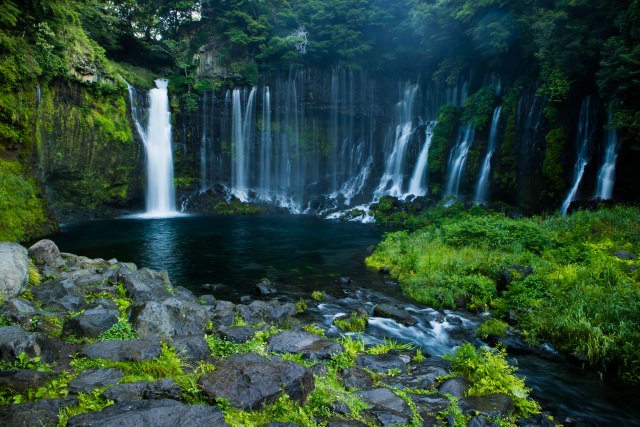 Shiraito Falls is one of the most important waterfalls in Japan, which is located in the Southwestern foothills of Mount Fuji. With 20 meters of heights and 150 meters of width, Shiraito Falls look exactly like a hanging threads of silk; just like its name.
Shiraito Falls has been protected since as a Japanese Natural Monument since 1936. In 1950, Shiraito Falls was chosen as the best waterfalls in Japan, for its gorgeous waterfalls view and great nature.
Shiraito Falls is also one of the most famous power spots in Japan, as many people believe that the waterfalls have a lot of minus ion that will remove all bad lucks and evil power. In addition to the waterfalls, you can also find many souvenir shops and local food stores in the area as well!
 
You May Also Like:

→The 10 Best Places to Eat in Izu, Shizuoka, Japan
6. Oigawa Railway – Thomas Trains
Not only kids, but adults also love the cute train Thomas & Friends, and in Shizuoka, you can actually get on the Thomas trains as well. These Thomas trains run in between Shin-kanaya Station and Senzu Station of Oigawa Railway from June 17, 2017 to October 9, 2017.
You cannot get on these trains without making a reservation in advance, and most of the time you will see your name on the waiting list as these trains are very famous among both, the locals and the foreigners as well.
You can also make a reservation for the photo sessions as well; you'd be able to take pictures with Thomas & Friends miniatures, which is also very difficult as well.
7. Niji No Sato at Shuzenji
Shuzenji is famous as one of the most prestigious hot springs (onsen) area in Japan, and the city accommodates many great spas and sightseeing spots as well. Established in April 1990, Niji No Sato is a leisure park located inside the Shuzenji Nature Park.
The 50-hectare park is divided into Western and Japanese themed areas: English Village, Canadian Village, Western Flower Garden, Izu Village, Takumi Village, and Japanese Garden.
The park has many great architectural works and beautiful flowers that bloom seasonally as well, so don't forget to stop by this park when visiting Shizuoka!
8. Kakegawa Castle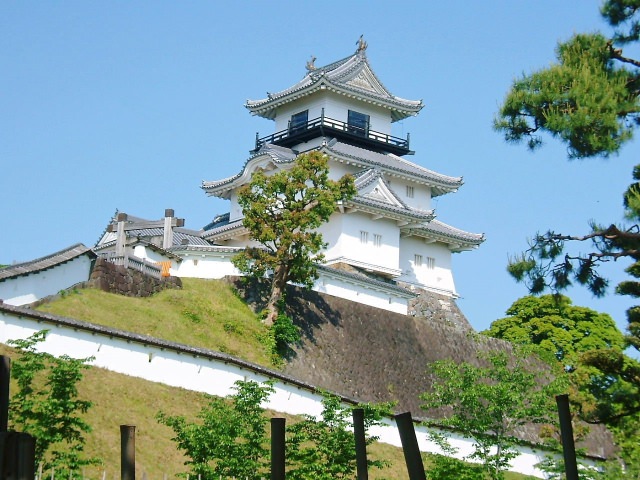 Kakegawa Castle is one of the most famous castles in Japan, which was rebuilt in 1994 after the keep was destroyed by the big earthquake in 1854. Ever since then, Kakegawa Castle became the first castle with wooden keep.
Kakegawa Castle was registered as an Important Cultural Property of Japan in 1980, and in 2006, Kakegawa Castle was ranked 42nd among 100 castles of Japan by the Japan Castle Foundation for its historical significance.
You can enjoy the gorgeous view of the Japanese Garden, and by paying an extra fee, you can enjoy drinking Japanese green tea and eating Japanese sweets at the tea house as well.
9. Numazu Deep Sea Aquarium
Numazu Deep Sea Aquarium is the only aquarium in the world that has coelacanth, living fossils that are protected by the Washington Convention. You can see many deep-sea creatures found at Suruga Bay at this aquarium, and you can also see five mounted coelacanths, which two of them are cryogenically preserved.
The coelacanths were found in Comoros, South Africa, and Sulawesi, Indonesia. You can see the documentary filming one of these coelacanths swimming in the ocean in South Africa, and you can also see many other documentaries related to deep-sea creatures.
Some of the deep-sea creatures are ugly and scary, but some of them are pretty cute as well. Don't forget to stop by the shop to buy the souvenirs and the restaurant to try its superb food!
10. Arai Barrier
Arai Barrier is one of the most famous attractions in Shizuoka, and it is the only surviving Tokugawa Shogunate's security checkpoint. The security checkpoint is located on the Tokaido highway that connects the capital of Edo with Kyoto in Edo period Japan. The official name of Arai barrier was Imagiri Barrier.
Built in 1600, all travelers were required to submit their travel permits for examinations and to pay taxes when traveling with commercial merchandise. All female travelers and weapons passing this checkpoint were examined very strictly as well, as a small number of weapons had the potential to change the balance of power in that period.
You can explore this site upon reservation; the main office, the guest room, the library, the clerk's room and the shita-aratame room are fun to explore, so don't forget to stop by Arai Barrier when visiting Shizuoka!
Let's Enjoy the Tourist Attractions in Shizuoka!
Shizuoka is not just famous for its great view of Mt. Fuji, but it is also famous for its huge collections of sightseeing spots! Enjoy exploring Shizuoka and don't forget to visit one of these spots during your visits!
If you like this article,
Please push the
"Like"
!
Deiliver the SeeingJapan's news to you!
Popular Articles in Same Category
Author