The 10 Best Tourist Attractions in Osaka for Young Students!
Osaka is one of the biggest city in Japan as well as Tokyo, which has lots of tourist attractions in Osaka. It is actually a great place to explore around though they are too famous for its own unique food culture. It may seem many spots are enjoyable for adults, but don't worry. They have many facilities and spots young students can enjoy. Now, here are the 10 Best Tourist Attractions in Osaka for Young Students!
"Universal Studios Japan (USJ)"
"Universal Studios Japan (USJ)" is the most popular place for sightseeing in Osaka. This theme park is one of the best in Japan as well as Tokyo Disney Land. People call it "Yu Ni Ba" and really popular among all genders and generations. The best recommeded place for young students.
In USJ, you can see all the famous characters from popular movies and cartoons. With many photo chances, it would definitely be fun to visit either with friends or a date. Take photos of your memorable day, and post them on SNS. They will make your other friends want to do the same!
"Kaiyukan"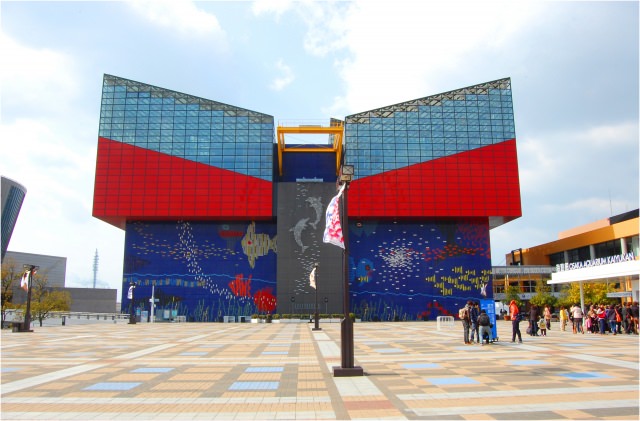 "Kaiyukan" is a brilliant aquarium which is famous as one of the best in Asia. Many people get their hearts healed by watching elegant swimmin fish. Perfect place for dating.
Another reason for recommending is that you can freely get in and out during the day by getting their re-entry stamp on your hand. You can get it at Information Center if you are hungry and get out to eat, or go to other places until the night event starts. With this way, it is possible to explore around neighborhoods.
"Tenpozan Giant Ferris Wheel"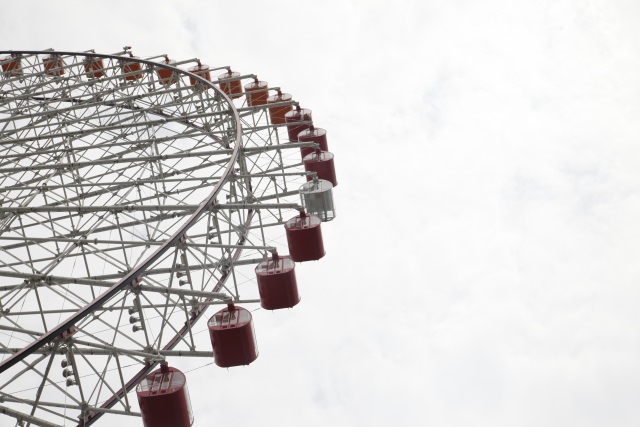 "Tenpozan Giant Ferris Wheel" is the best place to visit with Kaiyukan's re-entry stamp since it is located in the same site of the aquarium. This is one of the biggest Ferris wheel in the world for its 100 meters diameter, which offers you 15-minute ride. Have fun, young couples!
The Ferris wheel and aquarium are in the same commercial complex, "Tenpozan Harbor Village". It also has a shopping mall area, "Tenpozan Market Place", and other leisure facilities. Indeed a recommended place. You can stay all day.
"Namba Grand Kagez (NGK)"
"Namba Grand Kagez" is a commedy theater where various shows performed everyday by comedians signed to a comedian agency, Yoshimoto Kogyo. Young people love and need funny stuff. This is the best place to experience Osaka, the home of comedy.
At this theater, they don't just perform shows but entertain you with their unique hospitality. You should go with your closest friends with whom you can be yourself. All around inside the building, there are many hidden funny characters. It would be fun to compete with friends for how many of them you can find.
"Tsutenkaku Tower"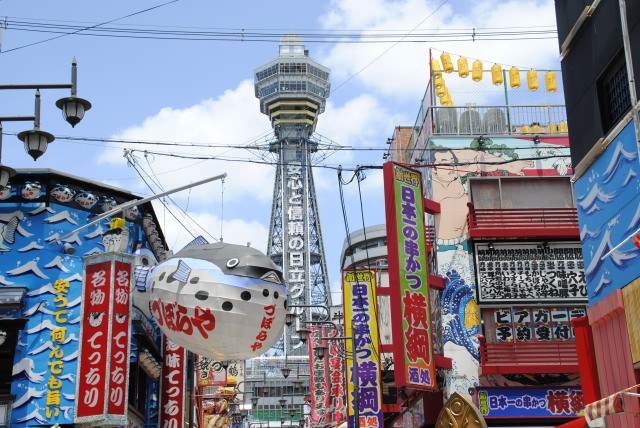 When people think about a famous tourist spot in Osaka, "Tsutenkaku" would come to mind. You cannot leave without visiting this place as an icon of Osaka when traveling to this prefecture. Ideal place for young students who visit for the first time.
At Tsutenkaku, you should worship the statue of god for luck, "Biriken" san. The statue is placed in the gold colored observatory floor, which would be the best photoshot place. Its height is about 87.5 meters. Not really tall, but enough to look around the entire city of Osaka. Make a plan to visit this staple spot in Osaka.
"Minōdaki"
"Minōdaki" is a waterfall located in Minō Park. There must be many young stundents who spend most of time in the city. Don't you sometimes feel like going somewhere quiet away from crowds and noises?
You can go to this waterfall walking the promenade of "Minō Park" which is located 30 minutes from Osaka City by train. The road is surrounded by natural trees and you can enjoy beautiful scenery in each season. Good healing place to take a break and get relaxed for busy students studying and joining a school club.
"Umeda Sky Building"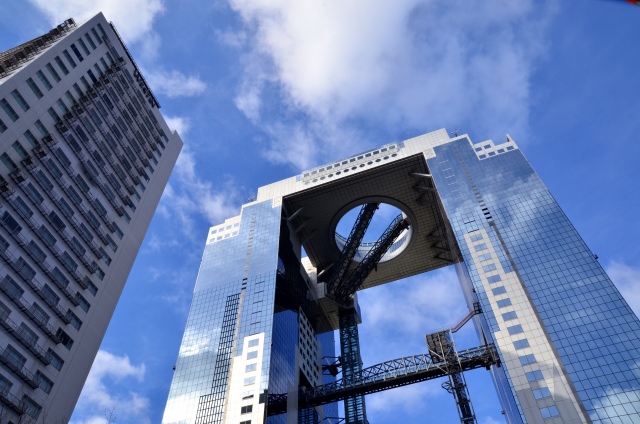 "Umeda Sky Building" is a popular tourist spot as a landmark of Shin-Umeda. It has 2 basement floors and 40 ground floors. In this skyscaper, there is "Aerial Garden Observatory" on its top floor. The 360° panoramic view is just breathtaking. You've got to visit at least once.
Another recommended place in this building is located at the observatory, called "Fence of Vows" with 5 colorful wires stretched. There is a heart-shaped lock, "Hear tLock", which you can get names or anniversary date engraved on, and hang on the wire. Romantic, isn't it? Great dating spot for mature young couples.
"Americamura"
"Americamura" is popular among young generations in Osaka. It is a center of their culture, and there are about 2500 shops and stores in the area. Super nice place for youngsters who love fashion.
The landmark "BIG STEP" is highly recommended in this area. It has various fun places, such as a shop with items you cannot get anywhere else, movie theater, and music live club. It is so fun just looking aorund. If you want to know the lastest fashion trend in Osaka, you will not want to miss Americamura.
"HEP FIVE"
"HEP FIVE" is a landmark of Umeda, Osaka, which has a red Ferris Wheel. Opened in Nevember 1998, targeting young generations. So, of course, this commercial complex is a great place for young students to enjoy.
You cannot miss the opportunity to try their red Ferris Wheel built on 7th floor. Its height is 75 meters, and it takes 15 minutes for one round. From a gondola, you can see all the way from Umeda area to Akashi Strait Bridge and Mt. Ikoma. Fun for riding during the daytime, and also great to see glittering lights when it is getting dark outside. Perfect spot in Umeda, Osaka.
"ABENO HARUKAS"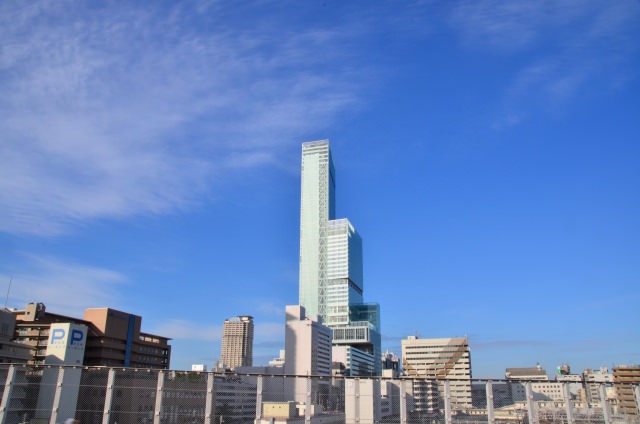 "Abeno Harukasu"became famous as a new tourist spot in Osaka. Its hieght is 300 meters, and it was the talk of everywhere as the highest super skyscraper in Japan with 5 basement floors and 60 ground floors. There are a wide range of leisure places from restaurants and shopping stores to a museum.Great spot for anyone. Of course, for young students, too.
Among the many, the best recommended place is an observatory called "Harukasu 300", which is consisted of 3 floors from 58th to 60th. The 60th floor is especially exciting since it is built as an indoor corridor surrounded by the glass-made floor, walls, and ceiling. It will feel like you are walking in the sky. You must visit this great spot in Osaka.
Visit great tourist attractions in Osaka for young students !
How did you like this article? Osaka is a nice place for young students to travel with friends though many people may think Osaka is a place for adults. If you are planning to travel on your next vacation, put Osaka in your destinations list. You can have great memorable experiences of your life.
If you like this article,
Please push the
"Like"
!
Deiliver the SeeingJapan's news to you!
Popular Articles in Same Category
Author