The 10 Best Night Attractions You Must Visit in Osaka
It is fun to explore around Osaka during the daytime, but many people would think night time is better because that's when they can fully enjoy Osaka's delicious food. In Osaka, there are many Japan's famous amusement areas such as Dotonbori, Umeda, Namba, and Shinsaibashi. Also, Osaka is well known as a foodie town, where a unique food culture, ""Konamon [flour stuff]"" was born. Perfect place to enjoy their food along with sightseeing. To either hang around with friends or date, read the 10 Best Night Attractions You Must Visit in Osaka, that includes popular restaurants of Osaka's specialties, "Okonomiyaki", "Kushikatsu", "Takoyaki", etc.
"Fukutaro"
Many people think Osaka's most famous local food is okonomiyaki (Japanese savory pancakes). "Fukutaro" is one of the best okonomiyaki restaurants in Osaka. So popular that there is always a line.
Quality ingredients carefully selected by the owner make every dish superb. Enjoy watching brilliant cooking performances done by their experienced staff at Osaka's okonomiyaki restaurant. It would be one of the highlights of Osaka sightseeing. In addition to okonomiyaki, they serve another Osaka's specialty, negiyaki (savory green onion pancakes), and other teppanyaki (griddle) dishes. Indulge in the food and get full. Have a fun night!
"Kushikatsu Ichiba"
Osaka's kushikatsu (skewered fries) are very delicious, but many kushikatsu restaurants are busy and a kind of noisy. However, there is a perfect place for those who want to enjoy skewers at a tranquil place. "Kushikatsu Ichiba" is popular among ladies, where people can enjoy them at a house with French style interiors.
Orders are available from one skwer at 140 JPY. They use carefully selected quality rice oil for frying. Coating is thin, fried up crispy with juicy insides. Skewered fried camembert cheese loved by ladies tastes marvelous. You must try once. Great place for night dating in Osaka.
"Takoyaki Doraku Wanaka"
You will not want to leave Osaka without trying takoyaki. It is not too much to say that having takoyaki while exploring around a town is another highlight of Osaka trip. You can see takoyaki shops everywhere in Osaka. Among the many, "Takoyaki Doraku Wanaka" is highly recommended.
The characteristic of takoyaki they serve is the texture of crispy outside and creamy inside. Osaka people have been in love with it for more than 50 years, and this shop is still keeping the status. They say when they think of Osaka's takoyaki, Wanaka come to their mind. You should stop in when you are sightseeing in Osaka.
Osaka is not just a foodie town! These are the best night attractions in Osaka!
Night tour in Osaka is very enjoyable. You will find new aspects of Osaka you cannot see during the daytime. From here, you will know about popular night attractions in Osaka. Have a fantastic night!
"Universal Studios Japan (USJ)"
"Universal Studios in Japan (USJ)" is a staple attraction in Osaka. Great place to visit with family, friends, or a date. Very popular among all genders and generations. Osaka people call it "Yu Ni Ba".
USJ has many attractions, but there is a big difference between the daytime and night time. Especially with outside attractions, "Jaws", "Jurassic Park the Ride", and "Hollywood Dream the Ride", you can have thrilling experiences you cannot know during the daytime. Definitely visit at night.
"Kaiyukan"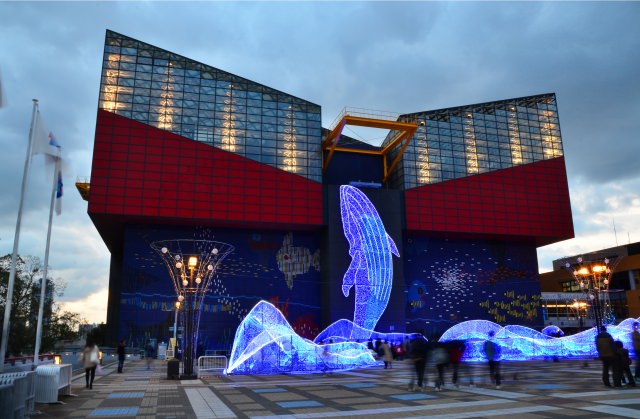 Osaka's "Kaiyukan" is one of the biggest aqaurium in Asia. This popular attraction always starts getting filled with tourists in the morning. Everyday after 5pm, people can enjoy a romantic ocean world showcased with lights and sound effects.
Since people can see how the ocean living things are at night, among both adults and children, it is popular to visit Kaiyukan after sunset. Great to see what you cannot usually see. Perfect for families. Occasionally they hold events such as "Kaiyukan's Overnight School", and "Night Tour". In the former, kids can have a special experience by sleeping in front of a large water tank, and the latter gives you a full enjoyment of night aquarium though it is held only during the summer.
"Umeda Sky Building"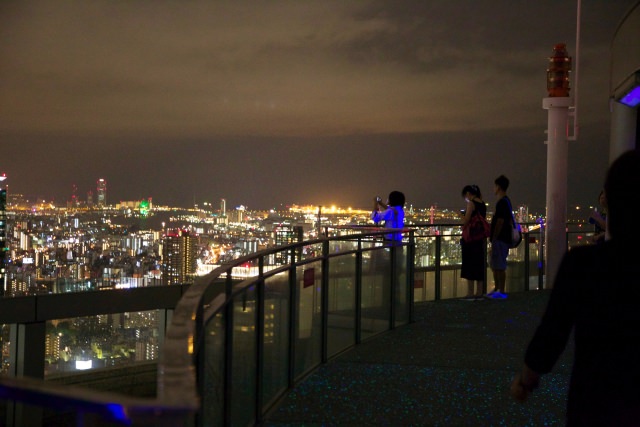 "Umeda Sky Building" is a landmark of Shin-Umeda City. On its top floor, there is an observatory called "Aerial Garden". One of the best places to see beautiful city lights. The 360° panoramic view is just breathtaking. This place can be a great final destination.
There are other places you can enjoy the view since this building is a complex commercial facility with a cinema complex, restaurants, etc. One of the best is a sky lounge, "Stardust", which is located in 39th floor. Book a table by the window, and enjoy the glittering view of Osaka over nice cocktails.
"ABENO HARUKAS"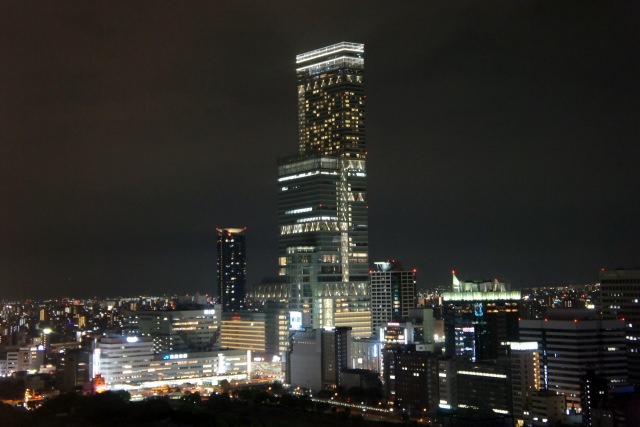 "ABENO HARUKAS" is a popular attraction as a new landmark of Osaka. Super skyscraper that boasts 60 floors. Its observatory, "HARUKAS 300", consisted of 3 floors from 58th to 60th is very much favored as a great attraction. People can enjoy all the city lights of Osaka.
Night events are occasionally held at "HARUKAS 300". You will not want to miss those events such as "Night Heliport Tour", in which people can walk around the heliport on the top floor, and "HARUKAS 300 Light and Music Show" which is held 5 times during the night time at 58th floor. Visit if you want to enjoy Osaka's city lights.
"Tenpouzan Giant Ferris Wheel"
Visit "Tenpozan Giant Ferris Wheel" to enjoy a great city lights view of Osaka. Located in Tenpozan Harbor Village, next to Kaiyukan (aquarium) mentioned above. So, it would be great to try both.
Its height is 112 meters. One of the highest in the world. You will not forget the view from up there. Though their standard gondolas are totally fine, their glass box-like sea-through gondolas will make you feel as if you were floating in the night sky.To top it all off, the ferris wheel itself is lit up. Beautiful place of lights art.
"Ichiran Dotonbori"
Ichiran is a very famous ramen chain restaurants, and "Ichiran Dotonbori Honkan" is their Osaka location open 24 hours 365 days a year. Popular as a place where people can have delicious tonkotsu ramen (noodles in pork-bone broth) at late hours.
Excellent soup with no porky bad smell and their secret red sauce that gives the soup an accent create a great harmony. It will thrill you through after walking all day. You can ask them to adjust the soup when ordering. Change according to your condition and mood. Have the best one!
"Kinguemon Dotonbori"
You must eat "Osaka Black" if you are trying to finish your day with ramen noodles in Osaka. Visit "Kinguemon" to eat the noodles. It is a famous ramen restaurant that has been selected as the best in Japan at a ranking event of a famous foodie website.
Osaka Black is a soy sauce flavor ramen noodles. Impactful in both appearance and taste. A bowl of ramen with its great flavor of soy sauce stimulates your appetite even at midnight. Ramen noodles and toppings are available as souvenirs. Get some of their specialties for you and for your friends.
Indulge yourself in Osaka attractions!
How did you like it? Osaka has so many attractions for night entertainment that it is difficult to visit all of them in a day. Every attraction and restaurant listed above will help you have a wonderful time. Night tour in Osaka is so fun as well as exploring in the daytime. Enjoy and have a great night!
If you like this article,
Please push the
"Like"
!
Deiliver the SeeingJapan's news to you!
Popular Articles in Same Category
Author