Best 10 Sightseeing Spots You Should Visit Once You are in Karuizawa, Nagano
Speaking of Karuizawa, it is the history, the Japanese-style villa culture rooted in cool nature and the Japanese literature. Karuizawa has become an even more attractive area by the opening of the Shinkansen. This time, we will introduce the top 10 recommended spot that you should visit. We will mainly introduce old-Karuizawa which is the center of Karuizawa. Let's go out for a walk this summer to find your own Karuizawa!
Kumoba no Ike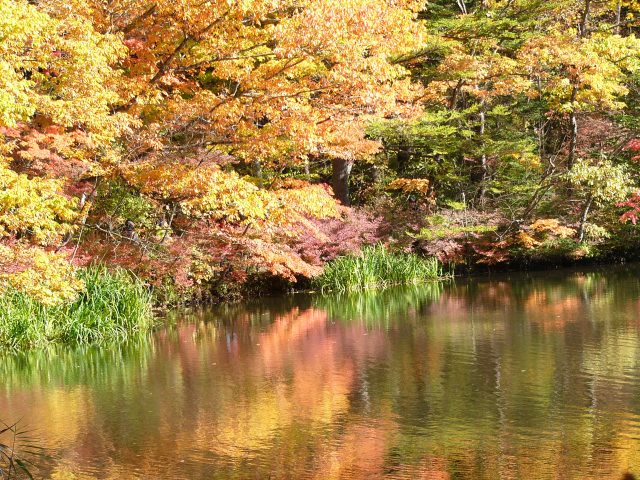 "Kumoba no Ike" is a slender pond near Karuizawa Station, also called "Swan Lake". Located close to Roppontsuji, there is a promenade along the lake. This is also the Emperor's favorite stroll spot.
The contrast between the surrounding elegant buildings seen through larchs and other trees, and the clear water created by blocking spring water is super beautiful. Legend has it that the footprints of the giants have become ponds! It will be the highlight of a romantic Karuizawa journey. When you come to sightseeing in Karuizawa, please visit there.
Mampei Hotel
Located at a five minute drive from Karuizawa Station, the "Mampei Hotel" is a very famous hotel loved by writers and business people as "Kameya Hotel" in the past. The most famous regular customer is probably famous musician "John Lennon".
The main building, the Alps building, is built by a solid wooden, and especially the stained glasses in the main dining room create a history. It may be good to spend an elegant moment at a restaurant that tradition is inherited. There is also a cafeteria where you can have coffee while feeling the atmosphere of Karuizawa.
Hotel Otowa no Mori
If you turn right along the straight road from Karuizawa Station to Former Karuizawa Ginza, a bright forest that seems to be emerging in the novel is spreading. There is "Hotel Otowa no Mori". The taste of the French restaurant has been popular since the 1980s. It is now named "Katsurahime" and is still popular. It is also good to have a popular lunch for the local madam while taking a forest bath.
In addition, we recommend "Otowatei" which serves you Sumibi-Kushiyaki. Here you can enjoy a selection of seasonal ingredients. Take a trip to this tourist attraction which you can find the best of Karuizawa.
Shiraito Falls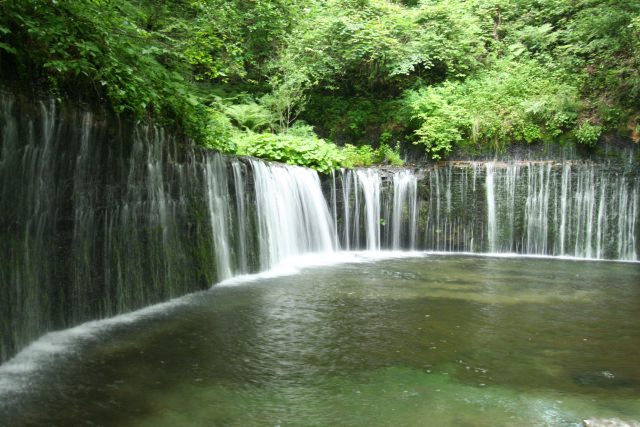 This is a tourist attraction that you should definitely go to when visiting Karuizawa, which is about a 30-minute drive from Karuizawa Station. That place is "Shiraito Falls". This waterfall is the water flowing from the bottom of Karuizawa, which comes from the rock surface. It's a fascinated thing to see.
Its height is about 3 meters, and its width is 70 meters. Its curved form is characteristic. It is like feeling that you are watching something at a museum, when you see water looks white thread flows down several layers. In addition, it is lit up at night in the summer season, and it has a different beauty from daytime. It is a standard tourist attraction of Karuizawa.
Show Memorial Chapel
The "Show Memorial Chapel" is the oldest church in the Karuizawa area, created by the Canadian Anglican missionaries. It seems that the original form was already made in 1895. Such sightseeing spots in Karuizawa are waiting for you quietly in the grove where the cityscape of the former Karuizawa Ginza shopping district is over. The blue-based stained glass in this association is a particularly recommended.
Depending on the day, worship and concerts are also held. Of course, it will warmly accept visitors, so please feel free to visit them after making contact.
Harnille Terrace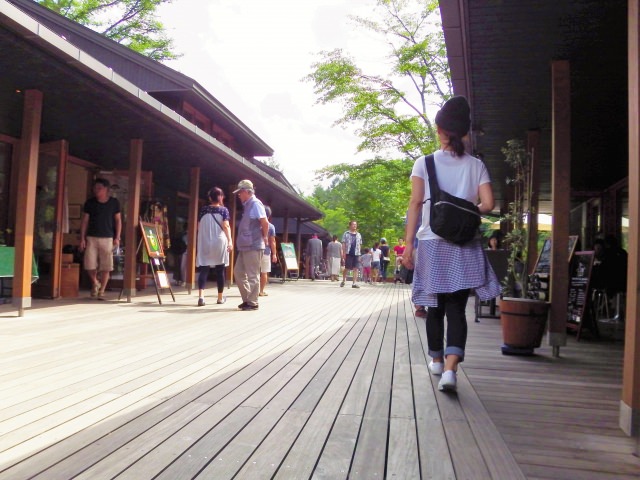 Harunire Terrace is a facility that forms the core of the Hoshino area in Nakakaruizawa. Within the nine buildings, unique restaurants and design shops are gathered, and creating one "town". It was named after the stream of clean Yukawa and the spring mulberry trees.
There are the best shops sucu as "Soba no Kawakamian", "Maruyama coffee", "Bakery Sawamura" to have a good villa life! Of course you can enjoy shopping and have a delicious gourmet meal. This is a sightseeing spot in Karuizawa that you can enjoy all day. Please visit there.
Branje Asanoya
"Branje Asanoya" is a prestigious bakery of Karuizawa, which is currently open in Tokyo. The bread sold here is a special bread made of chocolate and tea. They use a original Spanish-made stone pot when making French bread and German bread. This stone pot was made of 3000 pieces of perforated bricks.
In addition, there is also an item using seasonal ingredients of that time, and a menu unique to Karuizawa. We would like you to eat the bread that hand-made bread when you come to Karuizawa.
Sawaya Former Karuizawa Store
Even in Karuizawa, where Western-style life is firmly rooted, there is a popular jam shop. That is "Sawaya Former Karuizawa Store". Starting in 1952, here in Karuizawa, they started as a fruits shop. There is a commitment to use only domestically safe ingredients, and that jam is a masterpiece. The jam here is made only with fruits and sugar. It has a distinctive taste that makes use of the natural sweetness of the ingredients.
In addition, since only the seasonal ingredients of the time are used, the lineup of products will change if the season changes. Let's go find your favorite one!
Karuizawa Kogen Church
Located at a 5-minute drive from Naka-Karuizawa Station, there is a Karuizawa Kogen Association, which is a wooden church. In particular, the distinctive triangle-shaped large roof is actually a device to maximize the light of the plateau. The light from the forest from the large window that enters the chapel makes more mysterious space.
Also, events are held here depending on the season. If you can schedule your date, you can enjoy some particular events such as the Easter in April and the Christmas in December. We recommend that you to visit this place when they have some events.
Cafe Raffine
"Cafe Raffine" is a famous café located at Roppontsuji, a famous intersection near Kumobaike. Situated in the Karuizawa Forest where lovely squirrels visit, you can spend a relaxing time at this café. The recommended thing in this cafe is a banana chiffon cake with plenty of cream. You can not miss this!
There is one more house called "Michael" at this intersection, a beautiful cafe with a garden and furniture. If possible, we recommend you to both cafes. These cafes are Karuizawa-like and why don't you forget city life in the beautiful nature?
Let's Go to a Tourist Attraction Different from the City!
If you want to visit Karuizawa, you can take a train from Tokyo. This town has a different landscape from the big cities such as Tokyo and Osaka. The differences would be nature or people. We have introduced recommended tourist spots in Karuizawa, but there are plenty of other attractions as well! It may be a good idea to take a walk around the town and find the sights of Karuizawa by yourself.
If you like this article,
Please push the
"Like"
!
Deiliver the SeeingJapan's news to you!
Popular Articles in Same Category
Author