Top 10 Tourist Attractions & Best Things to Do in Yufuin, Oita
Yufuin is one of the most famous onsen (hot springs) area in Japan. Located in Oita Prefecture, Yufuin accommodates many interesting sightseeing spots like onsen spa, restaurants, and many souvenir shops as well. We have chosen ten different spots for you to visit in Yufuin, which are definitely worth to stop by when you're in Oita!
1. Lake Kinrin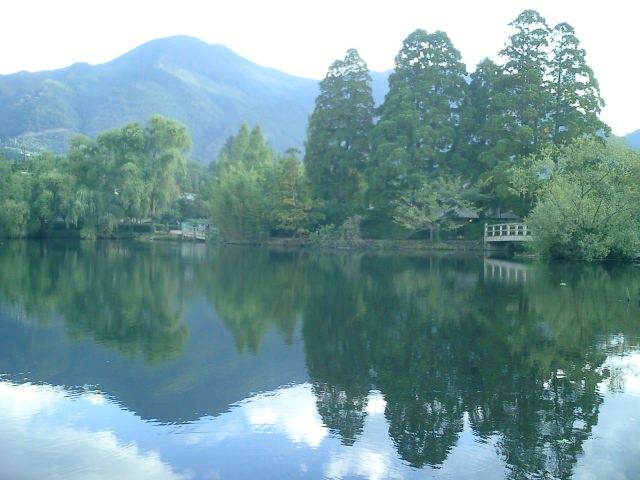 In addition to Mount Yufu, Lake Kinrin is another best natural landmark of Yufuin, which is a small lake located at the end of the town's main walking route.
The lake produces not just natural hot springs, but also clean water as well. The water temperature of this lake is relatively high compared to other lakes in Japan and it has a very clear surface as well. You can enjoy watching the fresh water fish swimming around the lake during the day and a great sunset view.
In addition to its great sceneries, you can also find many small shops and cafes, a small shrine (Tenso Shrine), and some public baths (our favorite is Shitanyu!) along the walking paths.
2. Yufuin Floral Village
Yufuin Floral Village is a unique amusement facility established in 2012. Representing Cotswold, the most beautiful village in the world located in England, Yufuin Floral Village is very famous among both the locals and the visitors as well.
You would feel like you just jumped into a fairytale book as you entered this site. You can see many beautiful and cute buildings made from stone, and colorful flowers blooming covering the garden.
You can also find many shops selling peter rabbit and harry potter merchandises, and bakeries selling cute breads and confectioneries as well. Ladies travelers can also stay at the ladies hotel as well, which is equipped with public bath as well.
3. Yufuin Showakan
Yufuin Showakan represents the streetscapes of Showa period, where you can enjoy the rouse feelings of nostalgia.
You can see many vintage artefacts in that area such as but not limited to: vintage cars, barber shops, camera stores, electronic goods, old clinics, small bars, old post offices, schools, public bath, small and cheap candy stores, and retro interior shops.
Why don't you stop by Yufuin Showakan to enjoy its wonderful vintage atmosphere?
4. Yufuin Folk Craft Village
Yufuin Folk Craft Village is a place where you can find many different local crafts of Yufuin.
Accommodating many old buildings, vintage fancy houses, old post offices, and local breweries, Yufuin Folk Craft Village is a fun area to explore. You can also try to make traditional crafts at the village as well, which you can take home as souvenirs for your family back home.
In the village, you can also find many shops selling local food products. One of our favorite is a shop "Ajikobo", which sells many different dressings like non-oil kabosu dressing and non-oil yuzu dressing.
5. Day Onsen Spa
Day Onsen Spa is perfect for those who don't have much time to spend at Yufuin.
Yufuin is famous for its great onsen, and visiting Yufuin without trying its onsen is a little bit dull. You can find many onsen spa hotels and ryokan in Yufuin, and most of them accept day visit as well.
Among all of those spa, our favorite is Musoen, an onsen spa in Yufuin equipped with huge open air bath. You can enjoy the scenic view of Mountain Yufuin from the open air bath, and this is the main reason why we chose this spa as our favorite!
 
You May Also Like:

→The 10 Best Hot Springs (Onsen) You Must Visit in Oita, Japan
6. Yufuin Stained Glass Museum
Opened in 1996, Yufuin Stained Glass Museum exhibits European antique stained glass, which most of them were mainly produced in the 1800s.
The museum accommodates 7 exhibition rooms, a souvenir shop, and a tea room. In the tea room, you can find "Neal's House" and "St. Robert Church". The stained glass inside the church is extremely gorgeous and beautiful.
We strongly recommend you to check the schedule of the church beforehand on the website, as you cannot see the stained glass collection if there is a wedding ceremony held at the church.
Mainly exhibiting stained glasses from England, Germany, and France, you can also experience stained glass making at this museum as well!
7. Jaetsu Observatory Deck
At Jaetsu Observatory deck, you can enjoy the superb view of Mountain Yufu and Yufuin Basin.
Located within 15-minute drive from JR Yufuin Station, you can find a big observatory deck where you can enjoy watching the entire view of Mountain Yufu and Yufuin Basin.
We strongly suggest you to visit this spot in fall and winter to enjoy the scenic view of autumn leaves and snow!
8. Yunohira Onsen Stone Pave
Yunohira Onsen Stone Pave is a small street where you can find many old school hotels and inns lining up along the streets.
Located within 25-minute drive from JR Yufuin Station, this stone pave was built more than 800 years ago. With 300 m long and 30 degree elevation, you can find many small vintage hotels, inns, and bath houses as well!
9. Yufuin Basin Festival
Yufuin Basin Festival is held annually every year on August 15 & 16, and it is one of the most famous festival in Yufuin.
This festival is held to protect the crops from the insects, and you can enjoy watching "Bon Odori" Japanese summer dance and colorful fireworks at this festival.
Very famous among both the locals and the visitors, this festival attracts more than 1,000 people every year, so don't forget to stop by Yufuin to participate in this wonderful festival!
10. Transportation Rental at Yufuin
Walking around Yufuin can be very tiring sometimes, so we strongly recommend you to use this unique transportation rental service at Yufuin.
Offering many different type of rentals, you can rent a horse wagon, classic car Scarborough, rickshaw, and bicycles at Yufuin.
Departing from JR Yufuin Station, you should definitely try this service when visiting Yufuin!
Let's Enjoy Best Tourist Attractions in Yufuin!
As we mentioned before, Yufuin accommodates many great sightseeing spots that are worth to visit. You can find not just many great onsen, but also restaurants and souvenir shops as well. Today we've listed up 10 different sightseeing spots in Yufuin that should definitely visit with your friends, family, or someone special!
If you like this article,
Please push the
"Like"
!
Deiliver the SeeingJapan's news to you!
Popular Articles in Same Category
Author