Top 10 Tourist Attractions & Best Things to Do in Beppu, Oita
Beppu is a spa resort in Southern Japan. The amount of hot spring water is No. 2 in the world and No.1 in Japan! Surrounded by nature, there are many spots worth visiting.
1. Beppu Jigoku hopping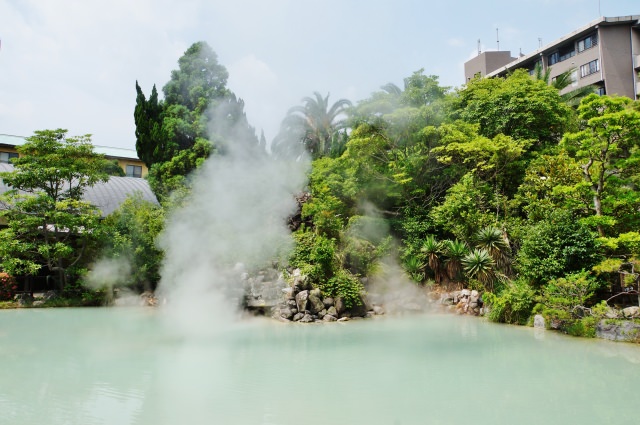 This is a standard course in Beppu area to visit seven spots of hot spring. It's called Jigoku (hell) because they used to be considered "dangerous" areas to get close since the hot spring splashes and water and steam are very hot.
In this course, you can see splashing hot spring, foot bath, and more. Even in some area, people keep alligators and tropical fish by utilizing hot spring steam.
2. Beppu ropeway
Beppu ropeway connects Beppu Kogen station (500m) and Tsurumi Sanjo station (1300m). It's a gondola type ropeway and you can enjoy an amazing view! The gondola can accommodate 101 people!
Also, at the ropeway station, there is a store selling Kyushu Shochu(liquor). They have more than 300 shochu and awamori, so stop by here too!
3. Beppu tower
Along with Tokyo tower and Tsutenkaku tower, this tower is considered one of the 6 tower brothers in Japan. It is 90m height and a symbol of Beppu city.
From the observatory on 17th floor, you can enjoy a beautiful view in 360 degree. Inside the tower, there are restaurants, karaoke, foot bath, and etc.
4. Tsurumi dake
10 mins ride by Beppu ropeway, this is an active volcano where you can enjoy a beautiful scenery each season. There is a paved road on top of the volcano, and you can walk around while enjoying the city view.
Also, there are seven Gods (Shichi Fukujin) and other Gods are worshipped there. It takes about 40 mins to walk around on the paved road, so it'll be a great walk.
5. Yukemuri observatory
This is the place where you can enjoy a great night view. It takes 30 mins by bus from Beppu station, then another 10 mins walk. At nighttime, mountains such as Tsurumi dake and Ogi dake are illuminated and the view is magnificient.
 
You May Also Like:

→Top 10 Tourist Attractions & Best Things to Do in Yufuin, Oita
6. Kifune Castle
This Kifune Castle is a historical museum where you can see Ukiyoe and Samurai pictures. In 1957, Shogun Minamoto Yoritomo built a fort around here.
There are beautiful art wall screens you can see. From the third floor, you can see a beautiful scenery of the city.
7. Kijima Kogen Park
Located in south of Tsurumi Dake, this is a big amusement park. The first wooden made roller coaster in Japan "Jupiter" is a popular ride, and 5 stories maze which is also made of wood is a fun attraction too.
There are total thirty four kinds of attractions. In summer, a pool is open and in winter, they offer a skate arena.
8. Oita kaori no Museum
10 mins walk from Beppu Daigaku station, this is a "scent" specialized historical museum. On the first floor, there are all kinds of perfume collected from all over the world.
On the third floor, you can make your own scent and aroma. There is an extra charge for this and you need to make a reservation. But this is a very unique place that you can experience it. So it's worth trying.
9. Global tower
Global tower is located in "beacon plaza", 15 mins walk from Beppu station. There is an observatory at 100m height of the tower and you can enjoy a great city view from there.
Beacon plaza is an international convention center and many events like concerts and sports games are held there.
10. Beppu Kaihin Sunayu
In east side of Beppu station and right next to Beppu city museum, there is Beppu Kaihin Sunayu. Beppu is a famous hot spring spot but this one is using sand.
You get buried in sand. The fee is 1030 yen and they have shower and all bath amenities. Must try!
Stop by at Beppu tourist attractions!
There are many interesting places relating to hot spring in this town. If you have a chance to visit, enjoy not only just hot spring but also all these spots!
If you like this article,
Please push the
"Like"
!
Deiliver the SeeingJapan's news to you!
Popular Articles in Same Category
Author