What You Must Try In Shirakawagou! The Best 10 Local Gourmets!
Gifu prefecture is located in the middle of Japan. Many tourists visit this area as there are a number of sightseeing places – Of all, "Shirakawagou" is one of the most popular destinations for tourists. All the houses look amazing! In this article, I will introduce the best 10 local gourmets in Shirakawagou. If you have a chance to visit, you should try them!
Salt Grilled River Fish
When you visit the area around Shirakawagou, river fish is what you must try first. Of all, "salt grilled river fish" is the best! It may sound very simple, but fish itself tastes so nice here in Shirakawagou.
There is a popular restaurant "Masuen Bunsuke". Here, starting from a salt grilled char, they have a wide variety of menus including a salt grilled rainbow trout and red spotted trout. Not only the a la carte menu, but also they offer some set meals as well.
Ramen
Many cities have their own Ramen, so that you can enjoy the taste of the locals. You just cannot miss to have Ramen when you go on a trip in Japan. Shirakawagou, which was designated as a world heritage site, has its own Ramen as well as other places – "Hakuraku" is where you can try Chinese noodles.
Traditional broth has a rich flavour and is addictive! This is definitely what you must try! Why not give it a go once you are in Shirakawagou, Gifu?
Goheimochi
If you want to eat and walk, "Goheimochi" is one of the best! Goheimochi can be had in part of Nagano, Aichi, and Shizuoka too, but Gifu also has an amazing Goheimochi. You can have it while taking a walk – it actually feels great to have a walk in cool air of Shirakawagou.
"Isanami" offers the best Goheimochi in Shirakawagou. Also, they have other menus such as a rice dumpling in a sweet soy sauce and fried mochi wrapped in seaweed. This shop is where you must visit once you are in Shirakawagou!
Pickled Red Radish
#REF!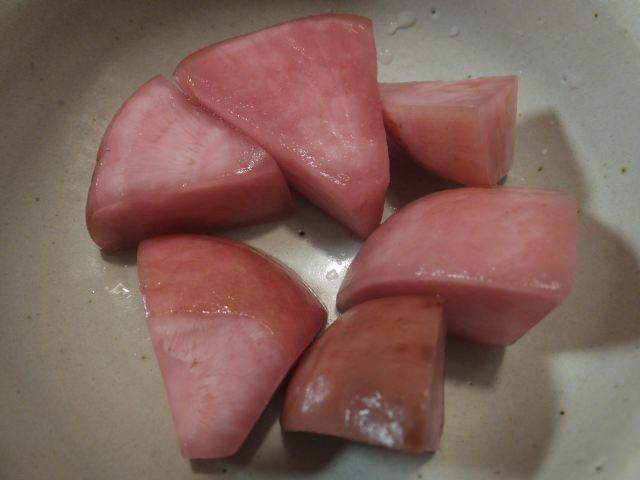 Many of you might think the hardest part of travelling comes when you must choose souvenirs. The older you get, the harder it gets to choose one not only for your friends, but also for colleagues, bosses, and even for neighbours. When it happens, there is actually a great souvenir – "Pickled Red Radish". Pickled in a sweet vinegar, red radish tastes mild and nice.
In Shirakawagou, you can get this pickled red radish at "Shirakawagou Miyage Memenko". Everyone will love it!
Hoba Miso
Have you ever heard of the seasoning called "Hoba Miso"? This is an unique seasoning originated in the area near the mountains, and has been loved by the locals in Gifu, where there are so many local governments such as a salt grilled river fish.
"Hakusuien" is to offer the best set meal of Hoba Miso. It also comes with Hida Beef, so you can actually enjoy 2 kinds of local gourmets at once in Gifu, and thus you will fully enjoy eating even when you don't have plenty of time.
Hida Beef
One of the well known local gourmets in Japan is "Hida Beef" as well as Matsuzaka Beef and Yonezawa Beef. Hida Beef is a Japanese Black cattle that grows for more than 14 months only in Gifu. The only cattles meeting the criteria can be called Hida Beef, so the taste is guaranteed.
Here at the roadside station "Shirakawagou", you can enjoy the popular Hida Beef! Hida Beef Hot Stone Gozen costs 1,680 yen, but it comes with 2 types of special sauce and it will satisfy yourself for sure. They also have a "Hoba Miso Gozen" as well, now let's try!
Keichan
Being loved by the locals with a catchy name, "Keichan" has been extremely popular. This is one of the traditional dishes in the southern area of Hida and Gujo City, and you will have chickens dipped in a special sauce with vegetables. Each community or shop have a different flavour, so try different shops when you go travelling!
"Irori" is the one that offers Keichan, and you will definitely be addicted to its taste and flavour and it is very nice that you cannot stop eating! If you, however, want to make it even more affordable, they also have other set meals too.
Pickled Vegetables Steak
What do you think of when you hear the word "Pickled Vegetables Steak"? It may sound a little weird, that is why this is one of the B-grade dishes.
However, this is what the locals love to eat apparently. If you have a chance to visit Shirakawa, this is what you must try! Grilling the pickled vegetables, pouring the eggs, and putting bonito flakes – it goes well with the steamed rice!
Mugi Soba
"Mugi Soba" is one of the popular dishes all around Japan, but the one in Gifu is definitely the best as it is exposed to the fresh air and water. Especially it often snows in winter in Shirakawagou, so it would be so nice to have Mugi Soba in the cold weather.
"Restaurant Keyaki" offers a wide variety of menus including Soba noodles. One of the recommended menus is "Sansai Soba" that locally grown wild plants are used. Soba, can be enjoyed either in summer and winter, goes well with wild plants.
Doburoku Youkan
For those who are planning to visit Historic Villages of Shirakawagou and Gokayama, a well known world heritage site, "Doburoku Youkan" is what you must look at! Doburoku Youkan is not only sweet, but it also contains some alcohol.
Enjoy The Gourmets In Shirakawagou!
How was it? I have introduced the best 10 gourmets when visiting Shirakawagou in Gifu in this article. Which one did you find the most interesting? Shirakawagou is one of the most popular destinations in Gifu as there are a range of gourmets, so just visit this area to find your favourite restaurants!
If you like this article,
Please push the
"Like"
!
Deiliver the SeeingJapan's news to you!
Popular Articles in Same Category
Author