The 10 Best Places for Stargazing in Kobe, Japan
The night view of the city of Kobe can be said to be one of the top 3 in Japan. Kyukyoryuchi and the Kitano area are lit-up in a romantic famous. Just walking in this area is worth the pleasure it will bring. However, enjoying the mountains and ocean is a specialty that you must be in Kobe to enjoy. Today we will introduce different spots to enjoy the night view of Kobe from!
1. Kobe City Hall 1st Building 24 Floor Observatory Lobby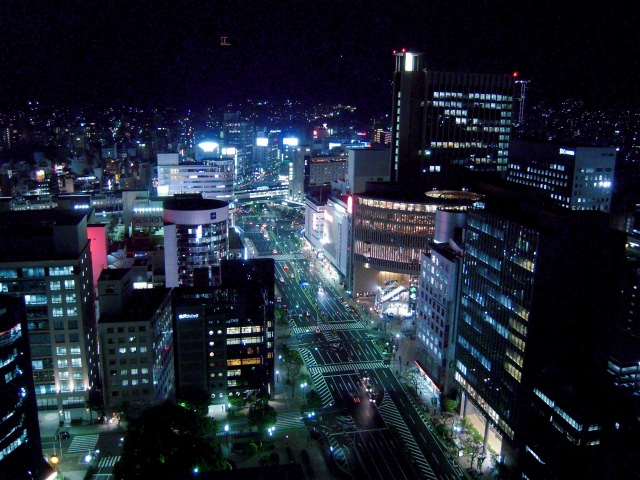 The Kobe City Hall is found along the main street "Flower Road" that stretches from Sannomiya Station towards the ocean. Here you can enjoy the view from the 24th floor for free. It is open to the public till 10 p.m. at night. Towards the ocean you can see Port Island and Meriken Park. Towards the mountains you can see Rokkosan and Kitnaomachi.
On this floor you will also find a restaurant and café. Come enjoy a meal or tea while you watch the evening to night view. Please do come and enjoy the view of Kobe from the Kobe City Hall!
2. Kobe Harbor-land Mosaic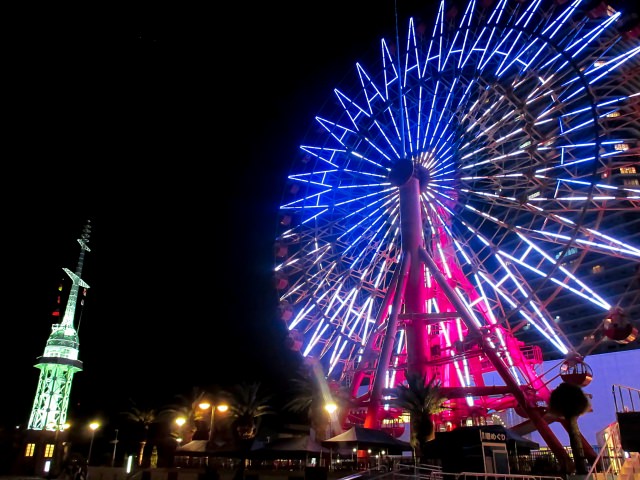 This mosaic Ferris-wheel is located to the east of Kobe Harbor-land on the Kobe Port waterfront. In the buildings here you will find different shops and restaurants. From the Ferris-wheel you can enjoy a view of the Kobe Port and from the deck of the Ferris-wheel you can enjoy a view of Meriken Park.
In addition, here along main street is a 100,000 bulb light up of the trees. All year long there is a romantic feeling here. This is a place we would highly recommend you check out!
3. Kobe Port Tower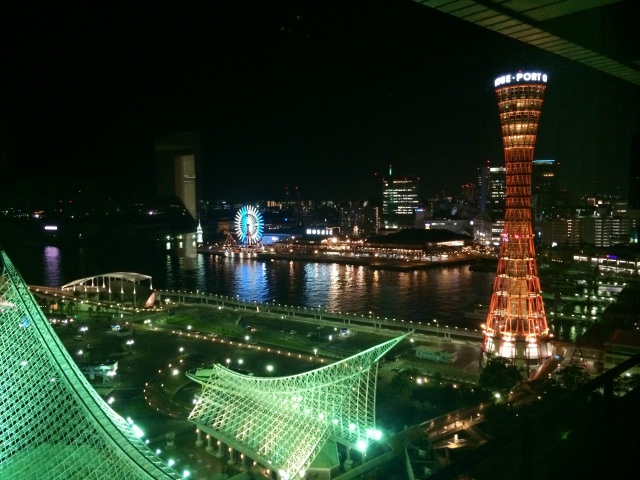 The port tower is a bold structure made up of red pipes. It's height is 108m. Since 1963 this has been a much loved landmark of Kobe. From the top you can enjoy a panoramic view that includes the Kobe Port and Rokko Mountain.
The 3rd floor of the observatory has a floor that slowly rotates 360 degrees. There is a café here where you can enjoy coffee or tea and see the whole 360 degrees in 20 minutes. Enjoy a view of the Kobe Harbor-land, Meriken Park Oriental Hotel, and unique illuminations found. Enjoy the view from Kobe Port Tower!
4. Kobe Concerto
Enjoy a view from a boat! You may find many different Kobe Port cruising plans with this company. There are plans that allow you to enjoy a meal and music as you take in the view of Kobe Port while cruising.
This is perfect for enjoy the waterfront landmarks such as the Port Tower, Meriken Park, Harbor-land or other portions of Kobe Port. This is a view found only on the water. Come to enjoy a view that cannot be found of land and enjoy cruising in Kobe Port!
5. Kobe Nunobiki Herb Garden
Take the ropeway found right by the JR Shin-kobe Station. Take this ropeway up and you will find yourself by the "Kobe Nunobiki Herb Garden". The view from the ropeway and the garden on top is spectacular! The ropeway is open during the summer specially till 8:30 p.m.
During the night hours the inside of the gardens is also lit-up in a beautiful fashion. You can also enjoy your favorite drinks at the terrace bar. When you are in Kobe try out this night view!
 
You May Also Like:

→The Best 10 Places to Eat in Kobe, Hyogo
6. Starbucks Coffee Kobe Nishimaiko
Akaishi Kaikyo Oohashi is the long bridge that connects Kobe and Awaji Island. There are many different lights ups offered nightly on this bridge. This is a very popular sight to enjoy when it comes to night lights of the Kobe area. A great place to enjoy the night view of the bridge from is this Nishimaiko Starbucks shop. The 2nd floor of this shop has large open windows great for night light viewing.
At night a view like that straight out of a painting can be found here of Akaishi Kaikyo Oohashi. This shop is open till midnight so it is perfect for a late night date. Come and enjoy this special view!
7. Maya Viewing – Mt. Maya Kikuseidai
Maya Mountain is a place is a great place to enjoy nature within the city of Kobe. From the cable car and ropeway you can enjoy "Maya View Line". The Mt. Maya Kikuseidai Observatory if found on the final stop of this ropeway. From here you can also enjoy a beautiful view during the day but it is the night view we particularly recommend. Here you can enjoy a view that expands beyond Kobe and towards Osaka Bay and the Kii Peninsula.
This is a night view location which is wonderful place well worth it for travelers. It is a location that has received 2 Michelin stars. Come enjoy the world from this vantage point!
8. Rokko Garden Terrace
Why not enjoy the night view from Mt. Rokko? Close to the peak of this mountain is Rokko Garden Terrace. This is a garden with 4 restaurants and 5 shops that can be visited. Come enjoy the food and souvenirs available from this vantage point.
There is a Rokko observatory known as the "Willow of Rokko". You can pay a fee to enjoy this observatory that uses natural energy to decrease its energy use. This observatory is lit up by LED. Enjoy the view from the observatory and ropeway that is unique in its features and location!
9. Venus Bridge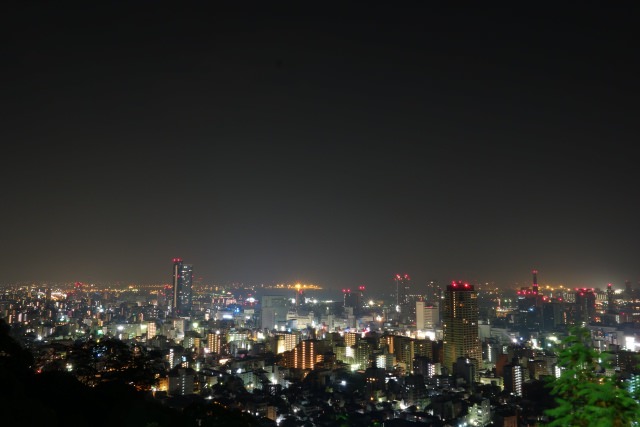 Venus Bridge is found to the North of Kobe and Motomachi and is where a people bridge connects Suwayama Observatory and Kinsei Observatory. This is a location that is easily accessed from the center of Kobe so it is a very popular night view location and is loved by the locals.
From the Venus Bridge observatory you can see the City Hall, Meriken Park, Port Island, and Kobe Oohashi up close making them that much more amazing to see.
Attached to Venus Bridge is an Italian restaurant known at GIANCALDO. Enjoy a special dinner with a special view of the city from the large windows. Come to this very special place in Kobe!
10. Kobe Yakei Tour
This is not a place to enjoy the night view. It is a location that introduces the best night views of Kobe. For just 500 yen you can get a ticket to both Kobe Harbor-land and Venus Bridge.
The tour is held every Saturday. The travel to these two locations may be slightly inconvenient by bus. However, with this tour you can enjoy both sights for a very cheap price. The tour is approximately 1 hours and 45 minutes and with it your will be told the most special points of the views you visit! Come, visit and enjoy!
Enjoy the Night Views of Kobe!
Kobe night view is worth a lot. It could be said to be the best place to view the mountains, city, and ocean by day and night. Many people come from all over Japan and also the world to enjoy the night view found here. Come to Kobe and visit the night view location that best suits you!
If you like this article,
Please push the
"Like"
!
Deiliver the SeeingJapan's news to you!
Popular Articles in Same Category
Author