Top 10 Tourist Attractions & Best Things to Do in Awaji Island, Japan
Awajishima is the largest island in Setouchi (the Inland Sea of Japan), which is famous for its breathtaking ocean view. It accommodates many great natural hot springs (onsen) such as Sumoto Onsen and Minami Awaji Onsen. You can also enjoy many delicious food made with Awajishima's onion, which tastes very sweet. Today we have listed 10 famous spots in Awajishima, which are definitely worth to visit!
1. England Hill

photo by kinaco157   /   embedded from Instagram
England hill is a natural park & farm in Awajishima. As you enter the park, you can see many beautiful and colorful flowers that bloom seasonally. You can also see and get closer with many cute animals such as rabbit, koala, and sheep.
In addition, this facility also offers a spacious area for barbecue. Children can also learn bread and ice cream making, which makes this park a perfect destination for the family to visit!
2. Awaji World Park ONOKORO

photo by ognh_5515   /   embedded from Instagram
Awaji World Park ONOKORO is a theme park in Awajishima that is perfect for all ages. There are various attractions for both children and adults, which are but not limited to: Ferris wheel, merry-go-round, and go-kart.
The main attraction of ONOKORO is the "Miniature World", where you can see many beautiful replicas of world's most sightseeing spots; from Pisa Tower to Taj Mahal, all displayed in 1/25 scale.
The park also offers a fun family experience such as: glassware making & candle making classes.
3. Uzushio Cruising

photo by tomokohama   /   embedded from Instagram
Uzushio Cruising is one of the most famous tour activities in Awajishima, which lasts for an hour. The journey starts at Fukura Port, where you will hop on a retro boat to cruise around Awajishima.
There are two different cruising boats at the Port, which are: Kanrinmaru and Nipponmaru. Both boats will take you to Naruto Strait, where you will see one of the biggest whirling tides in the world up close!
4. Takosenbei no Sato

photo by tamutamu33   /   embedded from Instagram
Takosenbei no Sato is a home to handmade octopus, squid, and shrimp senbei (rice crackers). The shop sells more than 40 different types of senbei. The senbei factory is located in the same area with the shop, so you can see the process of senbei making.
The shop also offers rest area factory, where visitors can enjoy free coffee. The shop is famous for the assorted senbei, which costs JPY 540 a bag.
5. The Memorial Hall of Uzunooka Oonarutokyou

photo by pansy2047   /   embedded from Instagram
The Memorial Hall of Uzunooka Oonarutokyou is a great place to visit for buying Awajishima's souvenirs. This area is located nearby the Awajishima South Interchange, which accommodates various facilities and shops.
You can find the science museum of Uzushio on the first floor, and on the second floor, you can find a local restaurant selling local seafood dishes.
On the third floor, you will find an observation deck where you can enjoy the entire view of Oonaruto Bridge. On top of that, you can enjoy one of the best burgers in Japan: Awajishima Onion Kitchen Uzushio Branch, which is famous for its Awajishima Onion Beef Burger!
 
You May Also Like:

→What to Eat in Kobe Chinatown! Best 10 Local Foods & Restaurants You Must Try!
→Top 10 Tourist Attractions & Best Things to Do in Kobe, Japan
6. Keinomatsubara Beach Resort

photo by y.kusachi   /   embedded from Instagram
Enjoy the beautiful sunset at Keinomatsubara Beach Resort, which is located in West Awajishima. Decorated with more than 50,000 pieces of pine trees, this beach resort is one of the most beautiful beaches in Japan.
Being famous among the locals and the foreigners, Keinomatsubara Beach Resort is always crowded during the high seasons. Therefore, we suggest you to visit Keinomatsubara Beach Resort during the low season to enjoy the sunset quietly!
7. Akashi Kaikyo National Government Park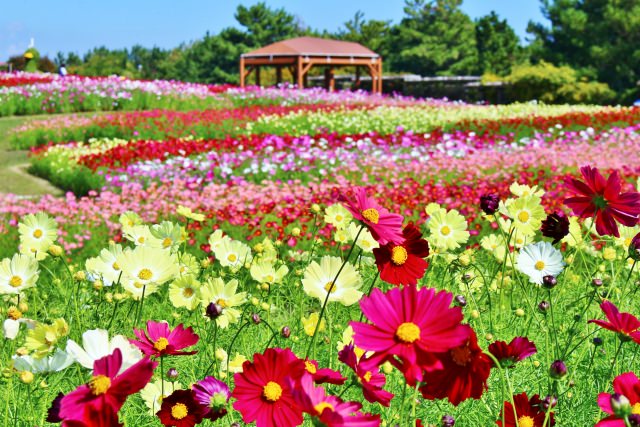 Visit Akashi Kaikyo National Government Park to enjoy the scenic view of the ocean and the colorful flowers of National Akashi Kaikyo Park!
Boasting 330 hectares of gross area, this park also offers huge lawn area and a large playground consisting 150 types of toys called "Yumekko Land". Perfect for all ages, this park is definitely worth to visit!
8. Awaji Puppet Theater

photo by harukaorin   /   embedded from Instagram
At Awaji Puppet Theater, you can enjoy watching a traditional Japanese puppet show, which has a history of over 500 years.
You can watch the Awaji Puppet Joruri, one of the most representative Japanese traditional theaters, which is also considered as the most important national intangible assets by the government of Japan.
Stop by this theater to have a glance on Japan's most traditional performing arts!
9. Janohire Outdoor Resort

photo by shu1974   /   embedded from Instagram
Janohire Outdoor Resort is an Auto camping and cottage area in Awajishima. You can enjoy fishing red sea bream and yellow fin tuna at the fishing park, and you can interact and swim together with the friendly dolphins at the dolphin farm.
Janohire Outdoor Resort offers great activities for the whole family!
10. Awaji Hanasajiki Park

photo by yura_eko   /   embedded from Instagram
At Awaji Hanasajiki Park, you can enjoy watching the beautiful and the colorful flowers throughout the year: rape blossoms & violets (spring), sunflowers & salvias (summer), and cosmos & matthiola (winter).
Since the park is on the highland (235 m-298 m altitude), you can also enjoy watching the panoramic view of the ocean and the Akashi Strait. With free entrance, how could you not visit this beautiful park?
Enjoy visiting Awajishima's Sightseeing Spots!
Awajishima is rich in nature and also blessed with great weather and climates, which makes this island a great destination for the holidays! It offers not just great leisure activities in the sea and the mountains, but also delicious gourmet of Setouchi as well!
If you like this article,
Please push the
"Like"
!
Deiliver the SeeingJapan's news to you!
Popular Articles in Same Category
Author