Top 10 Tourist Attractions & Best Things to Do in Furano and Biei, Hokkaido
Furano and Biei is an area beautiful in summer and winter! In the summer the hills are covered with flower gardens and in the winter these same hill are covered in snow. Here you can enjoy delicious food and be surrounded by the great outdoors. Here we will recommend the top 10 places you must visit in Furano・Biei.
1. Farm Tomita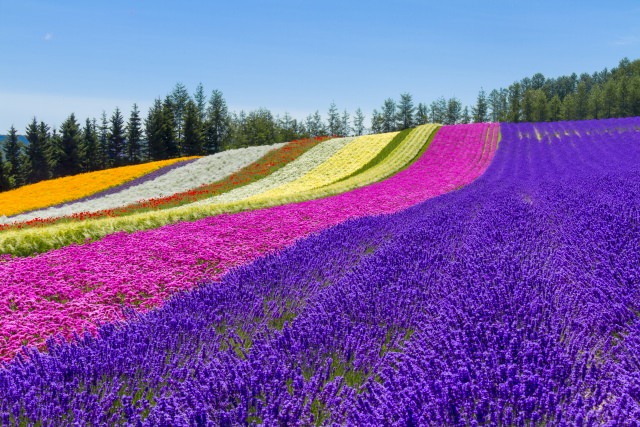 When you visit Furano, this is one place you must visit! This is where lavender has been produced since 1958. It is currently a traditional lavender field. This is a place that came to be known through the JR yearly calendar when JR still went by a different name.
It is especially beautiful because of the 7 colors of flower that are produced together creating a rainbow. These are the purple lavender, the white baby's breath, the orange California poppies and others. This is the view that will come to one the most when they remember Furano.
4km away from this farm you will find "Lavender East" where you will find fields of just lavender and it is absolutely beautiful. This only happens in July so be sure to be here at the right time of year.
Be sure to stop by the gift shop for lavender to take home with you! We can recommend first thing in the morning to view the flowers in relative peace.
2. Ningle Terrace

photo by moannaxdessire   /   embedded from Instagram
This is a shopping area found in the forest near Shinfurano Prince Hotel. It is made up of 15 log houses and is named after a dwarf in a story book. Enjoy natural goods only available here while walking through the forest shopping.
You will find different themes areas such as "Owl's forest" where you can purchase owl products or"Glass House" where you can purchase different ice or snowflake themed items.
You will also find "Chuchu's House" which is a coffee shop and "Paperwork House" that sells handmade postcards. You can also make your own items. The candles making, instruments making, and paper crafts are the most popular.
When the sun goes down the log houses and walkways are lit up to create a whole new beautiful atmosphere. You do not have to spend the night here to enjoy this shopping area however we can highly recommend the hotel as well. Hot springs are included and it is a great place to enjoy after you other excursions.
→The 10 Best Luxury Hotels and Ryokans in Furano, Hokkaido
3. Furano Cheese Factory

photo by yishu4410   /   embedded from Instagram
This is a must visit for cheese lovers! The cheese produced here is made from the milk of cows that live in the great outdoors of Furano. Through the glass you can see the cheese being produced.
On the 2nd floor you can see the history of cheese production and the different tools used. You can also experience milking a big mechanical cow! While you enjoy yourself here you are able to learn so much more about cheese. This is an experience you will not want to miss.
You can also see the creation of cheese gelato and other homemade gelatos such as pumpkin and sugar cane. You can also find rare cheese varieties such as "Furano wine" and "Onion" and their original butter.
You can also experience making your own cheese, ice-cream, or butter when you reserve ahead of time. Enjoy this location with your family or friends.
4. Flowerland Kamifurano

photo by robin.tw.jp   /   embedded from Instagram
This is the first class flower gardens of Furano. We can especially recommend June to September as the best time to visit. This is when the lupines, lavender, poppies, lilies, cosmos, marigolds, and sunflowers bloom one after the other. The spacious gardens are wonderful for walking through as well but you can also choose to use the tracker bus used by over 300,000 other people each year.
You can also enjoy making pillows with lavender or making flower pressed postcards. This is great with or without kids! The beauty of the land comes in different shades based on the season with asparagus in May to June, melon in July to September, and corn in August to September. Whenever you come there is delicious food of the land. In the fall you can enjoy all-you-can-eat potato and onion. Enjoy the gourmet and flowers of Hokkaido here!
5. Furano Wine

photo by nuruli01   /   embedded from Instagram
Along with being famous for lavender, Furano is also well known for its wine. In 1972 the "Furano City Grape Research Institute" was put in place and it focuses on making the best variety of grapes and the best wine.
The land and weather here is naturally best suited for grape making leading to today when many of the best wine is made here.
In the wine factory with red bricks you can see the production and fermentation process. Of course you can also taste what is available. There are also light ups when the grape blossoms are in bloom. In the shop you can enjoy many different types of wine and grape juice as well as other gifts to take home.
 
You May Also Like:

→Top 10 Tourist Attractions & Best Things to Do in Sapporo, Hokkaido
6. Bieisenka

photo by karikari0329   /   embedded from Instagram
This is a satellite shop of JA Biei. Here you can enjoy the fresh vegetables of Biei and freshly cooked rice. Once you have tasted why not purchase some vegetables and rice to take home.
You can also enjoy ice-cream, cake, and croquette among other delicious treats. You can also try the bread made in Biei. From April to November you can enjoy "Restaurant ASPERGE" that creates French cuisine with local ingredients.
Come enjoy the vegetables of the season as well as other products produced here including preserves, bread, and sweets. If you do not have time to stop here stop by the international terminal at Shinchitose Airport.
It is in this shop that you can buy the special "Biei Cornbread". There is often a line but it is worth the corn stuffed bread available here!
7. Aoiike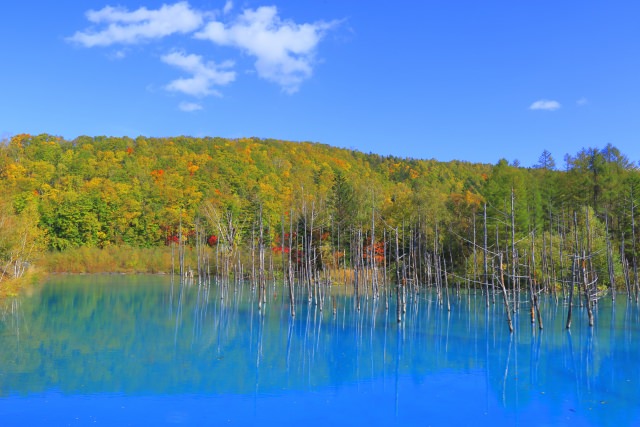 Do you wish to enjoy the mysterious "blue world" produced by nature? This "blue lake" appears just as its name indicates. This is due to the aluminum produced by the Shirakane hot springs upstream. When the mixture made is hit by the sun short blue lights spread.
It is most beautiful on early sunny morning. The pine trees make the view even more beautiful. More than 1,500,000 people come to see this amazing sight each year. Light ups are also held during the winter time. Come enjoy the nearby hot springs and the night and morning view of the "blue lake".
8. Serubunooka・Atomunooka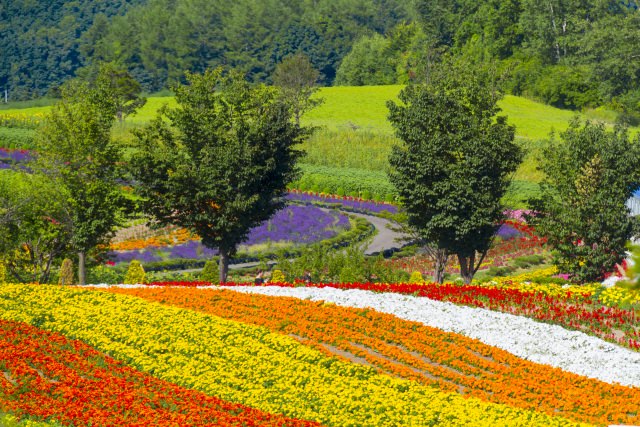 There are many different areas of Biei where you can enjoy flower gardens. This is a hill named after the last letters of the words "wind", "scent", and "play". The theme of this hill is "to play surrounded by the lovely scent of the wind".
The blooms begin in May and go through the beginning of October. There are many kinds of flowers to see including lavender, sunflower, poppy and others. Enjoy these gardens by feet or cart.
Nearby you can find the "Ken and Mary Tree" that was used in commercials. Please also stop by the restaurant, café, and original gifts found in the shop. Take a break from your driving here!
9. Country Terrace Koropokkuro

photo by 86pic   /   embedded from Instagram
Here you can enjoy many experiences in the nature of Furano! You can enjoy both outdoor and indoor activities here so it is a great place with something for each member of your group. You can make jam, ice-cream, butter, and sausage or other craft items with sheep's wool. After you create these they will make wonderful gifts.
If you enjoy being active you may enjoy horse riding, rafting, or the hot-air balloons. If you are with small children they can enjoy feeding the sheep. There are many different places with activities in Furano but this is the one stop shop!
10. Shinsainooka Flower Garden Observatory

photo by satojun0316   /   embedded from Instagram
The area of this hill is a spacious 15ha. The fields are filled with many colorful flowers from May to October. In the spring the tulips begin. From June the oriental poppies begin followed by the lavender in July, the sunflowers in August, the marigolds in Septembers, and the Kochia of October.
During these months there are always flowers in bloom. You may ride the tracker bus to enjoy the hills without losing your breath. The drivers are sure to stop at beautiful locations so you can capture the most beautiful shots.
While walking, you may enjoy croquettes made with the local potatoes. They are made with two different varieties. You can also enjoy the original soft cream in 5 different flavors ranging from milk to lavender.
You can also enjoy ice-cream placed in the half of a fresh melon. In the winter stop by to experience the snowmobiles. Our alpacas will welcome you all year long!
Enjoy the Sites of Furano・Biei!
What did you think of the sites we introduced? No matter the season or the members of your group there is always something to see here. Stop in and visit us! There are many site that can be found nowhere else!
If you like this article,
Please push the
"Like"
!
Deiliver the SeeingJapan's news to you!
Popular Articles in Same Category
Author