The 10 Best Places for Stargazing in Hokkaido, Japan
Where do you go to enjoy night view in Hokkaido? Hakodate and Sapporo are famous for night view spot. There are lots of tourists there every day. But also there are good spot that even local people don't know. Today, we would like to introduce good night view spot in Hokkaido, top 10. Don't forget to take camera with you!
1. Mt. Hakodate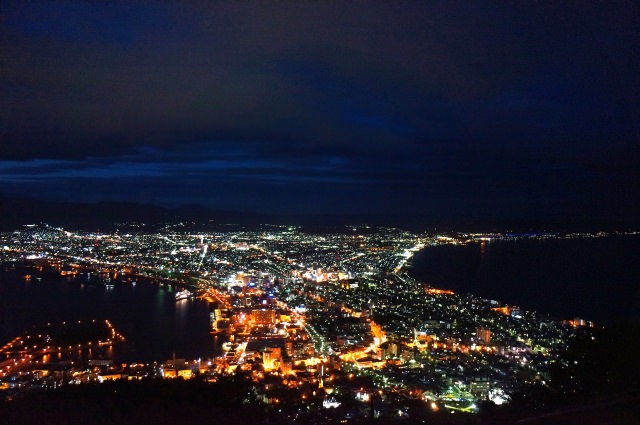 Mt. Hakodate is popular spot where everybody knows. There are several ways to get to the top of the mountain like bus or rental car but most convenience way is cable tramway. It takes about 3 minutes from the bottom by gondola that 125 people can fit to get the top which is 334m high.
From this spot, you can see Tsugaru channel on your right, and Hakodate bay on your left. It is rare that you can see city and ocean on both side. More tourists come from sunset, so it is better to be there before that. If you go to their website, you can check the time for night view and weather.
Night view changes depends on seasons. In spring, it is foggy, from summer to autumn, you can see fire for luring fish, and in winter, you can enjoy night view with snow. You can see beautiful night view any seasons. Don't forget to see night view when you come to Hakodate for sightseeing!
2. Otaru canal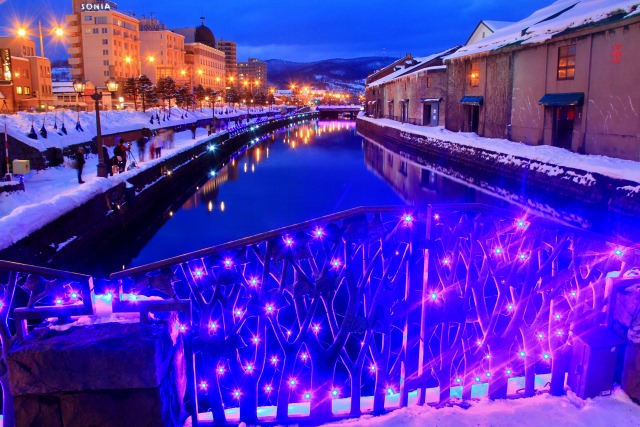 It always doesn't have to be from somewhere high to see night view. Sunset of Otaru canal when the gas lights start to be on. There are 63 gas lights along the canal, and storages also are light up and make like illusion.
It is one of the most popular sightseeing place in Otaru but you should check night time as it is different from day time. We suggest you to go to "Otaru yukiakarinoji" that is held every February.
They light up th city with snow candle. Lots of people visit from Sapporo for day trip but how about staying the night and spend time in Otaru?
3. Tomakomai Midorigaoka park

photo by ami51kix3   /   embedded from Instagram
There is a 56m high observation deck on the top of Midorigaoka park that is 910,000 square meters. It was built in 1998 as memory of 50th anniversary of Tomakomai city. It is the number one night view spot in Tomakomai. You can take elevator to 3rd floor and it is free.
Also you can see the view from inside, so even it is cold outside, you don't have to worry. They also have chairs so you can see the view sitting. You can see the whole city from there.
Also you can enjoy watching smoke from chimney of the factories as it is a city for factory. AT night, they light up fountain at the park. It is a good place for couple!
4. Mt. Moiwa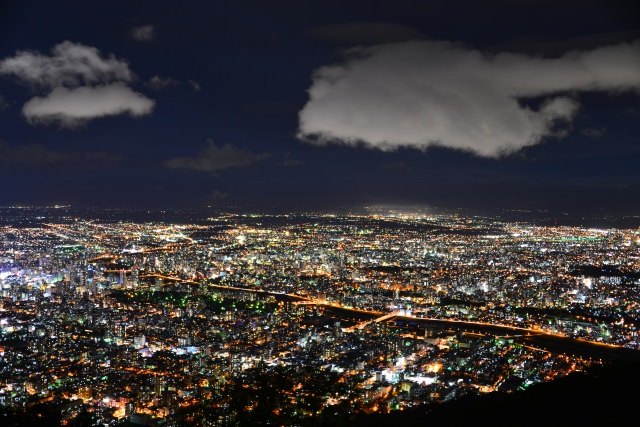 It is located center of Sapporo so you can see a whole city from the top of the mountain. You can take ropeway or cable car to the top of the mountain which is 531m high. It takes about 5 minutes from the bottom to the middle and from the middle yo the top, it takes about 2 minutes.
There are lots of nature at Mt. Moiwa and it was chosen Hokkaido nature 100. The night view from Mt. Moiwa would make you impress. It got 2nd place at "Night view summit 2015 in Kobe". There is a space that you can see the night view from inside at observation deck that is on the top of the mountain.
Also there is a bell called "Shiawaseno kane" and you can padlock to handrail. Ring the bell and padlock with message that you write with your lover.
5. Goryokaku tower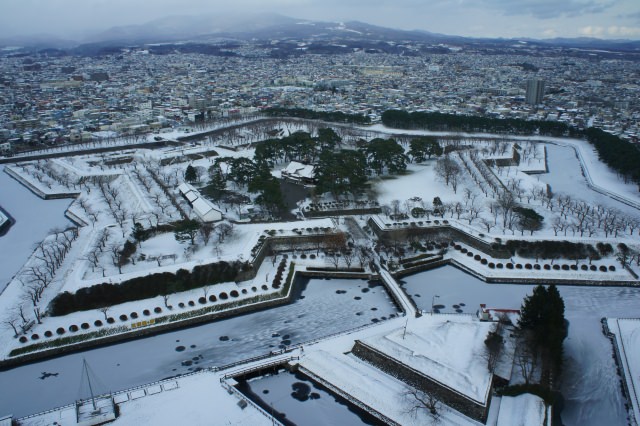 It is a popular spot as well as Mt. Hakodate in Hakodate. Goryokaku tower that is 60m high was built as memory of 100th year of Goryokaku. In 2006, second tower was built that is 107m high.
And they have two observation decks. Observation decks are pentagonand glazed, first floor is 86m high and second floor is 90m high. You can see Goryokaku which is shape of star and city of Hakodate under you.
Every December to February, they have event called "Goryokaku Hoshinoyume illumination". They light up with 2000 light. You can see the event from the observation decks too. If you want to enjoy night view of Hokkaido, this is a good place to go.
 
You May Also Like:

→The Best 11 Places to Eat in Hokkaido, Japan
6. Maruyama Tenboudai

photo by miki5713   /   embedded from Instagram
It is an observation deck that is in Maruyama kogen resort and it is 232m high. It is a simple building but the view from here is amazing. It is popular spot as well as Hakodate, Sapporo, and Otaru. You can enjoy different night view depends on time and seasons.
You should go to see view in daytime too. There is sidewalk that has 33 statues, so you may want to stop during driving. They have ski, golf and camp at Maruyama kogen resort.
Also there is hot spring called "Iwainai onsen", you can go to onsen without staying a night. The view from outside bath is awesome. It is a place that you can enjoy night view and hot spring with your family!
7. Wakkanai koen Kaiki hyakunen kinen tower

photo by wyc223   /   embedded from Instagram
It is a memorial tower of 100th anniversary of Wakkanai that was started in 1879 when the city hall opened in Soya. It is 80m high and located at 250m high from ocean. They have "Hoppo kinenkan" on the first and second floor.
They have information about Rinzo Mamiya and Ainu. Rinzo Mamiya is surveyor and explorer from the end of Edo period and found Mamiya strait.
Observation deck is located at 240m high and you can see Wakkanai park on your feet, Sarobetsu wilderness and Soya strait on south, Rishiri island and Rebun island on west. Enjoy the view!
8. Mt. Tengu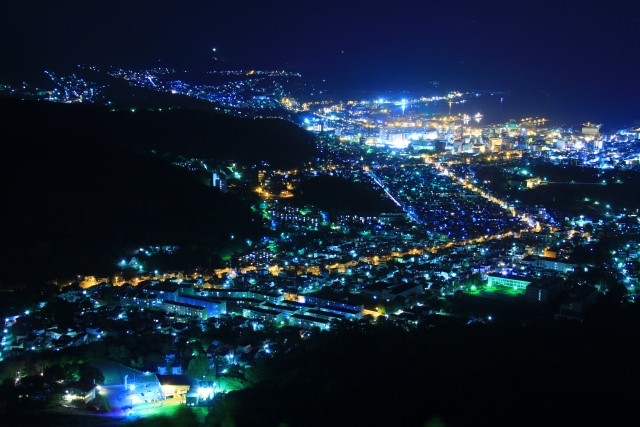 Otaru is popular city as they have canal, old style building, sushi and sweets. How about going to see night view to Mt. Tengu after having fun in day time? You can go to top of the mountain by "Otaru tenguyama ropeway". It takes about 4 minutes from the bottom to the top.
The view got one star on Michelin green guide Japan 2009 and 2011. They have first, second, and third observation decks other than top observation deck. The view of Tengusakuratenboudai that has a cherry blossom that is light up is very illusion.
You can see the mountains, Ishikari bay and city of Otaru under you. On top of the mountain, they have a store for gift, museum that shows 700 of tengu mask, and information about ski called Otaru ski information. It might be good to enjoy sightseeing in day time and wait for night view.
9. Asahikawa Nicolas tenbo tower

photo by sakkisan   /   embedded from Instagram
It is an observation tower that is located about 15 minutes from downtown in Asahikawa. From December to March, it gets busy with people who come for skiing as it is closest ski place from the town.
You can enjoy night view at observation deck that is on 330m high in ski season and from June to September. There is an elevator from first floor to the observation deck that is 50m high. Even local people don't know much about this place.
You can see a whole town from there. It became a popular place since it is submitted as holly place for a couple and they have a bell for a couple. Since this is a ski place, you need a car or taxi to go, so please be careful!
10. Horomitoge tenbo parking

photo by nari0410   /   embedded from Instagram
It is a parking for watching night view in Sapporo. There are lots of night view spots in Sapporo but this is a place that few tourists come. You can see whole city of Sapporo from here. It is like a treasure box.
Since it is a parking, you can watch night view from your car. If you can't see the view well because of the weather, they will give you coupon that gives you discount for next time.
There is a lavender garden near here. From middle of July to early August, You can see lavender carpet. It started from 120 of lavender, and now they have 5000 lavender. If you don't have time to go to Furano, this is a good place to go!
Let's enjoy night view in Hokkaido!
There are lots of places for night view that will make you want to come back again in Hokkaido. Don't you want to watch beautiful night view with your family, lover, or friends? Please visit the places we introduced today when you feel you want to watch night view. You can't see the same view twice! So if you feel you want to, please go now! Please make good memory with important person.
If you like this article,
Please push the
"Like"
!
Deiliver the SeeingJapan's news to you!
Popular Articles in Same Category
Author