The 10 Best Japanese Restaurants near Osaka Castle
There are lots of sightseeing spots like Tsutenkaku in Osaka but a spot that you can feel history is Osaka castle. It is located in Chuo, Osaka and lots of tourists visit every day. Today, we would like to introduce places to eat when you go to Osaka castle. Please visit!
1. Kushiman
Takoyaki and Okonomiyaki are famous food from Osaka but Kushikatsu too. It goes good with beer. If you want to eat real Kushikatsu, we suggest you to go to "Kushiman" where is located at 1 minute from JR Morinomiya station by foot.
It is only 100 yen for each stick. They have typical menu like vegetables and seafood, also they have like avocado and surry bread. They have about 50 kinds of sticks. How about trying them all?
2. Kukuru Hanatako
It may not be familiar to people in Kanto but they may hear the name. It looks like Takoyaki but totally different, that is "Akashiyaki". They put only octopus in it.
If you want to try Akashiyaki, we suggest you to go to "Kukuru Hanatako" that is near Kyobashi station. They also have Takoyaki too, so you can choose depends on how you feel on that day. If you come to 3.
3. Tokumasa
If you like udon, you know the soup are different from Kanto and Kansai. If you go to Kansai for trip or sightseeing, please compare the soup. "Tokumasa" is located near Morinomiya station and you can have udon from 600 yen.
You will be surprised that they have lots of kinds of udon. They have lots of toppings too. Please try it!
4. Botejaya
When you think about food from Osaka, you might think something with flour. And when you say flour, it means Okonomiyaki in Osaka. If you are asked what the famous food in Osaka from foreigners, you might say Takoyaki or Okonomiyaki.
"Botejaya" is located at 3 minutes from Keihan honsen Keihan station or JR Kyobashi station by foot, you can enjoy Okonomiyaki like pork or shrimp. They also have Monjya or omelette Yakisoba. If you want to enjoy Osaka food, this is a good place to go.
5. 551 Horai
"Butaman" is a famous food that you can eat at China town. But you can also eat in Osaka. It's not only cheap but you can grab and walk so you can enjoy eating when you go sightseeing.
"551 Horai" is located at 1 minute from Kyobashi station by foot. Their butaman is 340 yen for 1 pack which has 2 butaman. If you share with your friends, it costs only 150 yen, so it may be good for snack.
6. Juhachiban
If you want to eat a lot, let's go to Yakiniku. You can eat fresh yakiniku with white rice. "Juhachiban" is located at 3 minutes from subway Nagahori Tsurumiryokuchi line Kyobashi station and 7 minutes from JR Kyobashi station by foot.
Cheapest menu is 500 yen. They have lots of menu like cold ramen so you won't get tired.
7. Hirose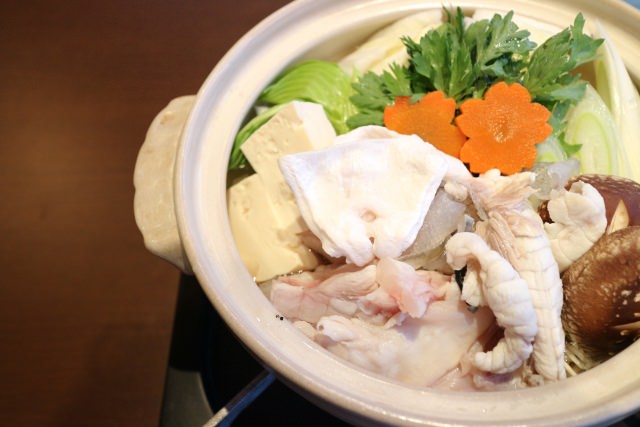 Do you know "Tecchiri"? You may not hear often in Kanto. "Tecchiri" is blowfish nabe that was made in Osaka. Of course you can eat in Kanto too but if you come to Osaka, you should try.
Our suggestion is "Hirose" that is located a few minutes from Tenman-bashi station. It costs about 5000 yen for one so you may feel it is expensive but it tastes good. They have other menu too. Let's relax.
8. Matsui
If you come to Osaka, you have to eat this! "Doteyaki" is what they boil slice of beef with miso and mirin. It sounds like going good with beer doesn't it?
Matsui is located at Kyobashi station and you can eat Doteyaki for only 280 yenish. They also have like Oden or yudofu, so you may want to go again and again on weekends. Please visit!
9. Benkei
Have you ever heard of Kayaku gohan? It is called Takikomi gohan in Kanto. It is popular as home meal and each family or restaurant uses different stuff to make it so you can enjoy different Kayaku gohan depends on where you go.
"Benkei" is located at a few minutes from Osaka business park station by foot, and you can eat Kayaku gohan that reminds you of old days. They also have like Udon or Soba. It is a good place to go for lunch!
10. Marushin
"Kasuijru" is not known well in Kanto but it is a soup that a part of sake is boiled. You will see it at like Izakaya. It is good when you are cold in winter.
"Marushin" is where they serve Kasujiru. It is located at 2 minutes from Kyobashi station by foot and it is famous menu at this restaurant. Please try!
Let's eat good food in Osaka!
Osaka is where you can find lots of food. Lots of people may go there for food. Today we introduced places to eat around Osaka castle. If you go to Osaka for sightseeing or trip, please visit places we introduced today!
If you like this article,
Please push the
"Like"
!
Deiliver the SeeingJapan's news to you!
Popular Articles in Same Category
Author