The 10 Best Places to Visit in Osaka City
Osaka may be known especially for its food. However, not only is the food amazing but also the shopping and so much more entertainment! Today we will show you the best places to visit in Osaka.
1. Umeda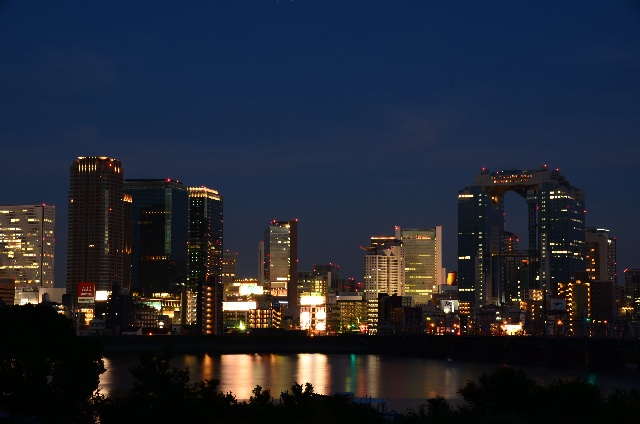 This is the place you cannot forget to mention when talking about Osaka. This town has been shopping and entertainment district for a long time. Thing have only continued to be more lively as new development has continues to take place.
Especially in front of the station is where many fashion shops and restaurants gather and the easy access to this location leaves nothing lacking. If you want to enjoy the city atmosphere be sure to stop by Umeda.
■Information
Name: Umeda Station
Address: 8-6 Kadota-cho Kita-ku Osaka City, Osaka Prefecture
2. Osaka Castle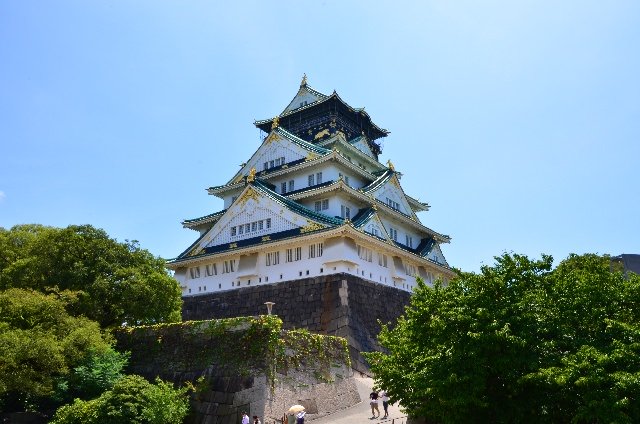 Osaka Castle is for those who want to enjoy the history of Osaka. You may imagine Osaka as a place filled with high-rise buildings. However, among that Osaka Castle takes its firm stand to remind of the history of Osaka. You may be amused to see this castle alongside the high-rises but this is Osaka so come and enjoy!
Osaka Castle offers many different views depending on the season and time of day you decide to visit. In the spring the cherry blossoms are beautiful and in the fall the bright colored leaves are spectacular. Of course you will enjoy a view of the castle from far off if you are in Osaka but we highly recommend coming up for a closer visit.
3. Umeda Sky BLDG (Kuchu-teien)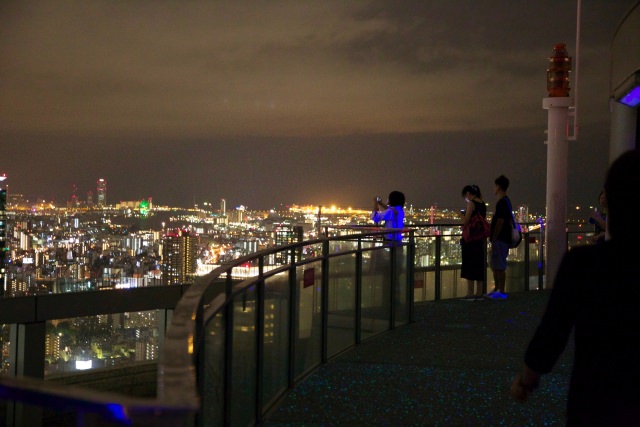 There are many high-rise buildings in the Umeda area of town. However, this is one of the most impressive ones. The outside of the building also has an interesting design and seems to call invite you to it.
We recommend the daytime view as well as the nighttime view. During the evening the number of couples increases incredibly. Please do not hesitate to visit as you will not be disappointed!
4. Dotonbori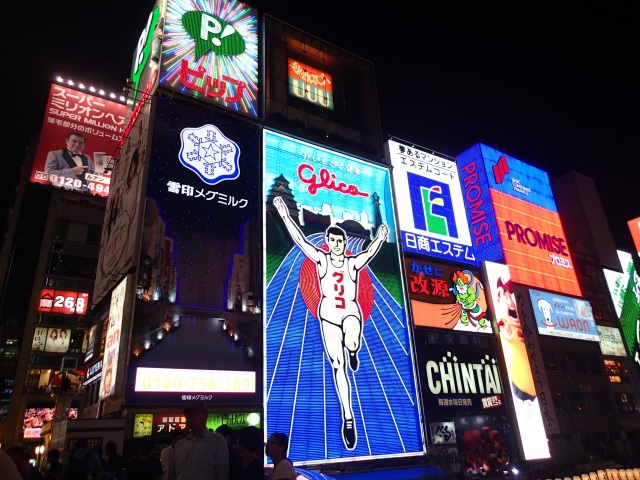 Osaka offers many foods such as Kushikatsu and Takoyaki. Dotenbori is where you can find many of these all gathered in one location! Many locals and tourists visit here every day. When it begins to get dark the neon light began to shine all over town and the town becomes all the more lively.
You may also find the Glico board that often appears on the TV and it is must when you visit to take a picture in front of it. Come to Dotenbori and make amazing memories!
■Information
Name: Dotenbori
Address: Dotenbori Chuo-ku Osaka City, Osaka Prefecture
5. Tsutenkaku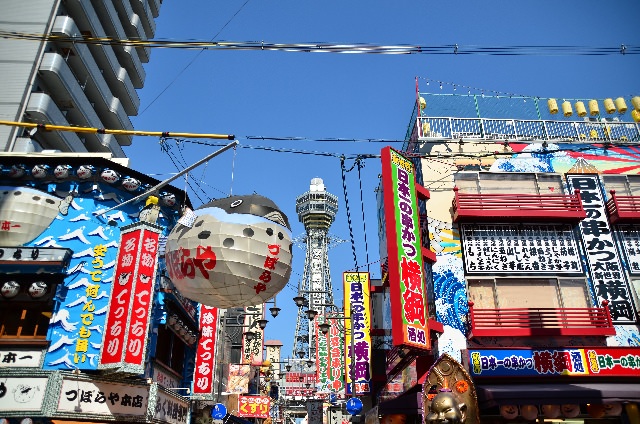 Next, we will introduce to you a shopping street that has been popular for many years where you can experience the shopping history of Osaka. This is "Shinsekai". In the center of Shinsekai is "Tsutenkaku", an observation tower from which you can observe the district.
The god "Biriken-san" is displayed all over the shopping district and it is said that if you touch his foot it will bring you good luck. Here you can enjoy a taste of Osaka that is very distinct. Please come and visit!
 
You May Also Like:

→The Best 10 Places to Eat in Osaka
6. Abenoharukasu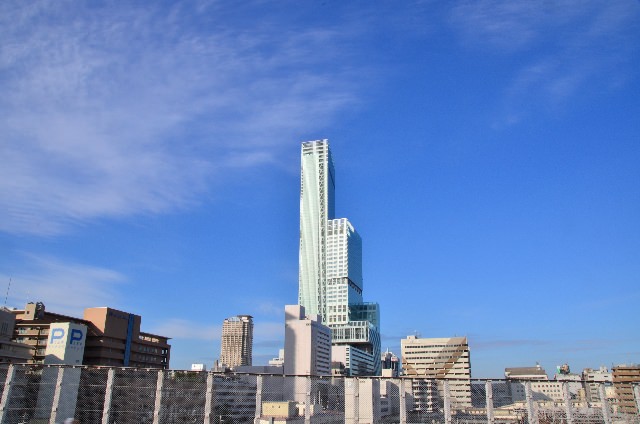 This is one of the newer places you must see in Osaka as it only opened in 2014! This is a large high-rise with shops and art galleries inside. You will also find offices and hotels occupying some of the floors.
The thing you must see here is the garden and walkway located on the 58th to 60th floors. The view seen from here which is the 3rd tallest building in Japan is spectacular! If you are lucky and it is sunny, it is all the better. Come and enjoy the panoramic view found here.
7. Tenoji Zoo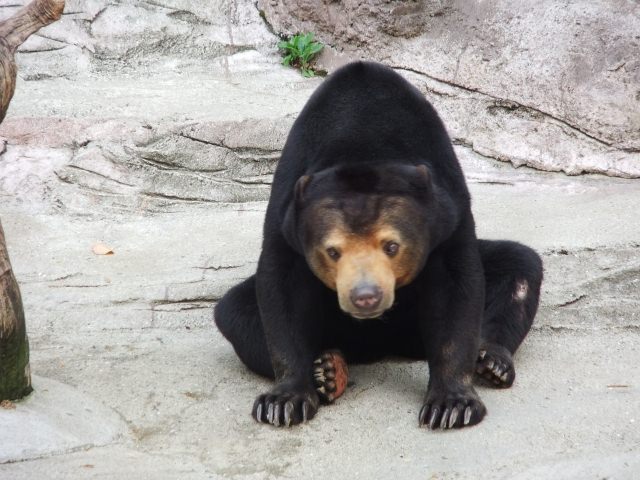 This zoo was opened in 1915 and has a rich history. Here you can find the popular elephants, beautiful polar bears, and cute smaller animals. Because it is found near Abenoharukasu why not enjoy both in one day!
The night zoo is especially popular with many animals you cannot see during the day! The schedule for the night zoo does change so be sure to check the schedule to be sure you do not miss this amazing experience.
8. Kaiyukan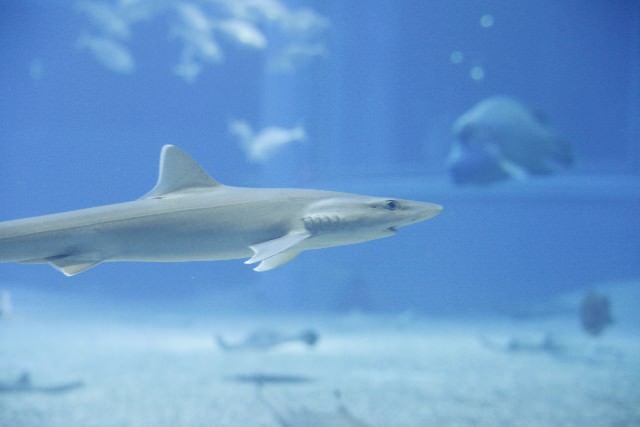 Next we will introduce the sea life of Osaka. Here at "Kaiyukan"you can find 30,000 creatures within the eight story building. We especially recommend the whale shark and other species specific to Japan. You are sure to be amazed here!
So many people visit with their families, loved ones, or friends. This aquarium is so spacious and has so much to offer that you could be here all day! Come and enjoy!
9. Tenpozan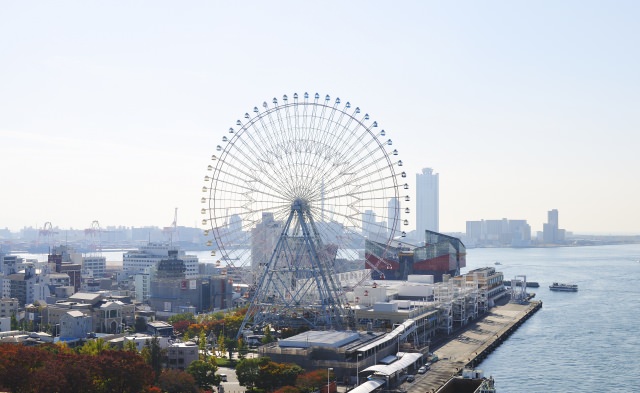 There are many different attractions found near the Kaiyukan mentioned above. The ferris wheel next to the aquarium is a size that is world-class. You will also find many shops and restaurants as well as street performers nearby.
In addition, as this area is on the harbor you will be able to enjoy the traffic of ships all day long. After you have enjoyed the aquarium, shopping and other entertainment be sure to enjoy the port! Please do visit and enjoy all Tenpozan has to offer.
■Information
Name: Tenpozan
Address: 1-1 Kaigan-dori Minato-ku Osaka City, Osaka Prefecture
Map: Map to Tenpozan
10. Universal Studios Japan

photo by whoknow_s   /   embedded from Instagram
When sharing the sites of Osaka this place must be mentioned! Tokyo has Disneyland but Osaka's Universal Studio is by no means inferior. They have special events all year long that are sure unique and sure to get your interest.
There are many different themed areas within the park. Especially Halloween and Christmas season are busy. However, even among the crowds there is so much to enjoy! Why not stop by while in Osaka?
Let's Enjoy the Sights of Osaka City!
What did you think of the sights of Osaka, the 2nd city of Japan? There are so many areas to explore in this extremely popular city that we could not possibly share them all. Please come to Osaka with lots of time to enjoy all the sights and find the spot that you truly enjoy!
If you like this article,
Please push the
"Like"
!
Deiliver the SeeingJapan's news to you!
Popular Articles in Same Category
Author