Top 10 Tourist Attractions & Best Things to Do in Dotonbori, Osaka
Dotonbori used to be filled with traditional Japanese theatres, which is why is grew to be the biggest, best entertainment district in Osaka. Along with Soemoncho, it became the center of food for South Osaka (known as Minami) and many cheap, delicious restaurants were born. Now Dotonbori is filled with souvenir shops for tourists, cheap shops, and is one of the most popular places to visit in Osaka. In this article, you will read all you need to know about not only popular tourist sites, but also about where the locals love to go!
1. Kuidaore Taro

photo by _____star_____   /   embedded from Instagram
"Kuidaore Taro" (eat-until-you-drop Taro) is the symbol of Osaka. It is a very popular doll in Dotonbori. When hearing the word "Osaka", the first thing that comes to most people's mind is this doll. This doll used to be placed in front of a restaurant named "Kuidaore", which is where it got its name from.
Now it welcomes guests in front of the Chuza Kuidaore Building, which is always buzzing with many tourists. This Kuidaore Building doesn't get its name from nowhere –from delicious Osaka gourmet foods and souvenirs to Japanese comedian shows you can enjoy all there is to offer in Osaka in this building.
It is said that you can't say you visited Dotonbori without meeting Kuidaore Taro, so first let's go and see him!
■Information
Name: Kuidaore Building
Address: 1-8-22 Dotonbori, Chuo-ku, Osaka-shi, Osaka
2. Kani-Douraku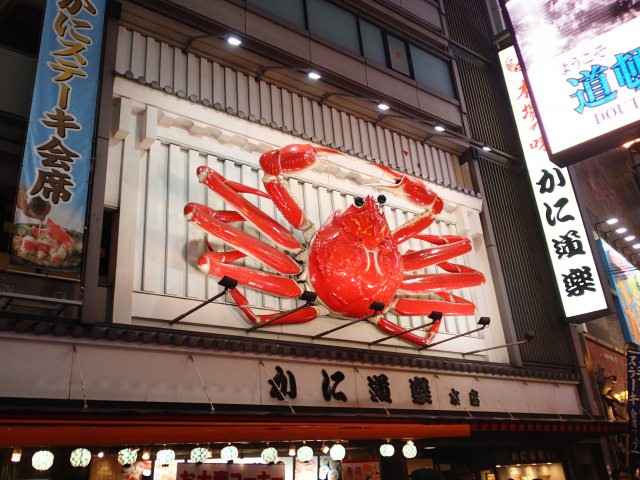 The big crab in front of the restaurant "Kani Douraku" is also a very famous symbol of Osaka and Dotonbori, along with Kuidaore Taro. Kani Douraku uses this huge moving crab decoration instead of a signboard. When visiting Osaka, many tourists take pictures of this huge crab.
"Easy to understand, straightforward" –this crab represents the character of Osaka locals. This crab is of course a must-see, but the crab dishes in this restaurant are amazing and definitely worth giving a try. You can enjoy many dishes filled with crab. For those crab-lovers out there, this is heaven!
■Information
Name: Kani Douraku Dotonbori
Address: 1-6-18 Dotonbori Chuo-ku Osaka-shi Osaka
TEL: +81-6-6211-2011
3. Guriko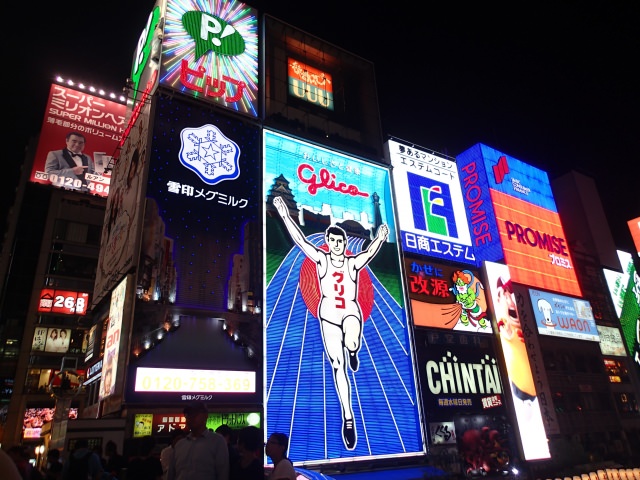 You've read about Kuidaore Taro, and the huge moving crab in front of Kani Douraku, but now we're going to introduce another extremely famous symbol of Osaka.
This is the ultimate symbol of Dotonbori. It is a popular place for taking pictures. "Guriko" is a picture of a runner raising his hands in victory and was originally used on the package of a snack, but now it is known as the symbol of Dotonbori.
It is said that long time ago, the Guriko signboard was drawn with paint. Now they use LED lights, so at night the signboard is shining and fits in very well with the nights of Osaka. When visiting Osaka you should definitely go to see this Guriko signboard!
■Information
Name: Guriko signboard
Address: Dotonbori, Chuo-ku, Osaka-shi, Osaka
4. Hari-Jyu

photo by kaa0r11   /   embedded from Instagram
"Hari-Jyu" is one of the most popular restaurants in Dotonbori, and is located at the edge of Dotonbori. This place is actually a meat butchery, and the sukiyaki you can eat at the second floor is extremely popular. In this sukiyaki they use their delicious beef and Tokyo welsh onions. Tokyo welsh onions are white leeks. They are very sweet and tasty.
The Tokyo welsh onions and beef are a perfect match, making this restaurant very popular. The second floor is a sukiyaki restaurant, and the first floor is not only a butchery but also a western food restaurant. The beef cutlets in the western food restaurant here are also very delicious and it is also the soul-food of Osaka locals, so you can try that too.
■Information
Name: Hari-Jyu Dotonbori
Address: 1-9-17 Dotonbori, Chuo-ku, Osaka-shi, Osaka
TEL: +81-6-6211-7777
HP:http://www.harijyu.co.jp
5. Shochiku-Za

photo by stmknkos   /   embedded from Instagram
The Shochiku-Za is no doubt the most famous theatre in Osaka. Here you can watch Kabuki, or plays of famous actors. Of course you can watch traditional performance arts such as Kabuki or Rakugo, but these days you can also watch idol shows.
When you visit Dotonbori we encourage you to stop by Shochiku-za, pick up a program and find something you might be interested in. Even if you don't have time to watch a show, just seeing the Shochiku-za from the outside is worth stopping by for. It is close to Midosuji station and a great place to meet up with friends.
■Information
Name: Shochiku-za Osaka
Address: 1-9-19 Dotonbori, Chuo-ku, Osaka-shi, Osaka
TEL: +81-6-6214-2211
HP:http://www.shochiku.co.jp/
 
You May Also Like:
→Top 17 Tourist Attractions & Best Things to Do in Osaka, Japan
6. Namba Grand Kagetsu

photo by toy628   /   embedded from Instagram
When many people think of Osaka, "Yoshimoto Shin Kigeki" is one of the first things to pop up in their minds. Yoshimoto Shin Kigeki is a comedy troupe loved by all people in Japan. The main theatre of this comedy troupe, Namba Grand Kagetsu, is located right in Dotonbori! Here you can enjoy the human-interest comedies shows.
There are many shows all day from morning to night, so you can pick one to go whenever you like. Long ago this used to be a place where you could stop by to watch freely, but these days it is so popular that sometimes you can't get in if you don't have a reservation, so we encourage you to check if you need a reservation beforehand before stopping by!
■Information
Name: Namba Grand Kagetsu
Address: 6-11 Namba Sennichimae, Chuo-ku, Osaka-shi, Osaka
TEL: +81-6-6641-0888
HP:http://www.yoshimoto.co.jp/
7. Houzenji

photo by janthekey   /   embedded from Instagram
In the center of Downtown Namba in Osaka, there is one very popular tourist site that remains the way it looked from a long time ago. That place is "Houzenji", or "Houzen Temple". Here you pour water on a statue of hudo called "Mizu-kake Hudo", put your hands together, and pray.
The "Mizu-kake Hudo" is said to grant any wishes from success in business to romance, so we encourage you to take the chance and try wishing for something!
Also, there is a famous street called "Houzenji Yoko-cho" nearby the temple. In this street almost 60 restaurants of Osaka local food are lined up. You can eat food such as Kushi-katsu or Okonomiyaki. If you visit the Houzenji Temple, Houzenji Yoko-cho is the perfect place to stop by and eat some delicious local foods.
We recommend the "Meoto Zenzai", where you can eat delicious Japanese zenzai. It's been introduced in books and used as a shooting spot for a movie, so it is very famous. 10 years ago there was a terrible fire burning down many of the stores on this street, but now they are built once again, new and better-looking than before!
■Information
Name: Houzenji Mizu-kake Hudo
Address: 1-2-16 Namba Chuo-ku Osaka-shi Osaka
TEL: +81-6-6641-0888
HP:http://houzenji.jp/
8. Bokusui

photo by k_rikopin   /   embedded from Instagram
When you visit Osaka, shopping and sight-seeing is of course very fun, but you can't leave without eating Osaka local specialties! For those of you who would love to try, "Bokusui" is the restaurant for you.
You can eat local specialties while sipping on some Japanese sake from all over the country. The ladies that bring you your food and drinks are all dressed in Japanese traditional clothes.
When you enter the restaurant, you will be greeted by the staff members saying, "Welcome home!" Please enjoy the food that has been loved by Osaka locals from a long time ago.
Also, in the Houzenji Yoko-cho we introduced earlier, there is a restaurant named "Kigawa" which is said to be the first restaurant to serve Japanese cuisines, so we recommend that restaurant too.
→The 10 Best Places to Eat in Dotombori, Osaka, Japan
■Information
Name: Mingei Shubou Bokusui
Address: 6-6 1 cho-me Namba Chuo-ku Osaka-shi Osaka
TEL: +81-50-5798-6014
HP:http://www.bokusui.net
9. Tako-Ume

photo by reoreo0319   /   embedded from Instagram
One of the most popular Osaka local specialties is a dish called "Kanto Daki". Some of you may already know about it, but Kanto Daki means "Oden". And in Osaka, "Tako Ume" is the place for you if you want to eat Kanto Daki! You can eat soft octopus and an oden called "Koro", which is the skin of a whale.
The foods are delicious, but the atmosphere of the restaurant is another reason that makes it so popular. In Osaka there are many restaurants; restaurants with historic feels, with delicious foods –but in all of these restaurants you can enter without hesitation and feel at home wherever you go. That is one of the biggest charms of Osaka.
■Information
Name: Tako Ume
Address: 1-1-18 Dotonbori Chuo-ku Osaka-shi Osaka
TEL: +81-6-6211-6201
HP:http://takoume.jp
10. National Bunraku Theatre

photo by nakkyo38   /   embedded from Instagram
If you are interested in Japanese culture or traditional arts, we recommend the National Bunraku Theatre, which is not far from Dotonbori.
Bunraku is a traditional Japanese puppet show in which the story is narrated and sung to a shamisen accompaniment, and it is a very popular kind of Japanese art. It is possible to watch Kabuki and Nou all over Japan, but Bunraku is something you can only watch in Osaka.
The prices aren't too high, which makes it a popular place to visit for tourists. The beautiful sounds of the shamisen, the powerful voice of the narrator, and the graceful moves of the Japanese dolls…you can see the highness of the cultural level in Osaka. While you are in Osaka, wouldn't it be nice to experience something you can't experience anywhere else?
■Information
Name: National Bunraku Theatre
Address: 1-12-10 Nihonbashi Chuo-ku Osaka-shi Osaka
TEL: +81-6-6212-2531
HP:http://www.ntj.jac.go.jp/
Let's enjoy all there is to enjoy in Osaka at Dotonbori!
We hope this article gave you some ideas about where to go on your next trip to Osaka. Osaka has a longer history then Nara or Kyoto, and it is a place where many new cultures were born. Osaka has the power to create new cultures after the other. It is a very fun place and you will feel the energy of the people there. We hope you stop by Osaka for the experience to last a life time!
If you like this article,
Please push the
"Like"
!
Deiliver the SeeingJapan's news to you!
Popular Articles in Same Category
Author