Top 17 Tourist Attractions & Best Things to Do in Osaka, Japan
Osaka has been attracting people from around the world. This city offers you everything from a beautiful traditional castle to a super-sized outlet shopping center, a lot of delicious local cuisine and a world-class amusement park. Yes, this massive city has a lot to see, eat and experience. Our choice of 17 recommended places includes popular sightseeing spots, and also best-hidden spots where you can escape from the hustle and bustle of the city. Enjoy the exciting city Osaka to the fullest!
1. OSAKA EXPO PARK

photo by hanakami_ouji   /   embedded from Instagram
Expo Park was built on the former site of the Japan World Exposition held in 1970. You can spend a full day here, as the park is huge with a lot of attractions and various cultural and sports facilities, such as museums, pavilions, spa, athletic playground, cycle boats, and different types of gardens where a variety of flowers bloom seasonally.
Here in the park, you will also get to see one of the symbols of Osaka, "Tower of the Sun" created by the world famous artist Taro Okamoto. A variety of events are being held every weekend. Highly recommended for those looking to have a relaxing day somewhere not too far from the center city.
2. OSAKA AQUARIUM KAIYUKAN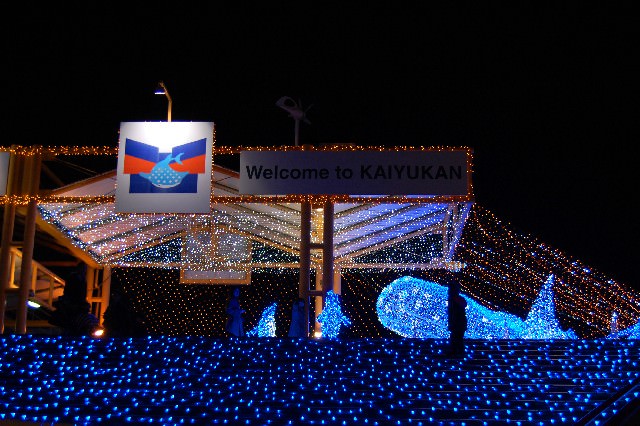 Kaiyukan is one of the most popular places to visit in Osaka. The spectacular aquarium starts from the "Aqua Gate" where you can experience the feeling of walking under the sea. The route leads you to the various areas, each of which shows the different environment and ocean of the world, such as Alaska, Antarctic Ocean, Pacific Ocean, Great Barrie Reef etc.
Some 30,000 marine creatures representing 620 species are being exhibited, including a whale shark swimming in the huge tank. At the new interacting exhibiting area, you can actually touch some of the creatures.
We recommend you to check "Feeding Time" of your interested marine animals in advance on the website, and visit its tank on that time. You will get to listen to the detailed explanations of each marine animal provided by a feeding staff.
3. UNIVERSAL STUDIO JAPAN

photo by 94_minseok   /   embedded from Instagram
Universal Studio Japan is Osaka's biggest tourist spot. The number of attractions has been growing every year and different seasonal special events are being held. It offers various types of attractions from thrilling rides to cute children's park.
You can also enjoy shopping various kinds of goods for your souvenir, which of many you can only buy here. Restaurants offer unique and delicious food & drink menus under the theme concept of each area.
You'll be welcomed by many characters like Sesame Streets, Snoopy, and of course by some popular Japanese characters like Hello Kitty. It offers so many shows, attractions and themed areas including the Wizarding World of Harry Potter. This attractive amusement park is definitely a must-go to all visitors in Osaka.
→The 7 Best Must-Buy Souvenirs at Universal Studios Japan in Osaka
4. OSAKA CASTLE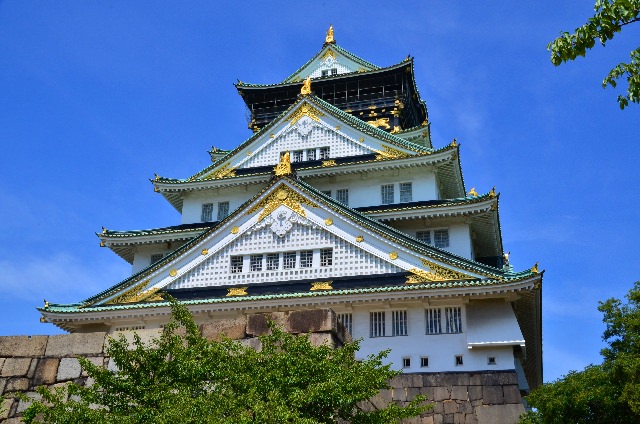 Osaka castle is the most popular sightseeing spot among Osaka's heritage sites. The castle was built by the samurai Toyotomi Hideyoshi, and has been much loved by locals for many generations.
Inside the castle, you can not only see the exhibitions but also try on a helmet and surcoat to dress like a samurai. The souvenir shop offers some special goods of the castle, which you can only buy here.
This place is also famous for beautiful cherry blossoms. During the cherry blossom season, the place gets vibrant with many street stalls and a lot of people gathering for hanami party.
5. Instant Ramen Museum

photo by meniscuszine   /   embedded from Instagram
Did you know the world's first instant ramen noodle "Chicken Ramen" was invented by one Japanese guy in Osaka in 1958? Since then, the popularity of instant ramen has been growing all over the world.
At this museum located in the birthplace of instant ramen, you can learn the history and secret behind the taste of instant ramen with various exhibitions and attractions. At "My Cupnoodles Factory" in the museum, you can select your favorite soup and toppings from 12 ingredients, and create your own original cup noodles with the package that you design.
This program costs only 300 yen, and is highly recommended for those looking for something special to bring back home for your own souvenir.
6. RINKU PREMIUM OUTLET

photo by don2.k   /   embedded from Instagram
With a resort atmosphere, this American-style outlet mall has more than 200 shops in its vast site. It offers everything from fashion brands to homeware goods, cosmetics and various foods with sale prices.
Definitely the paradise for shopping lovers! As it's located across the Kansai International Airport, it's the perfect spot to stop by on your way to/from the airport.
→The Best 10 Shopping Malls You Must Visit in Osaka, Japan
7. MINOH FALLS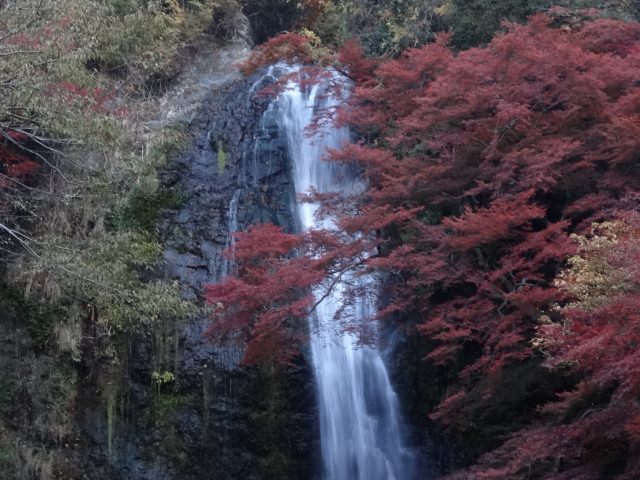 Minoh falls is the perfect outdoor spot for those looking for somewhere to escape from the hustle and bustle of the big city. Surrounded by rich nature, this beautiful place offers you some time to relax and refresh. A hiking route is available to the waterfalls and in the summer you can cool your body at the foot of the waterfalls.
The best season to visit Minoh Fall is autumn. In the autumn leave seasons, leaves of the trees in the surrounded area all turn red, and that makes the place especially attractive with beautiful and astonishing views. Being located not too far from the center city with good and easy access, Minoh Falls is one of the popular nature spots in Osaka.
8. KUROMON ICHIBA MARKET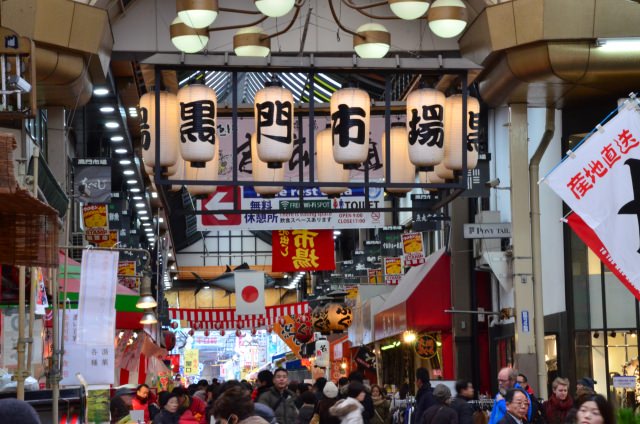 Kuromon Ichiba is the one of Osaka's main food markets. There are a ton of shops in the market selling fresh fishes, meat and vegetables etc. Many professional local chefs come here to purchase their ingredients for cooking.
You can enjoy just wandering in the market, and feeling the extremely vibrant atmosphere. As the market is known as "tabearuki tengoku"(the paradise to walk and eat), try eating various foods from different shops as much as you like. It also has some good restaurants and homeware shops. Definitely a must-go place for food lovers!
9. DAISEN PARK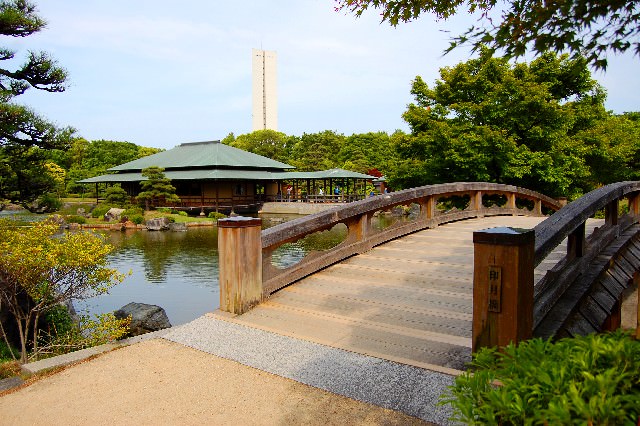 Daisen Park, with rich green and beautiful landscapes, has been selected as one of Japan's Top 100 parks. The highlight of the park is Daisen kofun, the tomb of Nintoku emperor, which is known for being the largest kofun in japan.
Besides that, you can enjoy seasonal flowers blooming in the park, and also traditional Japanese tea and sweets with a view of a beautiful Japanese garden. Time flows gently here. It's the best spot to have some relaxing and elegant time.
10. SHIN-SEKAI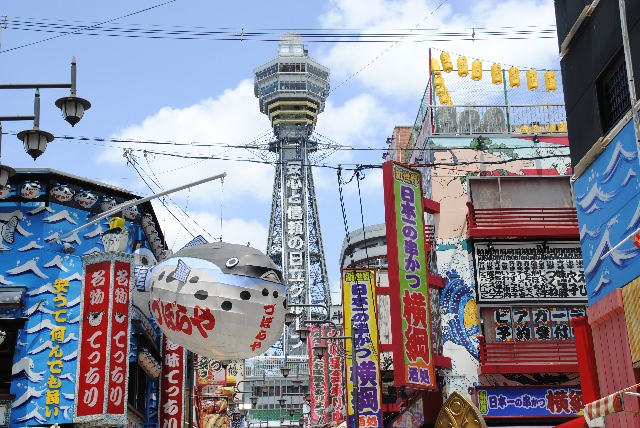 Shin-Sekai, a unique district with a retro atmosphere, is a popular sightseeing spot in Osaka that is always crowded with locals and tourists. A specialty cuisine of the district is Kushikatsu, deep-fried skewered meat and vegetables.
"Tutenkaku Tower" is the symbol of Shin-Sekai as well as Osaka itself. At the observation deck of the tower, you will get to see the statue of Biilliken, Osaka's famous God who's known as "the God of things as they ought to be" as inscribed on the pedestal he sits on.
Another popular spot is Spa World, an onsen theme park that offers various hot springs set in a variety of themes of places from around the world. This unique area has a lot more to offer and is highly recommended to get a real feeling of the energetic atmosphere of Osaka.
11. URA-NAMBA

photo by yo.tera   /   embedded from Instagram
Being picked up by several media, Uranamba has become Osaka's new hip area to eat and drink. The area is located in the back streets of Namba and features various Western style bars, Japanese style bars, standing bars, and restaurants on narrow allies.
This includes many small places run under private management, which is the characteristic of this area. Going bar crawling is recommended in Ura-Namba to enjoy this area to the fullest. You will be welcomed at wherever you pop into with Osaka's super friendly hospitality.
→The Best 10 Places to Eat in Osaka
12. OSAKA MINT BUREAU

photo by nobutachi   /   embedded from Instagram
Osaka Mint Bureau is one of the popular cherry blossom viewing spots in Osaka. The gate to the cherry blossom pathway, which runs for about 560m on the premise, is open to the public only for a period of 1 week in April. Every year during that period, the place gets crowded with people enjoying an astonishing view of cherry blossoms.
Various kinds of cherry blossoms in full bloom can be seen on the pathway, including some kinds that can rarely be seen in other places. Highly recommended to visit if you are in Osaka during the cherry blossom season. Apart from the cherry blossoms, the Mint Bureau Museum exhibits a variety of coins and is opened to the public throughout the year.
13. NATIONAL BUNRAKU THEATER

photo by h_kobayashi.jr   /   embedded from Instagram
Bunraku, recognized by UNESCO as a world intangible cultural heritage, is the traditional puppet theater of Japan. In a style of performance of Bunraku, a story is told by a narrator and shown by intricate movements of puppets operated by performers, accompanied by a live music performance of Syamisen.
A narrator may be incomprehensible as they use a lot of old-style language of Japan, but still the performance is enjoyable and attracts all guests.
Although Japan has various kinds of traditional performing art such as Kabuki and Rakugo, as Osaka is a home base of Bunraku performance as being its birthplace, it would be a first choice among them to be recommended for travelers in Osaka.
14. NANIWA EXPLORATION CRUISE

photo by hikarimizumizu   /   embedded from Instagram
Osaka is known as the city of waterways. Naniwa Exploration Cruise offers a fun way to explore Osaka on a river cruise with a rakugo comedian as a guide on board.
The tour goes for about 90 minutes and takes you to several sightseeing spots along the riverside such as Doutonbori, Osaka city central public hall etc. Taking a cruise with a rakugo comedian as a guide would surely be a once-in-a-lifetime experience in Osaka.
Two different cruise courses are available; "Yumesaki Line on the River Course" departing from Universal City Port, and "Loop Line on the River Course" departing from Minatomachi Pier. These unique cruise tours will offer views of the city that can't be seen by walking around the city by foot and give you a fresh perspective of Osaka.
15. KANSAI CYCLE SPORTS CENTER

photo by dai_kom   /   embedded from Instagram
Kansai Cycle Sports Center is one of the popular theme parks in Osaka, being a unique spot that features bicycles as a theme of the park. You can make a day of it at the park that offers various kinds of thrilling rides and cycling courses where you can try all types of bicycles in different shapes.
It also provides camping sites and a BBQ area, making it the perfect outdoor spot to get away from the bustling city. Recommended especially for travelers with children.
16. FLOATING GARDEN OBSERVATORY

photo by maa_ts0103   /   embedded from Instagram
Floating Garden Observatory, a roof observatory situated at the very top floor of Umeda Sky building at a height of 173m from the ground, is a popular sightseeing spot in Osaka especially in the night.
The spectacular night view of Osaka, which has been selected as one of Japan's top 100 night views, can be enjoyed from any angle from the observatory. Besides night time, watching the beautiful sunset, which has also been selected as one of Japan's top 100 sunsets, at twilight time is also recommended.
This place is especially perfect for couples looking to have a romantic date in Osaka. In the corner of the roof observatory, there is an "Oath Fence" where couples can attach a pair of heart locks originally made with their names engraved, to promise their devotion to each other.
17. TAKONOTETSU

photo by putumelati   /   embedded from Instagram
Takoyaki is the most famous local food in Osaka. Takonotetsu is very popular among tourists for being a self-service restaurant where you can experience making takoyaki. It's always nice to buy Takoyaki from food stalls in Osaka which is known as the home of taokoyaki, but it would taste even more delicious when making them yourself.
The restaurant offers various toppings so you can make your original takoyaki as you like. There's no need to worry even if you have no idea of how to make them, as staffs are always there to help and guide you through the process.
→The Best 10 Okonomiyaki Restaurants You Must Eat in Osaka
We hope our list of top 17 recommended places in Osaka will be a helpful guide for your trip!
Osaka is the second smallest prefecture in Japan, but has a variety of places to see, eat and experience as our list shows. The city's diversity will always keep you entertained and will allow you to discover something new every time you come back. We hope you enjoy Osaka, the city full of charms.
If you like this article,
Please push the
"Like"
!
Deiliver the SeeingJapan's news to you!
Popular Articles in Same Category
Author