Going On a Trip In Tohoku? The Best 10 Sightseeing Spots!
The Tohoku area in the northern part of Japan is devided by 6 prefectures; Iwate, Akita, Miyagi, Yamagata, Fukushima, and Aomori which is the closest to Hokkaido. Many cities in this region were once flourished as the port cities. Today, I would like to introduce the best 10 sightseeing spots in the Tohoku area!
Hirosaki Castle & Hirosaki Park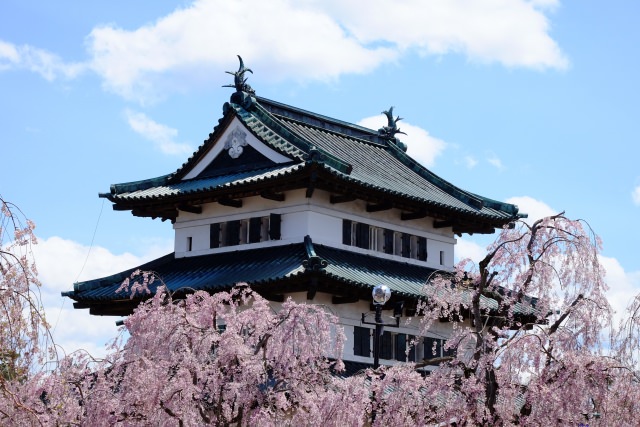 Hirosaki castle, located in Hirosaki City of Aomori prefecture, is a historical cultural property which was chosen for Japan's Top 100 Castles. Cherry blossoms were planted after the Meiji era and it is now a popular spot for cherry blossom viewing so that many people visit this place in the season of cherry blossoms. Hirosaki castle was built in 1611 which was in the Edo era, and as of 2017, stone walls have been repaired as there was a possibility that it collapses.
The best season is spring of course, but other seasons have different attractions for visitors! There are 8 bridges inside the park, so have fun walking around and looking at the plants!
Takayama Inari Shrine
Located in Tsugaru City, Aomori – "Takayama Inari Shrine" is renowned for one thousand Torii. The sight of many Torii standing all the way is quite mysterious and unforgettable. And it is known as a sacred spot too.
So, because this shrine is situated by the sea, people have been praying for a huge harvest and prosperous business – something deeply related to their lifestyles. Moreover, it was used by the traveller for their safety and dipossessing of an evil spirit etc. It was sometime between the Kamakura and the Muromachi era that the shrine was built.
There are abount 200 Torii here in Takayama Inari, and they all stand in the Japanese garden. The tunnel made by a number of Torii looks amazing and beautiful. This place have a different view for each season; cherry blossoms in spring and the autumn leaves in autumn. This is a must-go place once you are in the Tohoku region.
■Information
Name: Takayama Inari Shrine
Address: 147-2, Washinozawa, Ushigata Town, Tsugaru City, Aomori
Phone: +81-173-56-2015
Access: Drive 20 mins from Kawakura Station by car
Map: map to Takayama Inari Shrine
Chusonji Temple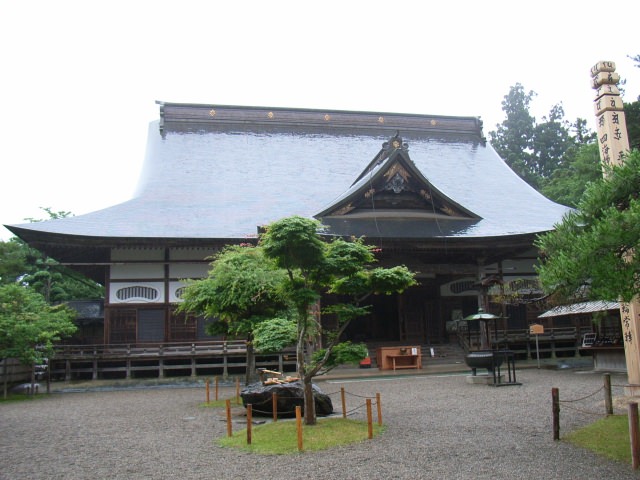 Hiraizumi in Iwate is famous for its remains such as Jodo sect style gardens and Konjiki Do which was built in 1124, also designated as a world heritage site. This golden Konjiki Do shows the power of the Northern Fujiwara while also expressing paradise. All the skills and techniques came together to build this building.
There's a paid voice guidance in Chusonji Temple, and multiple languages including Japanese, English, Chinese, and Korean are available. So you can enjoy what it say with your friends from overseas!
In a huge precinct, there's this restaurant called "Kanzan Tei" and there, you can try Udon and Soba noodles. The ingredients are locally grown. If you feel tired to walk around, just take a rest here and relax!
■Information
Name: Chusonji
Address: 202, Hiraizumi Koromo no Seki, Hiraizumi Town, Nishi Iwai Gun, Iwate
Phone: +81-191-46-2211
Time: (1st Mar-3rd Nov) 8:30-17:00 (4th Nov-Feb) 8:30-16:30
Close: None
Access: Walk 25 mins from Hiraizumi Station
Website: http://www.chusonji.or.jp/
Map: map to Chusonji
Geibikei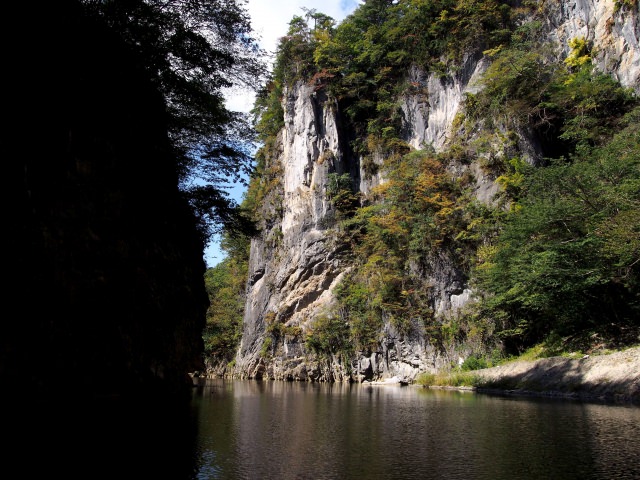 After visiting Hiraizumi, how about going on a punting in Geibikei? This is a valley that has a different view depending on the season, and this superb view makes you feel as if you are lost in the world of ink painting. It was before the Taisho period that it was designated as a historic site.
One of the features for punting is that you can get off the boat and get to see the view called "Shishi ga Hana" which looks like the family of lions. You can also experience throwing the stone at the cave – if you are successful, you are the lucky one and your wish does come true!
Also, Manju are to be sold at the shop. And there's another popular thing here – which is "Kakkou Dango"; also known as "a flying Dango". Now what is a flying Dango? If you are interested, just visit and find the answer! It is believed that the Heike family escaped to this fabulous spot, and so, it's literally worth visiting here!
Aoba Shrine
Miyagi prefecture used to have Sendai clan. The leader of the clan, Masamune Date, lost a right eye because of the disease and now he is called "the one eyed dragon Masamune".
That Masamune is enshrined at "Aoba Shrine". Located just 5 minutes away from Kita Sendai Station on foot, there's a festival in May as an anniversary of his death. The reason the festival of Sendai/Aoba is still to be held in May is that they are somewhat related to the festival in Aoba Shrine.
If you visit this shrine in the season of the festival, you will see Suzume Odori and Musha Gyoretsu too.
Now, what you have to look closely when visiting the shrine, is that the red ink stamps and the stampbook. Even if you are not a big fan of Japanese history, the stamp of Masamune, who is now an enshrined deity, looks amazing on the horse. Other than that, Miyagi has a lot of places related to Masamune, so visiting these spots is a nice way to go on a trip in Miyagi!
■Information
Name: Aoba Shrine
Address: 7-1, Aoba Town, Aoba Ku, Sendai City, Miyagi
Phone: +81-22-234-4964
Access: Walk 5 mins from Sendai Station
Map: map to Aoba Shrine
Nyuto Onsenkyo
Hot springs are one of the best parts when going on a trip! In the Tohoku area, there's an Onsen Village like an amusement park – "Nyuto Onsenkyo" in Akita. This Onsen was chosen for one of the top 100 hidden spots and consists of 7 inns located at the bottom of Mt.Nyuto in Towada Hachimantai National Park.
This is one of the hidden gems which have been in an operation since the Edo period and starting off with Tsuru no Yu, 7 inns and more than 10 kinds of Onsen are to be enjoyed. As shuttle bus runs for visitors, it's easy to complete those hot springs.
Surrounded by the forest of beech, you will be able to feel the life in a fresh air while looking at a superb view. At the inn, they offer dishes with the locally grown ingredients too – let's enjoy the local gourmets!
Yasu no Taki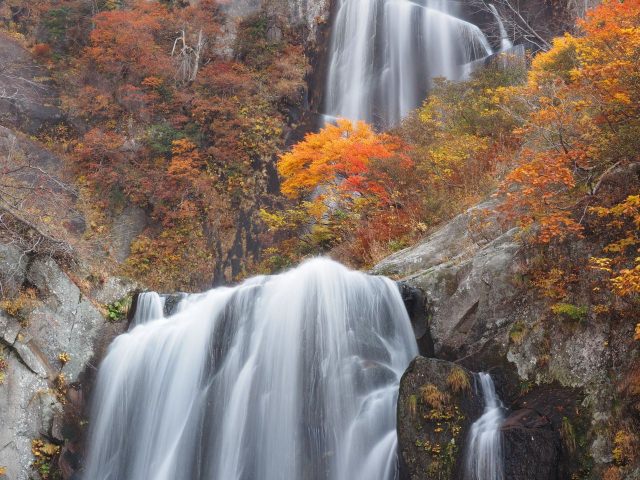 One of the best spots to offer a superb view in the Tohoku region is "Yasu no Taki" in Akita. The falls have the height of 90 metres and are the double layer structure. The scenery that the water falls from the top of the cliff is so dynamic and have been attracting thousands of people.
If you are interested in visiting this place, autumn is the best season as the colour of trees turn into red, and the contrast of the falls and nature is fabulous. Although autumn is the best, the falls have a different view for spring and summer too.
Not only the locals, but tourists would love to witness this beautiful scenery! This is definitely the best spot in the Tohoku area!
■Information
Name: Yasu no Taki
Address: Sugeyaji, Anittou, Kita Akita City, Akita
Access: Drive 80 mins from Anittou Station by car
Map: map to Yasu no Taki
Houshu Yama Risshakuji Temple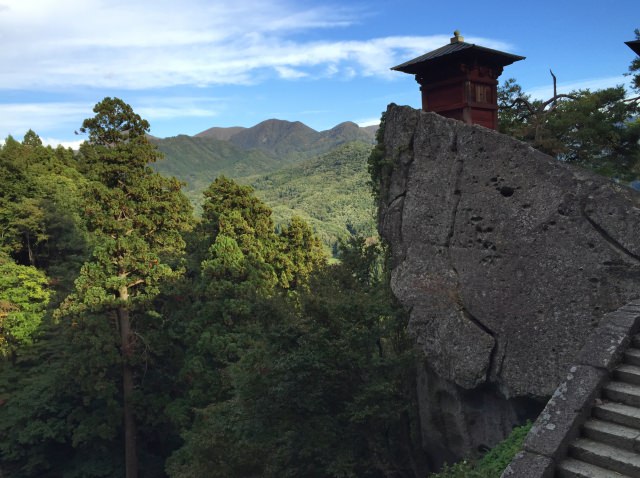 Now, you cannot forget these places – the temples in a mountain. When you complete more than 800 steps of stone stairs, there's a deck that lets you overlook the views at Godai Do. On the way to Godai Do which has a vast site of 330,000 tsubo, you will see a lot of places such as Semi Zuka, Nio-mon Gate, and Kinjouin etc. Of all, Kinjouin has something like the huge beads of rosary called Granite Curbstones. If you read the explanation here, this temple enshrines the life-prolonging Jizo.
As there are other shops and cafes around the temples, you won't see any problems to find the souvenirs or get relaxed. This is one of the best places in the Tohoku area!
Yamagata Castle Site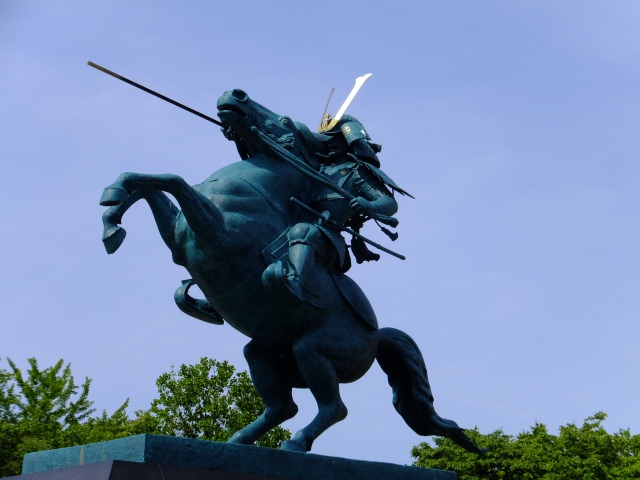 Kajo Park is located in the area with quite a few sightseeing spots such as Yamagata City Museum and Prefectural Museum. This is a castle which has Honmaru, Ninomaru, Sannomaru with 3 moats. The park itself is renowned as a sightseeing spot for cherry blossoms and almost 1,200 of 100 year old Yoshino trees are planted here. When the season comes, they are illuminated at night!
Yamagata Castle, built inside the park in 1357, currently only has the moat of Ninomaru and the ground. Part of the site is open to the public as this site is recognised as Japan's top 100 castles in Japan. Not only for tourists, but for locals as well – this place is somewhere they can get together and relax.
There's a museum of Yoshimitsu Mogami, who was in charge of building of the castle, is right inside the park. So, let's explore the history and the culture of Yamagata too!
■Information
Name: Yamagata Castle Site (Kajo Park)
Address: 1-7, Kajo Town, Yamagata City, Yamagata
Phone: +81-23-641-1212
Time: (1st Apr-30rd Nov) 5:00-22:00 (1st Dec-31st Mar) 5:30-22:00
Access: Walk 15 mins from Yamagata Station
Map: map to Yamagata Castle Site (Kajo Park)
Tsuruga Castle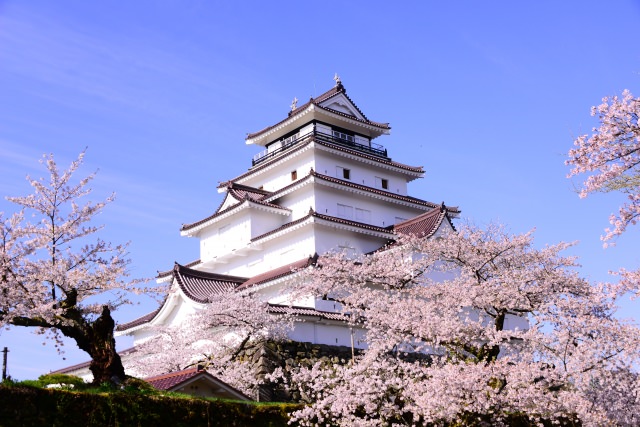 Tsuruga Castle, also known as Aizu Wakamatsu Castle, is where you cannot forget to visit once you are in the Aizu area in Fukushima. There are a lot of features inside the park now. This castle was built in 1384, and closed in 1868 and it ended up being ruined. The only Yagura in Honmaru was moved to Amida Temple in Aizu Wakamatsu City and you can see it if you like!
Aizu Wakamatsu Castle you can see now is the one renovated in 1960's and is now used as a museum of Wakamatsu. There are other facilities such as tennis court, city pool, and tea room that you can enjoy some confectioneries and an authentic matcha. This is definitely a must-try!
■Information
Name: Tsuruga Castle
Address: 1-1, Otte Town, Aizu Wakamatsu City, Fukushima
Access: Walk 25 mins from Nishiwakamatsu Station
Map: map to Tsuruga Castle
Take Your Time To Explore The Tohoku Region!
6 prefectures in the Tohoku region have other recommended sightseeing spots as well as the ones listed in this article. Each prefecture has their own features that have been grown time to time. It'd be more fun if you make your own themes such as "learning the cultures" or "touching nature". Let's enjoy travelling the Tohoku area!
If you like this article,
Please push the
"Like"
!
Deiliver the SeeingJapan's news to you!
Popular Articles in Same Category
Author