Enjoy the magnificent views of an ancient city in augumn! The 10 best autumn foliage spots in Ishikawa!
Ishikawa prefecture has been well known for its long history as the flourished castle town called Kaga Hyakuman-goku. It has a variety of sight-seeing spots such as gardens with great nature of Noto and hot springs, as well as traditional crafts like Wajima-nuri lacquerware, Kutani Ware, Kaga Yuzen dyeing. Here, let's walk through the 10 best autumn foliage spots in Ishikawa. You cannot miss it.
One of the Three Great Gardens of Japan. Must-see autumn foliage in Ishikawa, [Kenroku-en].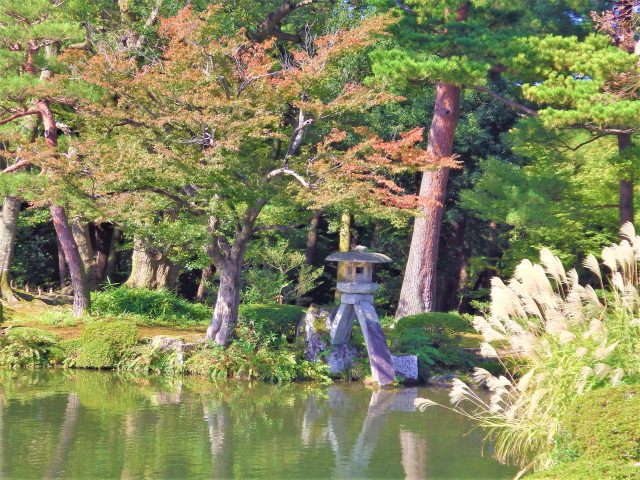 "Kenroku-en" is the most famous sight-seeing spot in Ishikawa prefecture. It eases you with natural beauty in any season. Established in 1676 by Maeda, the lord of the Kaga domain, it opened to the public in 1874. Since then, it has been the popular sight-seeing point representing Ishikawa prefecture.
At Kenroku-en, you can enjoy autumn leaves coloring by rain from October, when tree leaves start turning colors. "Jugatsu-sakura (October cherry blossoms)", which is a rare kind of flower, is in bloom in this season. Kenroku-en offers not only the amazing views lit up, but also night viewing of autumn leaves at Kanazawa Castle Park decorated with projection mapping.
Appreciate autumn foliage at the historical site representing Ishikawa, [Natadera Temple].
You must know of "Michelin", known as a tyre factory and a goumet guide. Michelin Green Guides is the travel guide book edited by the Michelin brothers. It is widely used by foreign tourists visiting Japan with 1-3 star rating.
"Natadera Temple" is highly evaluated in the Michelin Green Guides. This temple with a long history was built in 717, which is the 12th of Hokuriku 33 temples and the 11th of Hokuriku Hakuju 33 Kannon Pilgrimage. You can enjoy the Hondo main hall, the Three-story Pagoda, the Shoro (a bell tower), which is nationally designated important cultural properties, and scenic beauty site "Ryubi-en Garden". Autumn foliage is in the best season around October. Don't miss uniquely shaped rocks surrounding the temple and the special viewing of the garden landscape in the temple.
More than 10 thousand people visit for autumn foliage every year at [Kikubo Otaki Fall].
At Kikubo Otaki, you can enjoy the view of a big fall as well as colored leaves in autumn. Around it, there is a walking path to have great views of the fall. The cottage and a resting space around the fall ease you with fresh air in the nature. More than 10 thousand tourists visit to enjoy the fall with 15 meter height and autumn foliage every year.
Camping site and rest rooms are fully provided near this spot, which also welcomes families with small children. Highly recommended!
Popular spot for lit-up autumn leaves, [Kakusenkei Gorge]!
Kakusenkei is a gorge located in the Yamanaka Onsen, which is well known as a walking spot for visitors to the hot spring. This gorge has 3 characteristic bridges; Kurotani Bridge, which was said to be visited by Matsuo Basho, the writer of Oku no Hosomichi, Ayatori-hashi Bridge desiged to resemble the appearance of a dragon, and Korogi Bridge, which is said to be beautiful especially in the season of colored leaves in autumn. The Korogi Bridge is fully made from cypress and 21 meter long.
It is situated in the hot spring also for a day visit, which is suitable for various purposes. Worth trying a natural walking path, which takes you to three bridges in 30 minutes or so.
Enjoy autumn foliage at the one of the Kano Eight Views, the scenic spot of Ishikawa, [Aramata-kyo Gorge]
Aramata-kyo Gorge is a scenic spot known as one of the Kano Eight Views, located in Komatsu city, Ishikawa prefecture. 30-minutes-drive from JR Komatsu station takes you to Aramata-kyo Gorge in the middele of mountains. You can fully enjoy its beauty of nature by taking a 400 meter long walking path.
Streams among fresh green leaves bring you relaxing atmosphere. You can perfectly relax yourself. Aramata-kyo Gorge is one of the hidden gems, where you can enjoy the beauty of nature throughout a year, appreciating uniquely shaped rocks erosed by Otasugidani River. It is also popular for viewing colored leaves in autumn. Why don't you visit the hidden spot for autumn foliage, Aramata-kyo gorge?
Japan's Three Famous Mountains! Must-see spot for autumn foliage, [Shiramine village area]!
Mt. Haku is one of Japan's three famous mountains, located in the south of Ishikawa prefecture. This mountain is regarded as the sacred mountain and surrounded by many hot springs, where is popular with tourists. Shiramine in Shirayama city holds Important Preservation District for Groups of Traditional Buildings, which is also known as a deep-snow area where it snows to 2 meter-deep in winter.
The village with about Okabe-style (a style in which structural parts are hidden inside walls) 250 big houses is very rare but open for walking around. Please be aware of the residents there.
The village area turns its color by surrounding mountains including Mt. Haku in autumn. Unique style of houses and store houses were built firmly enough to sustain heavy snow. You can enjoy colored leaves in the mountains walking around the village with Minja, which is the former water channel built for drinking water in the Edo period. You cannot miss it!
Enjoy the panoramic view of autumn foliage in Ishikawa from [Mt. Hodatsu]!
Mt. Hodatsu is the hightest mountain in Noto, which has 360° panoramic view without any obstacles. It is selected to the 100 best water source forest in Japan, which proves its high quality of water. Its name includes a letter of "treasure" because it used to be a gold mine in the Edo period. With a pair of walking shoes, you can experience trekking to the peak taking 150 minutes. With kids, driving to the peak is recommended.
The peak is surrounded by natural beech forests and has a park called "Yama-no-Ryugujo". You can enjoy a panoramic view of Sea of Japan from the terrace, where you can rest. In autumn, beautifully colored leaves entertain you. Worth visiting!
Enjoy autumn foliage with traditional art crafts in Ishikawa! [Yunokuni no Mori]
Yamashiro Onsen, located about 4.6km away from JR Kagaonsen station, was said to open in 725. It is said that Gyoki Saint found "Yatagarasu (mythical raven)" heal a wound at the hotsping, which led the opening of Yamashiro Onsen.
Yunokuni no Mori is an attraction spot where you can learn about traditional handicrafts, have a meal, situated in Kaga Traditional Handicrafts Village consist of transferred old private houses in the 42.9 square meters land.
Enjoy driving among colorful autumn leaves on [Hakusan Shirakawa-go White Road]
Hakusan Shirakawa-go White Road connects Ishikawa prefecture and neighbouring Gifu prefecture. You can enjoy great nature here by driving or walking around. There is several walking trails where you can enjoy beech primeval forests aged more than 100 years and a fall, which was selected to the 100 best falls in Japan. In autumn, gorgeous colored leaves amuse you.
From a short course of 20 minutes to a long one of 3 hours, which is a climbing trail, you can choose what you like. Especially, Jadani Bridge and Fukube Falls are perfect to recharge yourself with natural clean air viewing deep red trees. After appreciating autumn foliage, hot springs nearby will heal your tired body. Go enjoy driving through autumn leaves.
A shirine with a history of 300 years in Ishikawa. Hidden autumn foliage spot for the local, [Enuma Shirine]!
Enuma Shrine is located in Kaga city, Ishikawa prefecture, which is familiar with the local people as "Tenman-sama". It is founded in 1704. This locally appreciated shrine has a rare samurai garden, which is publicly open. The garden is registeded as the municipally designated important cultural properties. It is the Chisen Kaiyu style garden (a garden with a path around a central pond), which has a beautiful combination of Hisago pond and Yatsuhashi bridge over a nakajima (an island on a pond).
In Enuma Shrine, November is the best season for autumn foliage every year. It is said that this autumn season is the best to the garden. It must be worth spending some time in autumn here.
Enjoy viewing of beautiful autumn foliage in Ishikawa!
Ishikawa prefecture, situated on the Sea of Japan side. Kanazawa city is especially famous as the sightseeing site. It has a variety of must-see spots like Kenroku-en, Higashi Chaya District. Not only sightseeing, but also local cuisine with fresh sea food from the Sea of Japan absolutely will make your trip special. Ishikawa prefecture is the one for your next destination!
If you like this article,
Please push the
"Like"
!
Deiliver the SeeingJapan's news to you!
Popular Articles in Same Category
Author