The Top 10 Must-Vist Attractions in Kanazawa
Kanazawa is packed with attractions such as one of the 3 Great Gardens of Japan, "Kenrokuen", and hanamachi (traditional district) with many geiko (geisha:professional entertainer).There are many places that offer traditional culture experiences. It is a very enjoyable city not only by seeing but also by getting involved in events. Another highlight is the city's gateway, Kanazawa Station. In a word, the entire city is an attraction. This time, you will read about the Top 10 Must-Vist Attractions in Kanawaza.
"Kenrokuen"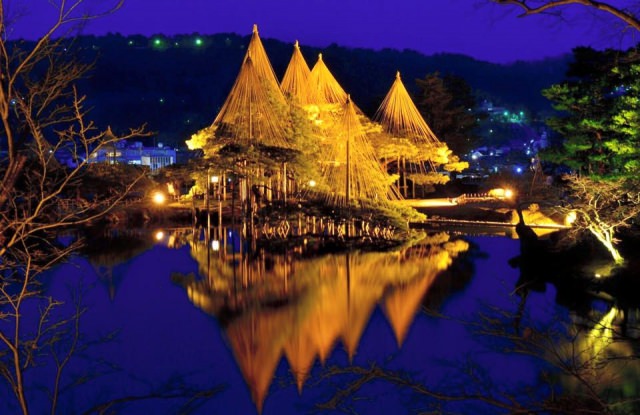 "Kenrokuen" is well known as one of the 3 Great Gardens of Japan along with Korakuen in Okayama and Kairakuen in Mito. This tour garden was owned by a feudal lord in Edo era. Located about 13-minute drive by bus from Kanazawa Station. About 180 years old. Since it was built and taken care of by successive lords, it became a special tour garden made by adopting various garden methods, such as Tsukiyama style and Rinsen style.
This garden is consisted of "Renchi-tei" area and "Chitose-dai" area. The former was used to host guests and authorities. In the latter where used to be many palace houses, now beautiful plants entertain people every season: cherry blossoms in spring, satsuki azalea in summer, autumn leaves in fall, and camellia in winter.
"Ōmi-cho Ichiba"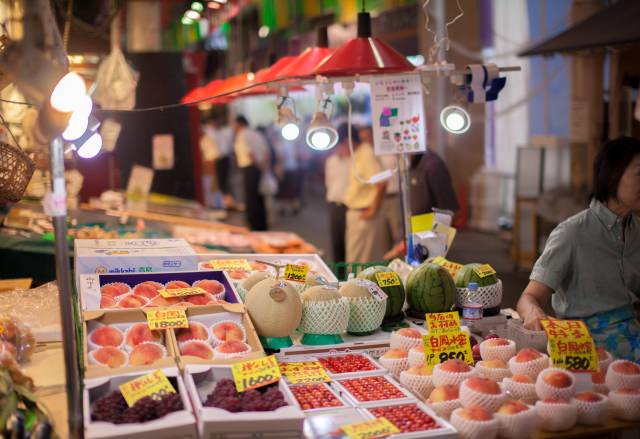 "Ōmi-cho Ichiba" is a market called "the Kitchen of Kanazawa". Located in the center of city. Said to be opened by merchants of Ōmi in 1721. In this area, a commercial facility of market and restaurants, "Ōmi-cho Ichiba-kan" was opened in 2009. That's when they started opening on Sundays for the first time.
The highlight thing to do at the market is eating while walking. From staple seafood dishes: grilled squid, oysters, and skewered scallops to sweet stuff: orange juice, gelato, etc., delicious foods are everywhere. The very must-visit place in Kanawaza.
"Kanazawa-jo Koen"
Kanazawa Castle was owned by successive lords of Kaga-han [domain]. Its full scale construction was initiated by Toshiie Maeda who made a truimphal entry into this area in 1583. It is said that the castle was compact since the authorities' houses were also in the site. The castle has been there without a tower since it was burnt out by lightning in 1602, and never rebuilt.
"Kanazawa-jo Koen" is a catsle ruins park opening to the public. Fire often broke out at this castle, so some of the buildings remained as they were while others were rebuilt. Also, there are some that have been lost like the tower. Take your time and enjoy.
"Yasue Kinpaku Kogei-kan"
"Yasue Kinpaku Kogei-kan [gold leaf museum]" is located close to Kanazawa's best attraction area, "Higashi Chaya-gai". In Kanazawa, they started making sliver leaves in 1593, and then they began gold leaf production. It is not still clear exactly when it started, but it is said that the gold leaf production was already ongoing around that time.
At this museum, people can see not only items made with Kanazawa's golden leaves but also observe the production process. Feel and learn Kanazawa's culture and industry at this industrial tourism attraction. Totally different from ordinary ones.
"Kanazawa Utatsuyama Kogei Kōbō"
"Kanazawa Utatsuyama Kogei Kōbō" is a craft studio that offers exhibition of craftarts products and experietial events. Their wide range of products include: potteries, lacquer wares, dyed items, metalworks, and glassworks. They also focus on human resource development by teaching craft skills and training sense of crafting.
The experiential event, "Shimin Kōbō [studio for citizens]", is regularly held for those who want to try traditional crafts. Need to book, but they accept people who are not local. Its condition is to attend the whole program, so you must check the schedule if you will be there for sightseeing tour. Great opportunity to experience Kanazawa's best craftworks.
"Higashi Chaya-gai"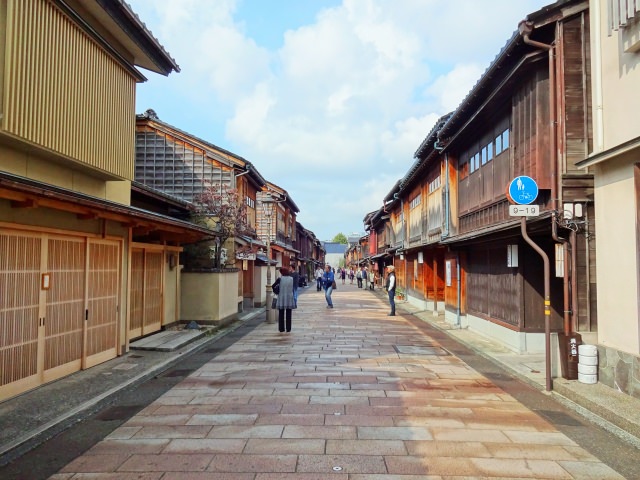 This important preservation district of traditional buildings, "Higashi Chaya-gai", is recognized as the most noble tea house town among three of those in Kanazawa. It started when a geiko (geisha) quarter was made by gathering tea houses around this area in 1820 under the reign of Kaga clan. Still possible to enjoy performances of geiko at tea houses at night.
There is a rest facility in the town, which enables you to tour around without worrying about a place to take a break. Its townscape of black tile roofed houses with a Kanazawa's style lattices called kimusuko [wooden insect cage] looks so elegant and nostalgic. You should visit.
■Information
Name: Higashi Chaya-gai [tea house town]
Address: 1, Higashiyama, Kanazawa City, Ishikawa
Phone: +81-76-220-2469 (Cultural Properties Preservation Division of Kanazawa City)
Access: 10-minute drive from Kanazawa Station
Map: map to Higashi Chaya-gai [tea house town]
"Nagamachi Buke Yashiki Ato"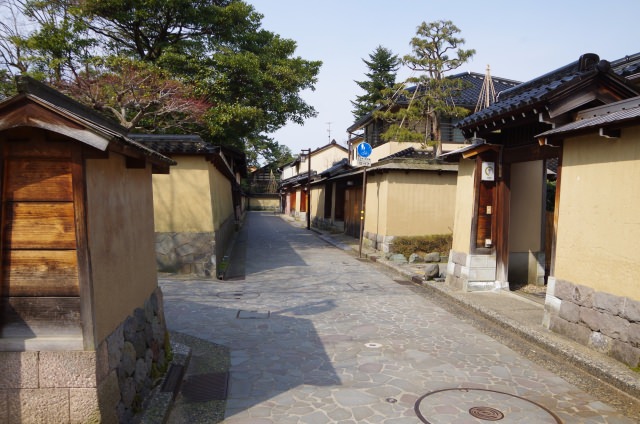 "Nagamachi Buke Yashiki Ato" is a site of samurai houses. Situated in the west direction from Kanazawa Castle. Said to be owned by the Cho, an administrator family of Kaga clan that used to live around this area. Many of them remained as they were, and there are people still living there. Warmth and breath of people can be felt. In winter, mud walls of the houses are covered with straw mats to avoid direct contact with snow, which is called "Komogake". People say it looks more attractive with them.
Among those houses, "Musha Yashiki Nomura-ke [warrior's house of the Nomura]" offers a house tour. Used to be owned by a family of successive magistrates starting from Nomura Denbei Nobusada. The status level and traditional atmosphere of the house can be found there. Perfect place for history lovers.
"Kaga Yuzen Kaikan"
"Kaga Yuzen Dento Sangyo Kaikan (traditional industry center)" is a place for people who want to see and try one of the most famous traditional crafts of Ishikawa, Kaga Yuzen. They offer opportunities not only for seeing the beautiful kimono dyed by skilled artisans but also for trying on, and even making.
At the same time, its making process is shown by displaying panels of pictures. In addition to making and trying them on, purchasing is possible. Buy one if you like it after your experiential program.The exprience programs are needed to be booked, but there is no need to make a reservation for handkerchief dyeing. You can just ask anytime. It costs a bit, but would be a valuable experience.
■Information
Name: Kaga Yuzen Kaikan (Traditional Industry Center)
Address: 8-8, Kocho-machi, Kanazawa City, Ishikawa
Phone: +81-76-224-5511
Time: 9:00am-5:00pm

Close: Wednesdays and New Year Season
Access: 12-minute drive from Kanazawa Station
Map: map to Kaga Yuzen Kaikan (Traditional Industry Center)
"Kanazawa 21seiki Bijutukan"
"Kanazawa 21seiki Bijutsukan [Kanazawa 21st Century Museum]" exhibits contemporary artworks. Many people would think comtemporary art is difficult. However, this museum is doing a great job by making the exhibits easier to understand. The facility is consisted of a free public zone and a exhibit zone that charges you to get in. Some artworks are placed between them, so it would be more enjoyable if you take a look at both zones.
On the wall of "Shimin [citizens] Gallery", there is a 27m width mural painting created by being inspired from patterns of Kaga Yuzen. "Blue Planet Sky" shows a sky that keeps changing from morning to night. A variety of contemporary exhibits will entertain you. Being located close to Kenrokuen, it would be nice to stop in on the way to or back from the garden.
■Information
Name: Kanazawa 21seiki Bijutsukan (Museum)
Address: 1-2-1, Hirosaka, Kanazawa City, Ishikawa
Phone: +81-76-220-2800
Time: Public Zone 9:00am- 10:00pmExhibit Zone 10:00am-6:00pm ※Open until 8:00pm on Fridays and Saturdays
Close: Mondays
Access: 10-minute drive from Kanazawa Station
Website: http://www.kanazawa21.jp/
Map: map to Kanazawa 21seiki Bijutsukan (Museum)
"Kanazawa Station"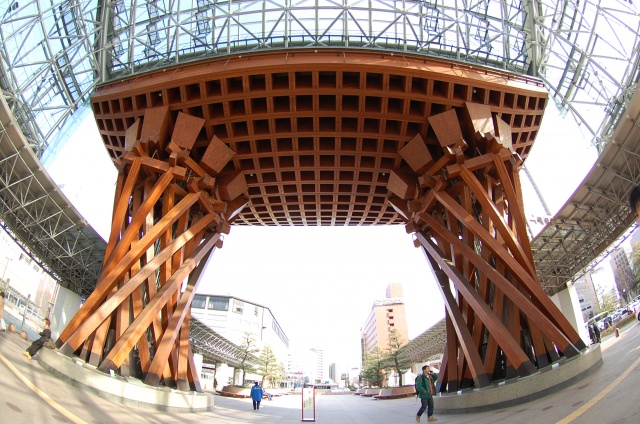 "Kanazawa Station" is a hidden attraction of Kanazawa in which various cultural traditions are rooted. Because of its impressive structure, an American leisure magazine once picked this station as one of the most beautiful train stations in the world. A huge glass dome located close to East Exit is called "Motenashi [hospitality] Dome". It was made by an image someone handing out an umbrella to another one that got wet in the rain. 600 hundreds of aluminum frames were used! Looks more fantastic when it is lit up.
After passing through the dome, there is a gate called "Tsuzumi-mon". The arch was supported by two spiral shaped columns created by being inspired from tsuzumi [drum]. The drum is used for the traditional performace art, nogaku. Ishikawa's nogaku is particularly called Kaga Hosho. People usually just pass by a station, but that of Kanazawa has many highlights. Enjoy them before heading to other attractions.
■Information
Name: Kanazawa Station
Address: 1-1, Ki no Shinbo-machi, Kanazawa City, Ishikawa
Phone: +81-76-220-2321 (Civil Works Bureau Road Management Division)
Map: map to Kanazawa Station

Tour Around Kanazawa's Attractions!
How did you like it? This article was about The Top 10 Must-Vist Attractions in Kanazawa, Ishikawa. All the places mentioned above is well known and popular. You should definitely visit once. Kanazawa also has delicious local specialties that can be found only in Hokuriku area. Enjoy them along with the attractions when you travel to Kanazawa!
If you like this article,
Please push the
"Like"
!
Deiliver the SeeingJapan's news to you!
Popular Articles in Same Category
Author