The Best 9 Must-Buy Souvenirs in Okinawa
Okinawa is very different from the rest of Japan. It's warm throughout the year and has its own exotic culture that attracts many visitors. There are so many places to go and stories to listen to, Because of this, there are unique souvenirs and gifts you can only get in Okinawa. Let me introduce some of the popular items, to the things not many people know about.
1. Sata andagi

photo by wendy_freddy   /   embedded from Instagram
Sata andagi is popular not only as a souvenir but also as Onkinawa's most favoured sweet. You see it in coffee shops, markets and basically everywhere in Okinawa. They are made of flour, sugar and eggs then deep-fried in the shape of a ball.
Sata means sugar and Andagi means deep-dry. It is originated from China. They are like doughnuts but crispier. It is popular to use muscovado instead of white sugar and sometimes sesame seeds are added into the mixture.
When you look at them, some of them look like they are smiling at you, Those are regarded as good luck! You have to try them.
■Information
Name: Sata andagi
Shop name: Ayumi
Address: 2 floor, 2-10-1, Matsuo, Naha, Okinawa
Price: 450 yen for 5
Access: 7 min walk from Matsuo Station
2. Chinsuko

photo by komotomo71   /   embedded from Instagram
Chinsuko is like a shortbread biscuit but nowadays they come in different flavors.
Some says this came from China but also said it is originated in Portugal and was brought to Japan by Marco Polo via Silk Road….it sounds exotic, doesn't it? Maybe this theory is more likely as Chinsuko was only for Okinawa's royal family years ago.
A shop called "Arakaki" is well-known for Chinsuko and when you see it you know why, they are all Carefully boxed like treasure.
The gold color explains how special they have been for people in Okinawa. They don't make many a day so it's better to visit the shop as early as you can!
■Information
Name: Chinsuko
Shop name: Arakaki Chinsuko Floagship
Address: 1-3-68, Makisi, Naha, Okinawa
Price: 1080 yen for 18
Access: 9 min walk from Makisi Station
HP:http://chinsuko.co.jp
3. Yukishio Chinsuko

photo by ecogreen5   /   embedded from Instagram
Although Chinsuko is a popular biscuit like shortbread, they have been challenged to be modified, to be more unique. One of the most successful is this Yukishio Chinsuko.
Yuki means snow and shio means salt. The snow-like salt is from a nearby ocean where the salty water flows around corals and limestone.
Nanpudo add Yukishio to their Chinsuko to give a hint of salt in the flavor. They are so unique and so good for someone who likes something a little different.
■Information
Name: Yukishio Chinsuko
Shop name: Nanpudo
Address 4-15-2, Nishizaki-cho, Itoman, Okinawa
Price: 300 yen for 12
Access:17 min from Naha Airport via Route 331 south
HP:http://www.nanpudo.co.jp/
4. Chinsuko Chocolat

photo by misatiru51219   /   embedded from Instagram
Among those new ly created Chinsuko flavors, Chinsuko Chocolat has been especially popular among young women. The best sellers are Dark-coco, White Chocolate, Dark and Milk Chocolate, High Coco and Matcha flavors.
They are beautifully wrapped individually. Some flavors are limited edition and you may get something really unique and exotic!
■Information
Name: Chinsuko Chocolat
Shop name: Fashion Candy
Address: 2-21-22, Oyama, Ginowan, Okinawa
Price: 1080 yen for 24 Dark and Milk Chocolate flavour, large
Access: By Car from Okinawa Airport – Route 58 towards Pipeline, ni-chome
HP:http://www.fashioncandy.co.jp/
5. Chiradama

photo by masa_izu0718   /   embedded from Instagram
Chura is a nickname for Okinawa and Churadama is a bead made of glass deigned like a glass fishing float. As they are all handmade, all ball are one and only, especially for you.
You may see a hint of light during the day and they glow in a dark under moonlight. You can get a color of your birth month. Each color has a spiritual meaning as well. Beautiful accessory to have.
■Information
Name: Churadama
Shop name: Churadama main shop
2- 4-18, Makishi, Naha, Okinawa
Price: 1728 yen for a regular strap
Access: 5 min walk from Makishi Station
 
You May Also Like:
→TOP 3 Outlet Malls You Must Visit in Okinawa
→The 10 Best Places to Eat in Naha, Okinawa
6. Shikuwasa Juice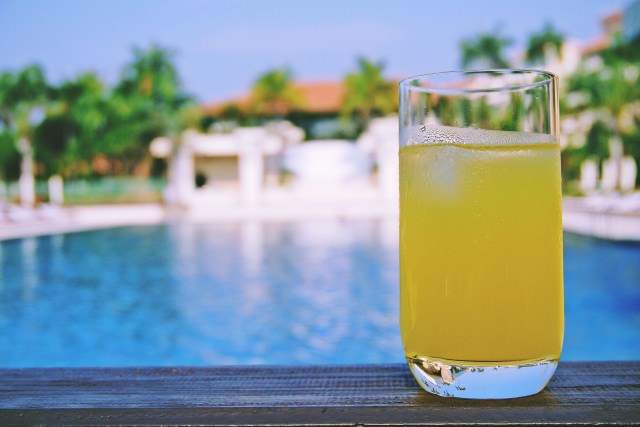 Shikuwasa is Citrus depressa grown in Okinawa Islands and Taiwan mainly. It is like a lemon or a lime. Usually sold as concentrate and used for cooking and drinks mainly.
Like lemons and limes, Shikuwasa contains a lot of Vitamin C and E and is very effective for high blood pressure, fatigue and healthy skin. That's why Okinawa people's life expectancy is way longer than the rest of the world!
■Information
Product name: Shikuwasa concentrate juice
Shop name: Ryukyumura
Address: 1130, Yamada, Onna, Kunigami, Okinawa
Price: 2160 yen
Access: By car from Naha Airport – Get on Jidoshado and get off at Ishikawa IC. Drive towards Yamada on Route 73
HP:http://www.ryukyumura.co.jp/
7. Purple Yam Tart

photo by sadako_113   /   embedded from Instagram
They look like sweet potatoes but the color is more like a beet root. If you don't know what kind of tarts they are you would think the topping is purple icing.
Not only they are good looking sweets but also have some secret healthy ingredients. Just like other purple vegetables like purple cabbage, blue berries, aubergines, or red onions, it contains anthocyanin which is very good for your eyes.
It is said that because people in Okinawa eat purple yam, not many elderly are suffered from long-sight. It makes you want to eat, doesn't it?
→The Best 10 Dessert Shops You Must Eat in Okinawa
■Information
Product name: Purple Yam Tart
Shop name: Okashi-Goten Yomitan main shop
Address: 657-1, Uza, Yomitan, Nakagami, Okinawa
Price: 648 yen for 6
Access: By car via Route 58 from Naha-nishidoro towards Ooki, Yomitan, go onto Route 6 towards Uza
HP:http://www.okashigoten.co.jp/
8. Ryukyu glass

photo by hideyosimatuda   /   embedded from Instagram
Needless to say about the beautiful exotic colors Ryukyu glass is a little unique glassblowing. The glass is not always transparent. Some bubbles are carefully left in the process of production which produces unique effects on the items.
There are quite a few workshops you can visit all over Okinawa. Ryukyu glass is mainly used for glasses and vases but you can make your own jewellery or beads. Make your own original glass for the memory of your trip.
■Information
Product name: Ryukyu Glass
Shop name: Ryukyu Glass Takumi Kobo
Address: 1553-279, Ishikawaiha, Uruma, Okinawa
Price: 648 yen for 6
Access: By car from Naha Airport – Drive towards Nago from Toyomijo IC. Get off at Ishikawa IC and turn right. Drive 500m to get there
HP:http://www.takumi-kobo.com/
9. Goya/Bitter squash

photo by cya1128   /   embedded from Instagram
There is no doubt. Goya is bitter. You shouldn't like it but once you get used to it, it becomes your guilty pleasure. You either love it or you hate it. In Okinawa, they love it.
They love it so much that they have come up with so many ideas of how to eat it. Okinawa food cannot be done without it. The bitterness is good for keeping your blood pressure down.
It contains vitamin C twice as much as any citrus fruits. Apparently it is effective for diabetes. Try Goya chips first if you are not too keen on bitter taste. They go really well with icy cold beer on a hot day!
→The 10 Best Popular Snacks You Must Buy in Okinawa
■Information
Product name: Goya beer, Goya chips
Shop name: Naha Airport departure lounge
Price: Beer 498 yen, a bag of chips 324 yen
Let's Buy Okinawa Great Souvenirs!
So what do you think? There are so many things to buy in this popular city. Enjoy the tastes of Okinawa and I hope you will find a memento to take home with you.
 
You May Also Like:
→The 11 Best Must-Buy Souvenirs at Naha Airport of Okinawa
→Top 10 Tourist Attractions & Best Things to Do in Naha, Okinawa
If you like this article,
Please push the
"Like"
!
Deiliver the SeeingJapan's news to you!
Popular Articles in Same Category
Author