Top 10 Tourist Attractions & Best Things to Do in Kurume, Fukuoka
When you think about sightseeing in Fukuoka, you think lots of people go to Hakata or Moji. They both are popular sightseeing spots. But what do you think Kurume? Maybe you can't think of anything. So we have some tips for you! Kurume is good place for relaxing. Today, we would like to introduce our tips in Kurume.
1. Kora shrine

photo by mamiya66   /   embedded from Instagram
"Kora shrine" is located at 312 meters high on Mt.Kora, and it is for good luck, long life and traffic safety. It was built more than 1600 years ago. If you walk about 20 minutes in trail, you will see the shrine that has miraculous water.
These days, lots of people visit since it's known as spiritual shrine and also to enjoy night view. In the shrine, there are lots of stairs so make sure to wear comfortable shoes.
2. Kurume Hyakunen park

photo by patcha_yuji   /   embedded from Instagram
The park was built in 1989 as memorial park for 100th year of Kurume city. It is a place for local people to get gather, in spring lots of tourist visit since they hold "Kurume azalea festival".
The azalea was given Tatebayashi, Gunma prefecture that is over 300 years old and also you can see local azalea. In 2017, the festival will be held from April 5th to May 5th and that is their 60th festival.
Also you can see about 200 cherry blossoms at Chikugo river in the end of March to early April. How about going there in April that you can see cherry blossom and azalea together?
■Information
Name: Kurume Hyakunen park
Address: 2432-1 Hyakunen koen, Kurume, Fukuoka
Phone: +81-942-32-4882
Map: Map to Kurume Hyakunen park
3. Ishibashi culture center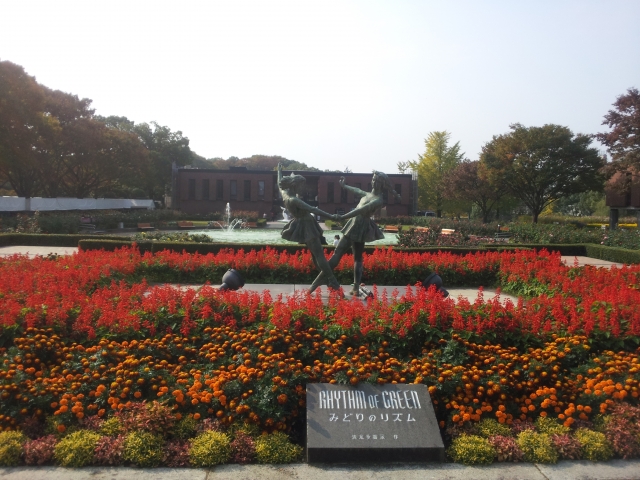 "Ishibashi culture center" is a place that has Kurume city museum, Kurume city library and Ishibashi Syozo memorial museum. It has been 60 years in 2016 since it opened. Since it opened, it has rose garden and rose became a symbol flower of the place. In May and October, it gets most beautiful.
Ishibashi culture center and museum are not free but rose garden is free. If you can visit when it blooms, you are lucky!
4. Michi-no-eki Kurume

photo by sagami0212   /   embedded from Instagram
Michi-no-eki Kurume is popular as Michi-no-eki that has more than 1100 places all over Japan. It is very convenient to stop for toilet, rest, restaurants,and shop during driving. This Michi-no-eki got best 10 for " Michi-no-eki that made them happy to go" in 2015.
It has store that sells local fresh vegetables, snack and local sake, it has "Hotomekian" that serves local meal and café that you can eat ice cream using local milk. It is located only 10 minutes from high way, so how about stopping there?
5. Kurume azalea forest park

photo by mikankk   /   embedded from Instagram
"Kurume azalea forest park" was opened in 1987 as memorize that Kurume azalea was chosen prefecture tree. It is also good for good view.
In the park, about 62000 azalea that is 100 kinds are planted and they get most beautiful in middle April to early May. It also has trail, that is resting place for local people. You can see colorful azalea anywhere in the park. Let's go there with sack lunch!
 
You May Also Like:
→Top 10 Tourist Attractions & Best Things to Do in Hakata, Fukuoka
→The Best 10 Ramen Shops You Must Eat in Fukuoka
6. Taiho ramen

photo by nissy_tn   /   embedded from Instagram
Did you know Tonkotsu ramen was born in Kurume? There are lots of ramen restaurants in the city but our suggestion is "Taiho ramen". The soup is strong and tasty.
This restaurant was introduced in "Michelin guide Fukuoka and Saga 2014". It worth go!
→The 10 Best Ramen Shops You Must Eat in Kyushu, Japan
7. Arima memorial museum Kurume castle ruins

photo by masagon108   /   embedded from Instagram
Kurume castle ruins is a house that Arima family lived for about 250 years. It has Shinoyama shrine, Togo museum and Arima memorial museum in it.
Especially it is great to see Arima memorial museum as they have historical information and art and crafts that are related to the family of Arima.
In the castle, about 30 cherry blossoms are planted so you can enjoy Hanami in spring. If you like castle or history, how about visiting there?
8. Chikugo river fireworks festival

photo by 25ai25   /   embedded from Instagram
Chikugo river fireworks festival started in 1650 by Arima Tadayoshi. It has over 360 years history and one of the biggest events in west Japan.
Since 1965, the name has been changed to "Chikugo river fireworks festival" and it is held on August 5th every year. About 18000 fireworks are shot from two places. It is very heartwarming to watch the beautiful fireworks in the summer night sky.
9. Kitano Tenmangu

photo by s2b1m5   /   embedded from Instagram
"Kitano tenmangu" is built in 1054.The God of shrine in Sugawarano Michizane who is God for study. The red building is beautiful, also the tree that is 900 years old and is selected as natural monument of the prefecture is good to see.
Also there is a fairy tale about water imp named Kappa. The river near the shrine, you can see 4km long street with cosmos and in autumn all leaves in this area turn to red. Please visit in autumn if you plan to go there!
■Information
Name: Kitano Tenmangu
Address: 3267 Kitanochonaka, Kurume, Fukuoka
Phone: +81-942-78-2140
Map: Map to Kitano Tenmangu
10. Naritasan Kurume bunin

photo by kinn2017   /   embedded from Instagram
"Naritasan Kurume bunin" is opened in 1958 in Kurume as another brunch of Mt. Narita Shinshouji temple in Chiba. The symbol is 62 meters high kannon statue which is one of biggest kannon in Japan, it has 18 of 3k diamonds between eyebrow.
The baby is 13 meters long so you can imagine how big the statue is. You can climb to the shoulder. Also it has "India village. Heiwadai butto gokurakuden" that is 38 meters high. You will be surprised how big it is once you see it. If you visit Kurume, please visit this place!
How about enjoying sightseeing in Kurume?
Lots of people think Hakata or Kita kyusyu when they hear Fukuoka, but now you know there are lots of places to go in Kurume too. It shows different colors season by season. You should see places in Kurume that haven't been known with your eyes. Please visit Kurume when you visit Kyusyu!
If you like this article,
Please push the
"Like"
!
Deiliver the SeeingJapan's news to you!
Popular Articles in Same Category
Author