The 10 Best Places You Must Visit in Fukui!
Fukui has been admired for its beatiful scenic of mountains in Echizen and the sea of Wakasa as it is also called "Etsuzan Jakusui [echizen mountains and wakasa water]". The northern coastline area above Wakasa Quasi-national Park is also selected as a quasi-naitonal park, called Echizen Kaga Kaigan Park. In this prefecture, most areas of its coastline which is about 300km are selected as quasi-national parks. That's very rare in Japan. From many aspects, Fukui is a great place to visit, and here are the 10 Best Places You Must Visit in Fukui.
"Ichijodani Asakura-shi Iseki"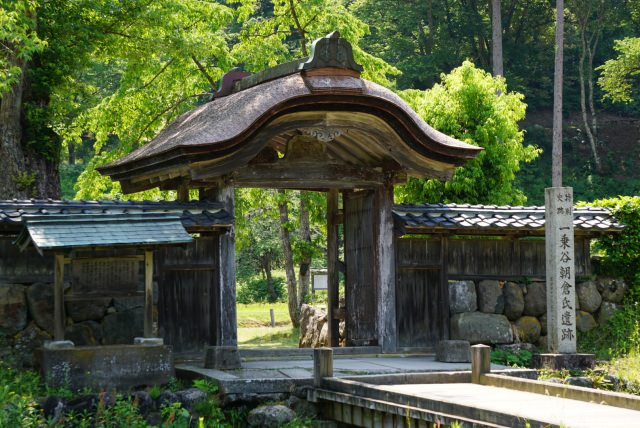 Ichijodani is a small valley plain which stretches 3km from north to south, and 500m from south to west. A trubitary stream of Asuwagawa (river), Ichijodanigawa, is running through the area. Since the warlord Takakage Asakura had built a castle in this place, the Asakura lasted for 100 years with 5 generations of lords. Until the last lord Yoshikage Asakura ended his life, this area had been flourished as the base of Echizen Guardian Asakura, and the political, economic, and cultural hub of Echizen territory.
From this area, old samurai's houses and roads were found as they were left, and the ruins were designated as the special place of scenic beauty of Japan. Great sight for those who are interseted in Japan's history. Visit and take a look!
"Maruoka-jo Ato"
"Maruoka-jo Ato" is ruins of a castle on a hill surrounded by a plain. Situated in the northeast area of Maruoka Town, built by Katsutoyo Shibata in Tensho 4 (1576), and also called "Kasumiga-jo". Beautiful town view can be seen from up there. Its castle tower is recognized as the second oldest architectural building, next to Inuyama-jo, and designated as a national important cultural property. Worth to see when you are in Fukui!
Now it is used as a park with hundres of cherry blossom trees. Every early April in spring, cherry blossoms get in full bloom. So brilliant. There is a cherry blossom festival, called Kanko Sakura Matsuri, and many tourists all over Japan visit for the event. It would be a great idea to stop in.
"Awara Onsen"
You will not want to miss "ONSEN" while sightseeing in Japan. It is totally different from a home bath. Including scenic views, you can enjoy until your heart's content. Well, in Fukui, there are great onsen facilities, too!
"Awara Onsen" is situated at the northern part of spacious Fukui Plain with a hilly area behind. There is an onsen town which spreads around Awara Yunomachi Station. People call this place "Kansai no Okuzashiki [backroom of Kansai]", or "Oshare Yunomachi [stylish onsen town]". Famous as one of the best onsen towns in Fukui. Convenient location for sightseeing in this prefecture being used as a transportation hub for Toujinbo and Daishoji area. Multiple bus routes are running from here to various attractions. Take your time and enjoy.
"Tojinbo"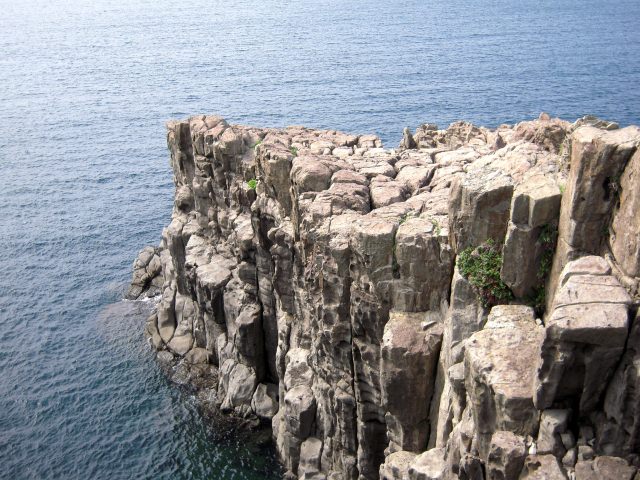 Great place for ocean views that the island country like Japan can offer. In the area located 3km northwest away from Mikuni port, there is a hill called "Jingaoka" with beautiful pine trees. Huge columnar joints of pyroxene andesite stands at its foot being struck by raging waves of the Sea of Japan. Totally magnificent.
It is possible to enjoy the view from the top of the cliff, but also possible to see it from a tour boat that runs from Tojinbo-shita and Mikuni port. Boats also call at Oshima, which enables you to explore the small island along with Tojinbo. Head there to enjoy breathtaking views of the Sea of Japan spread along Fukui's coastline.
"Kuzuryukyo"
"Kuzuryukyo" is highly admired among attractions in Fukui for its beautiful views. Scenic beauties and spectacular views of the valley are created by Kuzuryugawa (river) flowing through Okuetsu mountains, and there are many beautiful legends about this river.
About 10km area from around Etsumihoku Line Shimo Yuino Station to Kadohara, Hotokebara, and Shimoyama is said to be one of the best. The color contrast between the rocks eroded by the river and the trees along the stream around Hotokebara is really beautiful. People say that's what is called a magnificent view. Worth to be in your must visit list for Fukui. Try visiting there once.
"Kehi Jingu"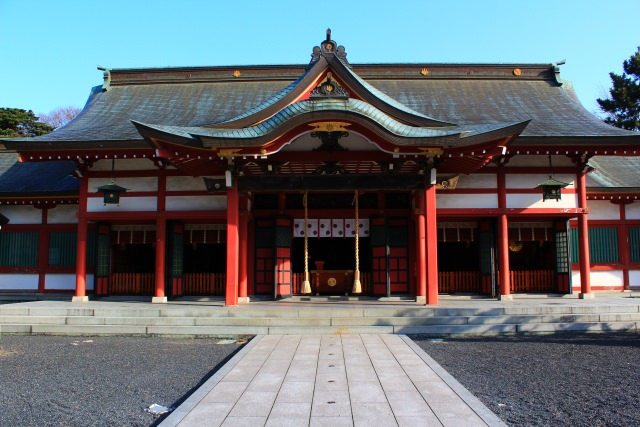 Located in eastern area of the city, about 1km away from Tsuruga Station. It is said that the deity of this shrine, Izasawake no Mikoto, had been there since ancient times. The shrine houses were built by the order made by Emperor Monmu in his reign (697-707). Then in Taiho 2 (702), Emperor Chuai and Empress Jingu were enshrined together. Designated as Shinkai Jusanmi (one of the higher classes of deities) in Tenpyo 3 (731), and recognized as the best shrine of Echizen no Kuni (eastern Fukui). Finally became a head shrine of tutelary deities in Hokuriku area.
Its huge torii gate is said to be made of one giant tree of hiba arborvitae obtained from Sadogashima. One of the 3 great huge wooden torii gates of Japan along with the ones of "Itsukushima Jinja in Hiroshima" and "Kasuga Taisha in Nara". Also designated as a National Important Cultural Property.
"Kehi no Matsubara"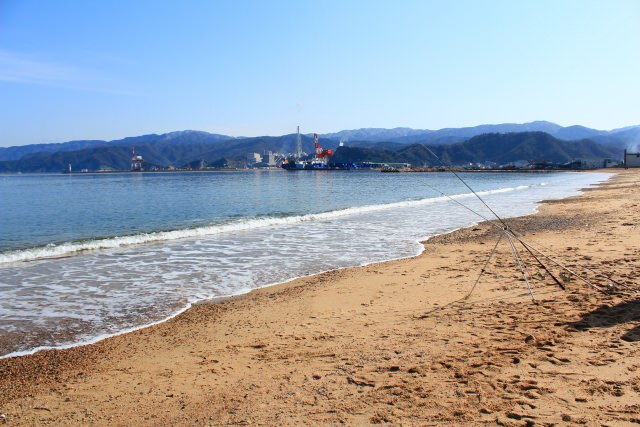 One of the best scenic attractions. Located in northwestern area of Tsuruga city with Tsuruga Bay in front. As its name implies, there are green pine trees all the way along its white beach. Also called Matsubara Koen [pine tree field park]. Recognized as one of the most famous views, and one of the 3 great pine trees views of Japan.
Its pine grove behind the white beach is a nationally protected forest and the park is 40㎢ (about 9,884 acres). So large. Great to see the old black and red pine trees with strong trunks and branches stand still on sandy soil being blown by cold winds from the sea. Very aesthetic like watching a Japanese ink painting.Looks unspeakably beautiful when it is a sunny day. You will definitely want to see the great view. Everyone will be amazed.
"Echizen Ōno-jo"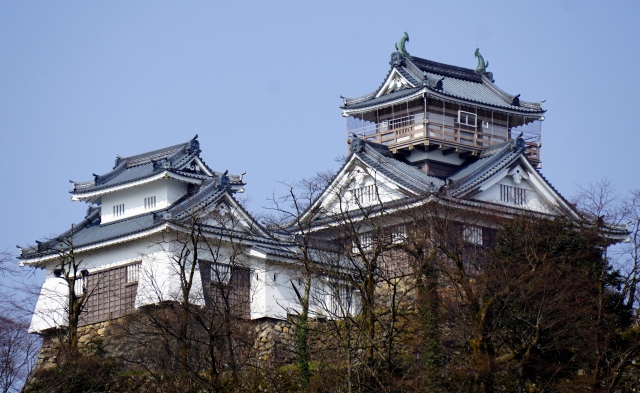 Another beautiful scenic attraction in Fukui. "Echizen Ōno-jo" is a castle that looks as if it is floating when surrounded by morning fog. Totally a different world. The castle view is incredibly fantastic and mystic.
This view can be seen because of Fukui's natural environment with many mountains. The castle standing in fog looks like it appears in a fairy tale. It shows different faces depending on time. So beautiful in dawn sunshine and exquisite at night by being lit up by lights of the castle town. Put this place in your must-visit list. Enjoy yourself!
"Obama-jo Ato"
Obama-jo is a castle built in Keicho 5 (1600), located at the mouth of the Kitagawa (river) running into Obama Bay. Most of its main closure and a part of the outermost region are remained. The castle tower and stone forts placed around it in three directions are staying the same as they were. The stone forts were built by piling up huge stones called "Sotomo ishi [stone]" (granite) from Wakasanokuni (southern Fukui).
This place is designated as a historic site by Fukui prefecture. In the site, there is Obama Jinja [shrine] that worhips a historical legend of Fukui, "domain's founder Tadakatsu Sakai". Another highlight is "Kyuhon damo", a giant old dead tree of machilus thunbergii that was used to be a national natural treasure when it was alive. Enjoy this lovely place with a historical atmosphere, and its view harmonized with nature! One of the best recommended in Fukui!
"Aoshima Temperate Plant Community"
Fukui's famous attraction floating on the sea. Aoshima is a small island situated around the center of Obama Bay. Its periphery is only about 1km. There are temperate plant communities around this island. Designated as one of the national natural treasures.
They have 192 kinds of temperate plants, such as Osmanthus insularis, Japanese cobra lily, coralberry, and Ardisia crispa. One of the osmanthus insularis, there is a big one with a 2.5m thick trunk. Aoshima is the northernmost point of its habitat. Landing on the island is not allowed, but possible to go close. Take a look at the magnificent plants and the great nature view.
Tour Around Fukui's Attractions!
How did you like it ? This article was about the 10 Best Places You Must Visit in Fukui. The prefecture facing the Sea of Japan, Fukui, has many nature attractions and excellent historical places. They also have delicious local specialties of various fresh seafood. Come and visit!!
If you like this article,
Please push the
"Like"
!
Deiliver the SeeingJapan's news to you!
Popular Articles in Same Category
Author